Throughout the course of the offseason, Eleven Warriors is taking an in-depth look at the state of every position group at Ohio State.
A year ago, the Buckeyes had just about the perfect setup at tight end. Jeremy Ruckert was flanked by Luke Farrell and Jake Hausmann, giving Kevin Wilson a trio of upperclassmen who allowed this team to run as many multi-tight end sets as they so desired.
This fall, Ohio State won't have quite the veteran bunch to rely on, but it does get to center everything around one of the most talented tight ends in college football. Ruckert, a fourth-year senior, will lead a position group that's actively trying to build depth behind him with position switches while simultaneously restocking through Wilson's recruiting efforts.
What should everybody expect from these tight ends in 2021 and beyond? That's what we're here to answer.
The Personnel
Jeremy Ruckert: A fourth-year from Lindenhurst, New York. Ruckert easily could have gone pro after three years, but he opted to run it back once more. He'll play what's assumed to be his final Ohio State season as the clear starting tight end and will likely end up playing the most snaps in a single season by anybody at his position in several years. Ruckert caught 13 passes for 151 yards and five touchdowns during last year's pandemic-shortened season. He's a standout receiver who has developed into a quality in-line blocker.
Cade Stover: A third-year from Mansfield, Ohio. Stover began his college career at linebacker, transitioned to defensive end midway through his freshman year, then moved to tight end early in 2020. He has spent the past year and a half learning the position, which he switched to due to his 6-foot-4, 255-pound frame, explosiveness and athleticism that allowed him to have a standout high school basketball career. Stover played just five offensive snaps last season and is battling to serve as the primary backup to Ruckert this fall.
Gee Scott Jr: A second-year from Seattle, Washington. Scott made an unexpected position switch this spring, eschewing wide receiver to become a tight end. He was a top-75 recruit at wideout but played only 14 snaps last season. At 6-foot-3 with a body that can further fill out, the coaches think Scott's "growth potential fits that of a tight end," Day said earlier this year. His potential as a receiving threat makes him tantalizing, though he'll have to put on weight and learn how to block with his hand in the dirt which isn't necessarily easy.
Joe Royer: A second-year from Cincinnati, Ohio. Royer had a quiet first season as a Buckeye, not stepping on the field at all after enrolling as a three-star recruit out of Elder. The former three-star recruit might be counted on in a larger role this fall now that Farrell and Hausmann have graduated. How much larger? That's the part that's unclear and will have to be worked out. Royer will have plenty of opportunities in preseason camp to show that he deserves a spot on the depth chart.
Sam Hart: A first-year from Aurora, Colorado. Hart, one of the quieter recruits in recent history, left Colorado to enroll at Ohio State in January. He was the No. 392 overall prospect in his class. At 6-foot-5 and 240 pounds, he can walk into the program with enviable size and enough guys at the position that'll allow him to ease in. 
Ohio State has two commitments from tight ends.
Bennett Christian: A 2022 pledge from Acworth, Georgia. Christian picked Ohio State over Tennessee more than nine months ago after taking a self-guided tour of the campus with his father. He'll enroll next year as part of a two-man tight end class that – along with Royer and Hart – will mark the future of the position. Christian, who's listed at 6-foot-6 and 235 pounds, is advanced as a blocker with his size.
Benji Gosnell: A 2022 pledge from Pilot Mountain, North Carolina. Gosnell, who's 6-foot-4 and 225 pounds, joined Christian in the class in November. He's smaller than his tight end counterpart and, because he played wideout until his freshman year, is more polished as a receiving threat. He and Christian will be linked throughout their time as Buckeyes since they're the first pair of tight ends in the same class to become Buckeyes since Hausmann and Farrell in 2016.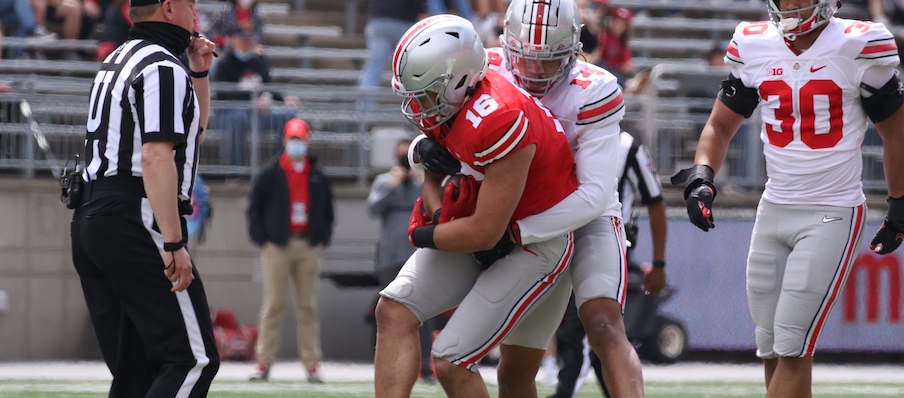 Outlook in 2021
This would be a completely different story if Ruckert had chosen to go pro earlier this year. If that had happened, Ohio State's tight end situation would have been dire. The other returners played a grand total of 37 snaps at tight end last season.
But…
Ruckert's back for one more ride. Mini-crisis averted.
Once named by Urban Meyer as the most talented tight end he had ever recruited, Ruckert has lived up to most expectations. The exceptionally talented downfield threat has recorded nine career touchdown receptions, including a memorable one-hander in the 2019 Big Ten championship game and two against Clemson in January's Sugar Bowl. Awards nominations and all-conference nods largely haven't followed him because the Buckeyes don't throw to their tight ends too often (I know, this is a shocking revelation). But anybody who has seen Ruckert run routes understands why he's a potential early-round 2022 NFL Draft prospect. His improvement as a blocker over the course of the past three years is unavoidable, too. It's not his calling card, but he has understated power when moving guys in defenses' front sevens.
Importantly, Ruckert's best should still be yet to come.
He's the clear No. 1 tight end in Ohio State's 2021 offense and is in line to play a career-high snap count now that Farrell – who was on the field more than him each of the past two seasons – is in the NFL. If there's ever a year for the Buckeyes to get a tight end involved in the passing game, it's this one. Yes, it's a tired trope, but I'm not sure if they've ever had somebody quite like the fourth-year version of Ruckert.
State of the Position
Outside of Ruckert, a simple question of the tight ends is both necessary and difficult to answer: Who else can Ohio State trust?
The pressure's on Stover to show that the position switch was worthwhile. He's now a redshirt sophomore with a year and a half of time to learn the position, yet he only played five offensive snaps last year. The physicality that turned him into a top-flight defensive recruit and athleticism that helped make him a quality basketball player give him a high ceiling. Still, he's a bit of a black box at this position. Wilson wants Royer to figure out how to contribute in some way. He's a prototypical tight end prospect who's early in his development. Now that Farrell and Hausmann are gone, it would be helpful if Ohio State could use him as a second or third tight end, but it's unclear exactly where he is in his development.
Two walk-ons – Mitch Rossi and Corey Rau – are expected to fit into the mix in some way. Rossi played 32 offensive snaps last fall and is a legitimate possibility to become Ohio State's backup or third-string tight end. He's able to play H-back or fullback, too, though those aren't primary positions in the offense. Rau, a former SMU tight end, is in his second year in the program. He's a block-first, in-line tight end whose biggest moments will likely come as a road grader near the goal line.
Scott's a total mystery. Will he be a revelation at tight end? Will he need time to develop and not be ready until 2022? Will he ultimately move back to wide receiver? It's easy to get enamored by Scott's potential at his new position – the number of high-end wide receiver recruits who shift to tight end is very low – but plenty of possible outcomes exist. These next few months are, obviously, critical.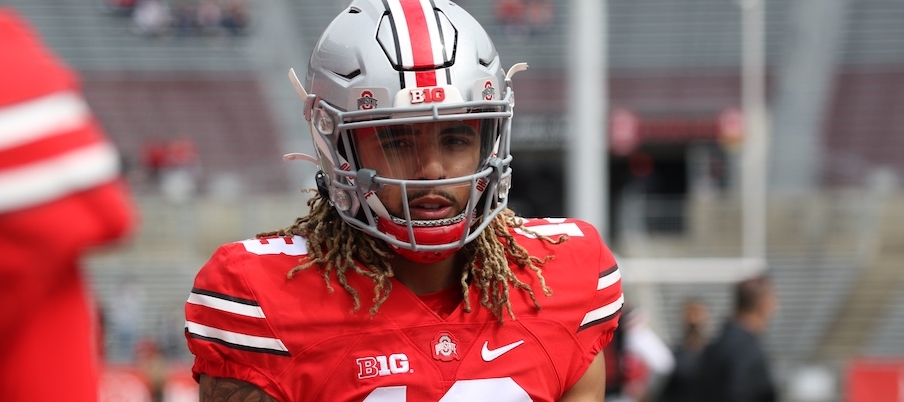 Long-Term Outlook
Projected 2021 Depth Chart
Jeremy Ruckert
Cade Stover
Joe Royer
Projected 2022 Depth Chart
Cade Stover
Gee Scott Jr.
Joe Royer
Projected 2023 Depth Chart
Cade Stover
Gee Scott Jr.
Joe Royer
There's only one certainty on this depth chart: Ruckert will be the starter in 2021. Everything else is up for grabs.
The Stover-Royer-Scott-Hart jockeying this year will determine who's in line to start – or serve as a primary backup – the following season. In other words, whoever wins the backup job behind Ruckert will have the inside track to start in 2022...and in 2023. A lot's on the line. Ohio State experienced significant turnover at tight end this offseason and will lose Ruckert next offseason, but unless something unexpected happens, nobody will graduate or go pro after the 2022 season.
Figuring out who takes over in the post-Ruckert era is key.
Parting Thoughts
Ruckert, along with Garrett Wilson and Chris Olave, completes a trifecta of receiving threats that's unmatched by any other college football team. Sure, the Buckeyes don't have the depth at tight end that they had a year ago, but having Ruckert as the starter who plays the vast majority of snaps is more than OK. 
They'll be fine with him in 2021 – provided he stays healthy.
Anybody outside of the Woody Hayes Athletic Center purporting to know exactly how the others at the position will perform as backups this fall and as the primary tight ends going forward is lying to themselves. There are a lot of questions that have to be answered both by guys who haven't proven themselves after position changes and by young recruits who didn't – or won't – come into the program as elite recruits.
The next few years, provided he stays, will test Wilson's skills as a developer of tight ends.