Jeremy Ruckert could be preparing to play in the NFL right now. He was eligible to enter this year's draft, and likely would have been one of the top tight ends off the board if he declared.
While 13 catches for 151 yards and five touchdowns aren't huge numbers, they're pretty good numbers for an Ohio State tight end in an eight-game season, and he fits the NFL prototype for his position at 6-foot-5 and 252 pounds with excellent athleticism for his size. He made enough plays as both a receiver and a blocker in 2020 to demonstrate his potential to shine at the next level.
But Ruckert wasn't ready to leave Ohio State yet.
"I knew I had more to give," Ruckert said Wednesday in his first interview session since announcing his return. "I had opportunities past this, but I definitely wanted to just make the most of it here and let everybody know that I've got more to give this place."
In staying at Ohio State for another year, Ruckert is now one of the Buckeyes' most established stars entering 2021. He could be one of the team's top leaders this season. He's the clear-cut No. 1 tight end and likely to be a mainstay on the field with Luke Farrell and Jake Hausmann gone.
Whether that will lead to a significant increase in passes thrown Ruckert's way is uncertain; Ohio State offensive coordinator Kevin Wilson has said the Buckeyes hope to get Ruckert more involved in the passing game, but their entire roster of wide receivers from last season is back, too. And Ruckert didn't ask for any promises about how many targets he'll get this season when he made his decision to return, though he is optimistic those opportunities will come if he puts in the work to earn them.
"I'm not one to just come back and say I'm only gonna come back if this happens. It's a two-way street," Ruckert said. "So if I want more catches to come my way, then I need to put more work in in the offseason, trying to enhance that part of my game."
Ruckert's teammates have seen him putting in the work to become an even better player.
"Seeing him in practice every day, he's always trying to get better," said second-year tight end Joe Royer. "If there's a problem on a play or an issue, he always comes back and tries to talk to Coach Wilson to figure it out. And just all the little things. He's always in the training room, getting his body right, eating right and just trying to stay healthy."
Although more catches could help Ruckert elevate his NFL draft stock, his production in that regard will be reliant on the opportunities he gets. Where Ruckert really believes he can improve this offseason and take his next game to the next level is as a blocker. Ruckert was already a significant asset to Ohio State's running game last season, but after playing with Farrell for the past three years, he knows he can still be better.
"I think looking at Luke, how consistent he was in the blocking game, I think that's something I really want to work on," Ruckert said. "To be that consistent as Luke was, I want to try and emulate that and be like that. I had some really, really good blocks, and some bad ones. So I want to just be more consistent and not be so hot and cold and keep trending upwards. So I think that's the biggest thing I want to work on is just trying to be the most consistent player I can be."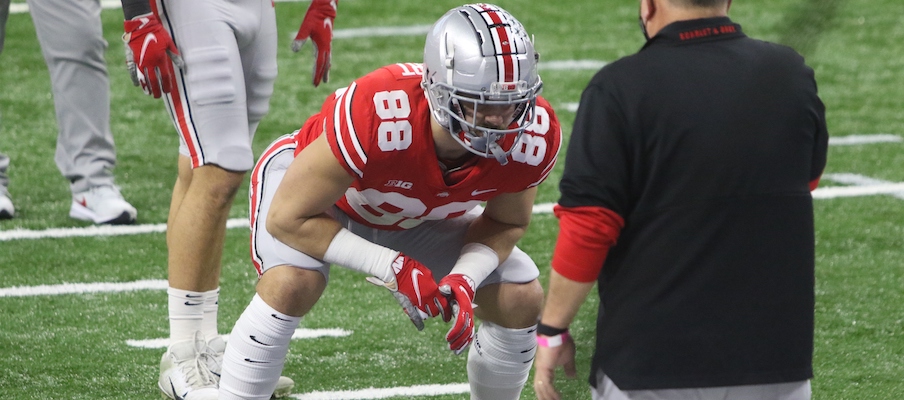 Now that he has played three seasons at Ohio State, with 884 career offensive snaps under his belt, Ruckert is one of the Buckeyes' most proven and experienced players entering 2021, and someone they know they can trust to do his job correctly far more often than not. But he's still approaching this offseason as hungry to improve as ever.
"I'm definitely a lot more confident," Ruckert said. "But you're never really comfortable where you're at. Keep developing, and there's a lot of things I can still get better at, and I'm just really trying to work on that a lot during this spring and this offseason. So definitely a lot more confident, but I wouldn't say I'm comfortable where I'm at."
If Ruckert continues upon his current trajectory of development, Wilson believes the fourth-year tight end can be the nation's best player at his position.
"I think he can maybe be as complete a tight end as there is in college this year because I think his range of catching the ball, there might be a couple guys that may be rawer or real faster tight ends, but the combination of blocking, route-running, catching, I think he's setting up to have a super year," Wilson said last month.