This, as anybody who has followed Cade Stover since his days at Lexington High School knows, wasn't the plan.
The closest he got to tight end in high school was when he played running back, accruing 1,477 yards and 17 touchdowns with plans that rarely went beyond the offense putting the ball in his hands and saying "you find space and do it yourself," as Stover remembers. Offense was something he did for fun – and because he was good at it. His home, he thought, would be on the other side of the ball. As somebody who grew up dreaming of turning into the next James Laurinaitis, he arrived in Columbus two years ago with his sights on playing linebacker.
But he outgrew linebacker within a year and shifted to defensive end, where he admitted he didn't have a clue what he was doing. A few months later, Stover made one more move, leaving defense entirely to join Kevin Wilson and the tight ends.
"It wasn't frustrating," Stover said last month. "I mean, yeah, there were frustrating moments along the way, but that comes with everything. I enjoy learning a different position and learning new stuff and just expanding my knowledge of the game and just getting better preparing for the future."
Him becoming a tight end happened over a year ago. Stover has gone through an offseason, season, winter workouts and spring practices as a tight end. It wasn't the original plan, but it's been the plan now for more than 12 months, and for his second position switch to have been the correct decision, Ohio State needs to begin to see it pay off with production this fall.
Stover, as a redshirt sophomore, is the oldest scholarship tight end on the team not named Jeremy Ruckert and the only scholarship tight end outside of the starter to have ever even played a snap at the position in a regular season game. The Buckeyes need a backup tight end to replace what Luke Farrell offered them, and Stover's the prime candidate for the job.
"He worked really hard this past year, but he's like a lot of these guys that didn't have a spring last spring, didn't have much of a preseason, then played behind Luke and Ruck last year, so didn't have a lot of game experience," Ryan Day said on March 29. "But this is a big spring for him. This is the time. He's got to really step up now. I think he's poised to do that."
He possesses the requisite size at 6-foot-4 and 255 pounds along with the requisite athleticism as somebody with a basketball background – having set Lexington's all-time scoring record – once ranked just outside of the top 100 recruits in the nation who was Ohio's Gatorade Player of the Year as a senior in high school.
The question for Stover over the past year has been how quickly he can assimilate into the tight end room. 
Physicality at the point of attack has always been a strength of his. That was the case back when he was trying to blow up runs from the second level of the defense, remained the case when he was rushing off the edge and is still the case now as a blocker. In that role, he feels most at home and most comfortable.
Putting everything else together with that attacking nature to become a complete tight end isn't typically a particularly quick thing to do.
"It is very difficult going from linebacker, where you're trying to get off the blocks, to tight end where you're having to make the blocks, get out on routes and catch the ball," walk-on tight end Corey Rau said. "I think he's progressed a lot – come a long way."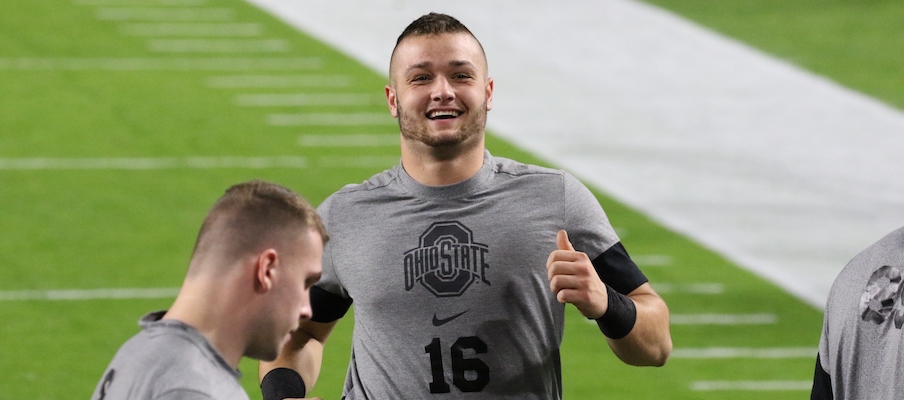 Prior to swapping positions, Stover had never before run routes. Therein laid one of the biggest obstacles. It was, in his mind, the "biggest learning curve."
Even though Ohio State's tight ends aren't frequently targeted – and that's putting it lightly – it's not as if they never run routes or never catch passes. That's a skill Wilson requires them to possess. 
Stover had to learn the footwork. He had to learn the "rules you've got to follow" as a receiver. He had to improve his pass-catching ability.
"Sometimes people say versatility can get you in trouble because you get pulled around different positions, I guess. I think I found my home here, and I'm happy to be here," Stover said. "I'm comfortable with the ball in my hands and in space. Just like high school, running back days, I feel good with the ball in my hands."
If all goes according to the latest plan, Stover will showcase that comfortability this fall.
Ohio State made him a tight end while eyeing the 2021 season as when it really needed him to step up with Farrell and Jake Hausmann gone.
Joe Royer has never taken an in-game snap. Sam Hart is a true freshman. Gee Scott Jr. is still adding weight after recently moving to tight end. Walk-ons populate the rest of the position group. So the Buckeyes need Stover's position change to pay dividends later this year.
"I always want to seize it," Stover said. "The goal here is just help the team as much as you can and do whatever's possible for me to help this team win. If that's a big role, that's a big role."
Farrell added on March 30: "Cade's a beast, and I think you'll find that out here soon. I think it was tough for him adjusting, him coming over from defense. But I think he's more than capable of filling that spot."