Now that Ohio State's spring football practices are complete, we can make a more accurate projection of what the Buckeyes' depth chart could look like this fall.
While there's still starting jobs up for grabs at several positions, and still plenty of time for things to change over the next four months, Ohio State's coaches will begin to map out the depth chart now that the first 15 practices of the year. They aren't likely to publicly reveal what that depth chart looks like until they take the field for their first game at Minnesota on Sept. 2, but we can project what that depth chart could look like based on what we saw in the spring game and in the few additional opportunities we had to watch portions of practices this spring, as well as what we heard about each position group over the course of the spring. 
As we did in our initial depth chart projection in January, we project the top three players at every position on offense and defense and the top two players in each special teams role on the depth chart.
Quarterback
1. C.J. Stroud
2. Kyle McCord
3. Jack Miller
This was how I ranked the quarterbacks on my initial depth chart projection back in January, and based on what I saw this spring, I still believe Stroud is the most likely quarterback and McCord is the second-most likely quarterback to start this fall.
Stroud has been viewed as the frontrunner to start this year since he emerged as the No. 2 quarterback last season, and he looked the part this spring. That said, McCord might have the best pure arm talent of the three quarterbacks, and he was impressive enough this spring that I still believe he could make a run at the job this summer.
I don't believe Stroud winning the job is a done deal, but I think the job could be his to lose at this point, which means McCord or Miller will need to stand out in preseason camp to seize the starting spot.
Running Back
1. Master Teague
2. TreVeyon Henderson
3. Miyan Williams
I'm confident these will be the top three running backs on Ohio State's depth chart this season, but I have no confidence they will be ranked in this order, as I believe any of these three running backs could emerge as the Buckeyes' top running back this season.
Teague was described as the "incumbent" starter this spring, so there's reason to believe it's still his job to lose. But Williams took the most first-team reps during spring practices, in which Teague was a limited participant, and it feels like he's made a very real impression on Ohio State's coaches. Yet anywhere lower than second on the depth chart feels too low for Henderson, whose five-star potential was already on display this spring as he lost his black stripe in just 11 practices.
Although Tony Alford has typically favored a two-man rotation as Ohio State's running backs coach, my guess is all three of these running backs will see a share of carries for at least the beginning of the season, with the rotation potentially shrinking later if one or two of them prove they're better than their counterparts.
Wide Receiver (Z)
1. Chris Olave
2. Jameson Williams
3. Julian Fleming
Wide Receiver (X)
1. Garrett Wilson
2. Marvin Harrison Jr.
3. Jayden Ballard
Slot Receiver
1. Jaxon Smith-Njigba
2. Emeka Egbuka
3. Kamryn Babb
Olave and Wilson are obvious locks to start, and Smith-Njigba looks like the clear frontrunner to join them in the starting lineup now that Wilson is moving back to outside receiver.
While Smith-Njigba is expected to replace Williams in the starting lineup, Williams' place in the outside receiver rotation likely remains secure. And Egbuka certainly looks ready for playing time in the slot after his seven-catch, 123-yard performance in his first spring game. That leaves just one spot in the two-deep for either Harrison Jr. or Fleming, and I believe that spot is now Harrison's to lose after his excellent first spring as a Buckeye – though Fleming remains far too talented to count out, and he'll still have a chance to earn a spot in the rotation in preseason camp once he's fully recovered from shoulder surgery.
Ballard also has the skills to make an immediate impact, but he'll likely have to wait his turn for a year with so many talented receivers in front of him. Another injury setback for Babb this spring hurt his chances of pushing his way into the rotation.
Tight End
1. Jeremy Ruckert
2. Cade Stover
3. Mitch Rossi
The 1B to Luke Farrell's 1A on the depth chart for the past two years, Ruckert is now the undisputed starter at tight end entering his senior season, which means the only question is how the depth chart will stack up behind him.
Stover looks like the frontrunner to be the No. 2 tight end after a strong showing in the spring game, in which he played the most snaps of any tight end and looked at home as a blocker.
Rossi, who played the most snaps last season of any returning tight end not named Ruckert, will likely continue to see semi-regular playing time this season, though that could be in a situational role as a fullback. Second-years Joe Royer and Gee Scott Jr. could also be candidates for a place in the three-deep, though this will likely be a developmental year for Scott as he makes the transition from wide receiver to tight end.
Left Tackle
1. Thayer Munford
2. Dawand Jones
3. Grant Toutant
Left Guard
1. Harry Miller
2. Josh Fryar
3. Trey Leroux
Center
1. Luke Wypler
2. Matthew Jones
3. Jakob James
Right Guard
1. Paris Johnson Jr.
2. Donovan Jackson
3. Ryan Jacoby
Right Tackle
1. Nicholas Petit-Frere
2. Enokk Vimahi
3. Ben Christman
Munford and Petit-Frere are locked in as returning starters at left and right tackle. Johnson also appears to be a near-lock to start at right guard after moving inside to that position and taking the first-team reps there this spring. The starting jobs at left guard and center, however, could remain up for grabs in preseason camp.
Greg Studrawa said this spring he "would assume" Miller will be one of Ohio State's top five offensive linemen this season, so it would be a surprise if Miller doesn't start, but whether that will be at left guard or center remains uncertain after he was sidelined by an injury this spring. That could at least partially depend, though, on who else earns a starting job on the interior offensive line.
Matthew Jones entered the spring as a frontrunner to start at either guard or center after starting three games at left guard last season, yet he was taking second-team reps at center behind Wypler during the final week of spring practices, and he drew a lot of praise for his development this spring. A combination of Miller and Jones starting still wouldn't be surprising, while it's also possible Fryar could start at left guard after taking lots of first-team reps this spring, but I believe Wypler might have the inside track to start at center right now, keeping Miller at the left guard position he started five games at last season.
Dawand Jones looks like the top backup at tackle right now, though Johnson could also potentially move back outside to tackle if anything happens to Munford or Petit-Frere. Vimahi looks like the likeliest candidate to round out the two-deep at tackle after practicing outside this spring, though it's likely Jones would be called upon before him at either left or right tackle.
Jackson wasn't on campus this spring, but the five-star prospect will be an immediate candidate to earn a spot on the two-deep at guard in preseason camp.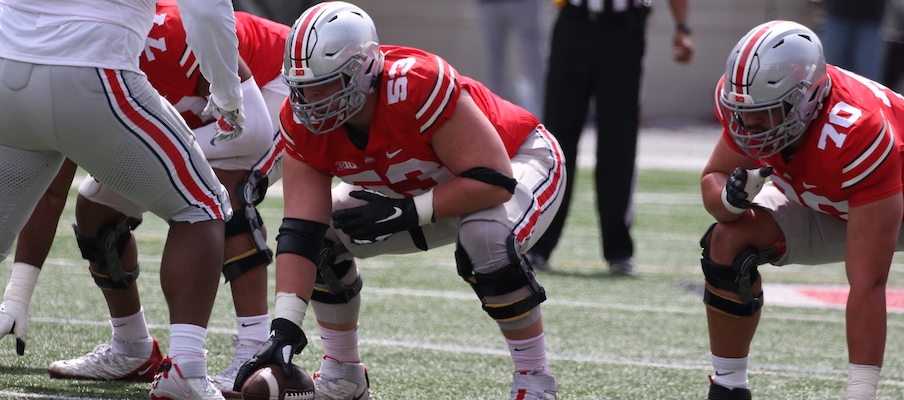 Defensive End
1. Zach Harrison
2. Jack Sawyer
3. Javontae Jean-Baptiste
Defensive End
1. Tyreke Smith
2. Tyler Friday
3. Cormontae Hamilton
After Ryan Day and other coaches heaped praise on Harrison for his leadership and improvement this spring, he looks like a sure bet to start this year. Smith is also a favorite to start at defensive end after he started the final four games he played in last season.
Friday and Jean-Baptiste are also returning members of last year's rotation, but after Sawyer's dominant performance in the spring game, I believe the five-star freshman is simply too talented to keep off the two-deep. Sawyer looks capable of being an immediate difference-maker as a pass-rusher, which I think could lead to him getting the third-most snaps at defensive end this season, though I expect all of the top five defensive ends to be regulars in the rotation.
With one additional year of experience, Hamilton edges out Jacolbe Cowan and Darrion Henry-Young for the final spot on the defensive end three-deep, though that spot could also end up going to five-star recruit J.T. Tuimoloau if he signs with the Buckeyes this summer.
Defensive Tackle (3-Tech)
1. Haskell Garrett
2. Taron Vincent
3. Noah Potter
Nose Tackle
1. Antwuan Jackson
2. Jerron Cage
3. Ty Hamilton
Garrett, Jackson, Cage and Vincent appear set to be Ohio State's top four defensive tackles this season, with Garrett locked in as the starting 3-technique.
Vincent could see some snaps at nose tackle, particularly in pass-rushing situations, to get him and Garrett on the field together, but I expect most of the nose tackle snaps to be split by Cage and Jackson while Vincent rotates with Garrett. Jackson might have the slight edge to start at nose tackle over Cage, but I expect them to play a similar number of snaps regardless of who starts between them.
Potter and Hamilton should also push for playing time at the back end of the rotation, with Potter looking at home inside this spring after starting his Buckeye career at defensive end. Mike Hall will also be a candidate to earn a spot on the three-deep when he arrives this summer, but he and fellow freshman Tyleik Williams may have to wait their turn for a year before pushing for bigger roles in 2022.
Will Linebacker
1. Teradja Mitchell
2. Cody Simon
3. K'Vaughan Pope
Mike Linebacker
1. Dallas Gant
2. Tommy Eichenberg
3. Reid Carrico
After waiting their turn for the last three years, it looks like Mitchell and Gant are finally in line to start in 2021. That said, Gant might face competition for the starting middle linebacker job from Simon and Eichenberg, who both made a push for playing time this spring – enough that I project they'll both be ahead of Pope on the two-deep even though Pope is also entering his fourth year.
While there will likely still be packages in the defense that put three or even four of those linebackers on the field at the same time, the current plan appears to be for the Buckeyes to start just two traditional linebackers while replacing the Sam linebacker in the starting lineup with the hybrid linebacker/safety bullet position.
Bullet
1. Ronnie Hickman
2. Craig Young
3. Kourt Williams
While Young received most of the attention this spring as a player who could be tailor-made for the bullet position, I believe the race to start at that position between Young and Hickman is actually very close, and that Hickman might actually have a slight edge to start after a strong showing in the spring game.
Regardless of who starts between them, I expect both to see playing time in a rotation; how much each plays could even depend on matchups and game situations, given that Young has spent the past two years playing linebacker while Hickman started his career as a safety, and both of them bring somewhat different skill sets to the table.
Williams also has the talent to make a push for playing time at bullet once he's fully recovered from his torn ACL, though he'll have ground to make up in preseason camp after missing his entire freshman season.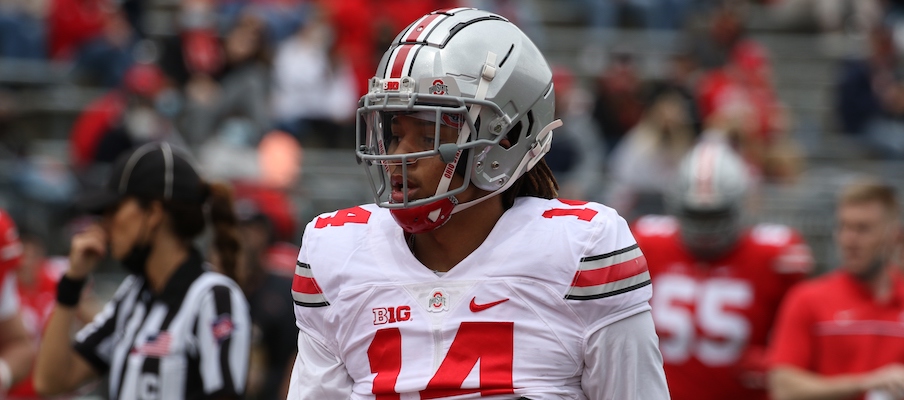 Cornerback
1. Sevyn Banks
2. Ryan Watts
3. Lejond Cavazos
Cornerback
1. Cameron Brown
2. Tyreke Johnson
3. Jakailin Johnson
Even though Banks and Brown were sidelined by injuries this spring, they're still the presumptive frontrunners to start at cornerback. Banks, specifically, is likely to be the Buckeyes' No. 1 cornerback after starting all eight games last season; Brown is still working his way back from a torn Achilles, but he'll likely get the first crack at winning the other starting job in preseason camp if he's fully healthy.
Watts, who had an interception in the spring game, appeared to make the biggest push for playing time among the cornerbacks who were healthy this spring. Tyreke Johnson also caught my eye during the portions of practice that were open to the media, making me believe he might finally be ready to contribute in the secondary. I still think the second starting job is Brown's to lose, but they should get a shot to compete for that job in August, while the Buckeyes also could rotate three outside cornerbacks if they believe they have three who belong on the field.
Incoming freshmen Jakailin Johnson and Jordan Hancock both have the talent to climb the depth chart quickly once they arrive at Ohio State, but they'll have a lot of ground to make up in preseason camp as summer enrollees.
Slot Cornerback
1. Lathan Ransom
2. Marcus Williamson
3. Cameron Martinez
Like running back, slot cornerback/cover safety is another position where the Buckeyes have two young players making a real push to steal the starting job away from an experienced veteran.
Williamson, who started all eight of Ohio State's games last season at either slot cornerback or safety, is the incumbent in this case. But after Ransom and Martinez drew lots of praise this spring and performed well in the spring game, both of those second-year defensive backs also look like strong candidates for playing time while playing the same position as Williamson.
After Ransom finished last season strong and continued to make an impression this spring, he seems like the player the Buckeyes won't be able to keep out of the starting lineup. That said, I still expect Williamson to have a role even if he doesn't start, potentially as a fifth or sixth defensive back in nickel/dime packages (in which Ransom could also drop back to safety). There might not be enough snaps to go around for all three of these defensive backs to play regularly, but Martinez performed well enough this spring for the coaches to consider it.
Safety
1. Josh Proctor
2. Bryson Shaw
3. Jantzen Dunn
This was how the depth chart stacked up at free safety all spring, with Proctor set to start as the deep man in the middle of Ohio State's secondary.
The depth chart behind Proctor could potentially change if Marcus Hooker, who started the first five games of last season at safety, is reinstated to the team. We've left him off this depth chart projection, however, since his standing with the team remains uncertain following his arrest for operating a vehicle under the influence in March – and even if he is reinstated, he'll likely have to earn his way back up the depth chart. 
Kicker
1. Jake Seibert
2. Dominic DiMaccio
While Seibert's 0-for-2 performance on field goals in the spring game leaves questions about whether he's ready to be Ohio State's top kicker this season, the job is expected to be his as the only scholarship kicker on the team. DiMaccio could be the Buckeyes' kickoff specialist, though, after handling those duties for much of last season while Blake Haubeil battled a groin injury.
Punter
1. Jesse Mirco
2. Michael O'Shaughnessy
Although Mirco has only been on campus since January, the fact that he handled every punt in the spring game suggests that Ohio State fully expects the Australian freshman – who's also the scholarship player on the roster in his speciality – to be its top punter this year. 
Long Snapper
1. Bradley Robinson
2. Roen McCullough
Robinson returns as Ohio State's top long snapper from last season. While McCullough was actually impressive in his temporary stint as a linebacker in the spring game, he's expected to return to his typical role as the backup long snapper for the regular season.
Kickoff Returner
1. Jameson Williams
2. Demario McCall
While Ohio State's spring game did not feature live kickoff returns, there was a kickoff to begin each half, and Williams was sent out as the returner to catch both of them, which could indicate that he's in line to take over kickoff return duties this year.
McCall has been the lead kickoff returner for the past two years, but he's had just one return of more than 30 yards between those two seasons, and new special teams coordinator Parker Fleming said this spring that the Buckeyes "gotta get some guys hitting some home runs" in that role. Williams has the speed to make that happen, and the Buckeyes could be more inclined to let him return kicks now that he's not in line to start at receiver.
Punt Returner
1. Garrett Wilson
2. Jaxon Smith-Njigba
Wilson has been solid as Ohio State's top punt returner for the past two seasons, while Smith-Njigba also returned three punts last year. Both of them fielded punts in the spring game, so it seems likely the Buckeyes will stick with the status quo here.