Now that we know which Ohio State players are leaving early for the 2021 NFL draft and which stars are planning to return, it's time to take our first look at how the Buckeyes' depth chart could stack up next season.
The 2021 roster isn't quite set yet, as Ohio State could still add a few players on National Signing Day – namely, the Buckeyes are still pursuing defensive end J.T. Tuimoloau and linebacker Raesjon Davis – and/or through the transfer portal, and any of those players could potentially factor into the Buckeyes' depth chart next season. Ohio State's depth at any position could also still potentially be affected by players leaving the Buckeyes to enter the transfer portal themselves.
We'll be sure to issue updated depth chart projections as the offseason progresses and new developments happen that could change the outlook of what the Buckeyes' lineups and rotations will look like come fall. For now, I've assembled an initial projection for what the depth chart could look like at each position when the 2021 season begins. 
We're not trying to guess what Ohio State's published depth chart would look like – the Buckeyes don't even release one anymore – but rather what the actual depth chart will be, so you won't find any "OR"s on here. Of course, most positions on the depth chart are still up for grabs given that it's only January, but this is a best guess of what the depth chart will be when Ohio State plays its 2021 season opener at Minnesota on Sept. 2, which will likely be different than what the depth chart looks like when the Buckeyes begin spring practice.
Quarterback
1. C.J. Stroud
2. Kyle McCord
3. Jack Miller
Ohio State will have a three-way competition for the starting quarterback job following Justin Fields' departure, and they could truly end up in any order on the depth chart. Stroud and Miller have been on campus for a year while McCord is just arriving this weekend, but none of them have ever thrown a collegiate pass, so the depth chart will be determined by who performs best this spring and summer, when they will be constantly evaluated against each other every time they have the opportunity to take the practice field.
Given that Stroud was the first man off the bench when Fields briefly had to exit a pair of games this past season, he might be the slight frontrunner to win the job entering the offseason. McCord will have ground to make up since Stroud and Miller have both already been practicing at Ohio State for a year. That gap will be significantly smaller than it would have been, though, if Miller and Stroud actually saw significant playing time as true freshmen.
That makes this initial projection of the quarterback depth chart simply a guess, as all of them are talented enough to win the job and none of them will enter the offseason with a substantial leg up over the others. If I was setting betting odds for who will begin the 2021 season as Ohio State's starting quarterback, though, Stroud would be the favorite – if only by a small margin.
Running Back
1. Master Teague
2. TreVeyon Henderson
3. Miyan Williams
Teague will begin the offseason as the frontrunner to start at running back since he's been a regular in the rotation for the past two years, but he will face stiff competition from five other scholarship running backs who will all make their case for a spot in the rotation this year.
Marcus Crowley and Steele Chambers will certainly be looking to earn their way into the rotation as third-year backs, but Williams surpassed both of them on the depth chart by the end of this past season. All of them are going to face an immediate push from Henderson, a five-star recruit who could be the most talented running back in the room right away, along with fellow freshman Evan Pryor, who was also a higher-rated recruit than each of the older running backs.
There are many different ways this competition could go, but I think Henderson will prove too talented to keep off the field. And I wouldn't be surprised if this ends up being a Mike Weber/J.K. Dobbins situation, with Teague playing the role of Weber and Henderson playing the role of Dobbins, who ascended to the top of depth chart and saw more carries than Weber in 2017 even though Weber was the returning starter.
Wide Receiver
1. Chris Olave
2. Julian Fleming
3. Jayden Ballard
Wide Receiver
1. Jaxon Smith-Njigba
2. Jameson Williams
3. Gee Scott Jr.
Slot Receiver
1. Garrett Wilson
2. Emeka Egbuka
3. Kamryn Babb
Ohio State's 2021 roster is loaded with an obscene amount of talent at wide receiver, but there's no question who two of the three starters will be with Olave and Wilson both returning. Williams is also a returning starter, but I expect him to be pushed for his starting job by Fleming and Smith-Njigba, and Smith-Njigba showed enough flashes as a freshman to make me believe he could be the Buckeyes' breakout star at receiver in 2021.
If Smith-Njigba starts outside, that could open up a spot on the two-deep for Egbuka, a top-10 overall recruit who's expected to start his career playing inside. Scott, Babb, Ballard and Marvin Harrison Jr. will all be pushing for spots in the rotation next season, too, but there's only going to be so much playing time to go around, especially since Olave and Wilson are both likely to be on the field far more often than not, especially in big games.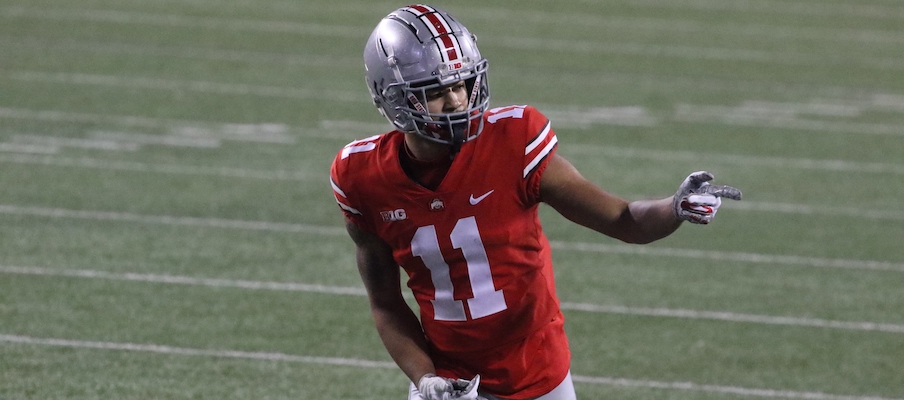 Tight End
1. Jeremy Ruckert
2. Cade Stover
3. Mitch Rossi
After splitting snaps with Luke Farrell for the past two seasons, Ruckert will be Ohio State's clear-cut starter at tight end in 2021. Mitch Rossi is the only other returning tight end who saw semi-regular playing time this past season, so he'll likely continue to have a role in the rotation. The potential breakout player to watch at tight end is Stover, who should be ready to contribute in 2021 after making the move from defense last offseason and has the physical tools to be an impact player at the position.
Left Tackle
1. Thayer Munford
2. Dawand Jones
3. Grant Toutant
Left Guard
1. Paris Johnson Jr.
2. Donovan Jackson
3. Josh Fryar
Center
1. Harry Miller
2. Luke Wypler
3. Jakob James
Right Guard
1. Matthew Jones
2. Enokk Vimahi
3. Ryan Jacoby
Right Tackle
1. Nicholas Petit-Frere
2. Max Wray
3. Ben Christman
Ohio State's starting offensive tackles for 2021 are locked in with Munford and Petit-Frere both returning, but all three starting spots on the interior offensive line could be up for grabs.
Miller is the likely frontrunner to replace Josh Myers at center, but he'll have something to prove this offseason after an underwhelming first season as a starter. Matthew Jones is also likely to start somewhere on the interior offensive line after starting three games, including both College Football Playoff games, at left guard this past season. Johnson will likely succeed Munford as Ohio State's starting left tackle in 2022, but he also saw playing time at guard in both CFP games and is simply too talented not to be in the lineup as a sophomore.
Dawand Jones, Wypler and Vimahi are also candidates to push for starting spots on the interior offensive line. At minimum, all of them should be on the two-deep, with Wray also in line to be a backup tackle. Jackson is a five-star recruit who should have a chance to climb the depth chart quickly and earn a spot on the two-deep at guard, though Jacoby will also be in the mix for that spot.
Defensive End
1. Tyreke Smith
2. Javontae Jean-Baptiste
3. Jack Sawyer
Defensive End
1. Zach Harrison
2. Tyler Friday
3. Noah Potter
With Smith, Harrison, Friday and Jean-Baptiste all returning from last season's rotation, defensive end is one of Ohio State's deepest positions for 2021. Potter and Cormontae Hamilton should also push for increased playing time after seeing occasional snaps this past season.
That said, Sawyer is too talented not to see at least some playing time as a freshman, and it's certainly possible he could climb into the two-deep if he impresses this spring and summer. Ohio State needs more from its outside pass-rushers than it got this past season, and as a top-five overall recruit, Sawyer certainly has the potential to provide that pass-rushing boost if it doesn't come from the veterans.
Defensive Tackle (3-Tech)
1. Haskell Garrett
2. Taron Vincent
3. Mike Hall
Defensive Tackle (Nose)
1. Antwuan Jackson
2. Jerron Cage
3. Ty Hamilton
Garrett returns as one of Ohio State's starting defensive tackles and will continue to see the majority of playing time at 3-technique next season. The core rotation at the position will likely consist of Garrett and Vincent, though Hall is a candidate to push for immediate snaps as the No. 49 overall prospect in the recruiting class of 2021.
The nose tackle depth chart is less settled following the departure of Tommy Togiai, but Jackson and Cage will likely lead the way after rotating behind Togiai in 2020. Hamilton is also a candidate for increased playing time in his second year as a Buckeye, while incoming freshman Tyleik Williams will be the biggest nose tackle on the roster and could also push for a spot in the rotation.
Will Linebacker
1. Teradja Mitchell
2. Cody Simon
3. Mitchell Melton
Mike Linebacker
1. Dallas Gant
2. Tommy Eichenberg
3. Reid Carrico
Sam Linebacker
1. K'Vaughan Pope
2. Craig Young
3. Jaylen Johnson
After waiting their turn behind Tuf Borland, Pete Werner, Baron Browning and Justin Hilliard, the fourth-year trio of Gant, Mitchell and Pope will finally get their chances to compete for starting jobs. Mitchell and Gant, in particular, should be frontrunners to start in 2021 after taking second-team reps at the two inside linebacker spots for the past two seasons.
But since none of them have started a game at Ohio State, they'll still have to prove this offseason that they should be in the lineup, with young linebackers behind them looking to steal their starting jobs. Two young linebackers to watch in particular could be Young, who actually played more snaps than Pope this past season, and Simon, who established himself as a regular on special teams as a true freshman.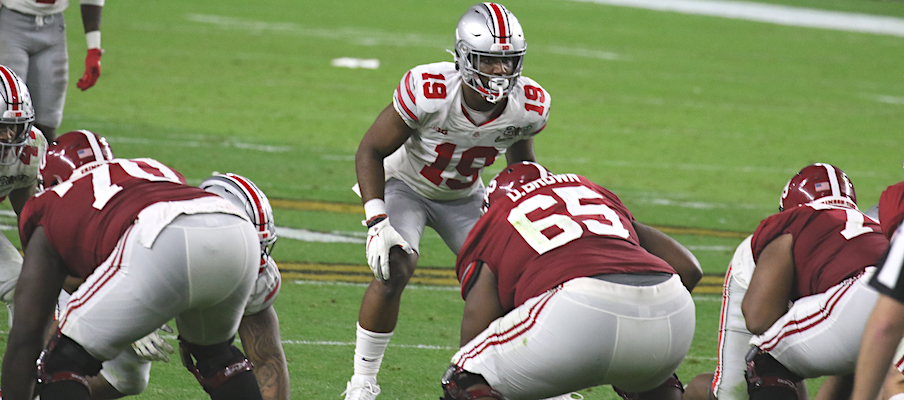 Cornerback
1. Sevyn Banks
2. Ryan Watts
3. Tyreke Johnson
Cornerback
1. Cameron Brown
2. Jakailin Johnson
3. Lejond Cavazos
This is one of the most difficult positions to project on the depth chart, as every position in the secondary really should be open for competition after the unit's struggles this past season, but it would be a surprise if Banks doesn't retain his job as one starting cornerback. Brown, who probably could have helped Ohio State's 2020 secondary if healthy, is the likely frontrunner to start opposite Banks, but that will depend on how quickly he recovers from his torn Achilles.
Tyreke Johnson probably should be in the running for a starting job as a five-star recruit entering his fourth year at Ohio State, but he played only sparingly this past season even after Brown's season-ending injury, leaving the door open for younger cornerbacks to jump ahead of him. Jakailin Johnson should push for early playing time as a top-50 national recruit, while Watts and Cavazos will also be candidates for bigger roles as second-year Buckeyes.
Slot Cornerback/Safety
1. Marcus Williamson
2. Lathan Ransom
3. Ronnie Hickman
After playing mostly with three cornerbacks and one safety during the regular season, Ohio State played mostly with two high safeties in the College Football Playoff, so it's uncertain how exactly the Buckeyes will align their base secondary in 2021. Williamson played as both a cornerback and safety in 2020, so he's the likely frontrunner to start either way after opting to return for his additional year of eligibility.
He'll need to improve this offseason to lock down that spot, though, as he'll have several young defensive backs on his heels. Ransom should make a strong push for a starting spot this offseason after impressing down the stretch of his freshman year as a nickel cornerback. Hickman also flashed in that role against Michigan State, but didn't play in any of the Buckeyes' final three games after suffering an injury before the Big Ten Championship Game. True freshman Jordan Hancock and redshirt freshman Cameron Martinez could also push for playing time.
Safety
1. Josh Proctor
2. Kourt Williams
3. Marcus Hooker
Proctor still needs to become more consistent to be a true "eraser" on the back end of Ohio State's defense, but he's a big hitter with a nose for the ball and was an upgrade after replacing Hooker at the deep safety for the Buckeyes' final three games of this past season. He'll likely be in the starting lineup one way or another in 2021.
Based on the way coaches were talking about Williams before he tore his ACL in August, he likely would have seen playing time as a true freshman if he had been healthy. Like Cameron Brown, his place on the 2021 depth chart could depend on how quickly he gets back to full speed, but he should make a push for a significant role if he can get back on the field in time for preseason camp.
Kicker
1. Jake Seibert
2. Dominic DiMaccio
Seibert will be the only scholarship kicker on Ohio State's 2021 roster and should take over field goal and extra point duties on a permanent basis after filling in when Blake Haubeil was sidelined this past season. DiMaccio could continue to be the Buckeyes' kickoff specialist after kicking off in six of Ohio State's eight games this past season.
Punter
1. Jesse Mirco
2. Michael O'Shaughnessy
Ohio State wouldn't have offered Mirco a scholarship if it wasn't confident he could step in right away as Drue Chrisman's successor, so he'll arrive from Australia as the frontrunner to start at punter in 2021. O'Shaughnessy is the only punter from the 2020 roster who's expected to be back next season.
Long Snapper
1. Bradley Robinson
2. Roen McCullough
Though Robinson was listed as a senior this past season, he's expected to return for an additional year of eligibility and retain his role as the starting long snapper, with McCullough returning as his backup.
Kickoff Returner
1. TreVeyon Henderson
2. Marcus Crowley
While Demario McCall could return to Ohio State for a sixth year of eligibility, the Buckeyes should be looking to add a spark here as they've now gone 10 years without a kickoff return touchdown. 
Many of the Buckeyes' running backs or wide receivers could hypothetically fill this role, but the top candidate to boost Ohio State's kick return game might be Henderson, whose elite speed will make him a big-play threat every time he touches the ball. Other candidates at kickoff returner could include Crowley, Steele Chambers, Jameson Williams and Miyan Williams.
Punt Returner
1. Garrett Wilson
2. Jaxon Smith-Njigba
Wilson has been solid as Ohio State's punt returner and will likely continue in that role for a third straight season. Smith-Njigba also fielded some punts as a freshman and could push Wilson for more opportunities next season.