Jeff Saturday, a former NFL center with four All-Pro selections and a Super Bowl to his name, couldn't hide his excitement. The grin on the ESPN analyst's face only widened as host Mike Greenberg introduced Saturday's segment where he highlights his favorite blocks of the past weekend.
Like most people who played on the offensive line and fell in love with it, nothing stimulates him like a good 'ole fashioned pancake when a 300-pounder tosses a big-bodied defender onto his butt in the ultimate show of strength. On the Jan. 5 episode of ESPN's flagship morning show, Saturday started off with a familiar face – and game – to those in Columbus.
Paris Johnson in the Sugar Bowl.
"Watch my man take Clemson and dump him on his back, just giving him the nasties," Saturday said. "We call this hanging him on a peg. Make sure you put that on in the draft report. We hang them dudes on the peg and then dump them. We're giving one pancake to my man Paris Johnson because he dunks him on his back after the pancake. Absolutely love it."
That play, the one that ended up on ESPN and shortly thereafter on Johnson's mother Monica's Twitter account, was just the second of the first-year offensive lineman's Sugar Bowl stint when he got called into action for a partial series in place of left guard Matthew Jones late in the second quarter.
.@ParisJohnsonJr serving pancakes on @GetUpESPN #gobucks #takeitbyforce #getup #throwhimouttheclub #pancake pic.twitter.com/anWXikZVFt

— Monica Johnson (@MonicaCLJohnson) January 5, 2021
Of course, his last play of the stint – two minutes later when he didn't peel off of a combo block in time and missed a linebacker, leading to a talking-to from left tackle Thayer Munford – didn't end up on highlights reels. But it did show that he's human and still far from a finished product, which sometimes feels forgotten in the conversations about Johnson.
Dating back to his days as a high school recruit ranked as the best at his position with offers from powerhouse programs spanning the country, people have talked about him with reverence rarely seen with someone his age. They reference his special athleticism at 6-foot-7 and more than 300 pounds, the flair and mauling nature he has as an unforgiving blocker and attach ridiculous comparisons to him. Murmurs about whether he might turn into the next Orlando Pace followed him to Ohio State, and he never shied away from them.
If what people have said are remotely close to reality, even with the Buckeyes bringing back both of their starting tackles in Munford and Nicholas Petit-Frere, it has become difficult to imagine him not wedging his way into a starting spot somewhere – likely at left or right guard – as a second-year lineman in 2021. 
Josh Myers, the team's starting center for the past two years who's now off to the NFL, did nothing but stoke the Johnson-might-be-something-special flames a week and a half ago.
"I don't know if I should say this or not because it's pretty early on in Paris' career, but in my personal opinion, if Paris isn't an Outland Trophy winner before he leaves here then he's screwed something up, because he should be by the time he leaves," Myers said. "In my opinion. He's that talented. So, yeah, he's a ball player, man. He's good. I think he could step in pretty much anywhere on the offensive line and be just fine."
Nobody who makes a player like Myers rave the way he did about Johnson can stay on the bench for too long. It doesn't happen.
Had Munford not made the surprising decision to remain a Buckeye for a fifth season and start for a fourth straight year at left tackle, that starting spot could have – would have? – been Johnson's. He'd have been the overwhelming favorite after entering college a year ago as the No. 1 offensive tackle prospect in the country. Yet because Munford is staying in school and Petit-Frere isn't expected to make the leap to the NFL yet, openings at offensive tackle don't exist. Those two positions are locked down with All-Big Ten-caliber performers – unless the coaches decide they want to put Johnson at tackle and move Petit-Frere to guard.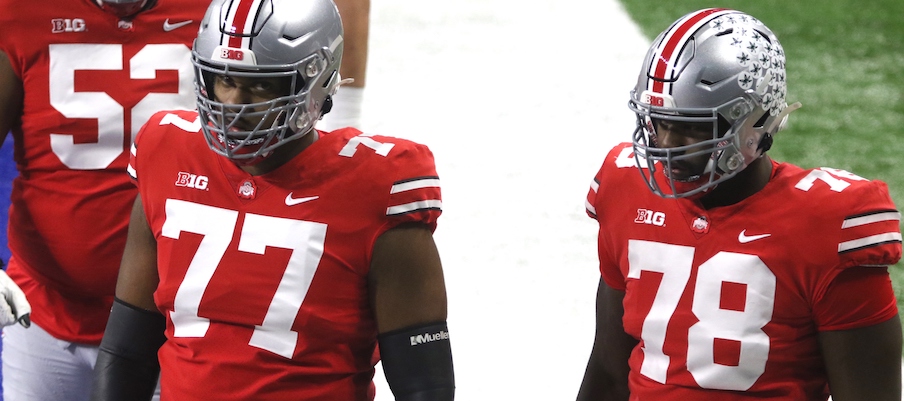 The most likely scenario for Johnson would be to shift inside to guard in 2021 before moving back outside to man left or right tackle in 2022. By taking several snaps on the interior of the offensive line both in the College Football Playoff semifinal and national title game, he proved both that he has the capability of playing guard despite being a natural tackle and that he's already spent time learning the spot.
Among the three inside spots, only one starter – Harry Miller – is supposed to be back. Wyatt Davis and Myers will move on to the NFL. That would leave two vacancies for Johnson, Matthew Jones, Dawand Jones, Enokk Vimahi, Ryan Jacoby and Luke Wypler to compete to fill. 
The way Johnson ascended the depth chart as a freshman certainly makes him a favorite, alongside Matthew Jones, to join the starting five. 
"It feels like I'm learning all over again. I'm not sure how to explain it," Johnson said in November. "Going from high school where I recently learned how to play offensive line and I was highly ranked coming here, and I'm learning all these things over again but in a way it's very positive. I get very excited when I'm making these mistakes and then coach and a lot of the older guys are like, 'All right, here's what we have to do,' and I keep doing that repeatedly and I see the success and I see the change in my game. I feel like those are the biggest ways I've changed. 
"I can honestly say from the time I've gotten here, each day I've gotten so much better through making the mistakes because here, they have all the answers for any mistake, so it really helps."
By the time the Sept. 2 season-opener at Minnesota rolls around, Johnson will have spent 20 months in the program. Yet because of the shortened 2020 regular season and minimal blowouts, he'll only have seen 22 game reps.
Still, if Johnson doesn't run out there with the starters, likely as a guard, perhaps nobody would be more surprised than Myers.
"Paris is an extremely talented football player and offensive lineman," Myers said. "He has the right skill set. He has what God has given him, and God has given him a lot. And he also has the mindset."