In the immediacy of the national championship game, Shaun Wade didn't rule out one more year at Ohio State. To the contrary, he propped the door for a return wide open.
"You know, I do want to come back and everything," Wade said less than an hour after the Buckeyes lost to Alabama. "I've got to talk to my parents. It is upsetting that we got here and we just didn't accomplish the goal, and that's just been my goal, winning a national championship and just winning big games like this. I'll just go back with my parents, go talk to them and just go from there."
Whatever conversations took place over the past four days, however, led to the inevitable conclusion most had predicted.
Wade, who appeared destined for the 2021 NFL draft dating back to the moment he announced he wouldn't enter the 2020 NFL draft, announced on Friday morning he has decided to go pro. No, the Buckeyes couldn't cap off his career by beating the Crimson Tide for a title, and no, he didn't boost his draft stock the way he had hoped in his move to outside cornerback. He fell short of those goals. But after four years, he still felt the time was right to take the long-awaited jump to the next level.
Thus, Ohio State loses a multi-year starter in its defensive backfield whose exit from Columbus clears the runway for what has a chance to be a massive offseason competition for spots in Kerry Coombs' secondary rotation after a season of lackluster production.
---
Essentially, there are two factions among returners on the back end of the defense: Returning starters and unproven underclassmen.
Almost every year, those returning after a season starting would have a significant advantage. Remember all of the times over the past few years when fans wondered if there would be changes among the starting linebackers? If Tuf Borland or even Pete Werner would at some point get placed? Those who entrenched themselves as starters hung on as years passed.
If we're putting odds on what will happen over the course of the next eight months ahead of the Sept. 2 season-opener at Minnesota, it's fair to view cornerback Sevyn Banks, slot corner Marcus Williamson and safety Josh Proctor as favorites to become second-year starters with Cameron Brown having the edge at the other cornerback opening. But after what transpired on the field in the 2020 season, nobody should – or will – view their starting jobs as completely safe.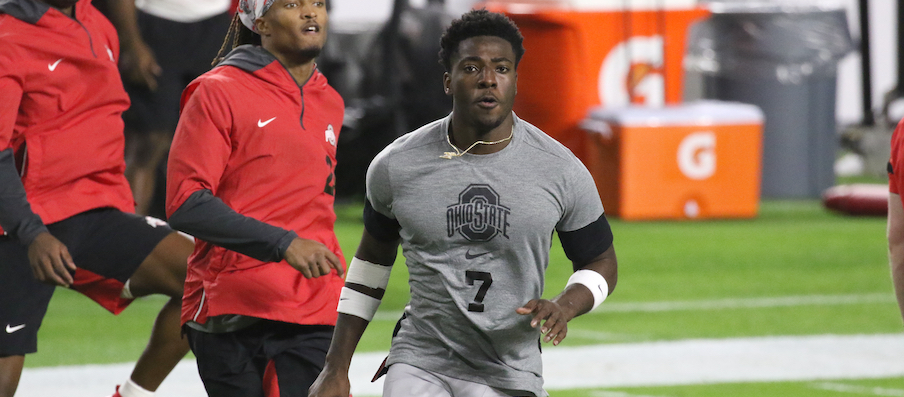 This was, of course, a secondary that was arguably the No. 1 reason why Ohio State ended the season ranked 85th of 127 teams nationally in opposing yards per pass attempt, 87th in opposing quarterback rating, 111th in opposing completion percentage and 122nd in opposing passing yards per game. The porous nature of the defensive backfield allowed Indiana's Michael Penix. Jr. to toss for a career-high 491 yards and five touchdowns in mid-November, then didn't improve enough to avoid Mac Jones and DeVonta Smith torching the Buckeyes for 464 passing yards and five touchdowns in the national championship game.
Each year, the Buckeyes have a stated goal for their secondary to be the Best In America. As Jeff Okudah used to say, that's more important to this team than the DBU moniker that's so often debated. This past season, Ohio State's secondary was nowhere close to being the Best In America.
The way to fix what went wrong in 2020 and to reclaim that BIA status won't be to simply trot out the same group of guys in 2021. Coombs needs to – and will – explore all options over the course of the offseason. 
---
Provided Banks doesn't make an unexpected leap to the NFL, he will almost certainly replace Wade as Ohio State's top outside corner. The rising fourth-year out of Orlando endured an up-and-down first season as a start across the field from Wade, at times looking like possibly the best player in a shaky defensive backfield yet also allowing several chunk plays and touchdowns. Still, even with some bugaboos, Banks showed enough promise to make him a heavy favorite to return as a starter.
Who will start across from Banks? That's where things start getting interesting.
Brown, provided he returns to the field after a torn Achilles in timely fashion, should have the inside track. He played 254 snaps at cornerback in 2019 and was the clear No. 3 option at the position behind Wade and Banks before his Week 2 injury. To claim the starting spot, he'll have to get healthy and hold off a glut of underclassmen who could find themselves in the mix.
A shortened schedule with minimal blowouts meant Ryan Watts rarely saw the field as a freshman while Lejond Cavazos never saw the field at all. Yet with a year of experience under their belts, they'll jostle for playing time. Watts is a big-bodied defensive back who, standing 6-foot-3, is the tallest cornerback on the team. Cavazos is a pure athlete and a speedster. Incoming four-star freshmen Jakailin Johnson (No. 3 cornerback in 2021) and Jordan Hancock (No. 4 cornerback in 2021) will try to wedge their way into the rotation, as well. 
The one other veteran to watch at outside cornerback is Tyreke Johnson, now entering his fourth season after landing in Columbus as a five-star recruit. He's yet to get much of a foothold on the depth chart.
Coombs has shown a penchant for rotating corners in the past. So if he feels as though he has more than two able-bodied cornerbacks, he shouldn't have any problem rotating them.
The situation – and number of different options – becomes even more complex when considering safety and slot cornerback/safety, where the Buckeyes bring back Proctor and Williamson. Will both of them start? There's a good shot. But Ohio State has a bunch of other combinations of players it can employ if it wants to get creative.
Lathan Ransom and Ronnie Hickman each have experience at both spots, and Kourt Williams could play either of them, too. All three of them will push the veterans ahead of them, vying for playing time. Marcus Hooker will be in the mix, too, even though he lost his starting safety job late in the 2020 season. Cameron Martinez, a second-year slot cornerback, and third-year safety Bryson Shaw are possibilities as well. Incoming four-stars Andre Turrentine and Jantzen Dunn will attempt to shoot up the depth chart upon their arrivals.
In short, Coombs won't be lacking for options. Perhaps it all ends with the same corners and safeties who manned spots over the past few months – Proctor, Banks and Williamson – holding on to their jobs, but that shouldn't happen without some healthy competition.