While the 2020 season is now over, there are no shortage of interesting storylines surrounding the Ohio State football team as its 2021 offseason now begins.
The Buckeyes are expected to lose some of their biggest stars from this past season, including their biggest star in Justin Fields, yet it remains possible they could get some unexpected boosts in the form of seniors taking advantage of an extra year of eligibility. They have lots of young talent who will be vying for breakout seasons in 2021, yet they could also have to guard against the possibility of losing more players to transfers if the NCAA eventually allows players to transfer without sitting out.
There's no question Ohio State will once again have its sights set next season on winning another Big Ten Championship Game, making another College Football Playoff and attempting to win the national championship, but there are many questions the Buckeyes will need to come up with good answers to in order to achieve those goals, and for the second year in a row, their preparation for the season will likely be at least somewhat different than normal.
We take a look below at six of the biggest questions surrounding the Buckeyes now that the 2020 season has concluded and the 2021 season is underway.
Who will be the next starting quarterback?
It's unlikely any question about the 2021 Ohio State football team will be discussed more between now and the team's scheduled Sept. 2 season opener than this one, and there's good reason for that. There's usually a strong correlation between the teams who have the best quarterbacks and the teams who make the College Football Playoff, and the Buckeyes might not have a single quarterback on the 2021 roster who has ever thrown a collegiate pass.
Assuming Fields enters the 2021 NFL draft, Ohio State is set to have a three-way competition for the starting quarterback job between redshirt freshmen C.J. Stroud and Jack Miller and true freshman Kyle McCord – all of whom have the talent to be great quarterbacks for the Buckeyes, but are also completely unproven.
While Stroud and Miller were supposed to get some valuable game reps as backups this past season, they ended up only playing very sparingly – Stroud appeared in three games and Miller appeared in two games, but neither attempted a pass – because Ohio State played only five regular-season games with zero non-conference games.
Neither of them had real in-game opportunities as true freshmen to make their case for why they should be the Buckeyes' next starting quarterback, leaving the competition wide open between them and McCord going into this offseason. While Stroud might be the slight frontrunner just based on the fact that he was the quarterback who came off the bench when Fields had to briefly leave the Michigan State and Clemson games due to injury, all three of them have a very real chance of winning the job, and Ohio State will likely keep reps between them as equal as possible throughout the spring and summer.
By September, Ohio State will need at least one of those quarterbacks to prove they are ready – or as much as one can prove readiness before playing in an actual game – to be Fields' successor and lead the Buckeyes' offense in 2021. And how well that new starting quarterback performs will likely be the biggest determining factor in whether the Buckeyes contend for a title again.
Can Kerry Coombs get the defense back on track?
After Ohio State's defense led the entire Football Bowl Subdivision with just 259.7 yards allowed per game in 2019, the Buckeyes took a big step back on that side of the ball in 2020, allowing more than 400 yards per game to rank 59th nationally. More specifically, they allowed nearly twice as many passing yards per game, ranking 122nd in the FBS with 304 passing yards allowed per game after leading the nation by allowing just 156 passing yards per game in 2019. 
While a drop-off was to be expected with the departure of star players like Chase Young, Jeff Okudah, Damon Arnette and Jordan Fuller, and the statistics are a bit skewed by the fact that Ohio State played just eight games (including two games against Clemson and Alabama) this season, it's undeniable that the Buckeyes failed to play championship-level defense this year. And the burden for that failure falls upon Kerry Coombs as defensive coordinator.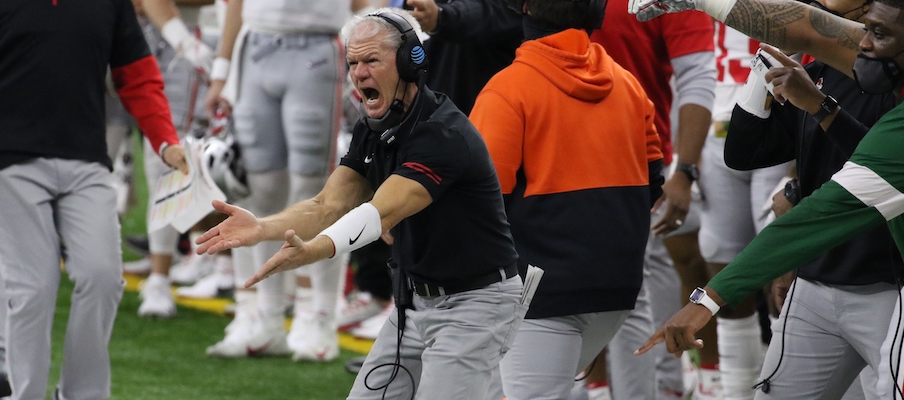 There were already questions about Coombs being a defensive coordinator when he was hired, given that he had never been a collegiate defensive coordinator before, but those have gotten much louder now. Although he didn't have as much talent to work with in 2020 as Jeff Hafley had in 2019, it still certainly looked as though the Buckeyes missed Hafley's schematic expertise this past season.
In Coombs' defense, his job as a first-year defensive coordinator was certainly made tougher by the COVID-19 pandemic, which prevented him from having a full offseason to work with his new players and install defensive concepts and from having a full season of games to work through the issues that popped up. But he enters 2021 with a lot to prove.
Do the Buckeyes need to change their defensive scheme this offseason, do they need to shake some things up on their defensive coaching staff or do they simply need more defensive stars to emerge, specifically in the secondary and the pass-rush? Those are the evaluations Ryan Day and the Buckeyes need to start making now as they look to get their defense back on track next season.
How much roster turnover is coming?
Ohio State always has to deal with the reality of losing star players early to the NFL draft, and this year will be no exception. While none of Ohio State's juniors had officially announced plans to enter the NFL draft at the time this article was published, it's expected that Fields, Wyatt Davis and Chris Olave will all go pro while Josh Myers and Shaun Wade are likely candidates to join them, and there are other juniors like Tyreke Smith, Tommy Togiai and Jeremy Ruckert who could also consider making the jump to the league.
The NFL's deadline for underclassmen to declare for the draft is Monday, so we should know soon what each of those players decide.
On the other hand, Ohio State could potentially get a few of its seniors back for an additional year thanks to the NCAA giving all players a free year of eligibility due to the COVID-19 pandemic. Marcus Williamson is the only senior who's announced so far that he will be back, but the NFL is giving those players until March 1 to withdraw from the draft, so there's still time for other players to choose to stay as well.
That's a new variable that all college football teams are dealing with this year in terms of roster management, and so is the possibility that the NCAA could expand the one-time transfer exception to all sports later this year. Clarity on that front was supposed to come this week, but after the NCAA opted to delay its vote on changing the transfer rules, players will have to make decisions about whether or not to transfer and teams will have to make decisions about whether or not to pursue transfers without knowing for sure whether they will be immediately eligible to play.
Because the transfer rules are still expected to change at some point in 2021, though, there's certainly a possibility that Ohio State will lose more players to transfers this offseason than in Ryan Day's first two offseasons. Of course, there could also be more opportunities for Ohio State to add talent to its team through the transfer portal, as the Buckeyes successfully did with Fields, Jonah Jackson and Trey Sermon over the past two years.
Who will step up as new team leaders?
With the roster attrition that's expected to take place this offseason, it looks like the Buckeyes could lose the majority of their top player leaders from this past season. All seven captains from the 2020 team – Fields, Davis, Myers, Wade, Tuf Borland, Jonathon Cooper and Justin Hilliard – could be playing in the NFL next season, which means the Buckeyes are going to need their veterans who do return to step up and take the baton of leadership as their 2021 offseason begins.
Any seniors who choose to return will likely be right at the forefront of that conversation, as will fourth-year players like Smith, Togiai, Ruckert, Master Teague and Nicholas Petit-Frere – assuming they decide to return. But it will also be important for third-year Buckeyes like Garrett Wilson and Zach Harrison, and even some of their younger players – including whoever starts at quarterback, of course – to take steps forward as leaders to make up for all the respected veterans who are moving on this offseason.
What will this offseason, and next season, look like?
While Ohio State typically begins winter workouts almost immediately after the previous season ends, the Buckeyes are taking a postseason break this year. Because players and even some coaches were separated from their families all season due to the COVID-19 pandemic, Day said after Monday night's national championship game that the Buckeyes would be taking a little time off before they dive into preparing for next season.
"We've already started to put together the schedule for the spring, but we all need to get away for awhile," Day said. "This has been a long, long road. Guys miss their families, and they deserve time to be with them. We'll unwind for a little while, have an opportunity to reflect on what the season has been, and then get back into it."
An Ohio State spokesperson said Thursday that the Buckeyes had not yet finalized their plans for when they will resume workouts at the Woody Hayes Athletic Center and when spring practices will begin. Even once they do resume workouts, though, this isn't going to simply be a normal offseason.
The pandemic that impacted Ohio State's entire 2020 season is still going, and that could certainly impact what the Buckeyes do this offseason in terms of workouts and spring practices. The NCAA hasn't yet announced has modified guidelines for offseason workouts this year, but it's likely there will be conversations about whether changes to the spring and summer calendars need to be made in order to continue managing the pandemic and ideally, maintain a much more even playing field across the country than this past season.
While we're all hoping for a full, mostly normal football season in 2021, and there's optimism that vaccinations over the next eight months will make that a possibility, there are still likely to be some pandemic-resultant challenges that college football teams will have to deal with all year long. And it's far from guaranteed that Ohio Stadium will be back to hosting full crowds in the fall, though it's certainly hoped – and needed from a financial standpoint – that the Shoe will at least be able to host partial-capacity crowds next season.
Can the Buckeyes get over the hump in 2021?
I typically write an article like this after every season here at Eleven Warriors, and I've concluded with a variation of this question every year, because it's been six full years now since Ohio State has won a national championship, and that's always the expectation in Columbus.
The Buckeyes got closer this past season than they had in any of the prior five seasons, yet they've still watched Alabama win three national titles, Clemson win two and LSU win one since they won their last. Other than Alabama and Clemson, Ohio State has won more games than any other school during that span, but despite having one of college football's most talented teams year in and year out, the Buckeyes haven't quite been able to get back over the hump since they won the inaugural College Football Playoff.
Ohio State almost didn't even get the opportunity to play a fall season and compete for a national championship in 2020, so the Buckeyes ideally won't have to worry about being handcuffed by their own conference in 2021. But how effectively they answer all of the other questions above could determine whether they're able to accomplish their championship goals next season.
The Buckeyes will have one of the nation's most talented rosters again in 2021, but because they won't have Fields, they might not be viewed as one of the top two or three frontrunners like they were last year. They're going to need new stars to emerge on both sides of the ball to have a chance to win it all, but that's going to be both the objective of the program and what most Ohio State fans expect from the program once again.