Following Ohio State's national championship game loss against Alabama on Monday night, more than a dozen Buckeye players lingered on the field for several minutes, watching the Crimson Tide players celebrate their victory before retreating to the locker room in disappointment.
Several minutes after those Buckeyes returned to the locker room, as Alabama was formally presented the College Football Playoff national championship trophy, walk-on running back Xavier Johnson walked back out to the field to watch the on-stage trophy presentation.
Xavier Johnson came back out of the locker room to watch Alabamas celebration. pic.twitter.com/1G9Z4L1oom

— Dan Hope (@Dan_Hope) January 12, 2021
In the moments after their championship dreams were officially crushed, those Buckeyes chose to watch the Crimson Tide revel in the euphoria they'd hoped they'd be feeling themselves on Monday night.
For those returning to Ohio State for another season, count on those images lingering in their memories all offseason long as they turn their attention toward making another College Football Playoff run in 2021.
Whenever the Buckeyes return to the Woody Hayes Athletic Center to start offseason workouts, chances are good there will be reminders of 52-24 – the score by which Alabama defeated Ohio State – all over the facility. Last offseason, the Buckeyes had video boards in their weight room prominently displaying 29-23, the score by which Clemson beat Ohio State in the College Football Playoff semifinals two seasons ago.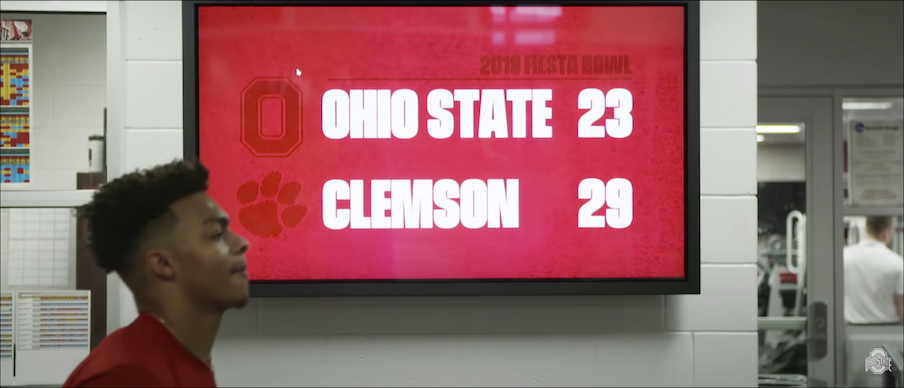 That loss served as fuel for this season's Buckeyes all year long. Even when it looked like they might not have a season this fall, they continued to fight for the opportunity to play, and the biggest reason why they did was because of how badly they wanted another shot at competing for a national title. They made their hard work pay off by going undefeated in the regular season, earning a berth in the College Football Playoff and avenging their loss to Clemson in a 49-28 win over the Tigers in this season's CFP semifinal at the Sugar Bowl.
Yet they still came up one win short of their ultimate goal, and were blown out in the process, which will surely leave the Buckeyes with a bad taste in their mouths.
"For the guys who were in the locker room who are going to be coming back, they have something to motivate them in the offseason, that feeling of coming off the field," Ryan Day said after Monday night's loss. "We felt that way coming off the field last year against Clemson, now we feel that way coming off the field against Alabama. So we're going to use that as a motivation in the offseason."
Ohio State right tackle Nicholas Petit-Frere expects the way this season ended to drive the Buckeyes to work even harder next season.
"We try to use everything we can to play with a chip on our shoulder and fuel us for the next season," Petit-Frere said. "After that loss against Clemson, we really left the field with bitter taste in our mouth, saying we left a lot of stuff on the field that could have brought us to the championship game like we did this year. So when we went out to go play against Clemson, we remember those feelings. We had a lot of those emotions when we were playing that game, but we knew to keep our poise and calm and do the job that we needed to do.
"So same thing here. This is just another building block on our team to make us stronger, not only as a team, as a group we have coming back, but also for future Buckeyes."
Just because a team is motivated doesn't mean it will actually be capable of winning a national championship, of course, and that's what makes the missed opportunities so painful. Justin Fields and many of the Buckeyes' other stars of the past two seasons won't be back next season, leaving lots of work for the returning Buckeyes to do in the upcoming offseason if they're going to have a chance of avenging their national championship game loss – and even just getting as far as they have in the past couple of seasons – a year from now.
All of Ohio State's captains from this season could be in the NFL next season – Fields, Tuf Borland, Jonathon Cooper, Wyatt Davis, Justin Fields, Josh Myers and Shaun Wade – so the Buckeyes will need new leaders to step up and ensure the team responds the right way to how this season ended.
Even those who don't plan to be back next year, though, are confident the returning players will do what they have to do to give Ohio State a chance to make another title run.
"I feel like they're going to respond the same way that they felt last year with that Clemson loss, honestly," Cooper said after Monday night's loss. "I am excited to watch and see what they do next year. I feel like this is just going to fuel them and motivate them to greater heights, to just achieve more. I feel like they got a taste of it, and now they just need to go finish it."
Fields said he told the returning Buckeyes to make sure they don't forget what happened on Monday night.
"I was just telling the young guys that they have a lot more years here left, and I was just telling them to remember what this feels like, never let it happen to them again," Fields said. "I encouraged them to get back to work as quickly as possible and just remember this feeling of walking off the field with a loss. It doesn't really happen that much here at Ohio State, so I just told them to remember the feeling."