Barely, just barely, did Lathan Ransom experience an offseason last year.
Finishing out his time as a high schooler in Tucson, Arizona, he didn't enroll at Ohio State until June. Of course by then, the country was embroiled in a pandemic that altered all facets of life, including how football teams train. So, Ransom's introduction to the next level came while simultaneously transitioning to college life, learning a defense, figuring out his best position and working out in small groups, and doing all that while the entire season hung in the balance.
And yet, Ransom never stopped ascending.
He played sparingly in the first two games of the season, was on the field for only one defensive snap in the final three of the regular season combined, then played 12 snaps in the Big Ten title game, 28 snaps against Clemson in the College Football Playoff semifinal and nine snaps versus Alabama in the national championship. Over time, Ransom built up enough good will with Kerry Coombs to find a home as the slot cornerback when Ohio State put five defensive backs on the field. He ended the season with six tackles and a pass breakup.
"He really came on for us and played well, especially in the semifinal game against Clemson. Really competed," head coach Ryan Day said. "He showed that he could do that in practice, and so because of that, he had an opportunity to do it. It was hard this year because we just didn't have a lot of those games where we could throw some of those guys in there and find out. When he was in the game, he hadn't done a whole bunch leading up to the end of the year. So to see him play like that was very encouraging."
Maybe if Coombs and Matt Barnes got a chance to experience a more normal offseason or a regular season lasting longer than five games, they would have eventually put Ransom in an even more important role as a true freshman. The abbreviated season combined with the weird offseason only makes it more impressive that he wedged his way into the coaches' rotation by December.
Ransom's rise in his standing in the defensive backfield hasn't slowed down this offseason.
Time after time, both with teammates and coaches, his name has come up in interviews wherein the sophomore has been showered with praise. Tony Alford offered up a challenge to his running backs a couple of weeks ago: "Show the staff that we have to play you." Ransom seems to be showing Barnes and Coombs his answer to that question on a weekly basis as spring camp rolls on.
"He's actually developing pretty fast," safety Josh Proctor said. "He's going to be a guy I feel like a lot of people are going to hear about next year. Even after last year, yeah, he played a bit at the end of the season, but I feel like that kind of boosted his confidence and he kind of came into this offseason also improving with that chip on his shoulder wanting to be better."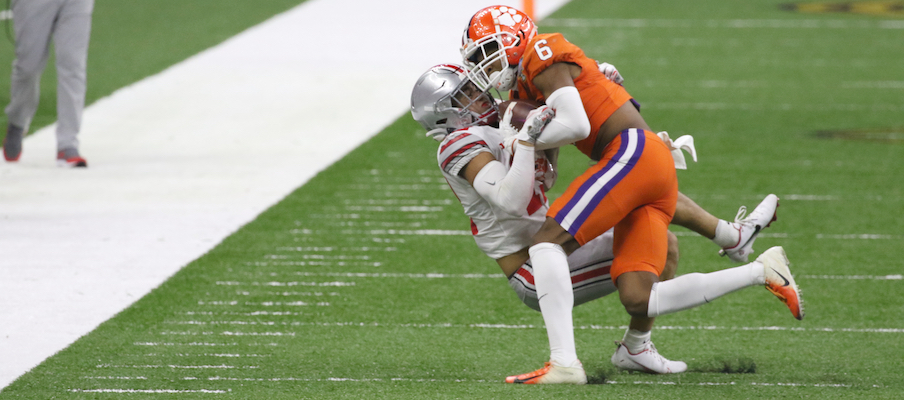 How exactly the coaches will deploy the secondary remains a major question mark after its errors contributed to the Buckeyes ranking sixth-worst in the country in opposing passing yards per game. But Ransom figures to fit into the plans one way or another.
So far, with technique and the basics of being a defensive back a priority early on, Barnes says Ransom has played every single position on defense this spring. But cover safety – otherwise known as the slot cornerback – is the position that Coombs said he'll play. It's also where he lined up when the media was let into practice on Monday.
His presence could be part of what allows the defense to frequently play with more defensive backs on the field than it had a year ago.
"Lathan is a guy that came in, really more ready than I've seen a lot of defensive backs," cornerback Marcus Williamson said. "He has a very professional mindset in how he approaches the game, he's always asking questions and we're able to bounce things off of each other. So I'm not sure how it'll work out this season. I'm sure the coaches will have a plan. But I've really just been impressed with the steps Lathan's taken and how eager he is to just learn and get better.
"So like I said, it'll be up to the coaches how that works out, but his skill set is definitely something that can be used and needs to be used. So we'll see."
Given that Ransom is already trying to cement himself in the rotation, it's easy to forget how young he is and how much room he still has to grow.
He hasn't even been on campus for a full year, and he's already at the point where it might be hard for the coaches to keep him off the field. This is the first time he has ever gone through spring camp, and he's spending much of his time with the first-team defense.
Day called his shot on National Signing Day almost exactly 14 months ago when he said Ransom will eventually be "going to be as good a safety as we've had here in a long time." Less than a year since he stepped foot on campus, it appears that the head coach knew a little something about the 6-foot-1, 200-pound defensive back once ranked as the No. 167 overall recruit in the 2020 cycle.
The Buckeyes will have an abundance of options in the secondary, with Proctor, Williamson, Sevyn Banks, Cameron Brown, Lejond Cavazos, Craig Young, Ryan Watts, Kourt Williams, Ronnie Hickman, Bryson Shaw and Tyreke Johnson all potentially in the picture. But Ransom's play continues to beg the question of whether Ohio State will be able to keep him off the field at all this fall.
"He's got a really, really bright future ahead of him," Day said. "I'm really excited to see him play this season."