Lathan Ransom still remembers what he was like on a football field when he first started playing.
Straight-up bad.
Always the youngest in his age group – he's still 17 and won't turn 18 until July – Ransom played with all the older kids of an Arizona youth football league that ranged from 6 to 10 years old, and the 6-year-old hasn't shaken one particular embarrassing play from those days. 
"I remember one time getting stiff-armed, like, I swear it was like a movie, running down the field with my arms out, trying to reach him, and I just could not get him," Ransom told Eleven Warriors during an interview in January. "When I first started football, I wasn't good at all my first couple years."
So it took another two years before Ransom started getting comfortable with the game, and by the age of 8, his coach – his dad, Nathan Ransom – began flipping on his youth league tapes to get the running back/linebacker more accustomed to those two positions.
"We was watching film from literally Pop Warner all the way to high school," Ransom said. "We've always been watching film. I think that's what helped me the most. My mom [Linda Ransom] would record 'em. You can hear my mom talking during all the games. She was watching the games and helping me get better. I think there's even highlights – my Pop Warner highlights are on YouTube somewhere."
Lathan credits Nathan for instilling in him, from 8 years old and into his sixth- and seventh-grade years, that if you come in full speed, the hits you lay are going to hurt.
"But it's gonna hurt you less than it's gonna hurt them," Ransom said. "Run full speed and don't embrace the hit. Don't take the hit. Give the hit."
It sounds similar to a car crash. When two similarly sized cars are bolting toward each other, the car that's going faster will inflict more damage. 
And that's what football is. A series of car crashes. 
That's the speed and style Ransom has used to become a high school football star, earn a scholarship to Ohio State and which may earn him major money someday: Bring it to 'em before it's brought on you. 
So when he's described as a "hard hitter that looks for loud tackles," in the words of 247Sports recruiting analyst Blair Angulo, it makes sense given where Ransom got it from. 
Ransom has a linebacker's mentality in a defensive back's body, and when he got to middle school is when he began to focus more on the back end of the defense. But, as Ransom puts it, "it's hard to just jump in and start playing DB right away."
He had to grind away at it against some of Arizona's most talented receivers, and when he got to Salpointe Catholic High School, he actually started out with receiver as his main position until he convinced his coach to flip him around. 
As a sophomore is when Ransom began to truly find his ground, putting together good film during that season before shattering his elbow in the last game of the season.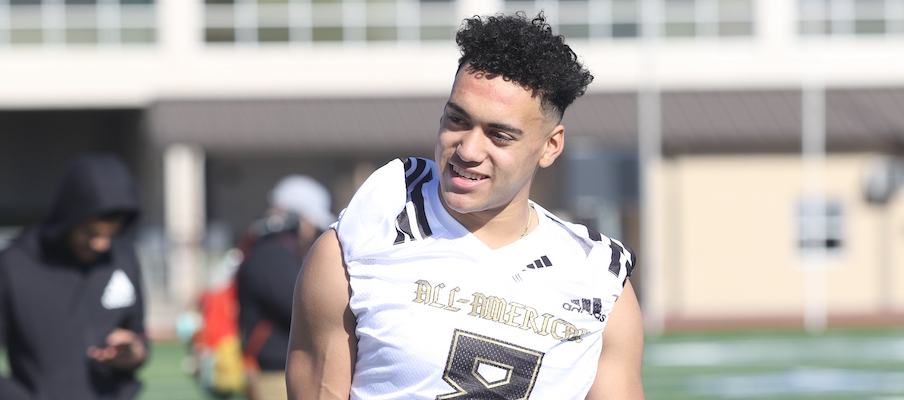 Ransom played all over the field that season – safety, punt returner, kick returner, receiver – but as he was putting his highlight tapes together, one of his coaches told him that the secondary was where his skills translated the best and where he could most thrive.
"He came up to me, and he was like, 'Man, I could really see you fitting into being a D1 safety,'" Ransom said. "It just started grinding from there."
Ransom was a lifelong linebacker now playing safety full-time, and the mentality of playing at linebacker for so long was also what helped him in practices against a player who had been on a different level. 
Bijan Robinson was an all-world Arizona youth league star running back. If you saw him when he was a little kid, Ransom says, he was bigger and faster than everybody, and everyone knew the path to stardom he was already on. 
"I think just growing up with him, it really just motivated me to be better because he always got his love and always just did his thing," Ransom said. "So I just always looked to compete against him and compete in everything we did."
Ransom had played running back for different youth and middle school teams, but when both he and Robinson entered Salpointe, Ransom admits he wouldn't have been able to compete with Robinson for playing time at the position. Instead, he gladly took to the adversarial role of lining up across from him.  
"I actually think having Bijan the whole time (helped). Everyone knows how good Bijan was gonna be since we were little," Ransom says, admitting that seeing Robinson's years-long rise helped fuel extra motivation in himself. (He also made it clear that Robinson was "definitely not" the same running back who gave Ransom the Stiff Arm From Hell as a 6-year-old.)
Now, Ransom and Robinson will have a chance to become college football stars at national programs, having developed themselves in opposite ways – Robinson by flashing every trait you would want out of a stud running back on the way to Texas; Ransom by flashing the traits Ohio State wants from its safety of the future. 
"(Hitting is) really what I take pride into because not a lot of DBs like to do that," Ransom said. "I take pride in being able to do that – being able to cover and come up and lay the wood too."
Now comes the trickier part – fine-tuning and developing those pass coverage skills. 
During the All-American Bowl in January, Ransom struggled in covering the slot and covering the middle of the field. In the first half, Ransom was caught by the East Team's offense, shifting twice from his safety spot over to the slot, and he got burned each time for a total of 81 yards and a touchdown. He was also called for an unsportsmanlike conduct penalty for "leaping" on a field goal attempt. 
In all, it was a bad performance from Ransom on a national stage, and it was noteworthy – yes, it was an exhibition game, but you would also like to see a better performance out of a player going up against the level of competition that matches his own talent level. 
But still, it was just one game, and it's quite possible it will be looked back on as a minor blip on the radar. Ohio State's coaches have been evaluating Ransom for more than two years, and what they've seen are reasons to heap high expectations on him. 
"Lathan Ransom is going to be as good a safety as we've had here in a long time," Ryan Day said in December. 
With Vonn Bell, Malik Hooker and Jordan Fuller a few who have just recently come and gone, that's major praise.
"That actually meant a lot to me," Ransom said. "That puts some pressure on, but I'm ready to embrace it. Just go in and buy in to the whole system. I think it gets me excited because that's what made me love Ohio State as much as I do. Coach Day believes in me just as much as the whole recruiting class believed in him, so for him to say something like that meant a lot – because the DB coach (Jeff Hafley) was gone. For the head coach to believe in me, to come in and get that position, that meant everything to me."
During his recruitment, Ohio State coaches told Ransom that they see him fitting the Fuller mold. Fuller was an adept tackler who played well in coverage out of the Buckeyes' base defense that featured Fuller as the lone safety up top. 
Ransom feels like he shares some of those same traits. He describes himself as "a sponge" whose intelligence and leadership are both things he can lean on as he learns multiple positions, but he admits that's one of the biggest areas of growth he needs to focus on. Aside from entering the Buckeyes' strength and conditioning program, he says one of his "challenges coming in is to learn all the different positions, all the different plays and checks and stuff like that."
 "I need to just come down on the field and be a physical presence as a safety," Ransom said. "Come down, make tackles and have people be scared to throw across the middle. I'm trying to really focus on being a good hitter and tackler because that's what people really know me as. But I'm also trying to show I can cover and do all those other things just as well, too."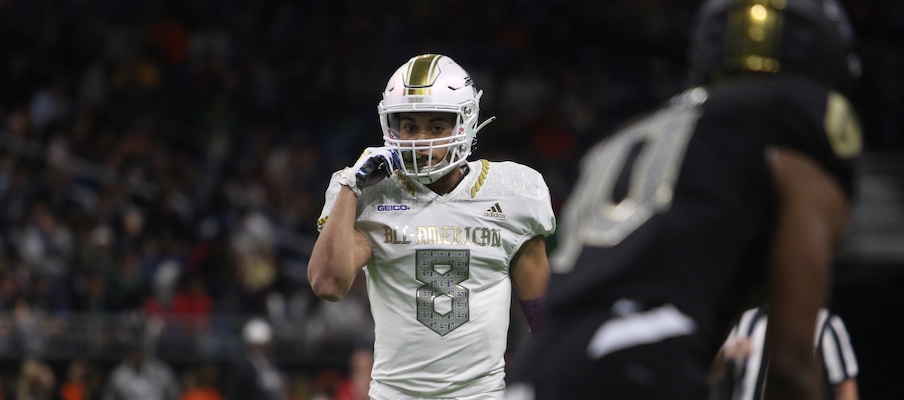 Ransom will have to wait a few months to show it, though. He was not one of the 14 early enrollees in Ohio State's 2020 class, so he'll come to Columbus having to play catch-up. That's one reason that the odds are not great that he will play meaningful snaps as a freshman. 
He still is going to have a shot, however, because Josh Proctor and Marcus Hooker are the only safeties on the roster who have played in more than one game on defense. Bryson Shaw played just six snaps last year, Ronnie Hickman is still battling back from injury and the Buckeyes are likely to utilize more two-safety looks this year than they did last year. 
Ransom says his goal is to become a starter in 2020 because he believes that's what Ohio State's coaches "expect everybody to do."
"They recruit the best dudes to come in and play," Ransom said. "They don't recruit them to come in and sit on the bench. I think all of us are coming in and trying to start at our different positions."
But Ransom understands how difficult it is to come into college and play early, especially at defensive back – as he knows from experience, it's not a position that's easy to come in and play immediately, whether at the college or high school level. 
He says that if he doesn't play right away on defense, he will look to make an impact on special teams while learning from those in front of him.
"Proctor's about to go into his third year, so I'm just trying to learn as much as possible from him since he's been there for so long and see what he did, the challenges he faced and what helped him be as successful as he is," Ransom said. "I'm prepared to come in, but I still have to learn a lot. I'm just gonna be ready to learn. I'm gonna be bugging the coaches, hitting them up. Getting on the film since I'm gonna be behind."
Just like when he was studying his Pop Warner tape with his dad, Ransom's going to start watching film as early as he possibly can.