For the first time since 2019, Ohio State fans were back in Ohio Stadium to watch the Buckeyes play football on Saturday.
It wasn't the six-figure crowd that the Buckeyes are accustomed to seeing in the Shoe, but a socially-distanced crowd of 19,180 fans was inside Ohio Stadium to watch Saturday's spring game. With COVID-19 protocols still in place, fans were seated in physically distanced pods that left plenty of empty seats between them, but members of Buckeye Nation were interspersed throughout the stadium stands for the largest crowd inside the Shoe since before the pandemic started. 
The Ohio State Athletic Band was also in attendance and performed a halftime show, while Brutus Buckeye and the rest of the spirit squad was in the stadium, as well.
Ohio State head coach Ryan Day, who took a turn on the conductor's stand while the band played "Buckeye Battle Cry" before the game, was as happy as anyone to see Buckeye Nation back in Ohio Stadium on Saturday – and he's hoping the spring game crowd will pale in comparison to the crowd inside the Horseshoe when Ohio State hosts Oregon for its home opener on Sept. 11.
"It was great to get out there and get in the stadium and play, but I think the most exciting part was getting back in the stadium and seeing The Best Damn Band in the Land, having some fans around. It felt almost normal out there today," Day said. "But I'm just hoping that thing's full when we come back against Oregon here in not too long."
Ohio State left tackle Thayer Munford was excited to play in front of home fans again, too.
"I'm happy for our fans," Munford said. "It was like a year-and-a-half since we had fans in the stadium, it was very good to have them back in the Shoe. I know everybody was happy to see all our fans instead of like an empty stadium."
Henderson flashes as a runner and receiver
Saturday's spring game wasn't set up to be a showcase for Ohio State's running backs. Since the exhibition was a "thud" game rather than full-tackling, ballcarriers were ruled down as soon as they got hit, which limited their ability to break off big runs. And because the big emphasis of the day was getting reps for the Buckeyes' three potential starting quarterbacks, there were more than twice as many passing plays (75) as there were running plays (32).
As such, there were more opportunities for Kyle McCord, Emeka Egbuka and Jack Sawyer to show why they were five-star recruits than there were for TreVeyon Henderson on Saturday. Yet the highly touted running back showed flashes of why he is such a highly touted prospect, too.
Henderson led all Ohio State running backs with six carries for 26 yards, including a 14-yard carry for the game's longest run, while he also caught five passes for 29 yards. While he wasn't able to demonstrate his ability to break tackles in the spring game, his explosive burst was evident as well as his ability to catch passes out of the backfield.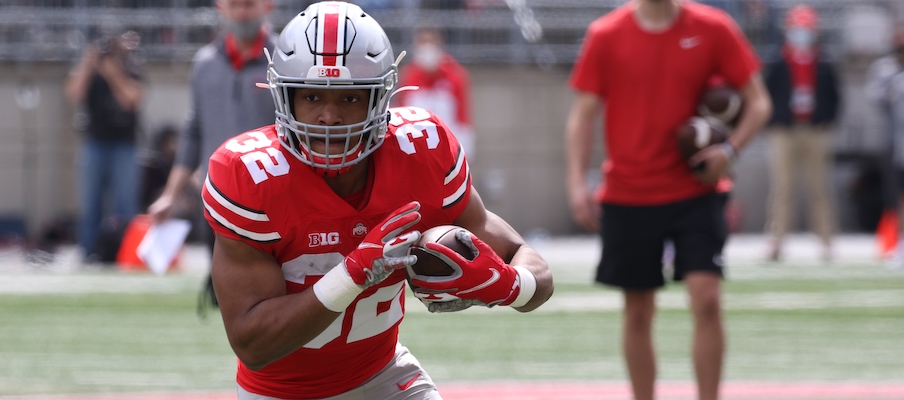 In total, Ohio State's running backs caught 12 passes on Saturday, with Marcus Crowley (three catches for 28 yards), Evan Pryor (two catches for 12 yards) and Miyan Williams (two catches for seven yards) also getting in on the action.
Most of those completions came on checkdowns rather than designed plays, so that shouldn't necessarily be taken as an indicator that Ohio State is going to suddenly start throwing the ball to its running backs more this season. That said, it would be a good weapon for the Buckeyes to have in their back pocket – especially since they'll be breaking in an inexperienced quarterback this fall – if Henderson and some of Ohio State's other running backs can offer some firepower in that area.
"That's getting a really good skill player the ball in space, and that's what we're trying to do ultimately," Day said about throwing to the running backs. "Not something we've done a ton of here, but with the quarterbacks that we have, we think that that's something we could start to look into more."
More Spring Game Coverage
From long snapper to linebacker
With several linebackers sidelined by injuries, Ohio State had just five healthy linebackers available for Saturday's spring game – Teradja Mitchell, K'Vaughan Pope, Tommy Eichenberg, Cody Simon and Reid Carrico – and as a result, the Buckeyes had to get creative.
Roen McCullough, Ohio State's backup long snapper, became a temporary linebacker for the spring game – and made some plays in the process. The 6-foot-1, 225-pound redshirt junior, who has never played a snap in an actual game for the Buckeyes, recorded four tackles and a pass breakup in Saturday's scrimmage.
His older brother Liam, who was also a long snapper for the Buckeyes, shared some highlights from the younger McCullough's linebacker stint on Twitter.
Add a PBU to the stat sheet @roenmccullough https://t.co/bC4ShhpYmR pic.twitter.com/JSywFwfkKK

— Liam McCullough (@LiamMcCullough2) April 17, 2021
Such a blessing to be able to play in my first spring game! pic.twitter.com/mmaPpH7YiD

— Roen McCullough (@roenmccullough) April 17, 2021
McCullough's father, Mike, said on Twitter that Roen had not practiced at all at linebacker before the spring game and had not played linebacker since middle school.
As for the Buckeyes' actual linebackers, Mitchell led all players with 10 tackles in Saturday's spring game while Simon and Eichenberg each had six, Pope had two and Carrico had one.
Ohio State mostly played with just two traditional linebackers on the field, though, with the bullet – the hybrid safety/linebacker position that appears to actually be a real part of this year's defense – taking the place of the Sam linebacker. Ronnie Hickman, who started at bullet for Team Brutus, finished the game with eight tackles. Craig Young, who started at bullet for Team Buckeye, had two tackles and a pass breakup.