When Ryan Day was asked last week if any players had stood out during winter workouts, one player jumped to his mind.
"One guy that sticks out for sure, especially on defense, is Zach Harrison," Day said Wednesday. "I think that the work he's put in during this offseason, his body's already changing, his work ethic's off the chart. He's leading, he's in front of things. He just looks different. And hats off to him to a great offseason. He just has a different look in his eye."
Day said Harrison is one of the players he's seen step up as a new leader for an Ohio State team that lost all seven of its captains from last season, and defensive coordinator Kerry Coombs agrees with that assessment.
"He had a phenomenal seven weeks in the weight room, not just taking care of business and his body, but making sure that he's holding others accountable," Coombs said Friday. "We had some of these guys that aren't here anymore that were those types of players. And Zach stepped right in, filled that void and was very, very impressive with his leadership."
As a sophomore in 2020, Harrison had a relatively quiet season – at least in comparison to the expectations for him entering the season – recording 14 tackles, 4.5 tackles for loss, two sacks and two pass breakups in seven games.
That's motivated Harrison to work harder than ever before this offseason.
"I just made the decision at the end of last season, going into this offseason, I was like, I'm just gonna give everything I've got to this program," Harrison said Friday. "I'm gonna give everything I've got to every workout, every sprint, every drill, every rep. And I think the coaches have seen the results of that. Just the mindset change that I had going into this season.
"To be honest, I didn't have quite the year that I wanted to, year two, and that's why I changed my mindset. That's why I changed my approach going into this offseason. And hopefully this fall, y'all can see the results of the hard work."
Harrison says he isn't going out of his way to earn recognition as a leader; that's just a byproduct of him working harder to not only take his game to new heights, but hold his teammates accountable.
"I'm not trying to be a leader, I'm just being myself," Harrison said. "I feel like I've built a bond with the guys and they trust me and I trust them and they know that Zach's gonna do the right thing. So when I ask them to tighten up, you gotta do this, that and the third, then they listen to me, they trust in me. And it goes both ways. They know that if I'm not doing what I'm supposed to do, they can tell me, 'Zach, you gotta tighten up. You gotta run to the ball,' or whatever the issue is."
Harrison has already been a regular in the defensive end rotation in each of his first two seasons at Ohio State. He played the second-most snaps among defensive ends as a freshman and the third-most snaps among defensive ends last season. 
He's started three games over the past two seasons, including the College Football Playoff semifinal against Clemson as a freshman and last year's game at Penn State. In that game in Happy Valley, he made his most memorable play of his Ohio State career to date, simultaneously tackling Penn State's quarterback and running back like Sam Hubbard and Joey Bosa did before.
Zach Harrison got to the RB before the handoff did!

So the @OhioStateFB DE tackled the QB too: pic.twitter.com/VdchYo7Ocp

— Big Ten Network (@BigTenNetwork) November 1, 2020
He hasn't yet made plays like that with regularity, which is the expectation when you're a five-star defensive end at Ohio State. After all, the last two five-star defensive ends at Ohio State before him – Chase Young and Nick Bosa – were both All-Americans for the Buckeyes who went on to be No. 2 overall picks in the NFL draft.
Going into his third year at Ohio State, which could be his final season as a Buckeye if he chooses to enter the 2022 NFL draft, Harrison is chasing consistency.
"I still have flashes of my potential, and I gotta get to where I can get that every single play on a consistent basis," Harrison said. "In and out, every down, every game, where there's no falloff."
Harrison knows becoming a consistent playmaker this fall starts with the work he puts in this offseason, including in the Buckeyes' 15 practices this spring.
As a freshman, Harrison had a front-row seat to Young's historically great junior season in 2019, when Young was the national defensive player of the year and broke Ohio State's single-season sack record. And he says the biggest thing he took away from playing with Young was how hard Young worked in practice.
"He made plays in practice that y'all never saw," Harrison said. "And that correlates to games. And that's one thing that I took to heart. You gotta show it in practice, because it's not just gonna show up on Saturdays."
"I'm gonna give everything I've got to every workout, every sprint, every drill, every rep. And I think the coaches have seen the results of that."– Zach Harrison on his mindset this offseason
Harrison says he has worked on becoming more flexible, which he believes will enable him to be more fluid coming off the edge. In practice, he's "trying to play fast all the time" to improve his play speed. Whether on the field or in the weight room, Harrison is trying to push himself to new limits, believing that will ultimately lead to greater production during the season.
"You can't grow unless you're uncomfortable," Harrison said. "I try to put myself out of my comfort zone. "Whether it's the lifts, going harder and doing two more reps when my arms are tired, or it's a pass-rush rep and I'm gassed, because it's the last play of the rack. Trying to get off as fast as I was the first play. Running to the ball just like I was the first play. So just building up my stamina and my endurance, and putting myself in uncomfortable situations so when game time rolls around and it's the fourth quarter and I've got nothing left, I've been there before."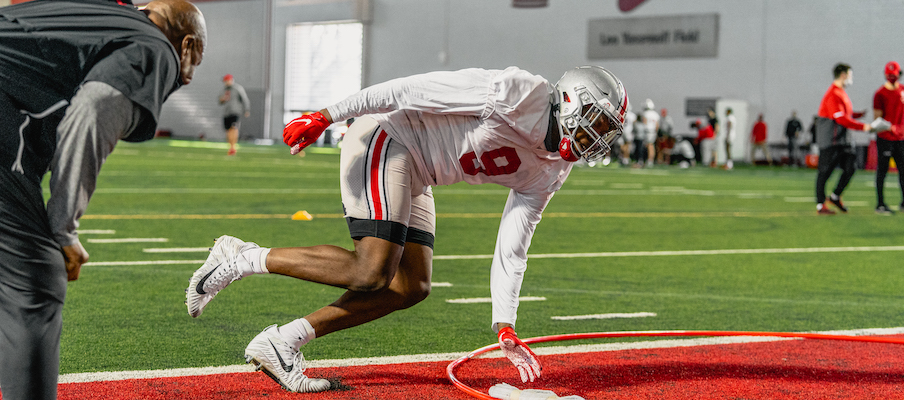 While Young was more productive in his sophomore season than Harrison was, his play still made a massive jump between his second and third years at Ohio State, and Harrison will now try to do the same. He believes he's capable of doing so, and becoming the dominant player Ohio State lacked in its defensive end rotation last season.
That said, Harrison isn't spending much time thinking about how he compares to Young, the Bosas or any other Ohio State defensive ends before him. Harrison just wants to play well enough so that soon, his name will be one of the ones that comes up when people talk about the Buckeye greats at his position.
"I'm trying to be myself and trying to build my own name and build my own image here at Ohio State, build my own legacy here at Ohio State," Harrison said. "To follow in the footsteps, that's not something that I think about often. I'm trying to build my own self, start my own path."