Ohio State's final snap counts for the 2020 season are in, and they're a little lower than what you'd typically see at the end of a Buckeye football season.
In each of the first three seasons we tracked Ohio State's snap counts for the season here at Eleven Warriors, the Buckeyes' leaders in playing time each played at least 900 snaps for the year, led by a whopping 1,102 snaps for former offensive linemen Michael Jordan, Isaiah Prince and Malcolm Pridgeon in 2018.
Because the Buckeyes played only eight games this season, however, no player even hit 600 snaps. Justin Fields, as you might expect, led Ohio State for the season with 576 snaps played, but only five other Buckeyes topped the 500-snap threshold; Wyatt Davis played 546, Shaun Wade played 520 and Thayer Munford, Josh Myers and Nicholas Petit-Frere each played every snap with the exception of the Michigan State game they missed due to COVID-19 to play 510.
Other leading snap-getters for the 2020 season included Pete Werner (494), Sevyn Banks (483), Garrett Wilson (471), Harry Miller (464) and Chris Olave (441).
You'll see the full table of how many snaps every Buckeye played this year at the bottom of this article, but first, we take a look back at the snaps from the final game of the season against Alabama. 
Sixty total Buckeyes saw the field in Ohio State's 52-24 national championship game loss on Monday night, the same number that played in the 49-28 Sugar Bowl win over Clemson, though not all of the same players. Several Buckeyes who played against Clemson were unavailable to play against Alabama – notably including defensive linemen Tommy Togiai and Tyreke Smith and kickers Blake Haubeil and Dominic DiMaccio – but several others returned to action for the final game of the year, while defensive tackles Antwuan Jackson and Jerron Cage and running back Marcus Crowley were among those who finished the season playing their biggest roles of the year.
As we did all season, the following Snap Counts were compiled by Eleven Warriors and should be considered unofficial. These snap counts only include the number of snaps played on offense or defense, but participants on special teams units are also listed.
Quarterbacks
Justin Fields: 65
In what was likely his final game as a Buckeye, Fields played every snap against Alabama even though he had to battle through a hip injury he suffered against Clemson. Fields wasn't as sharp as he was against Clemson, completing only 17 of his 33 passing attempts for 194 yards and one touchdown, but he did lead the Buckeyes with 67 rushing yards on six attempts and put his trademark toughness on display one more time.
For the season as a whole, Fields played all but 18 of Ohio State's offensive snaps at quarterback.
Running Backs
Master Teague: 40
Marcus Crowley: 23
Trey Sermon: 2
Steele Chambers: Special teams only
Xavier Johnson: Special teams only
After playing nearly all the snaps at running back against Northwestern and Clemson, Sermon was injured on the very first play against Alabama when he landed on his shoulder. Sermon stayed on the field for one more play before realizing the extent of his injury, which forced him to leave the game and eventually head to the hospital for treatment, ending his career as a Buckeye in unfortunate fashion.
Teague, who missed the Sugar Bowl after suffering an injury in the first quarter of the Big Ten Championship Game, took over as the Buckeyes' lead running back following Sermon's injury and ran for 65 yards and two touchdowns on 15 carries.
With Miyan Williams also unavailable for the national championship game, Crowley saw his only offensive playing time of the entire season against Alabama, coming off the bench behind Teague and rushing for 14 yards on six carries while also catching one pass for four yards. 17 of Crowley's 23 snaps came in the fourth quarter after Alabama had already scored all of its 52 points.
Wide Receivers
Chris Olave: 62
Garrett Wilson: 52
Jameson Williams: 40
Jaxon Smith-Njigba: 23
Julian Fleming: 3
Gee Scott Jr.: 2
Kamryn Babb: Special teams only
Chris Booker: Special teams only
Demario McCall: Special teams only
Olave played all but three snaps in what was likely his final game as a Buckeye, with Fleming taking his place on the field for those three plays. Olave led the Buckeyes with eight receptions for 69 yards against Alabama.
Wilson played all but one offensive snap in the first three quarters against Alabama, but went to the bench for most of the fourth quarter with Smith-Njigba taking his place in the slot. All but one of Smith-Njigba's snaps against Alabama came in three-receiver sets, with his earlier snaps in the game alongside Olave and Wilson coming as an outside receiver.
Williams continued to play exclusively in three-receiver formations but was on the field for a majority of Ohio State's offensive plays against the Crimson Tide. Scott checked in for a pair of snaps at outside receiver in the fourth quarter, marking the third time he saw playing time on offense in his freshman year.
Tight Ends
Luke Farrell: 40
Jeremy Ruckert: 37
Jake Hausmann: 1
Mitch Rossi: Special teams only
Cade Stover: Special teams only
Even though Alabama had struggled to defend tight ends in the passing game all year, Ohio State didn't use two-tight end sets as frequently in the national championship game as it did in most of its other games this season, putting Farrell and Ruckert on the field together for only 12 plays against the Crimson Tide. Ruckert made a one-handed 36-yard catch for Ohio State's longest play of the day, but that was the only catch by a Buckeye tight end in the national title game.
Hausmann's only snap on the game came when the Buckeyes kneeled the ball down on the final play of the first half.
Offensive Linemen
Thayer Munford: 65
Josh Myers: 65
Nicholas Petit-Frere: 65
Matthew Jones: 62
Wyatt Davis: 35
Harry Miller: 27
Paris Johnson Jr.: 6
Gavin Cupp: Special teams only
Max Wray: Special teams only
Munford, Myers and Petit-Frere each played all 65 of Ohio State's offensive snaps against Alabama, just as they did in all seven games they were able to play in this season.
Jones made his third start of the season (and second in a row) at left guard and played all but three snaps of the game at that spot. Johnson played three snaps in his place during the Buckeyes' second-to-last possession of the game.
Davis, the only offensive lineman to start every game for the Buckeyes this year, left the game and did not return after suffering a knee injury on the Buckeyes' final possession of the first half. Miller, who was unavailable to play against Clemson and began the national championship game on the bench after starting the first six games of the season, took Davis' place at right guard until the Buckeyes' final possession of the game, when Johnson checked in for three more plays.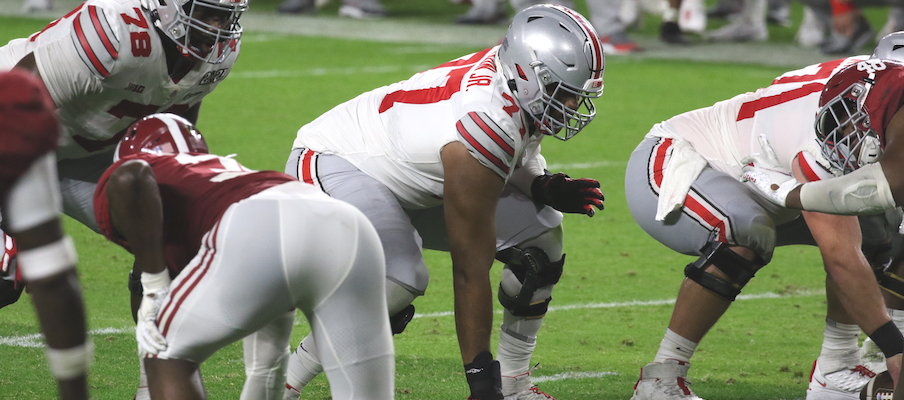 Defensive Ends
Jonathon Cooper: 63
Zach Harrison: 49
Tyler Friday: 33
Javontae Jean-Baptiste: 22
Cormontae Hamilton: 3
Noah Potter: 3
With Tyreke Smith unavailable to play, Cooper and Harrison both played their highest snap counts of the season. Jean-Baptiste started the game opposite Cooper, but Harrison ended up playing more than twice as many snaps off the bench, while Friday also played his second-highest snap count of the season, as the four of them rotated at defensive end throughout the game.
Hamilton and Potter substituted in for the final three plays of the game.
Defensive Tackles
Haskell Garrett: 61
Antwuan Jackson: 47
Jerron Cage: 32
Taron Vincent: 25
Jaden McKenzie: 2
Enokk Vimahi: 2
Garrett played a career-high 61 snaps against Alabama, lining up at 3-technique for more than 70 percent of the Buckeyes' 85 defensive plays against the Crimson Tide. 
With Tommy Togiai out at nose tackle, Cage started the game in his place and played a career-high 32 snaps, but Jackson – who had a career-high five tackles and the only sack of his Ohio State career – ended up playing the majority of snaps at nose tackle, also setting a career-high for playing time. Vincent also played one series at nose tackle alongside Garrett, but otherwise rotated with Garrett at 3-technique.
Vimahi, who typically plays guard, checked in at defensive tackle for the final two plays of the game – which were just kneel-downs by Alabama – along with McKenzie.
Linebackers
Pete Werner: 75
Tuf Borland: 68
Baron Browning: 62
Justin Hilliard: 55
Teradja Mitchell: 10
Dallas Gant: 8
K'Vaughan Pope: 1
Cody Simon: Special teams only
Werner topped 70 snaps for a third game in a row to conclude the 2020 season, playing linebacker for all but 10 defensive plays against Alabama. Mitchell took his place at Will linebacker for a pair of snaps in the second quarter as well as the game's final defensive series.
Borland, who led all Buckeyes with 14 tackles in the national championship game, tied his season-high by playing 68 snaps against Alabama. He was on the field for all but nine of the Buckeyes' first 77 plays against the Crimson Tide, only coming out of the game on nickel packages. Gant took his place at middle linebacker for the Buckeyes' final defensive series.
Ohio State utilized its four-linebacker package heavily against Alabama, putting four linebackers on the field for 33 of its defensive plays in the national championship game, so Browning and Hilliard also both played a majority of the Buckeyes' defensive snaps as a result. Hilliard started the game at Sam linebacker, but Browning ended up playing slightly more snaps. They rotated at Sam in the base defense and played opposite each other as the two outside linebackers in the four-linebacker packages, while Browning also stayed on the field with Werner in nickel packages.
Pope also played one snap as an outside linebacker in the four-linebacker defense.
Cornerbacks
Sevyn Banks: 84
Shaun Wade: 83
Lathan Ransom: 9
Tyreke Johnson: 2
Banks was on the field for all but one play against Alabama, coming out only for a fourth-down goal-line play in the first quarter where Wade was the only defensive back on the field. Wade was on the field for all but the final two plays of the national championship game, for which Johnson took his place on the field for the Crimson Tide's final kneel-downs.
The Buckeyes didn't run as much nickel against Alabama as they did against Clemson, but Ransom came into the game at slot cornerback for all nine plays on which Ohio State had five defensive backs on the field.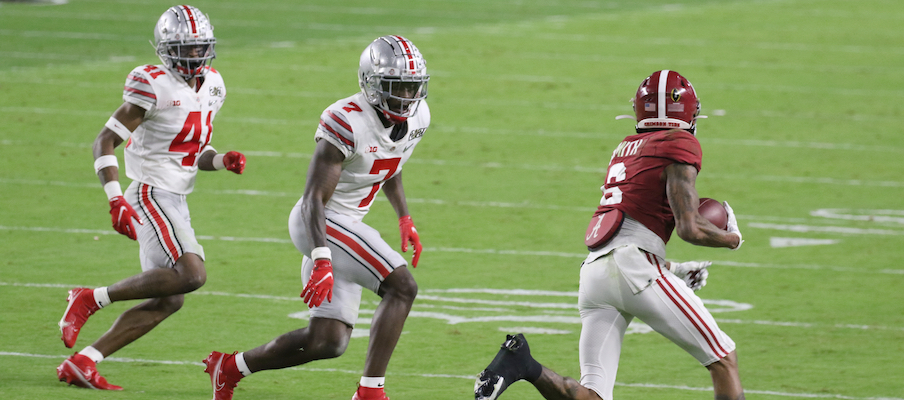 Safeties
Josh Proctor: 84
Marcus Williamson: 52
Marcus Hooker: Special teams only
Bryson Shaw: Special teams only
Proctor, like Banks, only left the field for Alabama's fourth-and-goal (on which Najee Harris ran for a touchdown) in the first quarter and tied for the team lead with a career-high 84 snaps.
Williamson, like he did against Clemson, played mostly as a second high safety rather than as a slot cornerback against Alabama. He was on the field for all of Ohio State's base and nickel plays against Alabama, but was the defensive back who substituted out when the Buckeyes brought a fourth linebacker into the game.
Field Goals/Extra Points
Jake Seibert (kicker)
Drue Chrisman (holder)
Bradley Robinson (long snapper)
Jeremy Ruckert (wing)
Matthew Jones (rocker)
Paris Johnson Jr. (tackle)
Gavin Cupp (guard)
Jerron Cage (guard)
Harry Miller (tackle)
Max Wray (rocker)
Luke Farrell (wing)
As the only available kicker for the national championship game, Seibert handled field goal and extra point duties against Alabama, making his first career field goal from 23 yards out while also making all three of his extra point attempts. Miller rejoined the placekicking unit against Alabama, replacing Dawand Jones, another player who was unavailable to play against the Crimson Tide.
Kickoffs
Drue Chrisman (kicker)
K'Vaughan Pope (gunner)
Josh Proctor or Marcus Hooker (gunner)
Teradja Mitchell (gunner)
Marcus Williamson or Xavier Johnson (gunner)
Jameson Williams (gunner)
Justin Hilliard or Cade Stover (gunner)
Dallas Gant (gunner)
Baron Browning or Steele Chambers (gunner)
Chris Booker (gunner)
Lathan Ransom (gunner)
With neither Blake Haubeil nor Dominic DiMaccio in Miami, Chrisman handled kickoffs for the only time in his Ohio State career against the Crimson Tide and was solid. Everyone else on the kickoff unit had previously played in kickoff coverage earlier this season.
Kickoff Returns
Demario McCall (returner/blocker)
Steele Chambers (blocker)
Xavier Johnson (blocker)
Jake Hausmann (blocker)
Mitch Rossi (blocker)
Dallas Gant (blocker)
Cody Simon (blocker)
Gee Scott Jr. (blocker)
Lathan Ransom (blocker)
Chris Booker (blocker)
Kamryn Babb (blocker)
Chambers returned to the kickoff return unit against Alabama, replacing Trey Sermon. The rest of the unit remained the same against the Crimson Tide, and McCall did not return any of Alabama's nine kickoffs.
Punts
Drue Chrisman (punter)
Bradley Robinson (long snapper)
Pete Werner (upback)
Tuf Borland (upback)
Luke Farrell (wing)
Cody Simon (guard)
Dallas Gant (guard)
Justin Hilliard (tackle)
Kamryn Babb (gunner) or Steele Chambers (tackle)
Chris Olave (gunner)
Jameson Williams or Julian Fleming (gunner)
Chrisman averaged 42.8 yards per punt with two of his five punts inside the 20-yard line in his final game as a Buckeye. The Buckeyes used the same starters on the punt team as they did against Clemson.
Punt Blocks/Returns
Garrett Wilson (returner)
Chris Booker (lineman)
Steele Chambers (lineman)
Dallas Gant (lineman)
Kamryn Babb (lineman)
Xavier Johnson (lineman)
Julian Fleming (lineman)
Chris Olave (lineman)
Bryson Shaw (linebacker)
Shaun Wade (cornerback)
Sevyn Banks (cornerback)
Olave and Fleming joined the punt block unit against Alabama, replacing Gee Scott Jr. and Lathan Ransom from the Clemson game. Wilson gained three yards on his only punt return as Alabama punted only twice against the Buckeyes.
Field Goal/Extra Point Block
Sevyn Banks (lineman)
Jonathon Cooper (lineman)
Pete Werner (lineman)
Antwuan Jackson or Jerron Cage (lineman)
Haskell Garrett (lineman)
Zach Harrison or Javontae Jean-Baptiste (lineman)
Teradja Mitchell (lineman)
Shaun Wade (lineman)
Josh Proctor (linebacker)
Tuf Borland (linebacker)
Marcus Williamson (linebacker)
Harrison returned to the kick-blocking unit after he was sidelined for the Clemson game, while Jackson and Cage filled in for Tommy Togiai as they did at nose tackle. The rest of the unit remained unchanged from previous games.
Snap Tracker: Offense

| POS | PLAYER | NEB | PSU | RU | IU | MSU | NU | CLEM | ALA | TOTAL |
| --- | --- | --- | --- | --- | --- | --- | --- | --- | --- | --- |
| QB | JUSTIN FIELDS | 65 | 81 | 70 | 82 | 67 | 74 | 72 | 65 | 576 |
| QB | JACK MILLER III | 6 | DNP | DNP | DNP | 4 | DNP | DNP | DNP | 10 |
| QB | CJ STROUD | DNP | DNP | 1 | DNP | 6 | DNP | 1 | DNP | 8 |
| RB | TREY SERMON | 28 | 37 | 27 | 24 | 32 | 64 | 70 | 2 | 284 |
| RB | MASTER TEAGUE | 30 | 44 | 34 | 57 | 31 | 8 | DNP | 40 | 244 |
| RB | MARCUS CROWLEY | DNP | DNP | DNP | DNP | DNP | ST | ST | 23 | 23 |
| RB | STEELE CHAMBERS | 7 | ST | 7 | ST | 4 | DNP | ST | ST | 18 |
| RB | MIYAN WILLIAMS | DNP | DNP | 1 | DNP | 8 | 2 | 3 | DNP | 14 |
| RB | XAVIER JOHNSON | 6 | ST | ST | ST | ST | ST | ST | ST | 6 |
| WR | GARRETT WILSON | 48 | 70 | 48 | 67 | 57 | 73 | 56 | 52 | 471 |
| WR | CHRIS OLAVE | 52 | 80 | 58 | 76 | 55 | DNP | 58 | 62 | 441 |
| WR | JAMESON WILLIAMS | 48 | 36 | 29 | 40 | 31 | 43 | 41 | 40 | 308 |
| WR | JAXON SMITH-NJIGBA | 17 | 23 | 27 | 24 | 28 | DNP | 21 | 23 | 163 |
| WR | JULIAN FLEMING | 19 | 1 | 12 | 6 | 21 | 52 | 14 | 3 | 128 |
| WR | KAMRYN BABB | 6 | ST | 6 | ST | ST | 19 | ST | ST | 31 |
| WR | GEE SCOTT JR. | 4 | ST | 8 | ST | DNP | DNP | DNP | 2 | 14 |
| WR/RB | DEMARIO McCALL | ST | ST | 4 | 1 | 4 | ST | ST | ST | 9 |
| WR | CHRIS BOOKER | ST | ST | ST | ST | ST | DNP | ST | ST | ST |
| WR | SAM WIGLUSZ | ST | DNP | DNP | DNP | DNP | DNP | DNP | DNP | ST |
| TE | LUKE FARRELL | 40 | 44 | 42 | 63 | 43 | 55 | 50 | 40 | 377 |
| TE | JEREMY RUCKERT | 33 | 55 | 40 | 51 | 39 | 51 | 45 | 37 | 351 |
| TE | JAKE HAUSMANN | 9 | 15 | DNP | DNP | 18 | 3 | 5 | 1 | 51 |
| TE | MITCH ROSSI | 7 | ST | 10 | 1 | 12 | ST | 2 | ST | 32 |
| TE | CADE STOVER | 1 | ST | 2 | DNP | 2 | ST | ST | ST | 5 |
| OL | WYATT DAVIS | 65 | 81 | 70 | 82 | 66 | 74 | 73 | 35 | 546 |
| OL | THAYER MUNFORD | 65 | 81 | 70 | 82 | DNP | 74 | 73 | 65 | 510 |
| OL | JOSH MYERS | 65 | 81 | 70 | 82 | DNP | 74 | 73 | 65 | 510 |
| OL | NICHOLAS PETIT-FRERE | 65 | 81 | 70 | 82 | DNP | 74 | 73 | 65 | 510 |
| OL | HARRY MILLER | 61 | 81 | 70 | 82 | 69 | 74 | DNP | 27 | 464 |
| OL | MATTHEW JONES | 10 | ST | ST | DNP | 69 | ST | 65 | 62 | 205 |
| OL | DAWAND JONES | 6 | ST | 1 | ST | 73 | ST | ST | DNP | 80 |
| OL | MAX WRAY | ST | ST | 1 | ST | 68 | ST | ST | ST | 69 |
| OL | PARIS JOHNSON JR. | 6 | ST | 1 | ST | DNP | ST | 9 | 6 | 22 |
| OL | ENOKK VIMAHI | 6 | ST | 1 | DNP | 13 | DNP | DNP | DNP | 20 |
| OL | LUKE WYPLER | 6 | DNP | 1 | DNP | 8 | DNP | DNP | DNP | 15 |
| OL | GAVIN CUPP | DNP | DNP | DNP | ST | 11 | ST | ST | ST | 11 |
| OL | JOSH FRYAR | DNP | DNP | DNP | DNP | 4 | DNP | DNP | DNP | 4 |
| OL | JACK JAMIESON | DNP | DNP | DNP | DNP | 4 | DNP | DNP | DNP | 4 |
| K | BLAKE HAUBEIL | ST | ST | DNP | DNP | ST | ST | ST | DNP | ST |
| K | DOMINIC DIMACCIO | ST | ST | ST | ST | ST | DNP | ST | DNP | ST |
| K | JAKE SEIBERT | DNP | DNP | ST | ST | DNP | DNP | DNP | ST | ST |
Snap Tracker: Defense

| POS | PLAYER | NEB | PSU | RU | IU | MSU | NU | CLEM | ALA | TOTAL |
| --- | --- | --- | --- | --- | --- | --- | --- | --- | --- | --- |
| DE | JONATHON COOPER | 31 | 35 | 35 | 51 | 33 | 57 | 56 | 63 | 361 |
| DE | TYREKE SMITH | 21 | 28 | 38 | 29 | 33 | 50 | 49 | DNP | 248 |
| DE | ZACH HARRISON | 15 | 28 | 25 | 31 | 29 | 36 | DNP | 49 | 213 |
| DE | JAVONTAE JEAN-BAPTISTE | 19 | 10 | 32 | 12 | 31 | DNP | 30 | 22 | 156 |
| DE | TYLER FRIDAY | 26 | 27 | 34 | 24 | DNP | DNP | DNP | 33 | 144 |
| DE | NOAH POTTER | 2 | DNP | 7 | DNP | DNP | 3 | 3 | 3 | 18 |
| DE | CORMONTAE HAMILTON | DNP | DNP | 3 | DNP | 6 | 1 | 3 | 3 | 16 |
| DE | DARRION HENRY-YOUNG | 2 | DNP | 2 | DNP | DNP | DNP | DNP | DNP | 4 |
| DT | HASKELL GARRETT | 23 | 33 | 37 | 37 | 33 | 49 | 38 | 61 | 311 |
| DT | TOMMY TOGIAI | 41 | 42 | 41 | 44 | 29 | 51 | 49 | DNP | 297 |
| DT | ANTWUAN JACKSON | 30 | 16 | 28 | 13 | 21 | 17 | 17 | 47 | 189 |
| DT | TARON VINCENT | DNP | 11 | 28 | 18 | 25 | 19 | 24 | 25 | 150 |
| DT | JERRON CAGE | 15 | 3 | 27 | 4 | 11 | 4 | 13 | 32 | 109 |
| DT | TY HAMILTON | 5 | DNP | 13 | DNP | 5 | DNP | DNP | DNP | 23 |
| DT | JADEN McKENZIE | DNP | DNP | DNP | DNP | 5 | DNP | DNP | 2 | 7 |
| DT | ZAID HAMDAN | 2 | DNP | 4 | DNP | DNP | DNP | DNP | DNP | 6 |
| DT | ENOKK VIMAHI | DNP | DNP | DNP | DNP | DNP | DNP | DNP | 2 | 2 |
| LB | PETE WERNER | 42 | 62 | 50 | 65 | 57 | 72 | 71 | 75 | 494 |
| LB | BARON BROWNING | 47 | 62 | 34 | 55 | 57 | DNP | 38 | 62 | 355 |
| LB | TUF BORLAND | 34 | 41 | 45 | 44 | DNP | 68 | 43 | 68 | 343 |
| LB | JUSTIN HILLIARD | DNP | DNP | 26 | 13 | 41 | 62 | 34 | 55 | 231 |
| LB | TERADJA MITCHELL | 16 | 15 | 33 | 12 | 3 | 4 | 2 | 10 | 95 |
| LB | DALLAS GANT | 18 | ST | 38 | ST | 11 | 5 | ST | 8 | 80 |
| LB | CRAIG YOUNG | 9 | 1 | 29 | ST | DNP | DNP | DNP | DNP | 39 |
| LB | K'VAUGHAN POPE | 2 | ST | 5 | DNP | 9 | ST | ST | 1 | 17 |
| LB | CODY SIMON | ST | ST | 5 | DNP | 9 | ST | ST | ST | 14 |
| LB | TOMMY EICHENBERG | DNP | DNP | DNP | DNP | 6 | DNP | DNP | DNP | 6 |
| LB | CADE KACHERSKI | ST | ST | ST | ST | ST | DNP | DNP | DNP | ST |
| LB | RYAN BATSCH | ST | DNP | DNP | DNP | DNP | ST | DNP | DNP | ST |
| LB | MITCHELL MELTON | ST | DNP | DNP | DNP | DNP | DNP | DNP | DNP | ST |
| LB | BEN SCHMIESING | ST | DNP | DNP | DNP | DNP | DNP | DNP | DNP | ST |
| LB | TRAYVON WILBURN | ST | DNP | DNP | DNP | DNP | DNP | DNP | DNP | ST |
| CB | SHAUN WADE | 47 | 62 | 66 | 68 | 51 | 72 | 71 | 83 | 520 |
| CB | SEVYN BANKS | 39 | 53 | 37 | 68 | 60 | 71 | 71 | 84 | 483 |
| CB | TYREKE JOHNSON | 9 | DNP | 50 | DNP | 15 | 1 | ST | 2 | 77 |
| CB/S | LATHAN RANSOM | 2 | 9 | ST | ST | 1 | 12 | 28 | 9 | 61 |
| CB | CAMERON BROWN | 23 | 16 | DNP | DNP | DNP | DNP | DNP | DNP | 39 |
| CB | RYAN WATTS | DNP | DNP | 22 | ST | 6 | ST | DNP | DNP | 28 |
| CB | LLOYD McFARQUHAR | 2 | DNP | DNP | DNP | DNP | DNP | DNP | DNP | 2 |
| CB | DARRYL SINCLAIR | 2 | DNP | DNP | DNP | DNP | DNP | DNP | DNP | 2 |
| CB | CAMERON MARTINEZ | DNP | DNP | DNP | ST | DNP | DNP | DNP | DNP | ST |
| S/CB | MARCUS WILLIAMSON | 41 | 39 | 47 | 46 | 52 | 67 | 70 | 52 | 414 |
| S/CB | JOSH PROCTOR | 24 | 27 | 30 | 46 | DNP | 72 | 71 | 84 | 354 |
| S | MARCUS HOOKER | 35 | 62 | 65 | 68 | 58 | DNP | ST | ST | 288 |
| S/CB | RONNIE HICKMAN | 9 | ST | 16 | ST | 21 | DNP | DNP | DNP | 46 |
| S | BRYSON SHAW | 5 | ST | 16 | DNP | 9 | DNP | DNP | ST | 30 |
| S | KEVIN DEVER | ST | DNP | DNP | DNP | DNP | DNP | DNP | DNP | ST |
| P | DRUE CHRISMAN | ST | ST | ST | ST | ST | DNP | ST | ST | ST |
| P | ZACH HOOVER | DNP | DNP | DNP | DNP | DNP | ST | DNP | DNP | ST |
| LS | BRADLEY ROBINSON | ST | ST | ST | ST | ST | ST | ST | ST | ST |