In what might have been both of their final games as Buckeyes, Trey Sermon and Wyatt Davis were both unable to play past halftime.
Sermon was injured on the very first possession of the game, staying on the field for just two plays before suffering a shoulder injury that forced him to go to the hospital for treatment. After a pair of spectacular performances in the Big Ten Championship Game against Northwestern and the Sugar Bowl against Clemson in which he had 589 total yards from scrimmage, Sermon had just one carry for two yards against Alabama.
His absence was clearly felt by the Buckeyes, who ran for a season-low 147 yards, though they said that didn't change the plays they called on offense.
"When I heard that he was out after that first drive, it was really heartbreaking for us, not only as an offensive line, but as an offense and as a team in general," Ohio State right tackle Nicholas Petit-Frere said. "But we didn't change anything. Still had the same game plan."
Ryan Day acknowledged that it was a tough blow for the Buckeyes to lose Sermon so early in the game, but he also said they couldn't use that as an excuse.
"To lose Trey on the first play of the game is one of those things, whenever you think what's going to happen in the game it's probably not going to happen that way, to lose Trey in the first play of the game," Day said. "But you've got to overcome it. Like I told the guys, nobody feels sorry for you, so you've just gotta keep pushing forward. It's kind of been the theme of the season."
Although Sermon did not return to the stadium before the end of the game, an Ohio State spokesperson said Tuesday that he is "doing well" and was traveling back to Columbus on Tuesday.
With Sermon out of the game, Master Teague and Marcus Crowley handled the rest of the workload at running back and combined for 79 yards on 21 carries, with Teague running for two of Ohio State's three touchdowns.
Davis' night came to an end in the second quarter when he suffered a knee injury. The Ohio State right guard was unable to put any pressure on his injured leg as he was helped off the field, and was seen on crutches at the end of the game.
Day said Davis, who had already had to briefly exit a couple of games earlier this season, was already battling a knee injury and "reinjured" it on Monday night, though he didn't know immediately after the game what the diagnosis was.
"He's sore right now," Day said. "We'll have to check with our doctors. But he's sore. He's certainly in pain."
Davis said Tuesday in a tweet that he "will be fine."
Want to say thank you to Buckeye Nation for the support yall gave us all season long! Without your support we wouldnt have made it as far as we did thank you! For those concerned about my injury I will be fine and thank you for your concern.

— Wyatt Davis (@wyattdavis53) January 12, 2021
Davis was initially replaced at right guard by Harry Miller, who began the game on the bench with Matthew Jones starting in his place at left guard. True freshman Paris Johnson Jr. also saw some playing time at right guard in the fourth quarter.
Cage, Seibert play increased roles
While Sermon and Davis were at least able to make the trip to Miami and start the game for Ohio State, several Buckeyes were unable to make the trip at all, including starting defensive linemen Tommy Togiai and Tyreke Smith and kicker Blake Haubeil, who were all unavailable to play.
That didn't help the Buckeyes' cause, either, in their 52-24 loss.
 "We certainly missed Tommy Togiai in the game and a few others," Day said.
The Buckeyes still had four experienced defensive ends in action, however, as Jonathon Cooper and Zach Harrison started and Tyler Friday and Javontae Jean-Baptiste also saw regular playing time in the rotation, but they had a first-time starter at nose tackle in Jerron Cage. Antwuan Jackson and Taron Vincent also saw snaps at nose tackle, and Jackson had his most productive game as a Buckeye to date, recording five total tackles with a sack.
Ohio State wasn't dominant up front like it was against Clemson, and that was a big factor in its defensive struggles, but the Buckeyes also didn't want to use that as an excuse.
"Tommy and Tyreke are unbelievable players. They showed that 10 days ago, whenever it was, when we played Clemson," said Ohio State linebacker Tuf Borland. "At a place like Ohio State we always approach next man up, and that's what the case was. Especially in the COVID environment season, everyone has to be ready. Credit to Alabama. They have great players. They played really hard. They played well."
With Haubeil also sidelined by COVID-19, the Buckeyes turned to true freshman Jake Seibert to handle field goals and extra points while punter Drue Chrisman handled kickoffs.
Seibert, who will likely become the full-time kicker next season if Haubeil doesn't return for an extra year of eligibility, filled in effectively, making his only field goal attempt from 23 yards out and all three of his extra point attempts. Whether the Buckeyes actually should have kicked that field goal was a questionable decision, though, as it was already pretty clear – even though Ohio State was only down 21-14 at the time – that field goals probably wouldn't make a big difference to score enough points to keep up with Alabama.
Because the Buckeyes still needed six yards to convert 4th-and-goal, however, Day didn't feel comfortable going for it in that spot.
"I think if it was 4th-and-1, 4th-and-2, 4th-and-3, I think you'd probably go for it," Day said. "But I think it was either on the 5 or the 6, and I think that the percentages there are very low conversion rate. I just said, let's just take the three points and move on."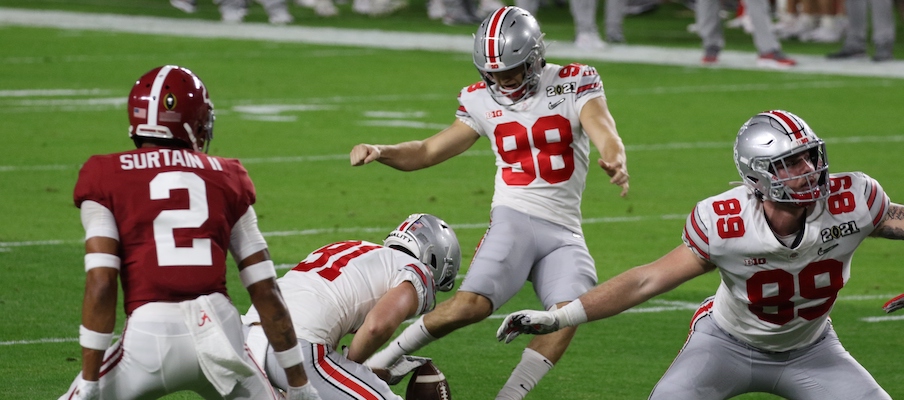 Fields battles through hip injury
After delivering one of the greatest individual performances in Ohio State history against Clemson, Buckeyes quarterback Justin Fields – also, almost certainly, playing his final collegiate game – wasn't spectacular against Alabama.
Fields completed just 17 of his 33 passing attempts against the Crimson Tide for 194 yards and one touchdown. He did lead the Buckeyes in rushing with 67 yards on just six attempts, but he certainly didn't have the game Ohio State needed him to have as a passer.
He was playing hurt once again, though, after taking a hard shot from Clemson linebacker James Skalski in the second quarter of the Sugar Bowl. While Fields' injury was initially believed to be a rib injury, ESPN reported before the game that Fields actually suffered a hip pointer. After taking one hard shot early in the second quarter, Fields immediately grabbed his side after the play.
Knowing that his quarterback wasn't fully healthy gave Day great respect for the effort Fields put forth on Monday night.
"For him to go out there and play today really shows his toughness and how much he loves his brothers," Day said. "He still took some shots on that hip. He was not 100 percent tonight. He was working through it and made some really good throws, made some gutsy plays, kept us in the game there for a while. He's an unbelievable player, and I'm going to miss him."
Fields disclosed after the game that he "wasn't able to practice towards the beginning of the week last week," and that might have played a role in him failing to repeat his excellence against Clemson. Like most of the Buckeyes after Monday's game, though, he didn't want to make any excuses for himself.
"At the end of the day I'm glad I was able to play, and we didn't get the job done," Fields said. "Of course I could have been healthier, but I was healthy enough. I was able to be out there."