NEW ORLEANS – For a couple of minutes, Ohio State's momentum in Friday night's Sugar Bowl looked like it might have hit a screeching halt.
Justin Fields was down on the turf, in evident pain, after taking a hit from Clemson's James Skalski that got the linebacker ejected for targeting. Even after he walked gingerly off the field, it was clear the Ohio State quarterback was hurting, leaving reason to wonder whether he would be able to finish the game.
Yet just as he's done every other time he's had an injury scare in his Ohio State career, Fields put his undeniable toughness on display once again.
He returned to the game just one play later and threw a 9-yard touchdown pass to Chris Olave on his first play back in the game, extending Ohio State's lead to 28-14. He didn't miss another snap for the rest of the game, putting together a nearly flawless performance to lead the Buckeyes to their first-ever win over Clemson and punch their ticket to the national championship game.
Fields completed 22 of his 28 passing attempts for 385 yards, tied the single-game school record with six passing touchdowns and also ran for 42 yards on eight attempts, leading the way for an Ohio State offense that put up a whopping 639 yards – breaking the previous school record for yards in a bowl game – and outscored Clemson 49-28 for a convincing win over the Tigers in the College Football Playoff semifinals.
Other than an off-target deep ball early in the game that would have been a 53-yard touchdown pass to Chris Olave (which he made up for by throwing a touchdown pass later in the drive anyway) and an interception on a tipped pass on Ohio State's opening drive of the third quarter, Fields – just one game after he completed less than half of his passes and threw two interceptions in the Big Ten Championship Game against Northwestern – made few noteworthy mistakes and a multitude of excellent plays.
Given the stage of the game, the injury he had to play through and how many big plays he made, Ryan Day said the performance ranked "as high as I can think of right now" when asked where it ranked for him among the great quarterback performances he's seen.
"Coming off the game, I'm biased, but for him to come in and play like this against this defense, amazing," Day said. "The interception, that was my fault. I should have run the ball. I shouldn't have put him in that spot. 385, six touchdowns, yeah, I don't know if there's a better game, but I'm obviously biased right now coming off the field after the way he played."
Even after the game, Fields was still in considerable pain, groaning as he sat down for his postgame press conference.
He hadn't yet received a diagnosis for his injury, but said his entire right side was sore. He said it hurt to throw the ball even 10 yards downfield, and he knows he'll be even sorer when he wakes up Saturday morning. He was determined to keep going, though, because of how badly he wanted the win over Clemson – and the chance to play in the national championship game – for himself and his teammates.
"I know my body is going to be hurting tomorrow morning, but it's worth it for this win and for my teammates," Fields said. "So I think that's really what pushed me. I was just thinking all the things that we've sacrificed as a team, that's really what got me through the whole game."
Fields immediately reassured his coaches and teammates after taking the hit and walking off the field that he would be staying in the game.
"He took a huge hit. I heard it from where I was. He got up, I went to go check on him, he said he's not coming out of the game," said Ohio State wide receiver Chris Olave. "I just love Justin, and he's a competitor. There was no way he was coming out of that game."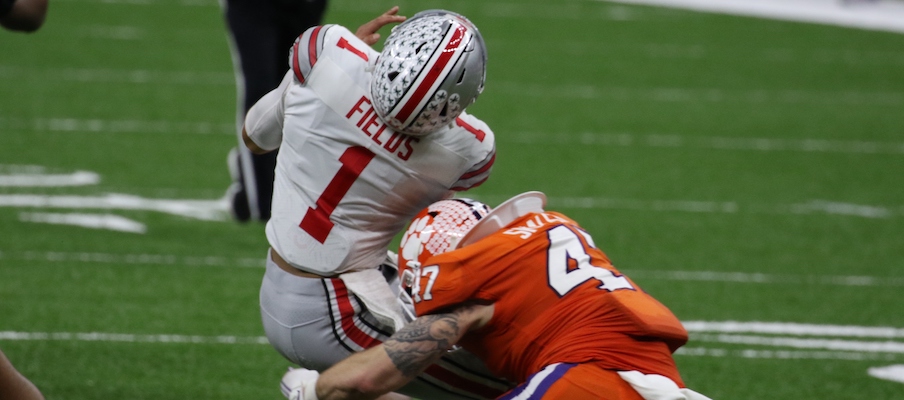 Day didn't know exactly what had happened for Fields, but Fields reassured him he could keep playing, though Ohio State did stop calling running plays for Fields after the hit.
"He just looked at me, and I said, 'How are you doing? Are you going to be able to make it?' He said, 'I don't have a choice; I have to.'" Day said. "At that point, we had to figure out what he could and couldn't do for a while. We kind of figured that part of it out. He couldn't do everything, but what a gutsy performance, what a tough and special young man Justin Fields is."
Fields has been lauded by Day and his teammates for his competitiveness and work ethic since just about the day he arrived at Ohio State, but Day said he saw Fields take that to an even higher level over the past two weeks after the Big Ten Championship Game. As Fields drew more criticism for his play than he ever had before in his Ohio State career, Day saw his signal-caller become even more motivated.
"This is a competitive guy that's had a lot of success," Day said. "He doesn't like hearing people talk ill will about him. It didn't sit well with him at all. He had an edge to him all week. That's what great competitors do. So really cool to see."
"What a gutsy performance, what a tough and special young man Justin Fields is."– Ryan Day on Justin Fields
Fields said his performance against Northwestern – as well as everyone who doubted him and Ohio State's ability to beat Clemson – pushed him to "prepare more and prepare like I've never prepared before," and that work certainly paid off on Friday night.
"Everybody doubting us just pushed us a little more," Fields said. "I prepared for this game like I've never prepared for a game before. So I think that showed on the field. And I'm just proud of my brothers, proud of my teammates, and proud of the way they played."
No matter what happened on Friday night, Fields had already established himself as one of the great quarterbacks in Ohio State history, having already put together many memorable performances in his two-year Buckeye career.
But by leading Ohio State to its first win against Clemson and the opportunity to play for a national championship, bouncing back from the worst game of his Ohio State career to play the best game of his Ohio State career and doing it all while continuing to show just how tough a competitor he is, Fields firmly established himself as one of the Buckeyes' all-time greats, with a chance to build his legacy even more if he can lead the Buckeyes to one more win over Alabama on Jan. 11.
"The conversations we had was, you go out and play good in this game and you win this game, nobody is going to remember the Big Ten championship game; they'll remember this one. And they'll remember it for a long time in the history of Ohio State football," Day said. "And what does he do? He goes out and he throws six touchdown passes."