Finally.
After losing each of its four previous games against Clemson, Ohio State finally beat the Tigers in Friday's Sugar Bowl, 49-28, to win its first College Football Playoff game since the 2014 season and advance to the national championship game.
Ohio State's offense put up a whopping 639 yards, including 394 yards and five straight touchdowns before halftime, as Justin Fields led the Buckeyes to victory with a career-defining performance even after nearly being knocked out of the game in the second quarter.
 
Q1
Q2
Q3
Q4
 

#3

 Ohio State
14
21
14
0
49

#2

CLEMSON
14
0
7
7
28
The game got off to a bad start for Ohio State's defense, as the Tigers drove right down the field – 82 yards on eight plays – to score a touchdown less than three minutes into the game. Travis Etienne took a pass out of the backfield for a 26-yard gain, Cornell Powell made a 27-yard catch over Sevyn Banks and Trevor Lawrence finished the drive off with a 2-yard touchdown run.
After Ohio State went 3-and-out on its opening possession, the Buckeyes avoided a close call on their second defensive series. Clemson tight end Davis Allen beat the Ohio State defense deep on 3rd-and-8, but pressure from Pete Werner forced Lawrence to throw an inaccurate pass, forcing Clemson to punt.
Trey Sermon got the Buckeyes on the board on their next possession, turning a screen pass into a 34-yard gain and following that up with a 32-yard touchdown run to tie the score at seven points apiece.
Clemson's offense rolled right back down the field on its next possession, going 75 yards in seven plays capped by a 3-yard Etienne touchdown run to take a 14-7 lead less than 10 minutes into the game. Ohio State knotted the score back up at 14 apiece before the end of the first quarter when Fields completed a 47-yard pass to Garrett Wilson and followed that up with a 5-yard touchdown pass to Luke Farrell.
Ohio State took its first lead of the game, 21-14, on its next possession when Fields completed a 17-yard touchdown pass to Jeremy Ruckert.
The Buckeyes extended their lead to two scores on their next possession, though not without a major injury scare for Fields. After taking a hard shot that got Clemson linebacker James Skalski ejected from the game for targeting at the end of an 11-yard run, Fields stayed down on the field for multiple minutes and appeared to be in considerable pain. Yet after leaving the game for just one play, Fields returned to throw a 9-yard touchdown pass to Chris Olave on his first play back in, extending the Buckeyes' lead to 28-14.
Ohio State finished the first half with a fifth straight touchdown drive of 75-plus yards by going 80 yards on 12 plays, capped by Fields throwing a 12-yard touchdown pass to Ruckert with 11 seconds left to play before halftime.
| OHIO STATE |   | CLEMSON |
| --- | --- | --- |
| 639 | TOTAL YARDS | 444 |
| 254 | RUSHING YARDS | 44 |
| 44 | RUSHING ATTEMPTS | 22 |
| 5.8 | AVERAGE per RUSH | 2.0 |
| 1 | RUSHING TOUCHDOWNS | 2 |
| 385 | PASSING YARDS | 400 |
| 22-28 | COMPLETIONS–ATTEMPTS | 33-48 |
| 17.5 | AVERAGE per COMPLETION | 12.1 |
| 6 | PASSING TOUCHDOWNS | 2 |
| 26 | 1st DOWNS | 23 |
| 72 | TOTAL PLAYS | 70 |
| 8.9 | YARDS per PLAY | 6.3 |
| 4-5 | RED ZONE | 4-5 |
| 5-12 | 3rd DOWNS | 5-12 |
| 9-95 | PENALTIES | 3-20 |
| 34:05 | POSSESSION | 25:55 |
The Buckeyes got right back into the red zone on their opening possession of the second half when Fields and Olave connected for a 36-yard pass over the middle of the field. The drive ended without points for Ohio State, though, when a Fields pass was tipped by Clemson defensive end Myles Murphy and intercepted by Mike Jones Jr. in the end zone.
Clemson proceeded to drive right down the field and score a touchdown on its first possession of the third quarter, gaining 80 yards on nine plays, capped by a 10-yard pass from Lawrence to Powell.
But just as it looked like the momentum of the game might be swinging back to the Tigers, Fields quickly flipped it back in Ohio State's favor when he threw a perfect deep ball to Olave for a 56-yard yard touchdown, extending the Buckeyes' lead back to 21 points.
Clemson's next possession ended with Tommy Togiai forcing a fumble that Justin Hilliard recovered, giving Ohio State its first chance to put the game away, but the Buckeyes were unable to take advantage of the short field, ultimately punting from the 47-yard line.
After Clemson was forced to punt from deep in its own territory on its next possession, though, Fields stuck the figurative dagger through Clemson's heart with a 45-yard touchdown pass to Jameson Williams – his sixth touchdown pass of the game – to extend the Buckeyes' lead to four touchdowns with 14:03 to play.
Clemson cut the lead to three touchdowns on its ensuing drive, as Powell scored a 26-yard receiving touchdown after Shaun Wade fell down in coverage, but that would be the final score of the game, as the Buckeyes finished with a 21-point advantage.
Ohio State is now set to play Alabama, the No. 1 seed in the College Football Playoff, in the national championship game on Jan. 11 in Miami Gardens, Florida.
"We knew we had to play our best tonight, and I think we did," Ryan Day said during the team's postgame celebration. "Now we have an opportunity to go win the whole thing and maybe write one of the best stories in college football history."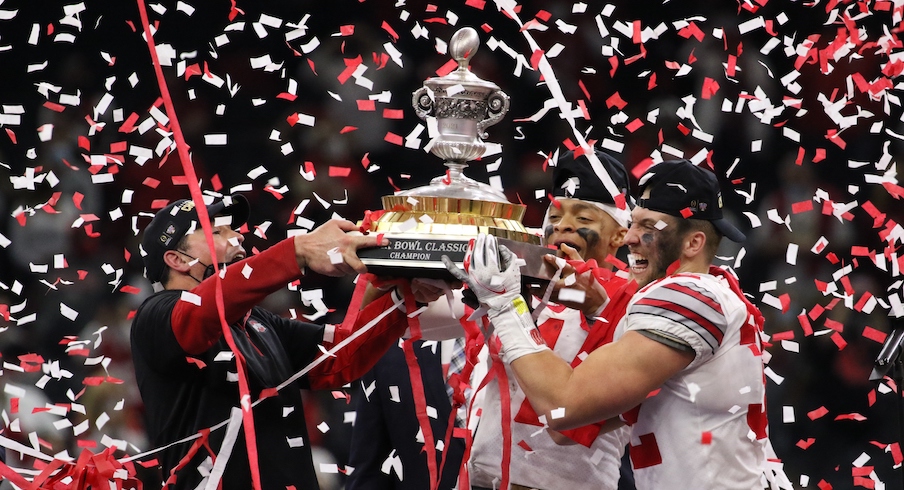 #3 Ohio State 49, #2 Clemson 28
JAN. 1, 2021 • SUPERDOME • NEW ORLEANS, LA
Game Notes
15 Ohio State players were unavailable for Friday's game, most notably including starting left guard Harry Miller, running back Master Teague and defensive ends Zach Harrison and Javontae Jean-Baptiste.
With Miller and Teague unavailable, Matthew Jones made his second start of the season at left guard while Sermon made his first start as a Buckeye at running back. Jones left the game for part of the second quarter after suffering an injury, for which he was replaced by true freshman Paris Johnson Jr., but was back in the game for the second half.
Josh Proctor started at deep safety for the second game in a row in place of Marcus Hooker, who did not start after missing the Big Ten Championship Game with an injury. Lathan Ransom took Proctor's usual place as the fifth defensive back on the field in nickel packages.
Tuf Borland, as he has for every game he's been available to play in this year, went to midfield as the captain for the pregame coin toss.
It was the first time two Ohio State tight ends scored touchdowns in the same game since Luke Farrell and Jake Hausmann both caught touchdown passes against Rutgers in 2019.
Right guard Wyatt Davis appeared to suffer a leg injury on Fields' 56-yard touchdown pass to Olave, but returned on the field for the Buckeyes' next possession.
Ohio State is now 3-2 all-time in the College Football Playoff.
The Buckeyes have won their last four appearances in the Sugar Bowl.
Ohio State broke its record for total offense in a bowl game. The previous record with 617 yards against Notre Dame in the 2006 Fiesta Bowl.