The 11th-ranked team on Dabo Swinney's Coaches Poll ballot turned his team to powder last night as Ohio State rode Justin Fields and Trey Sermon to a 49-28 rout of the Clemson Tigers in a College Football Playoff semifinal. 
With Fields clicking on all cylinders despite taking a major shot in the second quarter and Sermon gashing the Tigers at will, Ohio State racked up 639 yards of offense on the way to the winner's circle. 
A second quarter explosion in which the Buckeyes outscored Clemson 21-0 was all the cushion Ryan Day's squad would need to earn a date with Alabama in the national championship game set for a week from Monday in Miami. 
Day and his staff crafted a masterful game plan and his players certainly came in motivated to give Swinney a big ole dose of Shut The F$#% Up. 
So let's get to it, here are Five Things from a magical night in NOLA. 
---
JUSTIN TIME
After a stinker in the Big Ten title game that saw him complete just 12-of-27 throws for 114 yards, a pick, and zero touchdowns for the first time as a Buckeye, Fields came out smoking and never looked back against the Tigers. 
Justin hit on 11 of his first 12 passes for 163 yards and two scores before Clemson's James Skalski buried his helmet in Fields' back, earning a disqualification, while sending Fields to the medical tent in significant pain. 
Fields missed just one play before returning to roll right and hit Chris Olave for a 9-yard touchdown and a 28-14 lead with 5:12 left in the first half. 
Despite taking such a major shot, Fields completed 11-of-16 throws for four touchdowns after the play to finish the night with a statline of 22-for-28 for 385 yards and a Sugar Bowl record six touchdowns. 
Two of those scoring strikes after the injury came via a 45-yarder to Jameson Williams and a 56-yarder to Olave. 
Coming off the lackluster Big Ten title game performance and then taking a monster shot from Skalski, Fields turned in one of the greatest single-game performances by an Ohio State quarterback. 
Hat tip to him for hanging in there and continuing to lead his team despite the pain. 
TIGHT, TIGHT, TIGHT
Day went into his bag of tricks after what felt like some curious playcalling against Northwestern to flummox Clemson. One way he did that was to deploy his tight ends in the passing game during the decisive first half. 
Jeremy Ruckert hauled in three catches for 55 yards and two scores while sidekick Luke Farrell added two grabs for 11 yards and a score. 
Farrell's 8-yard snag of a Fields laser for six tied the game at 14 apiece late in the first quarter. Ruckert then went to work securing a 17-yarder for a touchdown to make it 21-14 before a 12-yard connection right before the half put the Buckeyes in front 35-14. 
The duo's five catches for 66 yards and three scores compared quite favorably to the six previous games in which they tallied 12 catches for 86 yards and three touchdowns. 
With Day using a ton of two tight-end sets, Ruckert and Farrell also excelled blocking for Sermon and receivers after the catch. Just a great all-around performance from the two talented though often underutilized guys. 
FRONT SEVEN STANDS TALL ONCE MORE
Clemson was going to get its yards with Trevor Lawrence running the show but Ohio State's defense did what it needed to do, particularly in the first half. The unit's effort paired nicely with the Buckeyes' explosive offense as the team built a 35-14 halftime cushion. 
Giving up just 14 first half points to a team averaging 45 points per game coming in, Ohio State stopped the Tigers on third down on four of five tries while forcing three 3-and-outs and one 4-and-out across Clemson's six first half possessions. 
Not that Clemson had a great rushing attack to begin with but Ohio State completely shut down the ground game, making the Tigers one-dimensional, allowing just 44 yards on 2.0 per carry for the game. Tigers running back Travis Etienne averaged 3.2 yards on 10 attempts. 
Pete Werner was everywhere with nine stops, Justin Hilliard logged eight including a tackle for loss and Tuf Borland also tallied eight tackles on the way to defensive player of the game honors. 
As has been customary, defensive tackles Haskell Garrett and Tommy Togiai (four tackles, TFL, PBU, FF) caused disruption all night.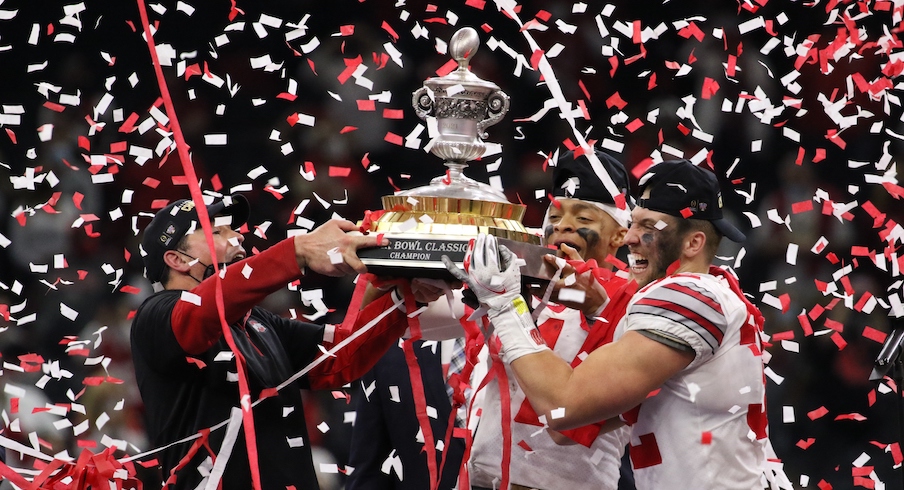 #3 Ohio State 49, #2 Clemson 28
JAN. 1, 2021 • SUPERDOME • NEW ORLEANS, LA
• PHOTOS
HAVE A DAY, CHRIS OLAVE
You know the story from last year. Olave had three catches for 50 yards against the Tigers before his decision to break off his route led to an Fields interception extinguishing Ohio State's chance at victory. 
Heading into the rematch, there was early concern if he'd be able to play as a result of COVID-19 protocols. Despite missing practice time, Olave was indeed able to play and delivered in style recording six catches for 132 yards and two touchdowns on eight targets. 
All six of his catches resulted in either a first down or touchdown. 
His first score came on a 9-yard curl right after Fields' return from injury to give Ohio State a 28-14 lead. 
His second touchdown came via a 56-yard hookup with Fields after Clemson had cut the Buckeye lead to 35-21 midway through the third quarter. On 2nd-and-10, Olave torched Derion Kendrick on a post route to cap a 7-play, 91-yard drive. 
Through six games, Olave has 42 grabs for 660 yards and seven touchdowns, or 110 yards per game. All those numbers are team highs despite missing the Big Ten championship game. 
TREY DON'T PLAY
With Fields banged up and in need of a sidekick, Trey Sermon once again answered the call with 31 carries for 193 yards and a touchdown. 
Sermon racked up 10 carries of at least nine yards including a clutch 10-yarder on a 3rd-and-9 play on Ohio State's last scoring drive of the second quarter. 
Leading 28-14 and looking for separation before the half, Sermon carried it six times for 32 yards (including that 3rd-and-9 jaunt) and caught two balls for 13 yards, giving him 45 of Ohio State's 80 yards on the scoring march. 
Over the last three games, Sermon has 636 rushing yards, good for an astounding 212 per game, on 9.1 yards a pop. 
Through his first four games at Ohio State, Sermon had 232 rushing yards, or 58 per game, on 5.2 yards per carry. 
I still have a tough time wrapping my head around his emergence. What are the chances he has one more magical night in his bag?