Even though Ohio State dominated the first half of Saturday night's game, Rutgers ended up making it closer than any of its previous six games against the Buckeyes.
The Buckeyes outplayed the Scarlet Knights in all phases of the game in the first half, taking a 35-3 lead into halftime, before coasting in the second half as Rutgers pulled off numerous trick plays to cut the final score to 49-27.
 
Q1
Q2
Q3
Q4
 

#3

 Ohio State
7
28
7
7
49
RUTGERS
3
0
6
18
27
Nonetheless, Ohio State improved to 3-0 on the season as Justin Fields threw for 314 yards and accounted for six total touchdowns while the defense to lead the home team to victory under the lights at Ohio Stadium.
Jameson Williams made the first big play of the game – and his first big play of the season – less than five minutes in when he got wide open to catch a deep ball from Justin Fields for a 38-yard touchdown.
That was quick, @OhioStateFB @justnfields finds Jameson Williams to put the Buckeyes on top! pic.twitter.com/sifWDriDMv

— FOX College Football (@CFBONFOX) November 8, 2020
The Scarlet Knights drove to Ohio State's 1-yard line on their second possession, sparked by an impressive third-down conversion when Aron Cruikshank took a reverse and spun through a Pete Werner tackle attempt for a 22-yard gain on 3rd-and-5. They ended up settling for a 29-yard field goal, however, after a holding penalty on 2nd-and-goal.
Ohio State went conservative on its next possession and punted from the 39-yard line, but took a 14-3 lead on the first play of the second quarter when Fields scampered into the end zone for a 7-yard touchdown run one play after Garrett Wilson tapped a foot down in bounds to catch a 34-yard deep ball.
@justnfields runs it in for @OhioStateFB's second TD of the game! pic.twitter.com/d71GAJ5MyW

— FOX College Football (@CFBONFOX) November 8, 2020
The Buckeyes went to their bag of tricks on their next possession, as Steele Chambers took a direct snap on a fake punt and ran for 38 yards. The drive culminated with Fields threading a pass to Chris Olave just inside the right boundary of the end zone to extend the Buckeyes' lead to 21-3 with 9:30 to play in the second quarter.
@justnfields finds @chrisolave_ for another @OhioStateFB TD pic.twitter.com/5SWTHZS59F

— FOX College Football (@CFBONFOX) November 8, 2020
Ohio State got the ball back promptly on Rutgers' next possession when Justin Hilliard, seeing his first playing time of the season after being sidelined for the Penn State game by a false positive COVID-19 test, forced a fumble on a screen pass to Cruikshank and recovered the ball himself at the 32-yard line. The Buckeyes took advantage of the short field, with Fields completing an 8-yard touchdown pass to Wilson – the 50th touchdown pass of Fields' Ohio State career in just his 17th game as a Buckeye – to extend the lead to 28-3.
@OhioStateFB QB @justnfields makes everything look so easy pic.twitter.com/XxgatWkJW1

— FOX College Football (@CFBONFOX) November 8, 2020
Demario McCall saw his first offensive playing time of the season on Ohio State's next possession, and made the most of it by running for a 12-yard gain and taking a screen pass 27 yards on his first two plays in the game. Master Teague capped off the drive by gaining 23 yards on a screen pass from Fields and then running for a 9-yard touchdown, increasing Ohio State's advantage to 35-3 before halftime.
After Ohio State punted on its first two possessions of the third quarter, Rutgers dove all the way into its bag of tricks, gaining 66 yards on a direct snap to running back Isaih Pacheco, then throwing the ball to left tackle Raiqwon O'Neal for a 4-yard touchdown. The Scarlet Knights also attempted a "Philly Special"-esque play for a 2-point conversion, but that was unsuccessful; they subsequently attempted an onside kick after the touchdown, which Ohio State receiver Gee Scott Jr. recovered.
BIG MAN TD @RaiqwonONeal gets his first career TD for @RFootball! pic.twitter.com/obo4IJFrwv

— FOX College Football (@CFBONFOX) November 8, 2020
That short field ended with Fields throwing his fourth touchdown pass of the game on a 7-yard pass to Jeremy Ruckert, who caught his third touchdown pass in a two-game span.
Another TD for @OhioStateFB! pic.twitter.com/8ZQ3UrYH72

— FOX College Football (@CFBONFOX) November 8, 2020
| OHIO STATE |   | RUTGERS |
| --- | --- | --- |
| 517 | TOTAL YARDS | 373 |
| 203 | RUSHING YARDS | 141 |
| 37 | RUSHING ATTEMPTS | 32 |
| 5.5 | AVERAGE per RUSH | 4.4 |
| 2 | RUSHING TOUCHDOWNS | 2 |
| 314 | PASSING YARDS | 232 |
| 24-28 | COMPLETIONS–ATTEMPTS | 34-49 |
| 13.1 | AVERAGE per COMPLETION | 6.8 |
| 5 | PASSING TOUCHDOWNS | 1 |
| 25 | 1st DOWNS | 22 |
| 65 | TOTAL PLAYS | 81 |
| 8.0 | YARDS per PLAY | 4.6 |
| 5-6 | RED ZONE | 4-5 |
| 7-12 | 3rd DOWNS | 7-17 |
| 9-74 | PENALTIES | 9-83 |
| 31:09 | POSSESSION | 28:51 |
Rutgers scored another touchdown on its next possession. After Taron Vincent was flagged for a facemask on a 4th-and-7 stop by Werner in the red zone, Johnny Langan completed a 6-yard touchdown pass to tight end Jovani Haskins, who made a leaping grab over Shaun Wade in the end zone.
Upon forcing an Ohio State punt, Rutgers pulled off yet another successful trick play on the punt return, when Avery Young threw the ball across the field to Bo Melton and Melton went all the way through Ohio State's punt coverage unit for a 58-yard touchdown, cutting Ohio State's lead to 42-21.
Fields responded by throwing his fifth touchdown pass of the night – marking the first time he's thrown five touchdown passes in an Ohio State game – to Olave from 33 yards out.
Rutgers cut the score again on its next possession, though, as Langan ran into the end zone from one yard out after Noah Vedral completed a 31-yard pass to Melton.
The Scarlet Knights drove deep into Ohio State territory again on their final possession, but the Buckeyes finished with a 22-point victory after Dallas Gant recovered by a fumble by Rutgers quarterback Artur Sitkowski in the final minute of the game.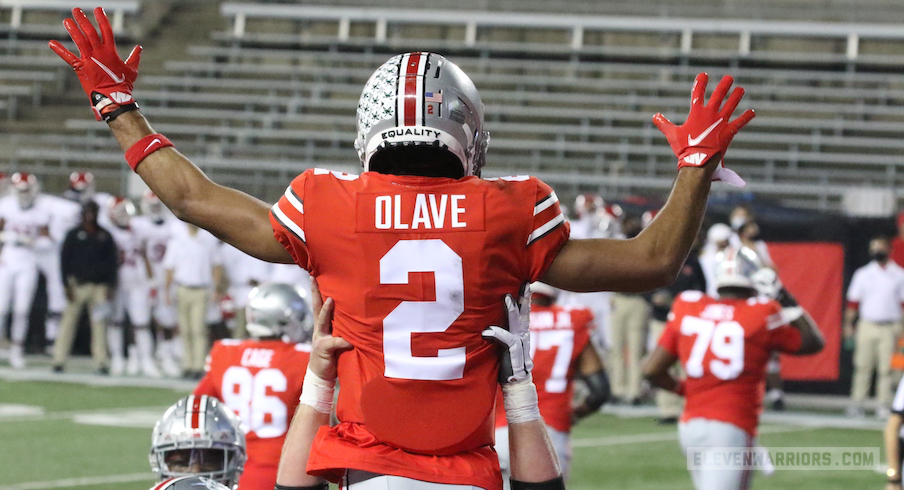 Game Notes
1,275 was the official attendance at Ohio Stadium for Saturday's game. An Ohio State spokesperson said there were approximately 6,200 fan cutouts in the stands for Saturday's game, up from 4,770 for the season opener against Nebraska.
Former Ohio State safety Brendon White, now a Scarlet Knight, went out to midfield for the pregame coin toss as Rutgers' game captain, while Tuf Borland held the honor once again for Ohio State.
Javontae Jean-Baptiste, a New Jersey native, made his first start of the season at defensive end opposite Jonathon Cooper. The rest of the defensive starters were unchanged from Penn State.
Williams made his first career start as Ohio State started the game with three wide receivers on the field for the first time this year.
Jake Seibert made his Ohio State debut kicking extra points in Saturday's game with Blake Haubeil unavailable.
Fields completed every single pass he attempted in the first quarter for the third game in a row. He completed his first seven passes of the night for 122 yards and a touchdown before his first incompletion of the night came on a drop by Julian Fleming.
Olave is now tied for 7th all-time in Ohio State with 19 career touchdown receptions after scoring twice on Saturday night.
Wilson has now joined Cris Carter, David Boston and Terry Glenn as the fourth receiver in Ohio State history to gain 100 or more yards receiving in three consecutive games.
Running back Trey Sermon was knocked out of the game after a 36-yard run in the fourth quarter, but remained on the sidelines and appeared to be OK.
Saturday was the fifth time Fields passed for more than 300 yards in an Ohio State game.
Defensive end Noah Potter limped off the field after suffering an injury late in the fourth quarter.
Ohio State is now 7-0 all-time against Rutgers. Saturday's game was the first game in the series to be decided by fewer than 35 points.
C.J. Stroud handed off to Miyan Williams on Ohio State's final play of the game, which was each player's first snap as a Buckeye.