Saturday night's season opener against Rutgers was supposed to be the first opportunity of the season for Ohio State to take its starters out of the game early and give its backups extended playing time, and for one half, it looked like it would be.
Then, the Buckeyes just didn't do what they needed to do in the second half to make that happen.
Ohio State was completely dominant in the first half of Saturday's game against Rutgers, taking a 35-3 lead into halftime. Had the Buckeyes continued that momentum and built on that lead early in the second half, Justin Fields and the rest of Ohio State's first-teamers likely would have been out of the game by the end of the third quarter.
Instead, Ohio State went 3-and-out on its first two drives of the second half. The Buckeyes only scored two more touchdowns in the final two quarters, while Rutgers reached the end zone four times in the second half, cutting the game's final score to 49-27. And because the Buckeyes allowed Rutgers to hang around, Fields ended up staying in the game with many of Ohio State's other starters until the Buckeyes' second-to-last possession of the night, leaving just one snap for backup quarterback C.J. Stroud to hand the ball off to fellow freshman Miyan Williams to end the game.
Asked whether he thought he'd be playing that deep into the fourth quarter after Saturday's game, Fields gave a blunt response.
"To be honest, no," Fields said. "I did not. I don't think anybody did, to be honest. I think we let up too many points in the second half."
Fields certainly isn't the one to blame for the Buckeyes' failure to increase their lead in the second half, as he was nearly perfect yet again, completing 24 of 28 passes for 314 yards and five touchdowns while also running for a 7-yard touchdown. A lot of that blame can be placed on the defense, which allowed 290 yards in the second half after holding the Scarlet Knights to just 83 yards in the first half, and team captain Tuf Borland didn't shy away from shouldering that blame for his unit.
"We kind of came out here, it's not an excuse, you're up big at half, you come out and you just kind of took the foot off the gas, and that starts with me," Borland said. "That can't happen."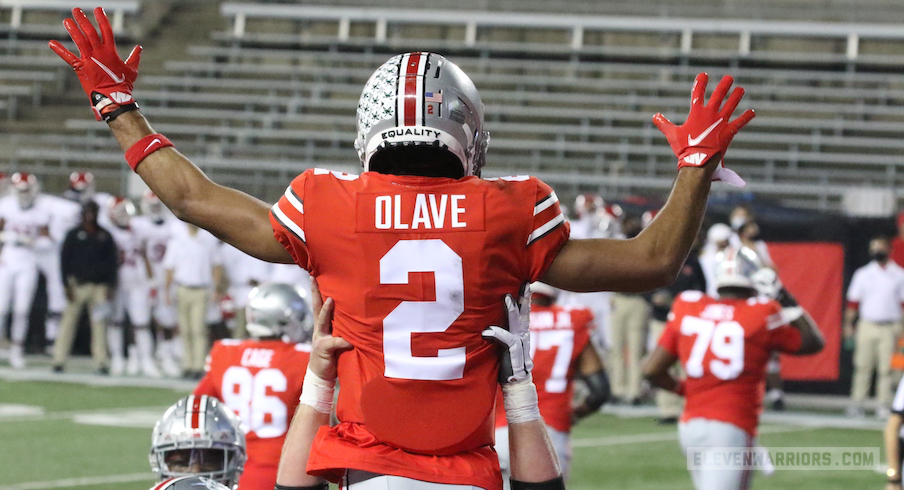 Before we go any further, it's important not to lose focus on the bigger picture. Ohio State was never in any jeopardy of losing Saturday night's game, and did exactly what it needed to do in the game's first 30 minutes to give itself a huge second-half cushion. The Buckeyes are 3-0, and as long as they keep winning, beating Rutgers by only 22 points instead of 40 or 50 isn't going to affect their championship hopes.
Yet while the Buckeyes have done what they've needed to do to win every game by multiple scores, and have shown the potential to be a championship-caliber team, they haven't yet proven they can play at that level for four quarters. Against Nebraska, they were in a dogfight for most of the first half before pulling away in the second half. In each of the last two games, they've been outscored in the second half as their defense has struggled in the third and fourth quarters.
Ryan Day made it clear after Saturday night's game that he was disappointed the Buckeyes failed to finish strong.
"Really proud of the way our guys came out and played 35-3 at halftime. Really a pretty dominant first half. Guys played well. And then in the second half, just didn't play very great," Day said. "We should have really dominated the first five or six minutes of the second half and then allow some of our other guys to get in the game, and that didn't happen. So that's something we gotta get back and work on and look to close it out."
Day believes the lack of fans in Ohio Stadium might have had something to do with the Buckeyes' lackluster second-half performance, but he says they can't use that as an excuse.
"You come in 35-3 and it's whatever time it is, 8:30, 9:00 on a Saturday night and the stadium's empty," Day said. "There's no juice in the stadium, and so we have to do that, we have to bring our own energy. And that's a challenge for us that we've gotta do. And that's something that we're gonna really address this week and talk about coming out of that second half. We did it in the first game, I thought we did a decent job last week as well, but this week, not very good. So we need to focus on that this week."
"We should have really dominated the first five or six minutes of the second half and then allow some of our other guys to get in the game, and that didn't happen."– Ryan Day after Saturday's game
Day also pointed out that the Buckeyes had to adjust their practice schedule this week because of the NCAA's mandated off day for Election Day on Tuesday, which is typically when Ohio State holds its first big practice of the week. But Borland said they can't use that as an excuse, either.
"Very, very different week, coming in on a Monday, but that's not really an excuse," Borland said. "We pride ourselves on being a professional no matter what the circumstances are, so whether it's Monday, Tuesday, coming out, working on your craft, improving on the things you need to work on, that's just really what we're focused on no matter what day we're practicing."

Rutgers, to its credit, kept playing hard in the second half despite the 32-point halftime deficit. More specifically, the Scarlet Knights seemingly unveiled every single trick play they had in their playbook, resulting in several big plays including a 58-yard punt return touchdown after Avery Young threw the ball across the field to Bo Melton, who took the ball all the way to the end zone.
Day thought the Buckeyes were well-prepared to handle those trick plays, though; they just missed too many tackles, which has been a somewhat recurring problem for Ohio State's defense throughout the first three games.
Going into next week's fourth game of the season against Maryland, Day says he thinks the Buckeyes need to "become an even better practice team in all three phases," which he believes is what they need to do in order to play more mistake-free football on Saturdays.
"We gotta practice better," Day said. "If we want to be where we need to be, if we want to be a great team, then it has to happen especially on Tuesday and Wednesday. And that's something again that's gonna be a focus this week."
In a year where Ohio State is playing conference games only during the regular season due to the COVID-19 pandemic, "any win is a good win," Day said. But because his team is a team that has championship aspirations, he and his players aren't going to simply be satisfied with a victory if they know they could have played better.
"We're 3-0. We're playing good football. We got a lot of good players on the team. We came out and played really, really well in the first half," Day said. "But we're critical. And that's a good thing. We want perfection. And we're looking for greatness."