Ohio State improved to 3-0 on the season behind a big night from Justin Fields in a 49-27 win over Rutgers last night in the Shoe. 
With Fields carving up the Scarlet Knights, the Buckeyes raced to a 35-3 halftime lead. 
Greg Schiano's squad outscored Ryan Day's team 24-14 in a second half to forget however as Ohio State rotated in a host of backups and frankly looked to be in a bit of a malaise (starters or otherwise) while the Scarlet Knights were in full try-hard mode augmented by an array of trick plays. 
Despite the lackluster finish Ohio State stayed on track to achieve their ultimate goals with the next step coming on the road against what could be a dangerous Maryland squad. 
With the Terps just over the horizon, let's a quick look back at Ohio State's uneven 22-point win over the Scarlet Knights. 
---
JOUST-IN FIELDS
Holy smokes Justin Fields put on another show against the overmatched Scarlet Knights defense.
The junior hit on 24-of-28 throws for 314 yards and five touchdowns with another score on the ground. Garrett Wilson (6 receptions, 104 yards, TD) and Chris Olave (5 receptions, 64 yards, 2 TD) were his top targets but he did spread it around hitting nine different receivers.   
Fields was just absurdly good in the first half, going 15-of-17 for 232 yards and three scores. He showcased sensational footwork in both buying time to throw or wheeling and dealing on designed rollouts. 
Through three games, Fields has 11 touchdown passes and 11 incompletions. Seems good. 
With the running game doing little to instill fear in opposing defenses, Fields just keeps throwing strikes. It's going to be very interesting to see how the run/pass balance evolves in the event Ohio State plays an elite opponent and/or finds itself in a close game, shootout or otherwise.  

DIRTY HARRY
First-year starter and true sophomore left guard Harry Miller did not enjoy a clean game.
The mauler from Buford, Georgia committed three holding penalties over the first 30 minutes. The first negated a 15-yard connection between Fields and Jaxon Smith-Njigba on a 2nd-and-10 play. Two plays later, Miller was beaten badly on a 3rd-and-8, causing a Fields incompletion. 
On Ohio State's next possession, a Miller holding penalty wiped out a 10-yard catch by Chris Olave, two plays before another Miller hold erased a 14-yard toss from Fields to Luke Farrell on 2nd-and-12. 
The Buckeyes did score on both of those possessions (the first aided by a fake punt on fourth down) and Miller looked a little better in the second half. That said, Ohio State needs Miller to keep growing and learning. He has all the tools and will almost assuredly be a legit force in due time but sooner rather than later would benefit a team with hopes of winning a national title.  
FIRST HALF SHUTDOWN
Ohio State's defense was on lockdown in the first half, helping the Buckeyes to the 35-3 lead. 
Rutgers managed 83 total yards in the opening half on 2.9 yards per play. On the ground, Schiano's crew racked up 29 yards on 1.9 per carry with 22 of those yards coming on one play. 
After Rutgers kicked a field goal on its second possession of the half, Ohio State forced three 3-and-outs, a fumble on the second play of another drive, and a 5-play, 4-yard possession to end the half. Roll that up and Rutgers managed 17 yards across its last five possessions of the first half, and just 11 yards during the entirety of the second quarter. 
Baron Browning showed his speed and instincts when Rutgers tried to run wide and it was great to see rotational guys like Javonte Jean-Baptiste, Tyler Friday and Taron Vincent, among others, causing havoc up front.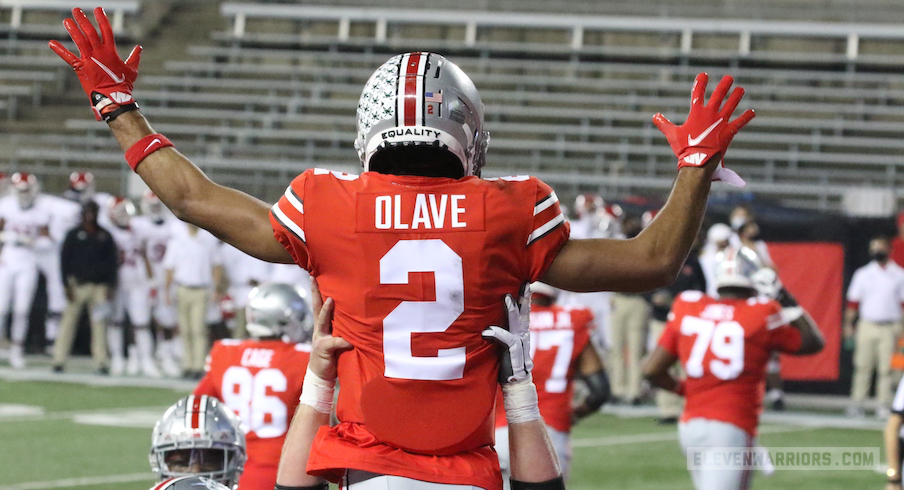 JEREMY
Offseason stories pontificating on whether or not Ohio State's tight ends will be involved in the passing game are an annual tradition. Usually, the end result doesn't match the preseason discussion. 
This year we might be on to something different. 
Jeremy Ruckert racked up 14 catches for 142 yards and four touchdowns in 14 games last season to lead all Ohio State tight ends. 
Through just three games this season, Ruckert has nine grabs for 60 yards and four scores. Last night he was in the mix with four catches for 29 yards and his 7-yard touchdown grab gave the Buckeyes a commanding 42-9 lead late in the third quarter. 
At his current pace, looking at just the eight game regular season, Ruckert would record 24 catches for 160 yards and eight touchdowns. It is often a fool's errand to extrapolate stats in the early going but with Ryan Day using a lot more 12 personnel, it feels like the tight ends will continue to have a larger role in the passing game than previous seasons. 
Those certainly aren't eye-popping stats within Ohio State's overall passing game but it looks like Ruckert is a weapon Fields is willing to exploit. 
FIFTEEN MINUTES OF PAIN
The second quarter was a riot. 
Leading just 7-3 after the first quarter, Ohio State went on a 28-0 blitz in the second, completely dominating the box score. 
Fields completed 8-of-10 throws for 110 yards and two touchdowns while the running game racked up 84 yards on 7.0 yards a pop including Fields' 7-yard run for six on the first play of the quarter. The Buckeyes went 4-of-5 on third down, 1-of-1 on fourth down and averaged 8.8 yards per play. 
Day even dialed up a fake punt on a 4th-and-8 that went for 38 yards and eventually led to a Fields-to-Chris Olave touchdown giving Ohio State a 21-3 lead. 
Meanwhile, Rutgers generated 11 yards of offense on 0.8 per play. The Scarlet Knights totaled three yards on the ground and eight passing yards on five completions. Schiano's crew also lost a fumble leading to a Garrett Wilson touchdown for a 28-3 lead. 
The Ohio State defense forced a 3-and-out after the Wilson score and went back to work with Demario McCall racking up 12 and 27 yards on back-to-back plays before three-straight Master Teague touches chewed up 40 yards, culminating in a 9-yard scoring jaunt to make it 35-3 with 1:22 left in the half.