From the opening kickoff of Saturday's game at Ohio Stadium, it was clear Rutgers wasn't going to be afraid to dig into its bag of tricks.
On the very first play of the game, Rutgers returner Aron Cruikshank fielded the kickoff and then threw the ball across the field to Bo Melton, who ran the ball up to the 36-yard line. And that was just the beginning of a night full of trickeration for the Scarlet Knights.
.@RFootball comes out with the tricks on the opening kick. pic.twitter.com/yqmfBw76Pw

— Big Ten Network (@BigTenNetwork) November 8, 2020
Their first big offensive play of the game came on their second possession when Cruikshank got the ball on a reverse and gained 22 yards on 3rd-and-5. They scored their first touchdown of the game on a pass to left tackle Raiqwon O'Neal, which came on play after a direct snap to running back Isaih Pacheco that went for 66 yards. In the fourth quarter, Rutgers scored a 58-yard punt return touchdown after another throw across the field from Avery Young to Melton. And the Scarlet Knights attempted multiple onside kicks while faking as if they might go for multiple more, with players motioning all over the formation before each kickoff to try to confuse the Buckeyes.
Is @RFootball the best trick play team in the nation?

It just used back-to-back trick plays, including a #B1GStandout, to score at Ohio State.

@AutoOwnersIns pic.twitter.com/MbadOdi3QS

— Big Ten Network (@BigTenNetwork) November 8, 2020
At this point we're surprised when @RFootball runs a standard, non-trick play.

The creativity is electric, and this time it results in a punt return TD! pic.twitter.com/GOrmBajU3N

— Big Ten Network (@BigTenNetwork) November 8, 2020
Asked after Saturday's game whether he had ever seen so many trick plays in one game, Ohio State coach Ryan Day said he hadn't. For the most part, though, he was pleased with how the Buckeyes responded to Rutgers' creativity.
"Especially the onside kicks, it was like a New York sidewalk," Day said. "They were going back and forth and back and forth, and I thought our team did a good job of handling it. I thought we did a good job of handling the first throwback. We were in a good spot on the second throwback, and we just didn't tackle them. It was just poor tackling."
Ohio State pulled out a trick play of its own in Saturday's second quarter when Steele Chambers took a direct snap on a fake punt and gained 38 yards, leading to a touchdown on a possession that would have otherwise stalled in Ohio State territory. That was a bold call on Day's part at the time, as Ohio State was only ahead 14-3 and at its own 36-yard line, but he wanted the Buckeyes to be aggressive knowing that Rutgers was going to take some chances against them.
"We knew that Greg was going to be aggressive with special teams, have some different things," Day said. "We didn't quite know it was going to be all of those things, but we wanted to be aggressive as well, and I thought the fake punt really allowed us to kind of pull away in the first half."
STEELE CHAMBERS!

What's better, the name or the @OhioStateFB fake punt? pic.twitter.com/n0of9CynUS

— Big Ten Network (@BigTenNetwork) November 8, 2020
Ohio State also countered Rutgers' aggressive return strategy by pooch kicking on each of its second-half kickoffs. But because the Buckeyes know teams are going to try to get creative against them, they don't want to simply be prepared for what other teams might do; they want to be able to pull some tricks from their sleeves, too.
"You know that teams are going to try to steal possessions. We talk about it all the time whether it's an onside kick, fake punt, something like that, they're always going to try to steal possessions against us, and that's part of the deal. We can't always be worried about that. We need to be aggressive," Day said. "Because we also have to be on the offensive. Just because other teams are trying to do that to us, we gotta make sure that we have stuff in place so that we're not on our heels."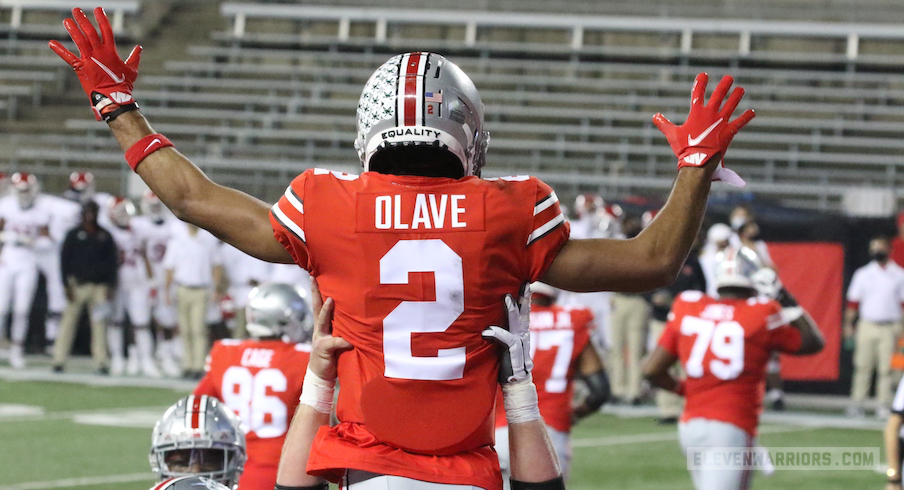 Hilliard forces fumble in season debut
Now in the sixth and final year of an Ohio State career that has been filled with health-related setbacks, Justin Hilliard's 2020 season started out with more of the same. He missed the Buckeyes' season opener against Nebraska with what he described as a minor injury, then was barred from playing in their second game of the year against Penn State after a false positive test for COVID-19.
Finally cleared to play on both fronts against Rutgers, Hilliard made his presence felt in his awaited season debut.
During the second quarter of Saturday night's game, Hilliard forced a fumble on a screen pass to Cruikshank and recovered the loose ball himself, giving Ohio State the ball at Rutgers' 32-yard line, which led to a touchdown.
Given the way the season started, and how his whole career has gone, it meant a lot for Hilliard to be able to make a big play for the Buckeyes in his first game of the year.
"This whole offseason, the focus has been just keep getting better, because I know this is my last shot at playing. So being out there today means so much," Hilliard said. "That's something we practice on, the coaches do a great job of preparing us each week of different things offenses are going to try to get us with, and yeah, I was glad I was able to make that play."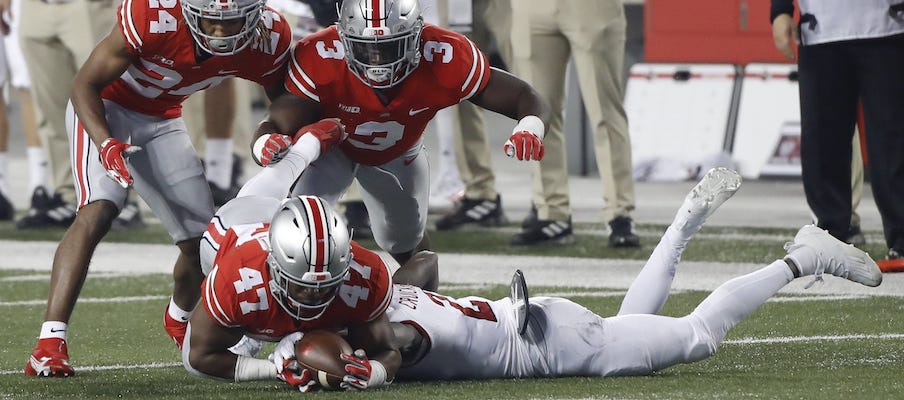 Hilliard acknowledged that he was frustrated and even a little bit angry that he wasn't able to play at Penn State, in what would have been his final game against the Nittany Lions, because Big Ten policy (which has since been changed) prohibited him from playing even though he took a PCR test that he confirmed he did not have COVID-19. He knew he couldn't dwell on that this past week, though, as he prepared for the Scarlet Knights.
"It sucks, but we're moving on," Hilliard said.
Demario finally plays on offense, and flashes
The hype that's surrounded Demario McCall for years has largely stemmed from his performances against Rutgers in 2016 and 2017. Against the Scarlet Knights as a true freshman, McCall had 10 carries for 85 yards and a touchdown. One year later, McCall had 11 carries for 103 yards and a touchdown and also caught a 35-yard pass for a touchdown in a 56-0 win at Rutgers.
Those early breakthrough performances still haven't materialized into a regular role on Ohio State's offense, and at this point, it seems unlikely that role is ever going to come. But in a two-play span on Saturday night, McCall showed why he's still a player some Buckeyes fans would like to see on the field more.
On his very first offensive play of the season, McCall took a carry from the running back spot for a 12-yard gain. One play later, McCall turned a screen pass from Justin Fields into a 27-yard gain.
Those were McCall's only offensive touches of the night, as he still looks to be behind Master Teague, Trey Sermon and Steele Chambers at running back while Garrett Wilson is taking most of the snaps at slot receiver. But he certainly made a positive impression with the touches he did get, which just maybe could give the Buckeyes reason to think about getting him more involved in the offense, especially since they haven't gotten a lot of flashy plays out of their running backs so far this season.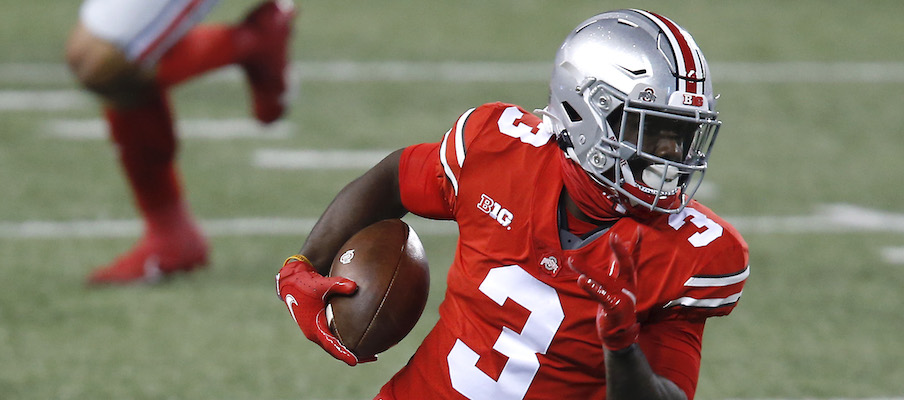 Sermon, Potter suffer injuries
Sermon finally broke off a long run for the first time this season when he ran for a 36-yard gain in the fourth quarter, but he landed awkwardly at the end of the run and stayed down on the field for a couple minutes before walking off the field under his own power. It was not clear what Sermon's injury was, but he remained on the sideline for the end of the game after making a visit to the injury tent, and appeared to be OK.
Redshirt freshman defensive end Noah Potter was also injured late in the game after taking some accidental friendly fire from linebacker Dallas Gant, who had to dive over Rutgers quarterback Artur Sitkowski to avoid a late hit and ended up diving straight into Potter's legs. Potter attempted to run off the field before going back down, where he received attention from the medical staff before limping off the field with assistance.
Stroud, Williams, Seibert and Watts make debuts
While Ohio State didn't end up getting to play its backups nearly as much as it expected when it took a 35-3 lead into halftime, true freshman C.J. Stroud was in fact the first quarterback off the bench on Saturday, after fellow freshman Jack Miller got in the game for the final drive of the season opener against Nebraska. Stroud's Ohio State debut consisted of just one snap, however, on which he handed the ball off to fellow freshman Miyan Williams – who also made his Buckeye debut on that play – who gained five yards on the final play to run out the clock.
Other Ohio State freshmen who made their debuts against Rutgers included kicker Jake Seibert, who did not attempt a field goal but handled all seven of the Buckeyes' extra points in place of Blake Haubeil, who was unavailable for the game due to a groin injury. Freshman cornerback Ryan Watts also saw his first playing time in the second half and recorded three tackles.