UNIVERSITY PARK, Pa. – In a series that's been known for back-to-back games in recent years, Ohio State led for nearly the entire game on Saturday night.
Although Ohio State never put the game completely out of reach, it also never trailed on the scoreboard, ultimately earning a 38-25 win over Penn State to improve to 2-0 on the season and win their fourth straight game over the Nittany Lions.
"Overall, just a gutsy win on the road, hard to win here, and proud of our guys," Ryan Day said after the game. "This was a big stage. This was kind of our moment to show everybody where we're at. And I'm proud of the way our guys played."
 
Q1
Q2
Q3
Q4
 

#3

 Ohio State
14
7
10
7
38

#18 

PENN STATE
3
3
7
12
25
The game got off to a roaring start for the Buckeyes as Garrett Wilson took a handoff on the first play from scrimmage and gained 62 yards on the first rushing play of his career. Two plays later, Master Teague ran into the end zone for a 4-yard touchdown to put the Buckeyes on the board just one minute and 17 seconds into the game.
Ohio State got the ball back in Penn State territory on its second possession of the game after the Nittany Lions decided to go for it on 4th-and-2 from their own 45-yard line and Sean Clifford's pass fell incomplete under pressure from Pete Werner. Justin Fields took advantage of that short field by firing a deep pass into a tight window that Chris Olave elevated over Penn State cornerback Joey Porter Jr. to catch for a 26-yard touchdown, extending the Buckeyes' lead to 14-0 less than seven minutes into the game.
The Buckeyes nearly kept the shutout going on their second defensive series, but a questionable roughing-the-passer penalty against Baron Browning on 3rd-and-12 extended Penn State's possession. After the Nittany Lions drove into the red zone, though, Browning broke up a pass intended for Pat Freiermuth in the end zone and Penn State was forced to settle for a 31-yard field goal.
Ohio State appeared poised to extend its lead on its third possession of the game, driving all the way to the 3-yard line, but Blake Haubeil missed a 20-yard field goal after Wilson was unable to make a spinning catch on a Fields pass in the end zone that was also Fields' first incompletion after seven straight completions to start the game.
| Ohio State |   | pENN STATE |
| --- | --- | --- |
| 526 | TOTAL YARDS | 325 |
| 208 | RUSHING YARDS | 44 |
| 45 | RUSHING ATTEMPTS | 27 |
| 4.6 | AVERAGE per RUSH | 1.6 |
| 1 | RUSHING TOUCHDOWNS | 0 |
| 318 | PASSING YARDS | 281 |
| 28-34 | COMPLETIONS–ATTEMPTS | 18-30 |
| 11.4 | AVERAGE per COMPLETION | 15.6 |
| 4 | PASSING TOUCHDOWNS | 3 |
| 24 | 1st DOWNS | 20 |
| 79 | TOTAL PLAYS | 57 |
| 6.7 | YARDS per PLAY | 5.7 |
| 4-6 | RED ZONE | 3-3 |
| 10-18 | 3rd DOWNS | 3-9 |
| 9-80 | PENALTIES | 5-31 |
| 37:01 | POSSESSION | 22:59 |
Two drives later, after back-to-back Penn State punts, Ohio State nearly squandered another trip to the red zone when a snap from the 1-yard line went over Fields' head, backing the Buckeyes up to the 14-yard line. On 3rd-and-goal two plays later, however, Jeremy Ruckert got wide open over the middle to catch a 10-yard touchdown pass from Fields, extending the Buckeyes' lead to 21-3 with 2:23 to play in the first half.
"I thought the third-down throw to Ruckert was a huge play in the game after having the snap over his head," Day said.
After Ohio State forced a 3-and-out and called two timeouts on Penn State's subsequent possession, the Buckeyes got the ball back with 1:16 to play before halftime. After failing to gain a first down, Ohio State attempted to run out the clock by taking an intentional delay of game and kneeling down on 4th-and-1 with just two seconds remaining. However, the officials ruled there was still one second remaining on the clock, which allowed Penn State to kick a 50-yard field goal – after Ohio State had already gone back to the locker room and had to be called back onto the field – which Jordan Stout made to cut Ohio State's halftime lead to 21-6.
Penn State carried that momentum into the start of the second half as the Nittany Lions drove 75 yards in eight plays for their first touchdown of the game. After completing just two passes in the first half, Sean Clifford completed five passes on Penn State's opening possession of the third quarter, capped by a 14-yard pass on which Jahan Dotson beat Sevyn Banks for a touchdown to make it a one-score game, 21-13, less than four minutes into the second half.
Ohio State flipped the momentum back in its favor on its subsequent possession when Fields and Olave connected for their second touchdown of the night, this time from 49 yards out, as Fields lofted a deep ball over three defensive backs that Olave caught with his fingertips as he ran into the end zone.
After Tommy Togiai recorded his second sack of the game (and his Ohio State career) to force a 3-and-out on Penn State's second possession of the half, the Buckeyes drove to the Nittany Lions' 5-yard line on their next possession before settling for a 22-yard field goal, which Dominic DiMaccio – who replaced Haubeil, who Day said after the game was dealing with a groin injury, at kicker after his miss – made for the first field goal of his Ohio State career, extending the Buckeyes' lead to 31-13 with 1:02 to play in the third quarter.
Penn State cut Ohio State's lead back to two scores early in the fourth quarter after Jahan Dotson made spectacular catches on back-to-back plays. Dotson caught a deep ball off a tip from Shaun Wade for a 37-yard reception, then beat Wade again when he plucked Sean Clifford's next pass out of the air with one hand for a 21-yard touchdown. Clifford's attempt to run for a 2-point conversion was unsuccessful, however, keeping Ohio State's advantage at 12 points with 14:30 to play.
Ohio State extended the lead to three scores again on its next possession. After Fields connected with Wilson on a 26-yard pass to get Ohio State into Penn State territory, the Buckeyes went for it on back-to-back 4th-and-1 situations and converted both, with Fields completing a 17-yard pass to Olave and a 1-yard touchdown pass to Ruckert to extend Ohio State's lead to 38-19 with 9:14 to play.
"I think I needed a drink after that drive," Day said.
Penn State didn't go down without a fight, though, as it drove for another touchdown on its next possession. Wade got beat by Dotson again on the scoring play, as Dotson beat him on a slant over the middle for a 20-yard touchdown catch, cutting Ohio State's lead to 13 after another unsuccessful 2-point conversion attempt.
Ohio State was forced to punt on its next possession, briefly setting up the possibility for a dangerously close finish. Marcus Hooker re-established control of the game for Ohio State on Penn State's next play when he intercepted a pass and returned it inside the Nittany Lions' 10-yard line, though the Buckeyes finished that drive without points after DiMaccio missed a 22-yard field goal attempt.
Fields finished the game with 28 completions on 34 passing attempts for 318 yards and four touchdowns.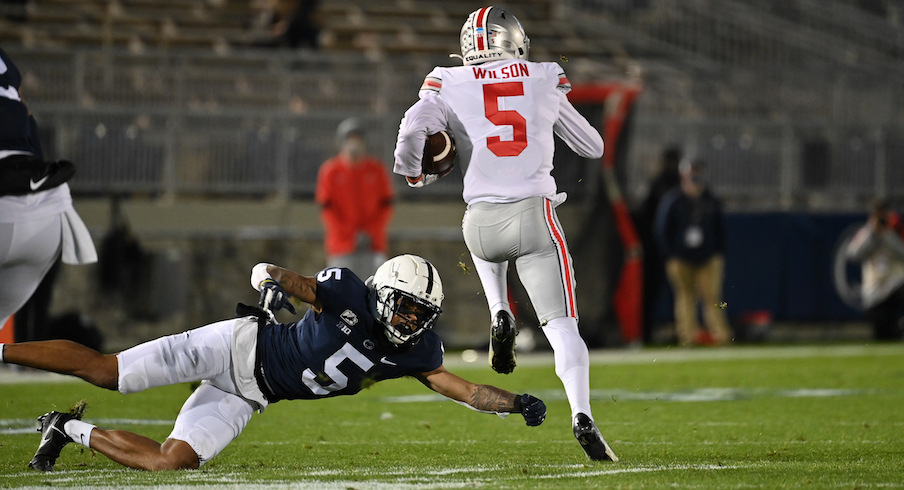 Game Notes
Haskell Garrett and Zach Harrison made their first starts of the season on the defensive line alongside Tommy Togiai and Jonathon Cooper. They were the only new starters for Ohio State from the season opener, as the Buckeyes opened the game in their two-tight end offense for the second game in a row.
Taron Vincent rotated in at defensive tackle on Saturday night for his first playing time since 2018. 
Offensive tackle Paris Johnson Jr. was added to the field goal block team for Saturday night's game.
By completing his final nine passes against Nebraska and first seven passes against Penn State, Justin Fields tied J.T. Barrett's school record of 16 consecutive completions.
Tommy Togiai had the first two sacks of his Ohio State career in Saturday night's game.
Olave and Wilson both went over 100 yards for the second game in a row to start the season, becoming the first pair of Ohio State wide receivers to top 100 yards in back-to-back games in Ohio State history.
Luke Farrell limped off the field during the third quarter and left the game for some time, but was back on the field in the fourth quarter.
Cameron Brown was carted off the field during the fourth quarter after going down on his own with a non-contact leg injury.
Saturday night was Ruckert's second two-touchdown game of his career. He also had two touchdowns in last year's season opener against Florida Atlantic.
Ohio State is now 8-1 against Penn State since 2012.
Justin Hilliard was unavailable to play in Saturday's game despite traveling with the team and not being listed on Friday's status report. He was unavailable due to a positive COVID-19 test on Saturday morning, though a second test later came back negative, which allowed him to be at the stadium with the team even though he was not cleared to play.