UNIVERSITY PARK, Pa. – With just two seconds remaining in the second quarter, all Ohio State had to do to take a 21-3 lead into halftime was have Justin Fields take a few steps back before kneeling down to run out the clock and bring the first half to an end.
Or so it thought.
After Fields took that knee, Ohio State immediately ran back into its locker room believing that the first half was over. Penn State stayed on the field, though, believing there was still one second left on the clock. Ultimately, the replay official agreed, and the Buckeyes were forced to come back out of the locker room for Penn State to attempt a 50-yard field goal, which Jordan Stout hit to make the halftime score, 21-6.
Feel free to start the play clock whenever it's convenient, Beaver Stadium pic.twitter.com/wol7NxRza0

— Eleven Warriors (@11W) November 1, 2020
Ryan Day was visibly livid when the Buckeyes were called back onto the field for one more play, and he made it clear after Saturday night's game at Penn State that he still disagreed with how the clock had been managed at the end of the first half.
"Probably the most bizarre thing I've ever experienced. When there was two seconds on the clock, we took a long knee, probably took four seconds off the clock so it was completely mismanaged, I don't know what to say," Day said. "There's two seconds on the clock, we take the snaps and Justin waits, waits, waits, waits, waits and then takes a knee. I don't know how that took one second."
While those three points ultimately proved inconsequential to the game's outcome, as Ohio State won 38-25, it's still likely the Big Ten will be hearing from Day on Sunday – it's common practice for schools to submit disagreements and questions about officiating to the conference office after games – looking for further clarification on why there was ruled to still be time on the clock, or whether the clock operator simply screwed up.
"They said it came down from replay, and that's all I know, so I don't know what to say," Day said. "It was obviously extremely frustrating, but another thing that we just overcame. If it was four seconds left, we probably would have either just punted it or used the quarterback to get more time. But there was only two seconds. So I don't know how that's even physically possible, but anyway, we'll move on and deal with it tomorrow."
DiMaccio replaces Haubeil
The first sign that something was wrong with Ohio State kicker Blake Haubeil came on the Buckeyes' first kickoff on Saturday night, when backup kicker Dominic DiMaccio handled the kickoff duties. The second sign came after Haubeil's first field goal attempt of the night, which he missed wide right from just 20 yards out. Haubeil did not return to the field after that miss.
After the game, Day revealed that Haubeil was dealing with a groin injury, which is why DiMaccio started the game in his place on kickoffs and finished the game in his place on field goals and extra points.
"We went out for pregame, and he started complaining of a groin, and we knew it might have been an issue, so we had Dom do the kickoffs, and then when Blake missed the field goal, we decided to put Dom in there," Day said.
DiMaccio, a walk-on from Columbus' DeSales High School, made his first career field goal attempt late in the third quarter from 22 yards out. In the fourth quarter, however, he shanked his second field goal attempt of the game wide right from 23 yards out.
Day is certainly hoping he'll have a healthy Haubeil back for next week, acknowledging that it's unacceptable to be giving up what are supposed to be easy points by missing short field goals.
"Hopefully we can get Blake healthy again and get that back in order, because that was not good," Day said. "We left points on the field there, and those are heartbreakers. It's one thing to not score a touchdown, but then when you miss a field goal, it just hurts the momentum. And you feel it, it's just real. But we were able to overcome it, and we're going to get it fixed."
Cameron Brown carted off
Haubeil wasn't the only Ohio State player to exit Saturday's game early, as Ohio State cornerback Cameron Brown was carted off the field with a non-contact injury early in the fourth quarter. While it was unclear exactly what injury Brown suffered, he did not put any pressure on his injured leg as he hopped onto the cart after staying down on the field for multiple minutes.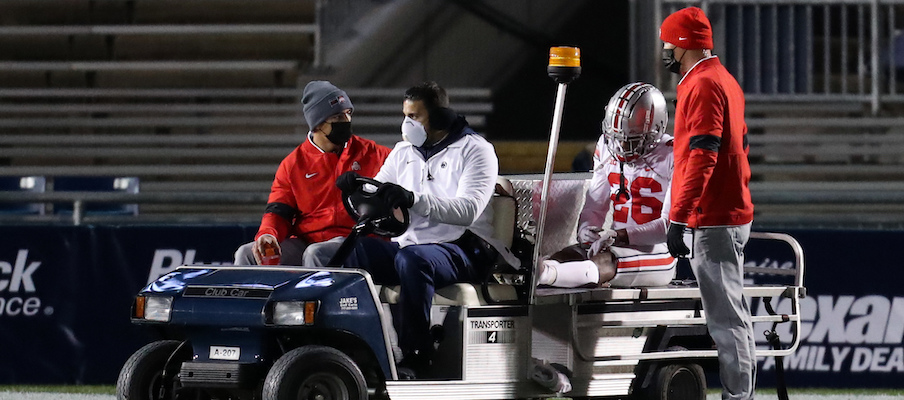 No update on Brown's status was provided after Saturday's game, though he did tweet after the game that he appreciated the support from Buckeye fans.
Appreciate the prayers On to the next week Go Bucks

— Cameron Brown (@luh_cam_) November 1, 2020
Should Brown's injury keep him out for any period of time, it would be a significant hit to Ohio State's cornerback depth, as he had been inserted into the game after Penn State completed several passes against Sevyn Banks, and Brown, Banks and Shaun Wade were the only outside cornerbacks to see regular playing time in Saturday's game.
Tight end Luke Farrell also spent much of the second half on the sidelines after limping off the field during the third quarter, though he appeared to avoid significant injury as he was able to return to the game in the fourth quarter.