Ohio State improved to 2-0 on the season with a 38-25 win over No. 18 Penn State in Beaver Stadium on Saturday night, thanks largely to the arm talent of Justin Fields, the receiving skills of Chris Olave and Garrett Wilson and a stellar performance from the defensive line. 
The Buckeyes jumped out a 21-3 lead late in the second quarter and managed the game from there, picking up the program's fourth-straight victory over the Nittany Lions and eighth in the last nine tries.
The program also reached another milestone, tying an NCAA record with 10-straight road wins against ranked opponents. 
With Penn State in the rearview, Ohio State returns home to take on Rutgers next weekend before a trip to Maryland. As such, the next meaningful test could come in three weeks against Indiana. 
Before we look too far ahead, here are Five Things from another defeat of James Franklin's program. 
---
THREE'S COMPANY
Quarterback Justin Fields, wide receiver Chris Olave and slot man Garrett Wilson are a three-headed freak show. 
Fields turned in another strong outing completing 28-of-34 throws for 318 yards and four scores with Olave (7-for-120, 2 TD) and Wilson (11-for-111) serving as his top targets. 
Olave's night included an outstanding grab of a back-shoulder toss for a 26-yard touchdown extending to complete a 49-yard score midway through the third quarter, turning a slim 21-13 lead into some breathing room. 
Wilson was again Fields' security blanket, doing work underneath and downfield with six of his grabs resulting in first downs. 
Olave and Wilson have combined for 31 catches and 464 yards and last night became the first Ohio State receiving duo to post 100-yard receiving efforts in the same game in consecutive games. 
The pair currently accounts for 65% of Fields' completions (31 of 48) and 78% of his passing yards (464 of 594).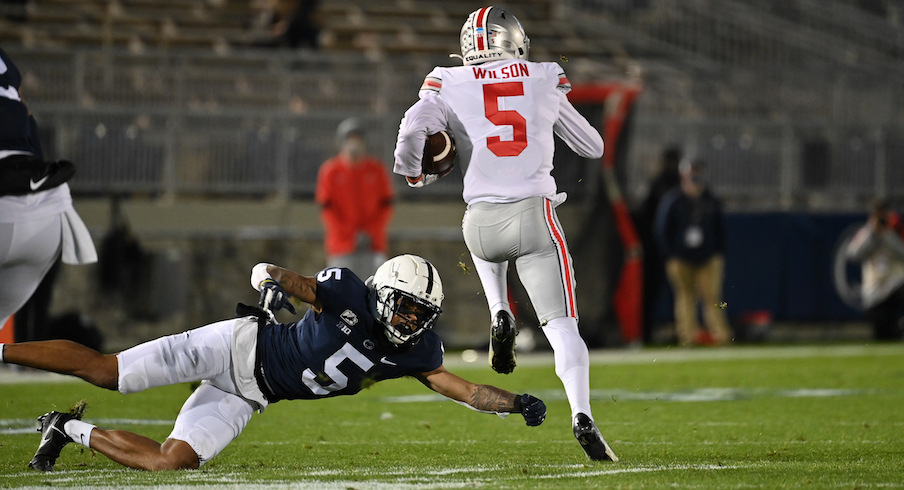 STANDING PAT
Pat Freiermuth is one of the best tight ends in college football. 
Last year, Pete Werner almost single-handedly held him in check, surrendering six catches for just 40 yards as Ohio State prevailed 28-17 in the Shoe. 
This year, with Werner now the full-time Will linebacker, the question coming in was how would the Buckeyes slow down the elite tight end?
That question was answered in spades by Werner, Baron Browning and Josh Proctor with the trio limiting Freiermuth to one catch for nine yards on three targets in the decisive first half. 
Browning posted an leaping pass breakup on a 2nd-and-9 fade from the OSU 10, helping force a field goal trimming Ohio State's lead to 14-3 late in the first quarter. 
Proctor forced two incompletions in the opening half and Werner was so good, Penn State quarterback Sean Clifford decided to look elsewhere. 
Taking Freiermuth away from Clifford was key in Ohio State limiting the Nittany Lions to just 75 total yards and zero third down conversions in the opening half. 
Freiermuth would finish with three benign catches for 46 yards on five targets. 
RUSH TO JUDGMENT
The immediate temperature check postgame suggested Day and fans alike were fairly pleased with Ohio State posting a 100-yard rusher against Penn State after no Buckeye ball carrier rushed for more than 55 yards in the season opener against Nebraska. 
Master Teague did the deed last night rushing 23 times for 110 yards and a touchdown with a long of 31 yards. 
Teague looked more explosive, hitting holes with what felt like increased speed and purpose. 
But was Ohio State really substantially better on the ground than the previous week? 
Teague was better, rushing for 4.8 yards per carry compared to 3.4 versus Nebraska but while that's a nice increase, 4.8 isn't an eye-popping average. 
Trey Sermon posted just 4.3 yards per attempt (13-for-56) which was actually a decrease from last week when he went for 5.0 yards on pop on 11 tries. 
The best news regarding the rushing attack was Day didn't have to overuse Fields to move the ball on the ground like he did last week. 
But overall, Ohio State finished with the same yards per carry as it did last week at 4.6 per try. The Buckeyes averaged 6.3 per carry in the first half thanks to a 62-yard run by Wilson on the first play of the game. In the second half, Ohio State averaged 3.1 yards per carry on 24 tries. 
There were some wins on the ground last night, make no mistake, but room for improvement remains. 
D-LINE DOMINANCE
While Justin Fields was certainly responsible for helping Ohio State build its 21-6 halftime lead, the defensive line was equally dominant. 
Of Ohio State's 33 tackles in the opening half, 17 of those (52%) came from the front four. As a loose comparison, in last week's win over Nebraska, defensive linemen accounted for 21% of the team's tackles. 
Jonathon Cooper was all over the field in the early going, posting five tackles and half a sack while nose tackle Tommy Togiai was just as good with five stops and a sack. 
Zach Harrison appeared to play increased snaps and caused more havoc in a half than he did the entire game last week. 
Togiai actually led the team with seven total tackles on the night and his three sacks tied for the 7th-most in a single game in Buckeye history. 
On the night, all five Ohio State sacks came from the defensive line with Javonte Jean-Baptiste (1.0), Cooper (0.5) and Harrison (0.5) supporting Togiai's big effort. 
PASSING THOUGHT
It was a tale of two halves for Ohio State's pass defense. 
The unit came out smoking early, allowing just 29 yards on 2-of-7 passing from Clifford in the first half. The quarterback often had little time to throw, or couldn't find an open man, leading to nine carries with just one going for more than five yards. 
With the line getting pressure and the back seven choking receiving targets, Penn State posted just 75 total yards and went 0-for-5 on third down. Hell, 61 of those yards came on a BS field goal drive after Baron Browning was called for a bogus roughing the passer penalty on what should've been a 3-and-out. 
The second half was a much different story with Clifford completing 16-of-23 throws for 252 yards and three touchdowns against one interception. 
Jahan Dotson scorched Ohio State with eight grabs for 144 yards and three touchdowns - all career-highs - while Parker Washington caught four balls on four targets for 73 yards. 
Dotson was a big problem, easily beating Sevyn Banks for a 14-yard touchdown over the middle, cutting Ohio State's lead to 21-13 early in the third quarter, before working on Shaun Wade down the stretch. 
The junior wideout out of Nazareth, Pennsylvania beat Wade, in his first season as an outside cornerback, twice for fourth quarter touchdowns to keep the Nittany Lions within shouting distance. Did we see growing pains in a new position with new responsibilities for Wade or just an off night exposed by a couple circus catches? 
Safety Marcus Hooker did step up with a second half interception and we already talked about Proctor's work on Freiermuth but it was still a rough second half for the secondary. 
Cornerback Cameron Brown was also carted off in the fourth quarter following a non-contact injury. 
I'm certainly not suggesting the defensive backfield is on fire but it does seem to have the most room for improvement, just ahead of the rushing attack. Sure it's good enough to win the league but Ohio State has loftier goals. The good news is there's plenty of time to make progress.