MIAMI GARDENS, Fla. – The Sugar Bowl, in retrospect, was offensive perfection from Ohio State.
Justin Fields threw six touchdown passes and just one interception. Trey Sermon galloped for 193 yards and a score. Chris Olave torched the Clemson secondary to the tune of 132 yards and a pair of touchdowns. The offensive line blasted holes for Sermon and largely kept Fields upright. Even the tight ends got in on the action, with Jeremy Ruckert and Luke Farrell scoring a combined 21 points.
The problem with trying to replicate perfection is, well, trying to replicate perfection. It's incredibly difficult, especially when trying to do so on the stage of a national championship game against a talented Alabama defense with Nick Saban at the helm.
To topple the Crimson Tide, the Buckeyes had to go blow-for-blow. They needed to go score-for-score. If they fell behind early, there was a sense on the outside that – given their defensive struggles throughout the season – they might not be able to catch up, and that was felt within the walls of the Woody Hayes Athletic Center coming into Monday's showdown, too.
"I think that there's a feeling of if you don't score, you're going to get down and then, like you said, the pressure mounts," Day said.
Well, the pressure mounted pretty darn quickly in what turned into a 52-24 beatdown delivered by Alabama to achieve college football's ultimate prize. Losing the coin toss and getting the ball first, Ohio State's first drive lasted all of three plays – a 2-yard Trey Sermon rush, an incomplete pass and a 1-yard scramble by Justin Fields. 
A three-and-out followed by a punt. Not ideal against a team boasting three of the top-five Heisman Trophy vote-getters – Mac Jones, Najee Harris and DeVonta Smith – who propel a high-powered offense viewed as Saban's best ever.
If Day was having fits about doing the one thing he knew his offense couldn't afford to do, Sermon leaving the game – and ultimately ending up going to the hospital – with an injury only made things worse. The former Oklahoma transfer had tallied 524 rushing yards between the Big Ten title game and Sugar Bowl, and he entered Monday as arguably the most important player on the Buckeyes' roster not named Justin Fields.
"When we needed him the most, he gave us his best," Olave said. "And to see him go down in that first drive, it was tough for us. He's been going uphill ever since that Big Ten championship, and I wanted to see him do good in this game. And losing him was huge. And I think we felt that."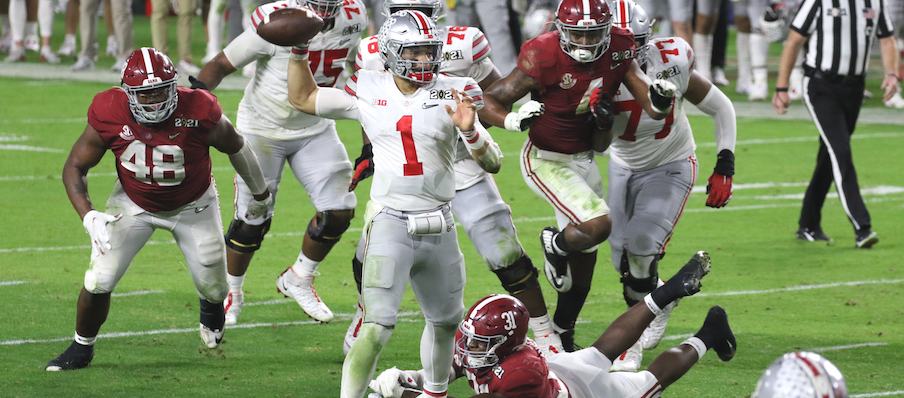 Immediately after the first of five Drue Chrisman punts, the Crimson Tide matched down the field with a 12-play, 78-yard drive that culminated on a 1-yard Harris plunge into the end zone for the game's first points, effectively setting the tone for the evening. 
Ohio State, to its credit, responded with an eight-play, 75-yard drive of its own to tie the game at seven points apiece. But, as happened all night, Alabama's juggernaut of an offense subsequently put seven more points beside its logo on the scoreboard less than five minutes later.
In the course of the 60-minute game, the Buckeyes reached the end zone three times. First, Master Teague rumbled in for an 8-yard score in the first quarter, then the third-year tailback plunged in for six points from 4 yards out in the second quarter, and finally Justin Fields found Garrett Wilson for a 20-yard touchdown midway through the third quarter. All three times, Alabama answered with a touchdown the next time it had the ball, going at least 75 yards for each of its scores.
That's the definition of going blow-for-blow.
Comparatively, Alabama scored a grand total of seven touchdowns. Ohio State only managed a touchdown on one of the seven drives following those scores.
"We didn't play our best game today," Olave said. "It's tough. And it's a down moment, but just gotta soak it in and bounce back."
A hobbled Fields, who didn't practice early last week and who Day admitted after the game was certainly not 100 percent healthy, hung in there despite taking a bit of a beating to complete 17-of-33 passes for 194 yards and one touchdown, adding 67 yards on the ground. Without a steady ground game the Buckeyes had hoped Sermon could provide, though, they weren't the same offense they had been the prior game. Master Teague managed 65 yards on 15 carries, and Marcus Crowley had six rushes for 14 yards. 
Too often in the first half, Ohio State's offense sputtered before it could even get out of first gear. It punted on three instances in the first two quarters following three-and-outs. 
"At the end of the day, if we just did a little bit better job executing to get the first couple first downs and get into a little bit of rhythm of the drive, we would have done better," Day said.
Perhaps, too, if the defense didn't give up 54 points, allow 621 yards, rack up 33 first downs, convert both fourth-down attempts or turn it over only once, the Buckeyes would have had more of a shot to get back into Monday's national title game.
But what transpired at Hard Rock Stadium was always a realistic possibility. Ohio State needed to prepare as if it required more than 50 points to beat the Crimson Tide – who end the season by scoring that many in more than half of its games – with everything on the line. Nobody should have felt surprised at the efficiency with which Alabama's offense spearheaded by future NFL studs put up points.
The Buckeyes maybe didn't require perfection from their Fields-led offense. But they needed something close to it, and the product that scored 24 points didn't come close to delivering it.