Hello, offseason.
With Ohio State wrapping up spring camp with an intrasquad exhibition on Saturday in front of 20,000 or so fans, the countdown begins. A total of 133 days will have to pass before the season opener at Minnesota kicks off on the night of the first Thursday of September. Not fun.
What can be fun, though? Position battles.
Ryan Day presided over several this spring, and all of them will drag into the summer before eventually getting settled during preseason camp. Let's get into an update on where they all stand as we enter the summer.
Quarterback
Leader: C.J. Stroud
Contenders: Kyle McCord, Jack Miller
Congratulations to Day. If the goal was to say literally nothing publicly about any of these three or tip his hand even slightly, he succeeded. 
Ohio State will take the quarterback competition into the preseason, as expected, while leaking as little information as possible. 
Stroud appeared to ascend to No. 2 quarterback status behind Justin Fields last year as a true freshman, was seen as the frontrunner coming into the offseason and now heads into the summer still expected to eventually win the starting job. Nothing he has done, including going 16-for-23 with 190 yards and two touchdowns in the spring game, has done anything to dissuade those outside the program from viewing him as the favorite. He looked in control of the offense on Saturday, didn't make costly mental mistakes and showed off a quality arm.
Coming out of the weekend, McCord would seem to be the biggest threat to Stroud as somebody who could open the season as starting quarterback. He has arguably the best package of physical tools, including an exceptional arm. How he progresses over the summer leading into preseason camp in August will determine whether he can overcome the lack of experience that comes with being a freshman.
Miller remains in the mix, as well. He didn't look quite as dangerous in the exhibition at Ohio Stadium, but that was one of 15 spring practices. The second-year from Arizona can't be ruled out entirely. But Miller has ample ground to make up.
Running Back
Leader: Master Teague
Contenders: Miyan Williams, TreVeyon Henderson, Marcus Crowley
Because Teague was a limited participant for the end of spring camp, tackling was barred from the spring game and the vast majority of practices were closed, the plan at running back largely remains a black box. In actuality, not a whole lot was learned about the tailback position across March and April.
Teague, due to his status as a two-time All-Big Ten honoree who opened the 2020 season as a starter, remains the favorite to be in the backfield at the beginning of the game against the Golden Gophers. But questions exist about whether his ceiling as a ball-carrier is lower than that of Williams and Henderson.
Notably, Williams went first through tailback drills and took first-team reps when Teague wasn't practicing. He's a short, stocky bowling ball of a running back who showed some of his dynamism against Clemson a few months ago.
Henderson showed some burst in the spring game, though the lack of tackling made it hard for any running backs to stand out. Still, his status as a five-star recruit with jump-off-the-screen speed clearly has him in the mix.
Crowley, like Steele Chambers, is a significant underdog to potentially start in Week 1.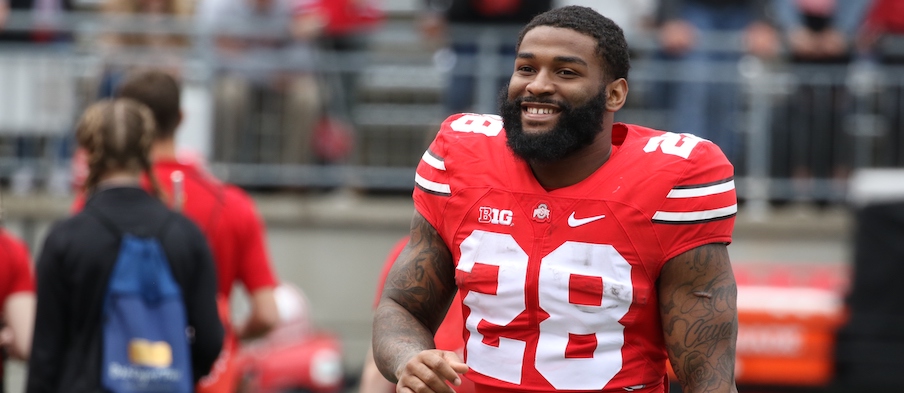 Interior Offensive Line
Leader: Matthew Jones
Contenders: Luke Wypler, Josh Fryar
Given Jones' experience starting in both the Sugar Bowl and national championship, the former top-100 recruit in his fourth year came into the spring as a heavy favorite to start at either guard or center. But after spring camp, that's far from a foregone conclusion.
Greg Studrawa has said he expects Harry Miller to start this fall, and it's become apparent Paris Johnson will man the right guard spot. Thus, Ohio State is left with needing to fill either left guard or center, depending on where Miller plays.
Jones and Wypler are the top two candidates to join Thayer Munford, Nicholas Petit-Frere, Johnson and Miller in the starting lineup up front. Jones has played significantly more important in-game snaps than Wypler and possesses the physical traits Studrawa desires in an interior lineman, though he hasn't yet blossomed into the total package.
Wypler played sparingly as a true freshman then got ample first-team reps in the spring after showing out in winter workouts. The competition is one of the tightest on the team going into the summer. Fryar, a second-year, is an outside possibility to start if he crushes it in the offseason.
Bullet
Leader: Craig Young
Contenders: Ronnie Hickman, Kourt Williams
Officially, the bullet is back. Both Young and Hickman had it listed beside their names for the spring game, and Williams could play it as well once fully recovered from an ill-timed torn ACL suffered last offseason.
To call Young the leader might be a stretch. In reality, he and Hickman are close to dead-even in the eyes of those outside of the Woody Hayes Athletic Center considering they're playing a position the Buckeyes didn't employ last season.
Young has repped at the bullet – a hybrid linebacker-safety spot – after spending the previous two years as a strongside linebacker in Ohio State's scheme. At 6-foot-3 and 228 pounds, he's been viewed as an athletic specimen since Urban Meyer pulled him aside at a summer camp and had him work at all three levels of the defense. Hickman has also been a Buckeye for three years. He spent the first season on the sideline while recovering from a torn ACL, then played 46 defensive snaps in 2020. A hybrid role could fit the 6-foot-1, 205-pounder's skillset well.
For either Young or Hickman, winning this job will mark a huge moment in their respective careers.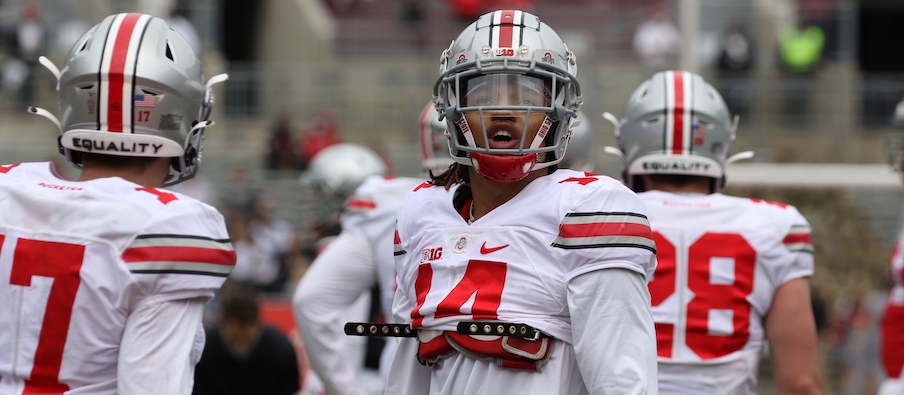 Slot Cornerback
Leader: Lathan Ransom
Contenders: Marcus Williamson, Cameron Martinez
Williamson is the incumbent, but he's not the favorite to start at slot cornerback anymore. Not after Ransom's late-season ascent as a true freshman that he carried into the offseason.
The second-year defensive back from Arizona is talented enough that Day has been gushing about him since before he set foot on campus. Not enrolling early didn't prevent him from getting some late looks in the secondary as a true freshman, and now with that experience, he's in line to potentially start in the slot. At 6-foot-1 and 200 pounds and somebody who entered the program as a safety, he has a different physique than both Williamson and Martinez, each of whom are 5-foot-10 and weigh less.
Williamson, a fifth-year, said he has played more traditional slot cornerback this spring rather than the part-slot corner, part-second safety role he filled a year ago. One way or another, he figures to factor into the plans of Kerry Coombs and Matt Barnes. Unlike a year ago, though, there's plenty of competition in the slot.
How Martinez fits into the picture and whether he could actually start in Week 1 remains a question mark. Barnes called him one of the most improved players this offseason, and he had some nice moments in the spring game.
Outside Cornerback
Leader: Cameron Brown
Contenders: Ryan Watts, Tyreke Johnson, Lejond Cavazos
There wasn't much of a battle at this position this spring for a simple reason: Brown wasn't practicing. He remained sidelined after tearing his Achilles last fall.
Because he was in the rotation before his injury in 2020, he's expected to start opposite Sevyn Banks, yet he'll have to win the job in August. Not until preseason camp will he go through a practice this offseason. He claims to run a 4.3-second 40-yard dash and pairs that speed with a 6-foot frame. Still, Brown isn't an established starter, which opens up an opportunity for others if they prove they deserve the spot instead.
Watts picked off a Miller pass in the spring game. He looks the part at 6-foot-3 and more than 200 pounds, but he played only 28 snaps as a true freshman, including none in the postseason. While he could unseat Brown for the starting gig, he'll need one heck of a preseason camp to make that happen.
The same can be said for Johnson and Cavazos.
A lot of this position battle depends on how Brown looks once fully healthy.