As spring camp began, Ryan Day went out of his way to bring up the need for spending time on technique. He had previously talked about competition and wanting to "simulate as many games as possible," but after some time, he realized this Ohio State team that went through an irregular offseason then a truncated season in 2020 needs to get back to the basics.
Perhaps one of the coaches who influenced Day to go in the direction of placing a premium on the fundamentals of football was Matt Barnes, the third-year assistant coach in his first year as secondary coach. Either that or Barnes simply went full-bore in backing the head coach.
"(Barnes has) had the time this spring, which we of course missed last year, to really just take the technique and the details of football specifically," Marcus Williamson said two weeks ago. "When you get into camp and the season and just the weird year that we had last year, a lot of the focus had to be on scheme, personnel. But now we're just really focused on becoming better football players."
And that seems to have happened.
Coaches and teammates couldn't stop talking about Lathan Ransom. Cameron Martinez was named as one of the most improved players. Ryan Watts, Tyreke Johnson and Lejond Cavazos got an boatload of first-team reps. Josh Proctor is locked in as a starting deep safety and was able to focus on that. Craig Young and Ronnie Hickman learned a new position – the bullet – where they'll spend their time this fall.
Coming out of spring camp, the defensive backfield doesn't have an abundance of defined answers after a poor 2020 performance. Heck, only two players – Proctor and Sevyn Banks – are locked in as starters. Three potential starters (Banks, Cameron Brown, Williamson) didn't play a single snap in the spring game, with Banks and Brown missing the majority of camp with injuries.
But the Buckeyes do have options. Lots of them, in fact.
That, by itself, should fuel some optimism and hope about a secondary that performed at a substandard level last season.
"I can say, just as a unit, this is one of the most talented if not the most talented defensive back unit that I've seen since I've been here," Williamson said.
Oftentimes, uncertainty inspires concern rather than confidence. That's not really the case in the secondary right now. Not with all of the different guys that Kerry Coombs and Barnes can trot out if needed.
They have the most flexibility at slot cornerback, nickelback and bullet.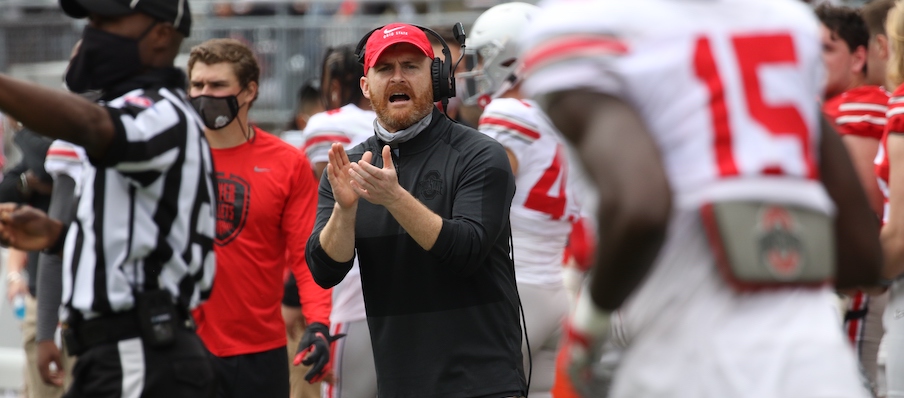 Williamson started in the slot last season, effectively spending much of the fall as a second safety to supplement Proctor's contributions. He's hoping to handle many of the same duties as an inside corner in 2021, but he'll have to hold off a pair of hard-charging second-year defensive backs to make that a reality. Both Ransom and Martinez have made it clear that they're ready for bigger roles. Ransom impressed in his limited time at the end of last season, and Martinez showed out during spring ball.
Ryan Day and Coombs have each said Ohio State won't make any significant schematic changes to the defense, so unless they switch positions, the Williamson-Ransom-Martinez trio might be battling for snaps with each other for just one of the 11 spots on the field. If the Buckeyes want to put six defensive backs onto the field at once, or if they want to play two of those together in a nickel package, they can do so. It's a possibility. Just one of many things for the coaches to keep in mind.
The bullets – Craig Young and Ronnie Hickman – are designed to play all over with different responsibilities given their size-speed combinations that make them optimal hybrid assets to the defense. It's unclear if they'll be on the field for upwards of 80-90 percent of defensive snaps or if adding another guy like Tennessee's Henry To'o To'o through the transfer portal to Al Washington's unit could lead the Buckeyes to continue to play three traditional linebackers. Considering Ohio State hasn't used the bullet outside of limited Brendon White snaps in 2019, Coombs is essentially working with a blank slate. Kourt Williams could be a factor at the position once healthy, as well.
On the outside, Johnson, Watts and Cavazos spent most of the spring with the starters given injuries to Banks and Brown. That trio adding a year of development, along with incoming freshmen Jakailin Johnson and Jordan Hancock, should provide Ohio State with more comfortability at cornerback. Last year when Coombs and Barnes quite clearly didn't believe they had many options they could rely on once Brown went down with a torn Achilles.
Only two spots in the secondary feel secure – safety (Proctor) and an outside cornerback (Banks). Even at those two spots, more depth should exist.
As the free safety in this defense, Proctor has never fit the Jordan Fuller archetype as somebody who's essentially a safety net who always is in the right spot. Rather, Proctor has been a bit more of a hard-hitting, playmaking safety, and in Year 2 as a starter he should be an improved version of his former self. Banks had a fine, albeit rocky, first season starting. Not having a full spring doesn't help, but he's expected back in time for preseason camp.
The depth chart and health questions exist, and nobody in the secondary is a certified stud unlike in prior years. There's no getting around any of that.
Unlike last year, though, Ohio State also has plenty of possibilities when it comes to which defensive backs Coombs and Barnes put onto the field and how they deploy them. It's now up to the coaches to figure that part out.