Throughout the course of the offseason, Eleven Warriors is taking an in-depth look at the state of every position group at Ohio State.
Welcome to Déjà vu.
Last year, Ohio State had a veteran-laden group of tight ends. And though it lost Rashod Berry as an outgoing fifth-year senior to the New England Patriots, it again finds itself in a similar situation. With Luke Farrell and Jake Hausmann as redshirt seniors and Jeremy Ruckert as a junior, this will be the second year in a row that Kevin Wilson has three upperclassmen in his position group.
What should we expect from the tight ends in 2020 and beyond? Let's investigate.
The Personnel
Luke Farrell (RS-SR): In his final season as a Buckeye, Farrell returns as a second-year starter. The Perry native led all tight ends with 459 snaps last season, but he only caught seven passes for 119 yards and two touchdowns. The conference's coaches voted him a third-team All-Big Ten selection in 2019. A steady tight end, Farrell is arguably the least-discussed returning starter despite his reliability. Once again, the 6-foot-6, 258-pounder is expected to start.
Jake Hausmann (RS-SR): Out of Archbishop Moeller, Hausmann was rated as the nation's fourth-best tight end. Though he's entering his fifth season at Ohio State, he still has yet to break through. Hausmann played a career-high 235 snaps last year, and he'll likely be the third-string tight end in the fall, becoming a weapon in multi-tight end sets.
Jeremy Ruckert (JR): The top receiving tight end on the roster, Ruckert enters his junior year after a 14-catch, 142-yard, four-touchdown 2019 season. His biggest moment as a Buckeye came in December with his touchdown in the Big Ten championship game. The 6-foot-5, 253-pound junior will look to maintain his momentum this fall.
Cade Stover (RS-FR): Unlike everybody else on the roster, Stover has taken a circuitous path to become a tight end. The Mansfield native entered the program as a linebacker, got moved to defensive end midway through his freshman season, then was turned into a tight end this spring. It's unfair to expect much from him this fall as he continues to learn the position, but his 6-foot-4, 255-pound frame gives him long-term potential.
Joe Royer (FR): In the 2020 cycle, Royer was the only tight end to sign with the Buckeyes. The three-star recruit joined his Cincinnati Elder teammate, Jakob James, in the class. Listed at 6-foot-5 and 225 pounds, Royer was ranked as the No. 405 overall prospect and 14th-best tight end.
Ohio State also has one tight end committed in a future class.
Sam Hart (2021): Two days after the Buckeyes fell to Clemson in the Fiesta Bowl, Hart committed to Ohio State. A three-star prospect from Aurora, Colorado, he's expected to be one of two tight ends to sign with the Buckeyes in the 2021 cycle. Hart is the No. 373 overall recruit and 16th-ranked tight end.
Outlook in 2020
For seemingly the umpteenth time in a row, Ohio State will again have an experienced, versatile group of tight ends that likely won't be major receiving threats.
However, don't make the mistake of equating a low number of catches to a lack of production. Once again, Wilson's room includes a few veterans with a variety of skills – both as blockers and receivers – that should make it one of the most consistently solid yet overlooked position groups on the team.
Farrell sets the tone in the room. 
"I'm pretty quiet," Farrell said in March. "I try to do right and be accountable myself, but I'm trying to take that next step where I can bring somebody like Cade with me."
State of the Position
Farrell took over as the starting tight end last year, and he'll be expected to serve in the same role this fall. He won't set any receiving records – and even if he did, you wouldn't hear him talking about them. Still, as the best blocking tight end on the roster who's also a serviceable downfield threat, he's a quality weapon.
Alongside Farrell, Ruckert should lead the tight ends in all receiving categories. Once a near-five-star recruit, he gained notoriety for his ability downfield, which he showcased with his one-handed touchdown catch in the Big Ten championship game. He's an ideal complementary piece to Farrell.
Hausmann will provide depth at tight end, giving Wilson the option of implementing a large amount of two-tight end looks for the second year in a row. He has mostly impacted games as a blocker in his first four years.
Stover and Royer likely won't factor much into this fall's plans at tight end. Still, it'll be important for Stover, especially, to acclimate to the position quickly. A position change isn't always easy, especially since he was only able to participate in three spring practices.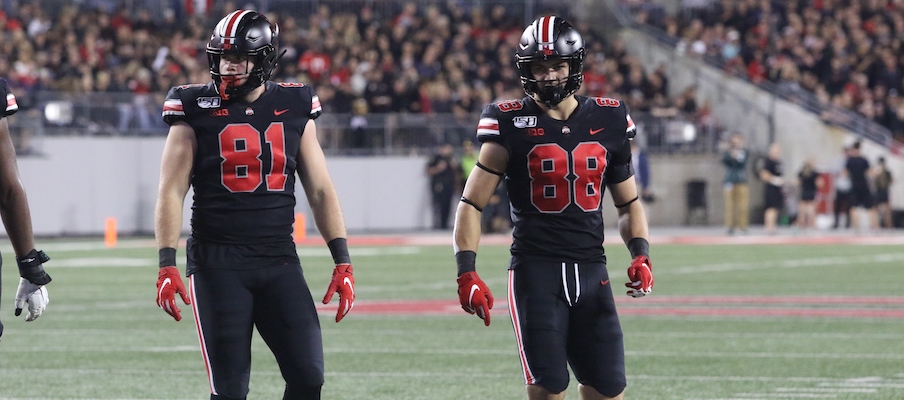 Strengths of the Position
As far as veteran tight end pairings go, it's hard to match what Ohio State has in Farrell and Ruckert.
Their skill sets differ significantly, and because of the way Ohio State uses tight ends, they won't come close to leading the nation in catches from players at their position. But the duo should operate well together in a loaded offense that includes a Heisman Trophy finalist quarterback, Trey Sermon at running back, a talented yet young receiving corps and potentially the country's best offensive line.
Ruckert's athleticism and ball skills could make him the best pass-catching tight end Ohio State has had in years. It'll be up to Wilson and the rest of the offensive coaching staff to take advantage of what he offers.
The depth provided by Hausmann will aid the Buckeyes, too. Their ability to use multiple tight ends at once will take some pressure off of a young group of wideouts.
Weaknesses of the Position
This fall, Ohio State will be deep with veterans at tight end, with Farrell, Ruckert and Hausmann leading the way. Going forward, though, the Buckeyes don't have clear answers and will likely be both young and somewhat inexperienced at the position for a couple of years.
Ruckert should return for the 2021 season, but because Farrell and Hausmann will have graduated, it'll be up to Stover, Royer, Hart and whoever else Ohio State adds in the 2021 recruiting cycle to complement him as the starter. The year after, Ruckert will be gone, and they'll have to make do without him.
It might be unfair to view it as a weakness right now, but the Buckeyes absolutely have to get Stover and Royer experienced enough this fall in order to deploy them as backup and third-string tight ends for the 2021 season before becoming starters the following year.
Long-Term Outlook
Projected 2020 Depth Chart
Luke Farrell
Jeremy Ruckert
Jake Hausmann
Projected 2021 Depth Chart
Jeremy Ruckert
Cade Stover
Joe Royer
Projected 2022 Depth Chart
Cade Stover
Joe Royer
Sam Hart
Based on how Ohio State has recruited, it's fairly simple to project the starters for the next two years. Farrell in 2020, then Ruckert in 2021.
Because of Stover's position change and the relative youth at the position in future seasons, though, there isn't an obvious succession plan. More than likely, either Stover or Royer will become the primary backup to Ruckert in 2021, and then whoever wins that spot would start in the 2022 season.
However, no one should feel confident about projecting much about how the tight end depth chart will look multiple seasons down the line. Much of that will be determined by how the current underclassmen and commits develop over the course of the next couple of years.