Throughout the course of the offseason, Eleven Warriors is taking an in-depth look at the state of every position group at Ohio State.
At wide receiver, the Buckeyes lost their all-time leader in career receptions – K.J. Hill – along with Binjimen Victor and Austin Mack, a pair of veterans who each had substantial experience as starters.
Yet, because of Brian Hartline's recruiting successes and the development of Chris Olave and Garrett Wilson, they'll almost indisputably enter the 2020 season with a more talented wideout group. However, after losing three seniors, they also will lack experience among the majority of their pass-catchers.
What should we expect from Ohio State's receivers both this fall and beyond? Let's investigate.
The Personnel
C.J. Saunders (6th-SR): By April, Ryan Day expected an answer on whether Saunders will be eligible for a sixth season after missing last year with a knee injury. However, as of now, they still don't know whether or not Saunders will be back. If he's still rocking an Ohio State uniform in the fall, he'll once again line up in the slot while also surely again serving as a team captain. It's unfair to expect Saunders to be in contention to start, yet he could vie to rotate as the backup at slot.
Jaylen Harris (SR): With Victor gone to the NFL, Harris now has two inches on the second-tallest wide receiver on the roster. At 6-foot-5 and 215 pounds, he's an intriguing physical specimen. Thus far, however, that hasn't translated to too much production. He has five catches for 54 yards across three seasons. The Cleveland Heights graduate will get a chance to earn a spot in the rotation  – possibly as a starter at X-receiver – as a senior. 
Ellijah Gardiner (RS-JR): A late addition to the 2017 recruiting class out of Texas, Gardiner simply hasn't found much of a role through three seasons as a Buckeye. Last season, he made the first reception of his career, and it was his only catch during 2019. Gardiner, the only one-time three-star wide receiver prospect in the room, has to make up a lot of ground to factor into Ohio State's plans at the position in the final two years. 
Chris Olave (JR): Ever since exploding late in his freshman season with two touchdowns and a blocked punt to help beat Michigan, Olave hasn't stopped ascending. As a sophomore, he became Justin Fields's go-to target, especially on deep balls, catching 48 passes for 840 yards and 12 touchdowns. The soft-spoken California native has already developed into a potential first-round pick in the 2021 NFL Draft, and he can secure his spot by continuing his dominance as the Buckeyes' No. 1 receiver this fall.
Kamryn Babb (RS-SO): A supremely talented wide receiver, Babb's career has been knocked off course due to knee injuries. Out of Christian Brothers College in St. Louis, he was the No. 73 overall recruit and 13th-ranked wide receiver in the 2018 cycle. Yet in two years as a Buckeye, he hasn't played a snap. Following a torn ACL in his senior year of high school, he suffered knee injuries in each of the past two offseasons. He appears to be healthy right now, but he's three years removed from in-game action.
Garrett Wilson (SO): Multiple coaches – including Day and Kevin Wilson – noted that Wilson needed to improve his consistency of effort during his freshman season. No one, though, questioned his talent. A five-star prospect out of Texas, Wilson translate his No. 20 overall ranking as a recruit into a spot in the rotation as a freshman. There, he showcased his tremendous balance and leaping ability, pulling down 30 receptions for 432 yards and five touchdowns. He's expected to step into a starting role, potentially in the slot, as a sophomore.
Jameson Williams (SO): The speedster from St. Louis only caught six passes as a freshman. Naturally, he averaged 18.7 yards per reception, including a 61-yard touchdown. It's easy to envision Williams soon turning into a deadly deep threat for Ohio State. He possesses other-worldly burst. Though not impossible, it's unlikely that Williams starts as a sophomore. However, he'll have a good chance to end up in the rotation, likely as a Z-receiver backing up Olave.
Julian Fleming (FR): Only two players were ranked ahead of Fleming in the 2020 recruiting cycle, and both of them were quarterbacks. He comes to Columbus as a five-star wide receiver with first-round NFL draft pick potential. Out of Pennsylvania, Fleming's the total package. He clocked a 4.45-second 40-yard dash in high school, stands 6-foot-2, has outstanding ball skills and separation ability. Fleming is the highest-rated recruit to sign with Ohio State since Terrelle Pryor in 2008.
Jaxon Smith-Njigba (FR): A standout senior season at Texas' Rockwall High School turned Smith-Njigba into Ohio State's second five-star wideout in the class. Ranked as the No. 28 overall recruit and fifth-best receiver in the 2020 cycle, he was unbelievably productive in high school, accruing 5,346 career receiving yards and 82 touchdowns during his career. He'll see whether he can translate some of those numbers to the next level.
Gee Scott Jr. (FR): With a body frame that Mickey Marotti compared to Austin Mack earlier this year, Scott's already physically matured more than most freshmen. That 6-foot-3, 210-pound frame helped the Seattle native become the No. 65 overall prospect and 10th-rated receiver in the 2020 cycle. He's a prototypical X-receiver in Ohio State's offense.
Mookie Cooper (FR): Another high-end four-star prospect, Cooper didn't play any football as a senior at St. Louis' Pattonville High School due to eligibility issues stemming from his transfer of high school. Regardless, he ended his recruitment as the No. 91 overall prospect and 16th-ranked wideout in the cycle. At 5-foot-10 and 195 pounds, he's a prototypical slot receiver.
Ohio State also has two commitments from wide receivers.
Marvin Harrison Jr. (2021): First, Ohio State landed Kyle McCord out of St. Joseph's Prep in Philadelphia. Then, Harrison followed. The 6-foot-4, 184-pound receiver became the Buckeyes' sixth commitment following his October pledge. While he's not quite a burner, he's a big-bodied target who could end up as a prototypical X-receiver in Ohio State's offense depending on how his body fills out. He's ranked No. 59 overall and as the eighth-best wideout in the 2021 cycle.
Jayden Ballard (2021): More than 11 months ago, Ballard ended his recruitment, doing what many expected by committing to play for the Buckeyes. The Massillon product, a speedy deep threat, was the third commitment in the class, following McCord and Jack Sawyer. While Ohio State didn't have to fight a drawn-out war to land him, Ballard shouldn't go overlooked. As the No. 68 overall prospect and 11th-ranked wideout in his class, he's the highest-rated receiver in Ohio since Jalin Marshall in 2013.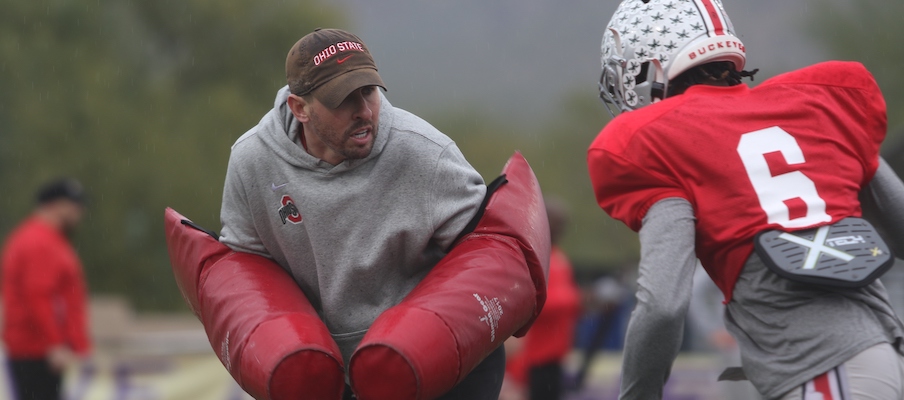 Outlook In 2020
Everything at wide receiver starts with Olave, who developed into a stud last year, earning a third-team All-Big Ten selection. The do-everything junior will again serve as Fields' top target.
The only question with Olave is how productive he can become in 2020. Once a three-star prospect out of San Marcos, California, he has consistently improved, exploding late in his freshman season against Michigan then blossoming as a starter last year. 
State of the Position
Wilson will complement Olave as the only returner who had a role in last year's receiver rotation. Even with the influx of talent, there's a case to be made that he's the most gifted wideout on the roster. Last year, he had 30 receptions, a number that he legitimately could double as a sophomore this fall.
Hartline recently said Wilson will "probably" play in the slot in 2020 after spending his freshman season on the outside. At inside receiver, which has been a target-heavy position at Ohio State, Wilson could thrive. 
Though Olave and Wilson are a tantalizing pair, Ohio State hasn't run an offense reliant on just two wide receivers, so others will have to step up.
In doing so, the Buckeyes will turn to a group that's intriguing based on its potential but lacks much experience. It might be a bit more difficult of a task than some believe. Provided they continue to rotate players at all three receiver positions, they'll have four wideouts in the mix who'd never before been in full-time rotations.
Also, the third starter is a mystery right now.
If Wilson stays in the slot and Olave is at Z-receiver, Ohio State needs a starting X-receiver. Harris, due to his edge in experience, might have the edge, especially since the underclassmen didn't get a full spring camp. The issue? Harris has five catches in three years.
Don't count out the freshmen. Fleming could push Harris for the spot, and if Wilson moves back to X-receiver, Smith-Njigba could be a candidate to start in the slot. Cooper and Scott will have opportunities to secure spots in the rotation in the preseason, though most of their contributions might come on special teams as freshmen.
Williams will likely rotate with Olave as the backup X-receiver, which is a potentially dynamic duo. Saunders, provided he gets his sixth year of eligibility approved, would seem to have the inside track to be the backup slot receiver, though Demario McCall could be a factor, too, if he is a receiver in the fall. Babb and Gardiner will likely be relegated to special teams work for the majority of the season.
Altogether, Ohio State has a pair of potential All-Americans – Olave and Wilson – leading the way at receiver, but it'll need others to step up, and it's not clear yet who that'll be in 2020.
Strengths Of The Position
Everything. Just about everything about Ohio State's wide receivers is a strength. Since Hartline took over as a full-time coach, he has begun to turn the wideouts into possibly the team's best position group. 
At the forefront, Olave and Wilson both have star potential – and Olave might already have reached that point at some point last year. Both are potential first-round NFL draft picks who'll lead the way in 2020.
Next in line? An endless supply of heralded recruits.
Hartline brought in four top-100 overall prospects – Fleming, Smith-Njigba, Scott and Cooper – in 2020, and he's set to bring in at least two in the 2021 cycle. He already has Harrison and Ballard committed, and he's chasing Emeka Egbuka as a five-star addition from Washington.
As long as Hartline's in Columbus, Ohio State's wide receiver room will be stocked with talent, and as he's shown over the past couple of years, he's a standout developer as well. 
Weaknesses Of The Position
If anything holds Ohio State back at wide receiver in 2020, it'll be the inexperience across the board. Even Wilson's only a rising sophomore.
Relying on so many freshmen and veterans who haven't done much yet as Buckeyes is a notable concern. Beyond Olave and Wilson, the rest of the position group can be segmented into former walk-ons (Saunders), upperclassmen who haven't produced (Harris, Gardiner), injured players (Babb) and freshmen (Fleming, Smith-Njigba, Scott, Cooper). That's not a group filled with safe options.
Beyond that, though, it's exceedingly difficult to pick the wide receivers. With Hartline at the helm, Ohio State's wide receivers are set up laughably well both in the short-term and especially the long-term.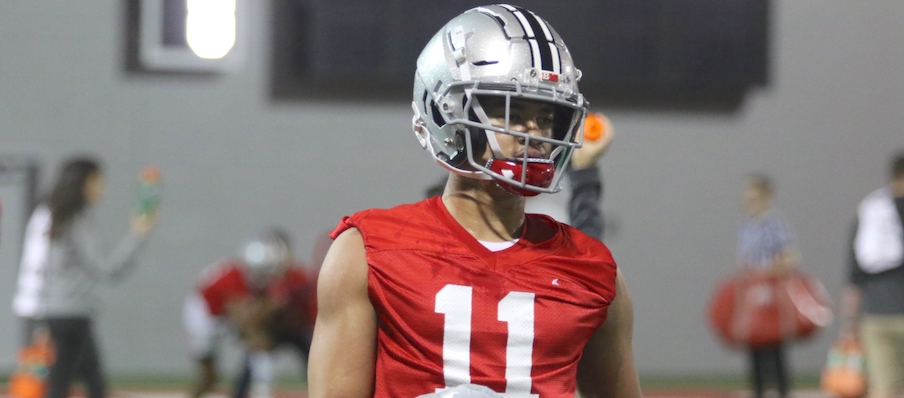 Long-Term Outlook
Projected 2020 Depth Chart
X-receiver
Jaylen Harris
Julian Fleming
Z-receiver
Chris Olave
Jameson Williams
Slot receiver
Garrett Wilson
C.J. Saunders
Projected 2021 Depth Chart
X-receiver
Julian Fleming
Gee Scott Jr.
Z-receiver
Jameson Williams
Jaxon Smith-Njigba
Slot receiver
Garrett Wilson
Mookie Cooper
Projected 2022 Depth Chart
X-receiver
Julian Fleming
Gee Scott Jr.
Z-receiver
Jaxon Smith-Njigba
Kamryn Babb
Slot receiver
Mookie Cooper
Emeka Egbuka
Go ahead and pick your jaws up off of the floor.
For the foreseeable future, Ohio State should find itself in the conversation for having the most talented crop of receivers. What's currently a room that holds seven underclassmen once ranked as top-100 overall recruits in their respective classes – Babb, Wilson, Williams, Fleming, Smith-Njigba, Cooper and Scott – will only get stronger in the next couple of years as each of them gains experience. 
Following them? More touted recruits. Harrison and Ballard, both already committed, should compete for spots in the rotation early in their respective careers. Five-star wideout Emeka Egbuka, though, might have the best shot among all 2021 wide receiver prospects to earn early playing time. Viewed as an Ohio State lean, he's a top-10 overall recruit.
Because of the influx of talent that doesn't appear to be ending anytime soon, Hartline should have no issue rotating at all three wide receiver positions going forward. Incredibly, in 2021 and 2022, every wide receiver projected to appear on the two-deep depth chart ended his respective recruitment among the top-100 prospects in his class.
Positionally, especially considering the shift from hybrid running back/wide receivers to true wideouts in the slot, the Buckeyes have an abundance of versatility at the position.
Wilson can play both in the slot and on the outside. Smith-Njigba opened spring camp lined up as an inside receiver, though he largely spent his record-breaking high school career on the outside. Some of the younger wideouts can bounce between Z and X. Only one player – Cooper in the slot – will likely be sequestered to a specific spot.
Ohio State has both a healthy mix of different types of receivers and an ability to move them around as needed.