There's an optimistic way and a pessimistic way to gauge how Ohio State's wide receivers for the 2020 season stack up right now.
Optimistically, Ohio State has as much talent at wide receiver as any team in the country. Chris Olave returns as an established star, Garrett Wilson is a budding superstar and seven other receivers on the Buckeyes' roster – in addition to Wilson – were also top-100 recruits out of high school.
Concerningly, however, Olave and Wilson are the only receivers on the roster who have seen substantial playing time so far in their Ohio State careers. None of the Buckeyes' other receivers have been regulars in the rotation yet, and considering that Ohio State would ideally like to rotate six receivers – two at each of the X, Z and H positions – they need numerous inexperienced receivers to emerge as reliable playmakers this fall.
Spring practice was supposed to be a crucial time, especially for the early enrollee quartet of Julian Fleming, Jaxon Smith-Njigba, Gee Scott Jr. and Mookie Cooper, for each of those inexperienced receivers to develop and try to prove they're ready for significant playing time this fall. Because of that, wide receiver is one of Ohio State's position groups that could be the most affected by the loss of all but three spring practices due to the COVID-19 pandemic.
"The receiver position's probably the most inexperienced, and so we'll have to do a great job with that group (when Ohio State returns to practice)," head coach Ryan Day said in March. "I'd say the receivers and those two quarterbacks (freshmen Jack Miller and C.J. Stroud) are the ones that are really gonna miss spring practice the most."
Because of that, it's important for the Buckeyes' young receivers to do what they can to make up for lost time. How do they do that? By doing whatever they can, from studying their playbook and participating in virtual film sessions to working out however they're able on their own, to continue to improve even while they're away from campus and unable to practice with their teammates.
"It's not about when they show up, it's about what they're doing now. When they show up, we need to be able to see that they maximized the time away from us to the best of their ability," Ohio State wide receivers coach Brian Hartline said on a teleconference last month. "The way they're maximizing themselves now from a workout perspective, from an academic perspective, that's what's going to set them up for the ability to compete for what they want."
As of now, it's uncertain when Ohio State will be able to return to the practice field or if the season will even start on time, but the Buckeyes have to prepare as if they'll be playing in September unless they hear otherwise. Given that, the Buckeyes can't simply pick up from where they left off after three spring practices – they have to be further along.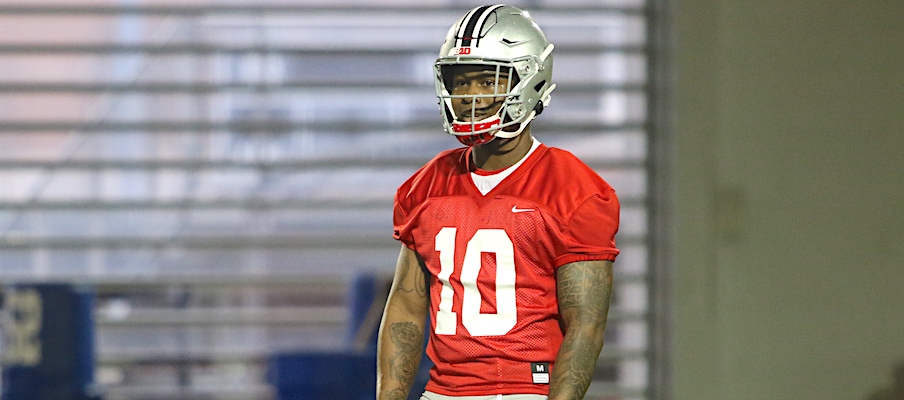 That's especially true for the four freshmen, who were all expected to compete for playing time this season after enrolling in January but could have really benefited from a full spring to develop their skills and build chemistry with their new quarterbacks. It's also true even for veterans like Jaylen Harris, Demario McCall and Ellijah Gardiner, who are all in the latter halves of their Ohio State careers but have not seen consistent playing time yet.
Hartline was pleased with what he saw from his receiver group as a whole from the first three days of practice, but he acknowledges that they have missed out on important time together.
"The one thing I wanted to see is how everybody meshed together," Hartline said. "I really wanted to have the room begin forming that bond as a group and developing our new identity and who's going to step up and lead from the inside out, and those are the kind of things we miss. On the football side of things, I feel like we'll be OK. We got a lot of smart guys in that room, a lot of guys that care. But the culture and brotherhood and the molding of the room is the thing that has been the biggest loss, in my opinion."
"The way they're maximizing themselves now from a workout perspective, from an academic perspective, that's what's going to set them up for the ability to compete for what they want."– Brian Hartline on Ohio State's wide receivers
It's possible the lack of spring practice could lead to more playing time for a veteran like Harris, who Hartline said has done "an excellent job" of stepping up as a leader, and less for freshmen like Fleming and Smith-Njigba who needed every practice they could get. Those young receivers, though, are too talented not to still get a chance to climb their way up the depth chart, and they're going to get it. But whether they are able to actually make that happen, Hartline said, is going to depend partially upon what they have done to prepare for that opportunity while back home.
"When we get back, we've got to probably be on a fast track," Hartline said. "We've got to learn, we've got to install, we've got to make corrections, and then we've got to show growth. But at this point, for sure, I'm definitely relying on these older guys to be crucial leaders in this time that we're in now."
For quarterbacks and receivers, there's no true substitute to being able to throw and catch passes with each other. Particularly from a timing standpoint, there's only so much they can do to improve without being on the field together. What they have more time to do than ever right now, though, is study their playbooks, and Hartline said it's crucial that his receivers do that so that they know the offense inside and out when they do return to the Woody Hayes Athletic Center.
"Knowing what you have to do is the best page you can get on from a chemistry standpoint when the quarterback is relying on you," Hartline said. "So there should be no real reasons why we don't know exactly what we want to try to get accomplished on this play, with the amount of time we've had apart and the ability to study."
Ideally, Ohio State's receivers would have all been able to get a full spring's worth of reps, allowing them to grow as players while allowing the coaches to evaluate their development and begin to determine what their depth chart might look like. That didn't happen, and as a result, the wide receiver depth chart outside of Olave and Wilson will remain one of the bigger question marks on the roster until the Buckeyes are able to practice again.
Hartline still has reason to be confident in his group, though, knowing the kind of talent he's recruited. There are plenty of receivers on the roster with high potential – sophomore Jameson Williams stands out as a potential breakout player, in addition to the highly touted freshmen and the veterans who are still trying to break through – and he believes they have the mentality needed to work through an unusual offseason and still be as prepared as possible for the 2020 season.
"They have been recruited because of the way they carry themselves, and the accountability with which they operate," Hartline said. "Those that adjust the best, whether it be on the field or off the field, tend to be the more successful people, and that's kind of the approach we've taken. We'd love to be together, but we're absolutely doing the best we can with the situation.
"That's the great thing about Ohio State … the ability to get on the field's tough, and if you get yourself to the field, you're one of the best guys in the country. That's just how it's progressed, that's how we've developed here, that's how we've recruited here. You want to be one of the best in the country, you're surrounded by guys in the room to go do that. So how they maximize their time away right now will all come to fruition when we get back together."