At some point a year ago, the thought of Garrett Wilson lining up in the slot flashed through Brian Hartline's mind.
Maybe he foresaw Wilson's smooth movement translating as an inside receiver. Or he possibly thought Wilson's combination of otherworldly ball skills, precise route-running skills and noteworthy speed that once made him a five-star recruit would be an amalgamation of the best aspects of the players Ohio State has trotted out at the position in the past. Either way, it didn't matter at the time. The Buckeyes already had K.J. Hill, the program's all-time leader in receptions, manning the slot while Wilson was locked in as an outside receiver. All Hartline could do at the time was tuck that idea away to explore at a later date.
On March 2, Hartline finally got his chance.
As his team went through drills on the first day of spring practice, Wilson didn't take his reps with Jaylen Harris, Julian Fleming, Jameson Williams, Ellijah Gardiner and the other outside wideouts. Rather, he shifted inside, taking the first-team snaps at slot receiver.
"It's obviously a team decision, and I think it was a great decision. I think that's the route we'll probably be in," Hartline said on Wednesday morning. "But everything can change. At the end of the day, we change, shoot, month-to-month and week-to-week and game plan-to-game plan. It was exciting to enjoy spring for the whole group. (Not having a full spring) was maybe one caveat through the group. But I think he'll do a really good job in there. We'll see how it progresses over time."
Less than an hour after Hartline made those comments, it became more evident why Hartline said Wilson will "probably" remain in the slot.
"Garrett's got to continue the path he's on because it's a great path."– Brian Hartline on Garrett Wilson
News broke on Wednesday morning that Jaelen Gill, a rising third-year receiver who was believed to be gearing up for somewhat of a make-or-break season, had informed the coaches of his decision to put his name into the transfer portal. A one-time near-five-star all-purpose back from Westerville, he was recruited with the idea of ending up as the next in a long line of successful H-backs who had thrived under Urban Meyer.
The issue for Gill? By the end of Meyer's tenure, the Buckeyes had already begun to trend away from using H-backs who split between getting carries and catching passes. Rather, once Curtis Samuel left after the 2016 season, they largely became slot receivers while still maintaining the H-back title that Meyer carried with him from Florida to Columbus. 
2017: Hill had 56 catches and two rushes, and Campbell had 40 catches and 10 rushes
2018: Campbell had 90 catches and nine rushes, and Hill had 70 catches and one rush
2019: Hill had 57 catches and one rush
Up until Wednesday, two players – Gill and Demario McCall – remained on the roster as one-time high school running backs cast as H-backs in an offense that had already shifted toward using inside receivers as slot wideouts rather than featuring their running ability. Now they have one, and it's still as unclear as it has been the past four years where exactly McCall fits into the offense's plans.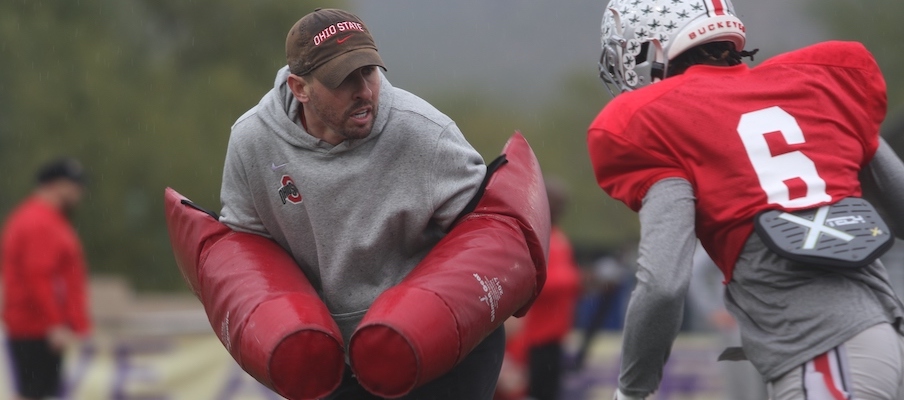 Gill's transfer was the latest signal of what has become obvious since Ryan Day took over: Ohio State wants its slot receivers to be wideouts, not hybrid running back-wide receiver weapons lining up inside.
Enter Garrett Wilson.
The second-year Texan might not have had anybody projecting that he'd end up in the slot before he opened spring in that role. But based upon how Ohio State hopes to use the target-heavy position going forward, he might just be the answer to how Hartline replaces Hill in what Day called a "transition spot." 
"I think when you look at his background, his basketball background, his spatial awareness is off the charts," Day said last month. "His range is really good. He can operate in short areas. And the other thing for him is he can time up down the field like you said. He's got a unique skill set. But I think his ability to catch the ball, put it away, run after the catch so quickly is something you want out of a slot receiver. And running option routes, setting up defenders and understanding space and everything like that, it happens a lot faster in there. 
"But I think his skill set fits that. The same with Jaxon (Smith-Njigba), I think they fit that way. So that's why we made that move."
The other options in the slot behind Wilson on the depth chart include C.J. Saunders, provided he gets his sixth-year waiver approved by the NCAA, and a pair of freshmen – Smith-Njigba and Mookie Cooper – who entered the program as top-100 prospects. None of them are pure running backs transitioning to play in the slot. Even though Cooper – standing 5-foot-10 and weighing 195 pounds – might have the height of H-backs of the past and spent some time in high school in the backfield, Hartline believes his skill set is that of a true slot wide receiver.
It's quite possible that none of them get a single carry in 2020, especially if Wilson replaces Hill as the next starting inside wideout.
"Garrett's got to continue the path he's on because it's a great path," Hartline said.
For Wilson, that path appears to have him in the slot this fall, signaling Ohio State's plans – both in 2020 and into the future – with its inside receivers.