One of the defining features of Urban Meyer's offenses at Ohio State was the presence of an H-back – short for hybrid back – who could be a top playmaker for the Buckeyes as both a receiver and runner.
It was a role that came to prominence when Percy Harvin played for Meyer at Florida. Ohio State's offenses over the last seven years featured several players at that position who were utilized both as pass-catchers and on running plays, including Curtis Samuel, Jalin Marshall, Dontre Wilson, Parris Campbell and for one year, even Braxton Miller.
Through the first half of Ryan Day's first season as Ohio State's head coach, however, that style of H-back has mostly disappeared from the Buckeyes' offense.
While the Buckeyes still refer to K.J. Hill as an H-back, the role he plays is that of a traditional slot receiver – he has just three rushing attempts in his Ohio State career – and he's the only player who has seen regular playing time at that position this year.
Going into the season, Jaelen Gill was viewed as a prime candidate to see playing time behind Hill as an H-back who could bring a running element to the position, given that he was a highly touted recruit who played running back at Westerville South High School. Six games into the season, however, Gill has played only 43 snaps; most of those have come in the second half of blowout wins, and he didn't play at all in the Buckeyes' most recent game against Michigan State.
Demario McCall has also seen a few snaps at H-back after starting the season as a backup running back, but he has played just 29 total offensive snaps for the year. He did not play against Michigan State, though in his case, Day said he was unavailable to play because of "something that came up in pregame."
McCall was the Buckeyes' lead kickoff and punt returner for the first five games of the season, and Day indicated Monday that McCall will continue to be utilized in that phase of the game, but his response when asked about both McCall and Gill on Monday suggested that their offensive snaps could continue to be limited.
"Demario's had these kind of nagging injuries back and forth, and he's had some different return opportunities, and he's going to keep getting opportunities, and he has to make the best of those opportunities," Day said, with an emphasis on the word those. "And Jaelen is still working to fight into the depth chart."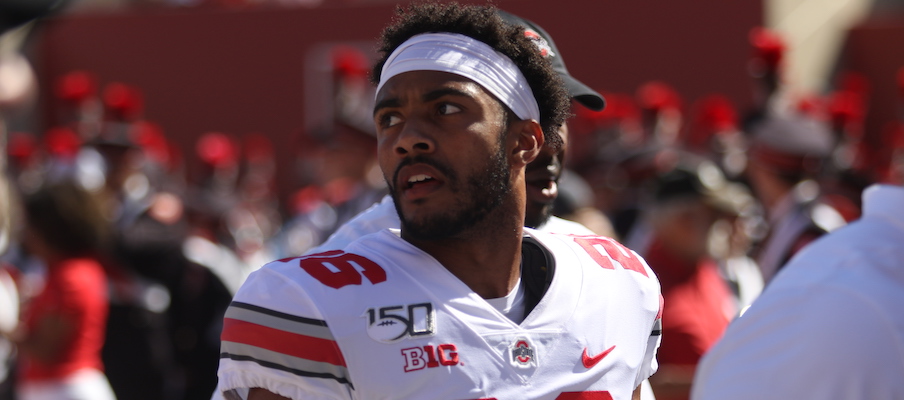 Given that Hill is one of the Buckeyes' most consistently reliable wide receivers as both a pass-catcher and a blocker, they're not going to force anyone into the rotation at that position unless they trust them the same way they do Hill. If anyone earns a spot in the rotation at that position down the stretch of the season to keep Hill fresh, it could be C.J. Saunders – whose game is also that of a traditional slot receiver rather than a hybrid – who was expected to see some playing time this season as a senior captain but was sidelined for the first six games with a leg injury.
Another reason why the Buckeyes haven't played anyone other than Hill regularly in the slot is they have regularly mixed in offensive packages that put two tight ends and only two wide receivers on the field. With Luke Farrell, Rashod Berry, Jeremy Ruckert and Jake Hausmann all seeing regular playing time at tight end, Ohio State has used multi-tight end formations for more than a dozen plays in all of its first six games this year.
"One of the things going into the season for us was that we felt like our 12 package was stronger this year, and so that H position has been supplemented a little bit with a second tight end, and I think that's been good for us," Day said. 
The second half of the season will likely bring some new wrinkles to Ohio State's offense, so it's still possible that the Buckeyes could work in an H-back element at some point. At this point in the season, though, it seems unlikely that the Buckeyes will turn to McCall, Gill or anyone else to play that role on a frequent basis. After all, Ohio State currently ranks fourth nationally in points scored per game and seventh nationally in yards per game, so there's no need to make any major changes.
What becomes the bigger question now, particularly for players like McCall and Gill in regard to what their roles could be going forward, is whether the H-back is something that Day will bring back in future seasons.
Among the recruits who Ohio State has brought in or landed commitments from since Day became head coach, none of them truly fit the H-back mold. 2020 commit Mookie Cooper is expected to be a slot receiver for the Buckeyes, while 2021 target Troy Stellato is another potential future candidate to play that position, but both of their games more closely resemble Hill than Harvin or Samuel.
Day has said that he simply wants to bring the best possible players to Columbus and adapt the Ohio State offense around them.
"I think you're looking for best available, and then it's your job as a coach to figure out what they do best," Day said. "I think K.J. Hill is a very different player than Parris Campbell, and Parris is different than Curtis Samuel, and they're all different than the last guy. So you try to look for somebody who has a real high-end skill set, whatever that is, working in short areas, and then you kind of go from there."
At least based on first impressions of what Day has done as a coach and as a recruiter, though, it does not seem as though finding the next Samuel – at least in terms of finding a player who is the same as him stylistically – is a top priority for the Buckeyes right now.  Even with Campbell, the Buckeyes had already started to trend away from using their H-back as a hybrid player; Campbell ran the ball on handoffs just 10 times in 2017 and nine times in 2018, both seasons in which Day was one of Meyer's offensive coordinators.
While there is an element that a slot receiver/running back with that dual skill set could add to Ohio State's offense, the Buckeyes have been just fine without it so far this season.