Nobody will soon forget Chris Olave coming out of nowhere to catch a pair of touchdowns and block a punt to help Ohio State beat Michigan in the final regular season game of his freshman season. 
It'll be hard for anybody to top the Californian wide receiver as a second-half riser this season. But more than a few Ohio State players will try.
The following nine players are some of the prime candidates to make bigger impacts in the second half of this season than they did in the first half of the regular season.
Josh Proctor, Safety
Proctor already likely would have been the next man up at safety should anything cause Jordan Fuller to miss time. After the transfer of Isaiah Pryor, that's no longer a question.
Proctor is now the undisputed backup. Still, he hasn't played much this season. The sophomore out of Oklahoma who wowed his teammates with his ballhawking skills in the preseason has been on the field for only 47 defensive snaps and hasn't played more than 15 snaps in a game yet.
Since Jeff Hafley and Greg Mattison have relied most heavily on a defensive alignment that employs a single-high safety, Proctor's role will likely remain limited. Still, he's now the clear backup to Fuller, and the defensive staff also rolled out a look with him as the second safety next to Fuller in the most recent win over Michigan State. Though he might not see a sudden significant jump in snaps, he's closer to the field than ever before.
Tyreke Smith, Defensive End
If Smith hadn't been banged up, he wouldn't have even been eligible for this list. However, he has missed three games due to injuries and only played in the first half against Indiana. Through the first half of the season, he has just three tackles and one sack.
As possibly the top pass-rushing defensive end outside of Chase Young, his numbers should shoot up in the second half of the regular season.
Master Teague, Running Back
It's quite possible that Teague doesn't have more carries or yards in the next six games than he had in the first six games (66 rushes, 416 yards). But based on how he has run recently, his touches could come at more important times in games.
Rather than simply serve as the backup to Dobbins, he might find himself playing meaningful snaps rather than toting the ball at the end of blowouts. After not playing Teague in the first half against the Spartans, Ohio State running backs coach Tony Alford said he wanted to insert the second-year back into the game earlier. He'll have a chance to back up that comment as early as Friday against Northwestern.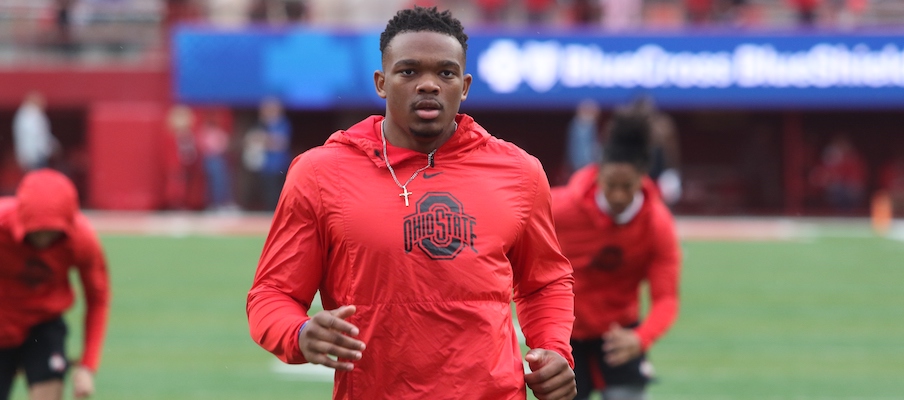 Chris Olave, Wide Receiver
Has Olave already played a significant role this season? Yes. But he has more to offer than he has shown in the first six games.
So far, Olave has recorded 16 catches for 258 yards and four touchdowns, along with a blocked punt against Indiana, while playing the fourth-most snaps among wide receivers. Against Michigan State, he didn't have a single catch – though he was targeted.
One could make an argument that Olave is the most talented receiver on the team. So it's difficult to imagine any trend that involves him going without a catch in a game continuing. Will he have more than 16 catches and 258 yards in the second half? I'm willing to bet on that.
C.J. Saunders, Wide Receiver
Remember Saunders? The former walk-on who got voted team captain hasn't played a game yet as a senior, handing him one more obstacle to overcome as a Buckeye.
Having finally returned from a lower-body injury, he could find himself back on the two-deep depth chart as soon as this week. How big of a role will he have in the offense? That's yet to be determined. But given how few snaps any slot receiver not named K.J. Hill has received this season, there's a clear role for him to take over.
Multi-tight end formations usurped the usage of the backup slot receiver in the first six games. It'll be up to Saunders to change that trend in the back half of the regular season.
Baron Browning, Linebacker
No question has been asked more often recently by Ohio State fans than which middle linebacker will be on the field in the fourth quarter of a competitive game. Due to the Buckeyes' dominance, the answer remains uncertain. Considering Browning's first half of the season, though, it's difficult to imagine Al Washington taking him off the field for extended stretches in meaningful games.
Here are the middle linebacker snap counts through six games:
Baron Browning: 195 snaps
Tuf Borland: 180 snaps
Borland, a two-time team captain, will have a significant role on this defense until he runs out of eligibility. But with Browning coming on fast with 23 tackles, five tackles for loss and 2.5 sacks in six games, the junior from Texas has made a strong case for more playing time in the second half of the year.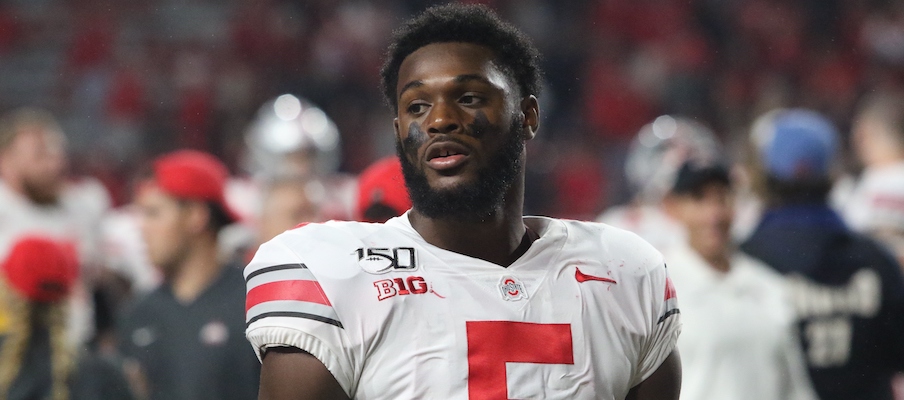 Zach Harrison, Defensive End
Albeit in limited roles, Ohio State's five-star freshmen have lived up to their titles.
Harrison, in particular, has shown he might deserve a step up in playing time with his recent performances. Against Michigan State, he had two tackles, including a combined sack with Chase Young. Having played more snaps than Young and Smith did in their respective freshman seasons through six games, Harrison has eight tackles, three tackles for loss and 1.5 sacks this year.
With more injuries at defensive end than any other position this season, Ohio State hasn't had a full stable of edge rushers yet in any single game, which has led to more opportunities for Harrison. But even with everybody healthy, he has shown he deserves a bigger role in the rotation.
Garrett Wilson, Wide Receiver
Ten catches for 101 yards and three touchdowns. That's Wilson's stat line through six games.
In an offense that spreads the ball around, it's unfair to expect too much of a true freshman. But for somebody who has been on the field so much – he has played 170 snaps – with such talent, the five-star recruit has arguably been underused in the first half of the season. 
In the next six games, it's difficult to imagine Wilson not eclipsing his totals from the first half of the regular season, and it would behoove Ohio State to get him the ball.
Cameron Brown, Cornerback
Not too long ago, Brown committed to Ohio State as a four-star wide receiver and entered the program as only the second-highest ranked prospect from his own high school (behind Kamryn Babb) in the class of 2018. He played in the first five games of his freshman season then got injured and didn't play the remainder of the year. Before this season, it seemed like he might not have a role on the defense, so Eleven Warriors' own Dan Hope listed him as a redshirt candidate in an article published in June.
Suddenly, just a few months later, the sophomore has become the first cornerback off the bench. It's Damon Arnette, Jeff Okudah, Shaun Wade and then Brown. Sevyn Banks is the second backup cornerback, with Marcus Williamson and Tyreke Johnson in the mix.
Brown's rapid rise up the depth chart could portend an increase in playing time in the second half of the season.
Through six games, he has played 111 snaps, including 35 when he filled in for an injured Arnette during the second half of the win against Michigan State.
If any of the top three cornerbacks miss any time due to injuries, expect to see a healthy dose of Brown.