The first half of the regular season has gone exceptionally well for Ryan Day as his Ohio State Buckeyes boast a perfect 6-0 record, outscoring opponents by a national-best 40.5 points per game. 
Transfer first-year starting quarterback Justin Fields has largely looked like a seasoned veteran with 26 total touchdowns against just one interception while completing nearly 70% of this throws. 
A rejuvenated defense ranks No. 4 in the country heading into yesterday's action allowing just 8.8 points per game and a retooled offensive line has helped the Buckeyes crank out 49.3 points per game, also good for No. 4 in the land, behind the country's No. 2 rushing attack (288.5 ypg) heading into yesterday's slate.  
What do some of the other numbers shaping the first six games tell us? Well, stats can tell you just about anything you want them to but here's a midseason version of Five Things focused on what I see as three key strengths and two key areas of opportunity as the Buckeyes look to keep the train rolling. 
---
WINNING THE TURNOVER BATTLE
Turnover margin is a weird stat in that sometimes luck just wins out but there's no doubt the 2019 Buckeyes are enjoying a strong result year-to-date. 
The first step is simply not turning the ball over on offense especially on the wrong side of the field and Justin Fields and company have been great so far in this regard. 
Fields has just one interception in 141 pass attempts through six games (No. 5 in the nation) but unfortunately the cumulative ball carriers have a total of five fumbles (No. 89) for six total turnovers which slots No. 33 nationally. 
 J.K. Dobbins and Master Teague have just one fumble each on a combined 182 carries but Fields has two on 57 attempts (includes sacks) and Jaelen coughed one up in mop up duty versus Indiana. 
On the other side of the ball, Ohio State's defense has been tremendously opportunistic with 13 total takeaways, good for No. 7 in the nation, with eight of those coming via interceptions (No. 6). 
Translate those totals to turnover margin and Ohio State is enjoying its best turnover margin per game since before Urban Meyer arrived in Columbus. 
OHIO STATE TURNOVER MARGIN STATS SINCE 2012

| SEASON | TO GAINED | TO LOST | NET TO/GAME | NATL RANK |
| --- | --- | --- | --- | --- |
| 2019* | 13 | 6 | +1.17 | 9 |
| 2018 | 23 | 17 | +0.43 | 32 |
| 2017 | 24 | 19 | +0.36 | 34 |
| 2016 | 27 | 12 | +1.15 | 3 |
| 2015 | 21 | 18 | +0.23 | 48 |
| 2014 | 33 | 26 | +0.47 | 33 |
| 2013 | 24 | 19 | +0.36 | 37 |
| 2012 | 21 | 18 | +0.25 | 48 |
Jeff Okudah came into yesterday's action ranked No. 5 in the country with three picks and Chase Young ranked No. 3 with three fumbles forced. 
Jordan Fuller has a pair of interceptions and Damon Arnette has one that went for a 96-yard touchdown. Arnette and Okudah have also each forced a fumble. 
The takeaways are of course just one component of a stark improvement realized from a defensive unit that couldn't get out of its own way a season ago. 
If the group can keep creating takeaways at this clip, it could go a long way toward a playoff berth for the Buckeyes.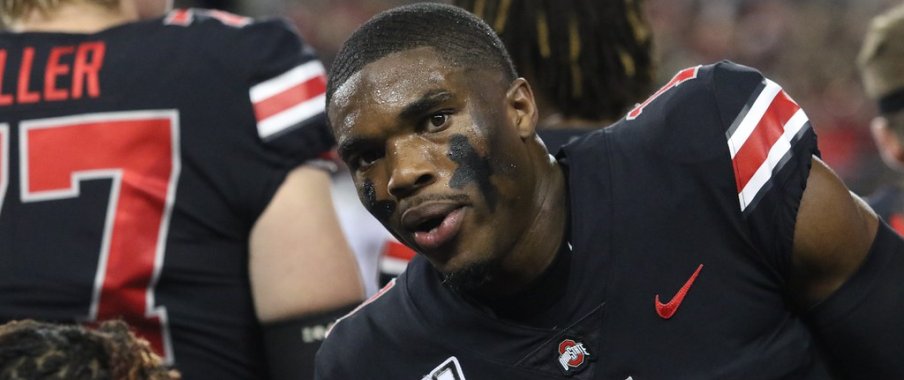 TOO MANY SACKS ALLOWED
While just about everything has gone right for Ohio State's offense through the first six games, it has flat out taken too many sacks. 
The Buckeyes have allowed 13 sacks which ranks just No. 71 in the country at 2.17 per game. 
There's no singular issue here - it has been a compilation of opportunities. First of all, while the offensive line has dominated in the ground game, it hasn't been quite as sharp at keeping guys out of Fields' face especially when teams try to confuse it with blitzes. 
Another issue comes as Fields has shown a tendency to hang onto the ball too long. There's certainly some give/take here as you could theoretically argue taking a sack could be the difference in maybe forcing a throw that leads to a turnover. 
That said, while Fields is a willing guy when it comes to throwing the ball away, he has taken a few sacks when he still could've thrown the ball away. 
Compare that 2.17 sacks allowed per game to other national championship contenders and it's even more eye-catching. LSU entered yesterday giving up 1.80 per game (No. 53), Alabama stood at 1.17 (No. 17) and both Clemson and Oklahoma were surrendering only 0.80 per game (No. 5).
SHUTTING DOWN BIG PLAYS
The most frustrating facet of last year's defense was an inability to limit big plays. 
Greg Schiano's outfit ranked No. 118 out of 130 FBS teams giving up 39 plays of 30+ yards, No. 119 in plays over 40 yards (23) and No. 121 in plays over 60 yards (8). 
They were dead last in the country giving up a ridiculous four plays of over 80 yards. 
This year, as Ryan Day overhauled the staff save the venerable Larry Johnson, Ohio State's defense has returned to form in a big way. The Buckeyes are giving up just 234 total yards per game which ranked No. 3 in the land heading into yesterday's action. 
A huge reason for that No. 3 ranking is a simplified scheme allowing the players to play fast and limit big plays. 
How about this turnaround? Through six games, Ohio State's defense has given up exactly four plays over 40 yards, good for No. 4 nationally, one play over 50 yards and they've yet to give up a play of 60 or more yards. Only 31 others FBS teams could say that heading into yesterday's slate. 
Continuing to limit the big play is just as impactful as creating turnovers and so far this year, the Buckeyes have been tremendous at accomplishing both.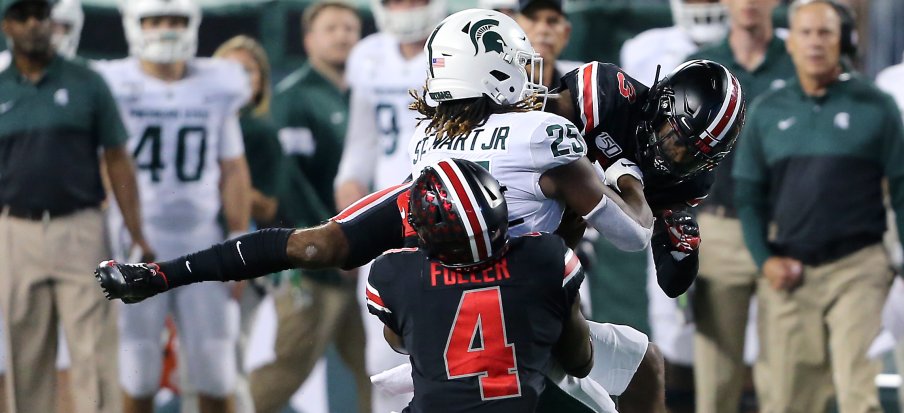 IN A TIGHT GAME, CAN RYAN DAY COUNT ON A BIG KICK?
With that 49-point average margin of victory Ohio State has enjoyed through the first month and half of the season, the field goal unit hasn't had to really respond to a pressure situation and come through with meaningful points. 
The closest meaningful tries came last weekend as Blake Haubeil yanked a 37-yarder in the first quarter against Michigan State before bouncing right back on the next possession to hit a 39-yard effort to give Ohio State an early 3-0 lead. Haubeil added a 43-yarder late in the half to make it 27-10 so there was probably a bit of pressure there although I'd say most folks felt like that game was pretty much in-hand. 
Haubeil's other miss this season came in Bloomington as he failed to deliver on a 32-yarder to cap Ohio State's first possession on the game in what eventually became a 51-10 Buckeye victory. 
On the season, Haubeil has connected on 5-of-7 tries with both misses coming between 30-39 yards although he is 2-for-2 on kicks between 40-49 yards. 
Haubeil's 71.4% make rate so far this year is good for just No. 56 in the country. Last year, he hit on 10-of-13 for 76.9% which stood as 49th-best. 
Again, to his credit, he did hit a pair of 19-yard chip shots against Michigan last year when the game was still a game - one to end the half and another midway through the third quarter - but can he come through with a deep shot when a game is truly hanging in the balance? 
I'm not saying he can't, only that like most college kickers, it would probably give us all major heartburn if Ohio State lined up and needed a big one to stay in the national title hunt. 
HUNTING QUARTERBACKS
One of the many reasons Ohio State's defense is one of the nation's best is a stout defensive front that is hassling the hell out of opposing quarterbacks. 
Before yesterday's games, Ohio State's defense led the nation with 28.0 sacks, ranked second with 4.67 sacks per game and slotted third with 173 yards lost. 
Of course it all starts with Chase Young who entered yesterday as the No. 2 sack man in the country with 8.5, or 1.42 per game. Young's consistency is incredible as he has at least a half-sack in every game in addition to 2.0 against both Indiana and Miami (OH). 
With teams forced to account for Young on every snap, his teammates are taking advantage. Linebacker Malik Harrison has 3.5 sacks so far, defensive tackle and linebacker Baron Browning have 2.5 each, slot corner Shaun Wade has a pair and three guys including freshman defensive end Zach Harrison have 1.5 each. 
It has truly been a team effort behind Young and the consistency is also impressive. The Buckeyes have at least four sacks in every game with a season-high six against the Hoosiers. 
Beyond the lost yardage, many of Ohio State's nine forced fumbles have come on strip-sack efforts.