After a week off for the Buckeyes to recharge their batteries, Ohio State begins its second half of the regular season this week.
The Buckeyes will hit the road to play at another Big Ten team's opposing stadium for the third time this year, this time to face Northwestern on a Friday night – Ohio State's first Friday regular-season game in 60 years – with kickoff scheduled for 8:30 p.m. under the lights at Ryan Field in Evanston, Illinois.
Friday's game will be a rematch of last year's Big Ten Championship Game, but so far, the Buckeyes' and Wildcats' seasons have gone in completely different directions. While Ohio State has a 6-0 record, Northwestern is just 1-4.
As a result, Ohio State opened up as a 25.5-point favorite for Friday's game, and that spread had already increased to 28 points by Sunday night.
Pat Fitzgerald's teams have a reputation for playing tough, though, and we've seen Ohio State run into trouble against unranked Big Ten West opponents on the road before, so this game can't be completely overlooked.
We take a closer look now at what's plagued the Wildcats this season (their offense), where they have been solid despite their lack of wins (their defense) and what else you should know about Ohio State's seventh opponent of the year.
One of the Nation's Worst Offenses
We might as well address the elephant in the room right away: Northwestern's offense has been bad – really bad – this season. Out of 130 Football Bowl Subdivision teams, the Wildcats currently rank 128th in points scored per game (14.4), 125th in yards gained per game (292.8) and dead last in yards gained per play (3.95).
Hunter Johnson, a five-star recruit out of high school who transferred to Northwestern from Clemson, was expected to elevate the Wildcats' passing offense as their new starting quarterback, but that hasn't been the case at all. In Northwestern's first four games of the season, Johnson completed just 43-of-89 passing attempts for 367 yards and one touchdown with four interceptions.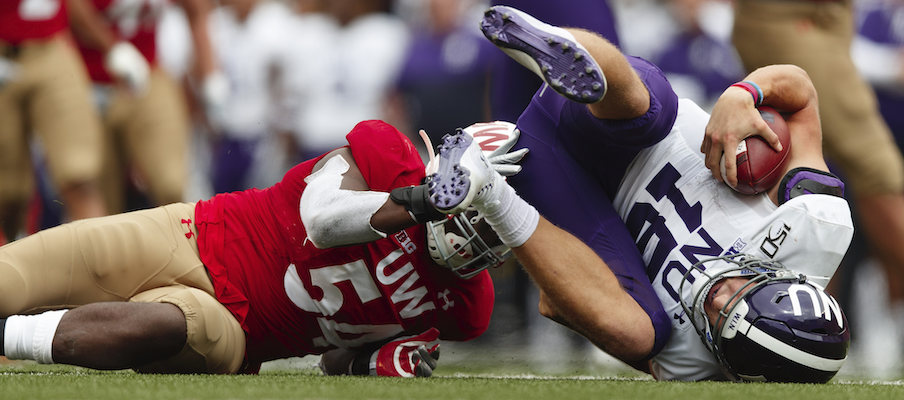 Johnson did not play in the Wildcats' most recent game against Nebraska after suffering a knee injury against Wisconsin, but his replacement wasn't any better. Aidan Smith, who has also played in four games this season, has completed just 31-of-63 passing attempts for 273 yards with just one touchdown and four interceptions.
Collectively, Northwestern's quarterbacks have averaged just 4.3 yards per passing attempt, the worst mark among all Football Bowl Subdivision teams.
Redshirt freshman running back Drake Anderson has been Northwestern's most productive offensive player, with 366 rushing yards and three touchdowns on 74 carries. Overall, though, Northwestern is averaging just 3.65 rushing yards per attempt, which ranks 104th nationally. 
In each of its four games against Power 5 opponents this year, all losses, Northwestern has been held under 300 yards and to 15 points or fewer. Against an Ohio State defense that currently ranks second nationally in yards allowed per game and fourth in points allowed per game, the Wildcats will have to come out of their second bye week with major offensive improvements to have a chance to turn things around.
Defense Keeps Them Competitive
Even with one of the nation's worst offenses, Northwestern has managed to at least keep most of its games this season close. The Wildcats haven't lost any game by more than 21 points, and three losses have come by 10 points or fewer. They trailed by only three points in the fourth quarter at Stanford and lost on a last-second field goal at Nebraska.
That, of course, is a credit to their defense, which ranks 26th in the FBS in yards allowed per game (318.8) and 30th in points allowed per game (19.8).
Northwestern has held all of its opponents to 365 yards or fewer, and has not allowed more than 31 points in any game. The stars of its defense include redshirt junior linebacker Paddy Fisher, a 2018 first-team All-Big Ten selection who has 38 total tackles, 2.5 tackles for loss, an interception, three pass breakups and two forced fumbles this season, and fifth-year senior defensive end Joe Gaziano, a two-time second-time All-Big Ten selection who leads the Wildcats with 6.5 tackles for loss and 3.5 sacks.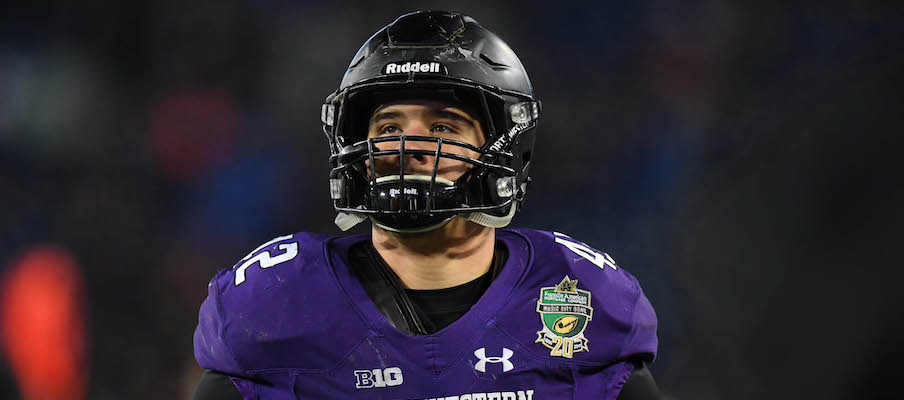 The Wildcats haven't played an offense as explosive as Ohio State's yet this year, though. Outside of Wisconsin, each of the other four teams Northwestern has played – Stanford, UNLV, Michigan State and Nebraska – currently rank in the bottom half of all FBS teams in both yards and points per game.
A Recent Trend of Slow Starts
While Northwestern ended up winning the Big Ten West and making the conference championship game last season, things weren't looking too good for the Wildcats at this point last year, either. The Wildcats started out last season with a 1-3 record – including three straight home losses to Duke, Akron and Michigan – before going 7-1 in their final eight regular season games to climb to the top of their division and earn a meeting with Ohio State in Indianapolis.
The 2017 season played out in similar fashion; the Wildcats went 2-3 in their first five games, with losses to Duke, Wisconsin and Penn State, before finishing the season with eight straight wins for a 10-3 record.
In 2016, the Wildcats started out 1-3 with losses to Western Michigan, Illinois State and Nebraska but finished the regular season 5-3 to earn bowl eligibility.
So while the season has certainly gotten off to a bleak start in Evanston, and a return trip to the Big Ten title game looks highly unlikely at this point, it's still too early to write the Wildcats off completely – at least in regard to their potential to turn things around and compete for a bowl berth down the stretch of the season. 
With road games at Stanford, Wisconsin and Nebraska and a home game against Michigan State, Northwestern's strength of schedule so far this season ranks as the fifth-toughest in the country, according to Jeff Sagarin. It certainly won't get any easier this week. But the Wildcats' second half of the regular season includes many more winnable games, with home games against Iowa, Purdue, UMass and Minnesota and road games at Indiana and Illinois.
Fitzgerald's teams throughout his Northwestern tenure have proven to be resilient even when they hit rough patches, so the Buckeyes should expect the Wildcats to be motivated and looking to play their best football of the year this week – especially after an extra week to prepare.
Fifteen Ohio Natives
Northwestern's standing as one of the Big Ten's most prestigious academic institutions makes Evanston an attractive destination for Power 5 football prospects around the Midwest who don't receive offers from the Big Ten's football powerhouses, and Ohio has proved to be one of its most fertile recruiting grounds.
The Wildcats aren't competing with Ohio State for the top prospects in the Buckeye State, but they have regularly targeted second-tier Ohio recruits who aren't being pursued by the Buckeyes, and currently have 15 Ohio natives on their roster. 
Key players for the Wildcats who hail from Ohio include running back Isaiah Bowser (Sidney), guards Nik Urban (Willoughby) and Sam Gerak (Avon) and kicker Charlie Kuhbander (Springboro). Right tackle Gunnar Vogel is a product of Colubmus-area Westerville South High School and is the grandson of former Buckeye offensive tackle Bob Vogel, an All-American and Ohio State Athletics Hall of Famer.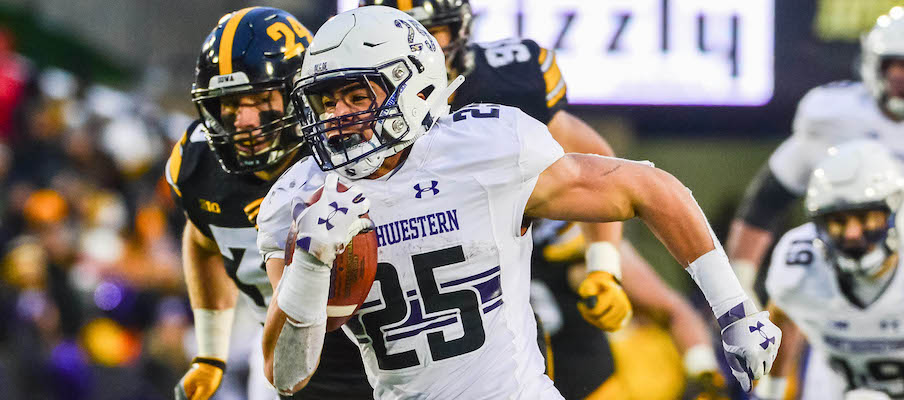 Not Much Success Against the Buckeyes
In 77 all-time meetings between Ohio State and Northwestern on the football field, the Wildcats have won just 14 times.
Their most recent win against the Buckeyes came in 2004, when they earned a 33-27 overtime win over Ohio State at Ryan Field, and before that, Northwestern hadn't defeated Ohio State since 1971. 
Ohio State's Last Five Games Against Northwestern

| YEAR | LOCATION | RESULT |
| --- | --- | --- |
| 2018 | Indianapolis | Ohio State 45, Northwestern 24 |
| 2016 | Columbus | Ohio State 24, Northwestern 20 |
| 2013 | Evanston | Ohio State 40, Northwestern 30 |
| 2008 | Evanston | Ohio State 45, Northwestern 10  |
| 2007 | Columbus | Ohio State 58, Northwestern 7 |
Ohio State has won its last seven games against Northwestern, including a 45-24 victory in last year's Big Ten Championship Game. Dating back to 1972, Ohio State has won 31 of its last 32 games against Northwestern.
Six of Ohio State's last eight wins against Northwestern have been by at least 20 points, but the only two regular-season meetings between the Buckeyes and Wildcats this decade have been competitive games. Ohio State needed a fourth-quarter touchdown from Curtis Samuel to earn a 24-20 win over Northwestern in Columbus in 2016, and trailed in the fourth quarter before escaping with a 40-30 victory in its last trip to Evanston in 2013.
If the Wildcats can't end the Buckeyes' streak this year, their next opportunity – barring another Big Ten Championship Game meeting – won't come until 2022, when Ohio State travels to Evanston again.
---
Correction: This article previously stated that Ohio State had not played a Friday regular-season game since 1895. The Buckeyes played a Friday regular-season game at USC in 1959.