Typically, a bye week smack dab in the middle of the regular season would be a prime opportunity for us to hand out report card grades to each unit of the Ohio State football team.
As well as the Buckeyes have played so far this year, though, that would be hard to do. Ohio State has been the most complete team in college football, winning each of its first six games by at least 24 points. As a collective, the Buckeyes certainly deserve an A, and truly, downgrading other position groups would just be nitpicking.
That doesn't mean, though, that we can't still take a closer look at how each position group has performed so far this season, what roles each of them have played in the Buckeyes' success, which players have stood out in each position group and what question marks or potential areas of improvement still remain for each group going into the second half of the regular season.
Eleven Warriors' Midseason Report provides those evaluations of every position group on offense and defense, as well as the Buckeyes' special teams, at the halfway point of Ohio State's regular-season slate.
Quarterbacks
Justin Fields' first six games as Ohio State's quarterback have been nothing short of spectacular, as he has been tremendously consistent for a first-year starter who wasn't even on campus a year ago. The Georgia transfer has thrust himself into the Heisman Trophy conversation with 26 total touchdowns – the most by any player in the Football Bowl Subdivision so far this season – with 1,298 passing yards and 18 passing touchdowns with only one interception while also running for 283 yards and eight touchdowns.
Fields hasn't necessarily made as many spectacular plays with his arm as Dwayne Haskins did last year, but he's consistently made the plays the Buckeyes have needed him to make to win games, while adding a dimension that Ohio State didn't have last year with his ability to take off and run and extend plays with his feet. The Buckeyes have tried not to put him in harm's way unnecessarily, but he's shown an ability to bounce right back even when he does take a big hit, and that's impressed his head coach Ryan Day.
"He's growing every day. He knows what he needs to work on. But his leadership and his toughness has shown," Day said this week. "And I think the guys in that locker room are appreciative of that. I think they see it. He's got a lot of areas to grow, a lot of things to work on, but if he continues to lead, if he continues to be tough, if he continues to be a leader in that locker room, then a lot of good things are going to happen."
Just six games into his Ohio State career, Fields has established himself as one of college football's best quarterbacks, and he's legitimized the Buckeyes as a national championship contender.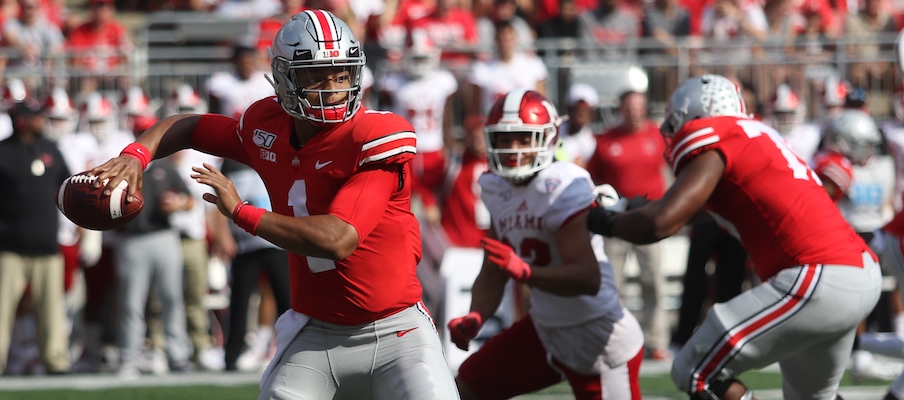 The major concern that remains at the quarterback position is how disastrous anything happening to Fields could potentially be. Chris Chugunov and Gunnar Hoak are unproven as Ohio State quarterbacks, but it's impossible to believe either of them would be able to perform at nearly the same level that Fields has so far this season. Right now, it appears that Chugunov would be the next man up, as he has been the second quarterback into the game in every game so far this season in which the Buckeyes have played multiple quarterbacks, but neither he nor Hoak possess nearly the physical tools that Fields brings to the offense.
As long as Fields stays healthy, though, he and the Buckeyes have the potential to have a special season.
Running Backs
After a disappointing 2018 season that he personally described as a "failure," J.K. Dobbins has reemerged as one of college football's elite running backs through the first half of his junior year. Through six games, Dobbins has rushed for 826 yards, just 227 yards less than he had in 14 games as a sophomore.
Dobbins, who continues to be his own toughest critic, grades his season as a "B+" so far this year, but there's no question that he's played at a substantially higher level than last year. After topping 100 yards in just three games in 2018, Dobbins has already topped 140 yards four times this year.
That's partially because Dobbins has received more carries than last year, when he split carries all season with Mike Weber, but he's been much more effective on a per-carry basis as well, averaging 7.12 yards per carry so far this season after averaging just 4.58 yards per carry in 2018.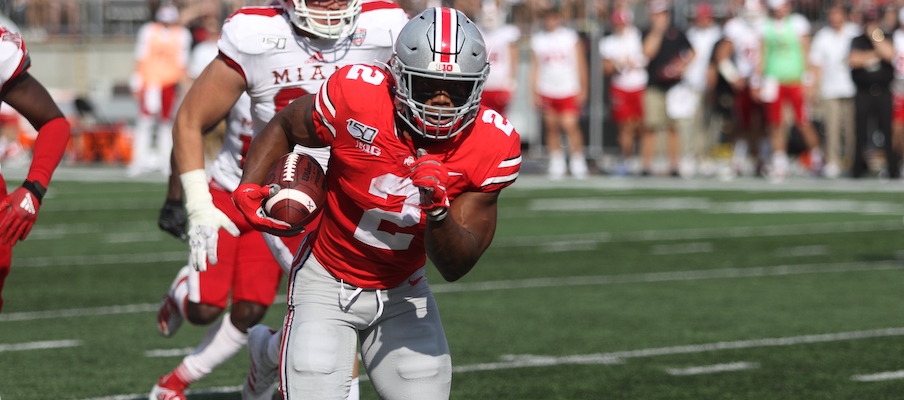 Dobbins has been a true feature back for Ohio State this year, taking the majority of snaps at running back when the game is still on the line, but Master Teague has also emerged as an impressive No. 2 option at the position, rushing for 416 yards and three touchdowns on just 66 carries.
Whether that will lead to more snaps in close-game situations as the season progresses remains uncertain, but what is certain is that Teague has taken a firm grasp of the No. 2 spot on the Buckeyes' running back depth chart, which was a position of concern entering the season following Weber's departure.
Demario McCall was also expected to play a role in this year's running back rotation entering the season, but he hasn't played a snap at running back in any of Ohio State's last three games. 
Barring injuries, it's likely Tony Alford will stick with Dobbins and Teague to play all the meaningful snaps at running back for the remainder of the year, but true freshmen Marcus Crowley and Steele Chambers have also flashed in limited action, giving the Buckeyes reason to feel much better about their depth at the position than they might have a couple months ago.
Wide Receivers
Going into the season, Day expressed a desire for the Buckeyes to have a rotation of six or seven wide receivers this year, but as of now, they appear to have settled on a rotation of five: Binjimen Victor and Garrett Wilson at X receiver, Austin Mack and Chris Olave at Z receiver and K.J. Hill in the slot.
That group of five has been just fine for the Buckeyes, as all of them have made their share of key plays already.
Victor, who has flashed big-play ability throughout his career, has finally emerged as a consistent playmaker in the Buckeyes' offense this year; he already has 18 catches for 348 yards – just six yards less than he had all of last season and one yard less than he had in all of 2017 – and three touchdowns this season.
Hill has continued to be a reliable short-to-intermediate pass-catcher from the slot, with a team-high 27 catches for 275 yards and four touchdowns.
Olave has built upon his breakout performances late in the 2018 season to emerge as arguably the Buckeyes' most complete receiver this year. He has caught 16 passes for 258 yards and also has four touchdowns.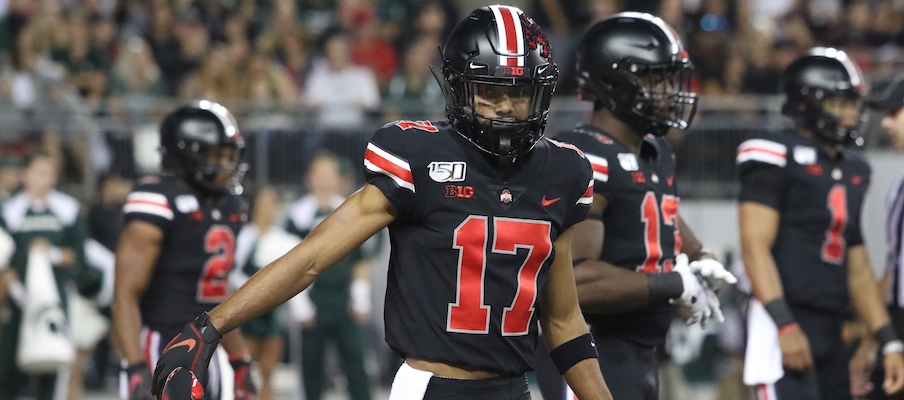 Mack has only caught 11 passes for 157 yards and one touchdown this season, but he's the best blocker in the Buckeyes' receiving corps, which has earned him champion grades from his coaches for five of Ohio State's first six games this season – tied with Olave for the most among all wide receivers.
Wilson, a true freshman, has already started to put his spectacular ball skills on display with 10 catches for 101 yards and three touchdowns, and it wouldn't be a surprise to see him play an even bigger role as the season progresses and he gains more experience.
Ohio State has several other candidates who could still potentially be candidates to find their way into the rotation before the season is over. Jameson Williams, another true freshman, demonstrated elite speed on a 61-yard touchdown against Miami (Ohio) and has the potential to be a difference-maker even in a limited role. C.J. Saunders was expected to see some playing time at slot receiver coming into the season, but he has yet to play this year due to a leg injury. Jaelen Gill and Jaylen Harris were also expected to see more playing time this year, though that hasn't materialized yet.
The Buckeyes don't need to force any more receivers into the rotation unless they're sure they belong on the field, though, because the five they have playing regularly already make up one of the best receiving corps in the country.
Tight Ends
No, this hasn't proved to be the year that Ohio State's tight ends finally play a bigger role in the passing game. Jeremy Ruckert, Luke Farrell and Rashod Berry have combined to catch just nine passes for 119 yards and three touchdowns through the Buckeyes' first six games of the year.
That doesn't mean, though, that the tight ends haven't played an important role in Ohio State's offensive success this year.
While they don't get many opportunities to catch passes, Ohio State's tight ends have played key roles as blockers in the running game, helping lead the way for the Buckeyes to rush for 1,723 yards this season, the most of any team in the FBS.
Farrell, in particular, has been an excellent role player for the Buckeyes even though he only has two catches this year. He's graded out as a champion for each of Ohio State's last five games, and Day recently described him as "one of the unsung heroes" of the team.
Ohio State has regularly mixed multi-tight end formations into its offense this year, and the Buckeyes have maintained a four-man rotation at the position, with Farrell, Berry, Ruckert and Hausmann all seeing regular playing time.
Ruckert has been the most productive individual receiver of the group, with six receptions for 66 yards and two touchdowns, while the other three are stronger blockers, but all of them have quietly provided quality play when they've been in the lineup and have been positive contributors to the offense this season even though they don't show up in the box score often.
Offensive Line
Despite returning just one starter from last season, Ohio State's offensive line has been one of the team's biggest strengths so far this year. The Buckeyes up front have done an excellent job opening lanes for Dobbins, Teague and Fields in the running game while also providing quality protection for Fields against pass-rushes.
Thayer Munford, the lone returning starter from last season, has provided consistent play at left tackle. Left guard Jonah Jackson, center Josh Myers and right guard Wyatt Davis have emerged as a dominant interior offensive line, with each of them already making their share of punishing, highlight-reel blocks to pave running lanes up the middle or buy time for Fields.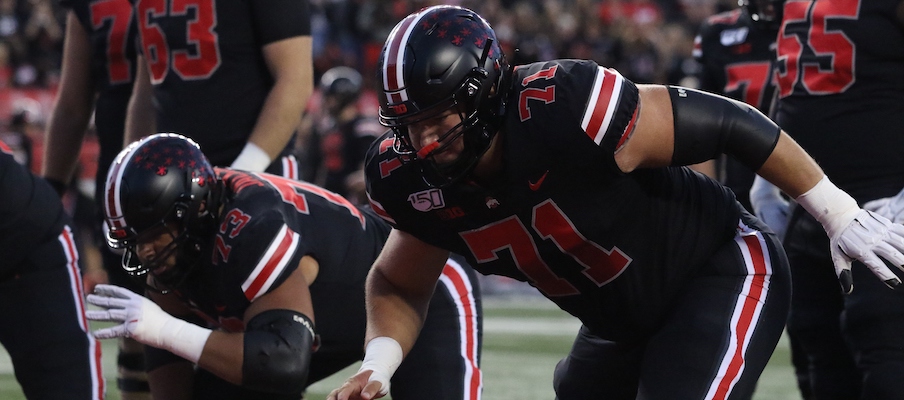 Branden Bowen, after missing the final eight games of the 2017 season and the entire 2018 season while recovering from a broken leg, has returned to provide quality play at right tackle. He missed the Buckeyes' fifth game of the season against Nebraska due to back spasms, but has played well when he has been in the lineup, and Joshua Alabi earned Ohio State's offensive player of the game honors while filling in for Bowen against the Cornhuskers.
Alabi also started the Buckeyes' most recent game against Michigan State and struggled for the first six plays of the game before being replaced by Bowen, so depth is still a question mark on the offensive line, but his performance against Nebraska was promising. He has spent time at both left and right tackle this season, and the Buckeyes have also expressed confidence in Nicholas Petit-Frere's ability to play at right tackle if needed.
True freshman backup center Harry Miller has also impressed his coaches to the point where Kevin Wilson said this week that he believes Miller is "very capable and able to play right now" if needed. 
The coaches haven't expressed as much confidence in their depth behind Jackson and Davis at guard, but with the depth of Alabi and Petit-Frere at tackle, Wilson said that moving Bowen back inside to guard could still be an option if needed.
Defensive Ends
No Ohio State player came into this season surrounded by higher expectations than Chase Young, and yet he has managed to even exceed them. The junior defensive end has made a real case for being college football's best defensive player, recording 8.5 sacks – the second-most in the FBS – and bringing constant pressure into opposing backfields throughout the Buckeyes' first six games.
Young appears to be well on his way to breaking Vernon Gholston's single-season school record of 14 sacks in 2007, and has already entrenched his place alongside Joey and Nick Bosa as one of Ohio State's superstars of the decade and a future top-five overall NFL draft pick.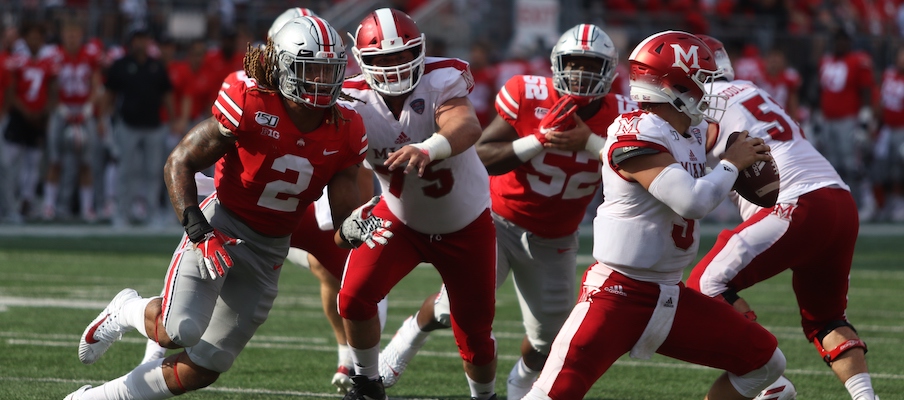 Opposite Young, the Buckeyes have had a revolving door with Jonathon Cooper, Tyreke Smith and Tyler Friday all starting games but also missing time due to injuries. If they can all stay healthy for the second half of the season, though, Ohio State's defensive end group has the potential to be as dominant as ever.
Young is delivering dominance on a weekly basis all by himself, but pairing him with a rotation of Cooper, Smith and Friday all at full strength makes the Buckeyes' pass-rush that much tougher to stop for opposing offensive lines. True freshman Zach Harrison has also seen regular playing time in the rotation and has started to flash his five-star ability, so it wouldn't be a surprise to see his role continue to grow as the season progresses.
We still haven't seen a game yet this year in which Cooper, Smith and Friday have all played, while Harrison seems to be getting better by the week, so while Young has already performed at a record-setting pace this year, there's reason to believe the best remains yet to come for Ohio State's defensive end rotation.
Defensive Tackles
Perhaps Ohio State's most underappreciated position group, the Buckeyes' defensive tackles have provided quietly excellent play to lead the way for a run defense that currently ranks sixth in the nation with just 2.38 yards allowed per carry.
Fifth-year seniors Davon Hamilton and Jashon Cornell have both elevated their play to new heights for their final seasons as Buckeyes, and have been much more disruptive as Ohio State's starting defensive tackles this year than they were as rotational players in previous years.
Robert Landers, also a fifth-year senior, has continued to be disruptive as a rotational nose tackle behind Hamilton, while sophomore Tommy Togiai provides additional quality depth at that spot. Haskell Garrett has demonstrated improved play behind Cornell in the 3-technique rotation.
Antwuan Jackson hasn't played as regularly as those five defensive tackles, but he's also shown some flashes of playmaking ability while rotating in at both 3-technique and nose tackle.
Taron Vincent was also expected to be a key player in the 3-technique rotation this year, but he's missed the first six games of the season with a shoulder injury. He could potentially provide an extra boost to the Buckeyes' defensive front down the stretch of the season if he can get healthy, but so far, they've been fine without him.
There's no superstar in Ohio State's defensive tackle group, and the plays they make don't always show up on the stat sheet, but their ability to get penetration into the backfield and challenge blockers has been a key part in the Buckeyes' success in both stopping the run and rushing the passer.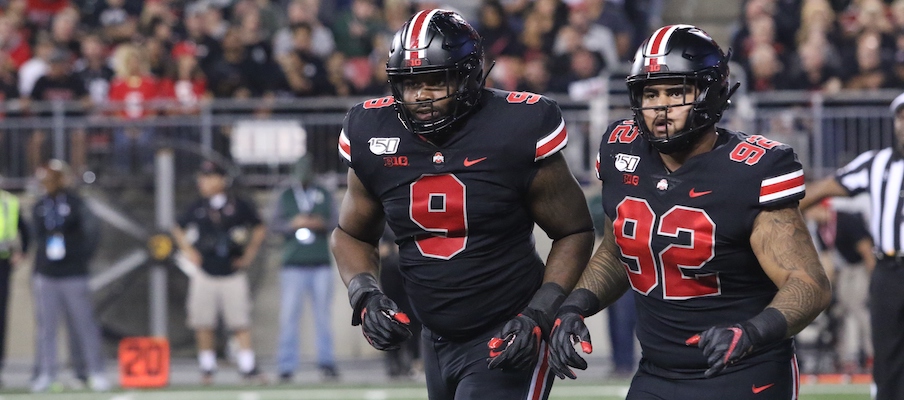 Linebackers
After two seasons of poor play with Bill Davis as their position coach, Ohio State's linebackers have played substantially better in 2019. Returning starters Malik Harrison, Pete Werner and Tuf Borland have all shown improvement from last season, while Baron Browning has also seen regular playing time in the rotation and has started to play up to his five-star potential.
Harrison, who was the best of a bad group last year, has already recorded more tackles for loss (nine) and sacks (3.5) this season than he did in 2018, and currently ranks second on the team with 28 total tackles.
Werner, who was generally viewed as a weak link on Ohio State's defense last season, has made perhaps the most noticeable strides of the starters. The Buckeyes' new scheme has enabled him to use his athleticism to his advantage and play faster, and he's been stronger in the run game while playing a versatile role at strongside linebacker that occasionally even has him dropping back to play safety.
Borland's place in the starting lineup remains a point of contention for many Ohio State fans, in large part because of the emergence of Browning, who is a much more explosive athlete and has made his presence felt this season with big plays around the line of scrimmage. Browning currently ranks third on the Buckeyes with 23 total tackles, including five tackles for loss and 2.5 sacks, while Borland has just 15 total tackles with one tackle for loss.
Borland has played better than he did last year – when he was hampered by an Achilles injury and was often a liability due to his lack of speed – and is highly regarded for the leadership he brings to a defense that currently ranks in the top four nationally in points allowed per game, yards allowed per game and yards allowed per play. Browning's emergence, though, begs the question of who would be on the field at middle linebacker with the game on the line in the fourth quarter – a situation Ohio State still hasn't been in yet this year.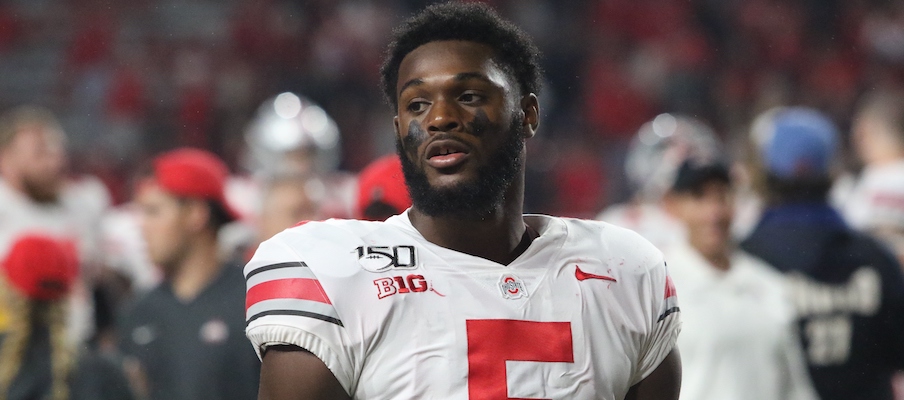 The other lingering question surrounding Ohio State's linebackers has been Brendon White's role. After emerging as a starting safety down in the second half of last season, White was expected to be an impact player for the Buckeyes' defense this season at his new bullet position, but so far, he's primarily served as a backup to Werner at Sam linebacker – which defensive coordinator Greg Mattison says is in part because Werner has proven he can be a three-down player that they don't have to take off the field in their base defense.
Ohio State has relied mostly on Harrison, Werner, Borland and Browning to play the meaningful snaps, but linebacker has emerged as one of the deepest position groups on the entire team. In addition to White rotating in for some snaps, Justin Hilliard has also seen occasional playing time in four-linebacker packages, Jahsen Wint provides another option at Sam linebacker/bullet and sophomores Teradja Mitchell, Dallas Gant and K'Vaughan Pope provide additional depth and have flashed in limited action.
More than anything else, it's clear that Mattison and linebackers coach Al Washington have put their players in positions to succeed and given them the confidence to make plays that they were not making on a defense that struggled mightily last season.
Cornerbacks
While Ohio State had mostly rotated three cornerbacks at two spots for the past several years, the Buckeyes have made all of their top three cornerbacks full-time starters in this year's defense, with Jeff Okudah and Damon Arnette lining up outside and Shaun Wade in the slot, and that's proved to be a more than effective strategy.
Okudah, much like Young, has lived up to the massive preseason expectations and established himself as one of college football's best cornerbacks and a likely top pick in the 2020 NFL draft. He's consistently locked down his opponents in coverage, recorded the first three interceptions of his Ohio State career and has been excellent in run support.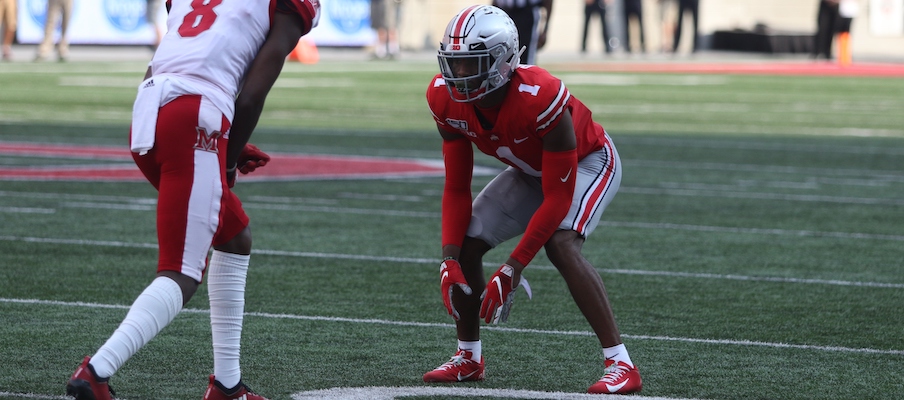 Arnette, who had one foot out the door to the NFL before deciding to return to Ohio State for one more year, has also benefited from the tutelage of new secondary coach Jeff Hafley and has played the best football of his career to date. After struggling with inconsistency for most of his Buckeyes career, Arnette has been more reliable this season, while adding a 96-yard interception return touchdown against Indiana to his name.
Wade has also emerged as one of the Buckeyes' top defensive playmakers, shutting down most of his opponents in the slot while demonstrating the ability to line up all over the field and make plays coming downhill, emerging as one of the defense's most dangerous threats on blitzes.
Cameron Brown has emerged as the top backup at outside cornerback, and showed he could hold his own while playing the entire second half in place of Arnette in the Buckeyes' most recent game against Michigan State.
He and the rest of the Buckeyes' backup cornerbacks remain largely unproven, but Brown and Sevyn Banks have both shown flashes to potentially be Ohio State's next stars at the position while Amir Riep and Marcus Williamson also provide quality veteran depth, with the ability to play both outside and inside.
Tyreke Johnson, who arrived at Ohio State as a five-star recruit in 2018, currently sits behind all of them on the cornerback depth chart – which speaks to the depth the Buckeyes have built up at that position for this season.
Safeties
With the shift to a base defense that utilizes just one deep safety instead of two, Jordan Fuller has seen the vast majority of playing time at that position. The senior captain has been as reliable as ever on the back end of the defense, leading the team with 32 total tackles while also recording two interceptions and providing a consistent last line of defense to prevent the big plays that plagued Ohio State so regularly in 2018.
Behind Fuller, Josh Proctor has also seen some playing time and has flashed the potential to be Ohio State's next star playmaker on the back end; he had an interception in the Buckeyes' season opener against Florida Atlantic, and has come close to making several more. Most of his playing time has come in the second half of blowout wins, but the Buckeyes have started to mix him into some nickel packages as a second safety to get him on the field more.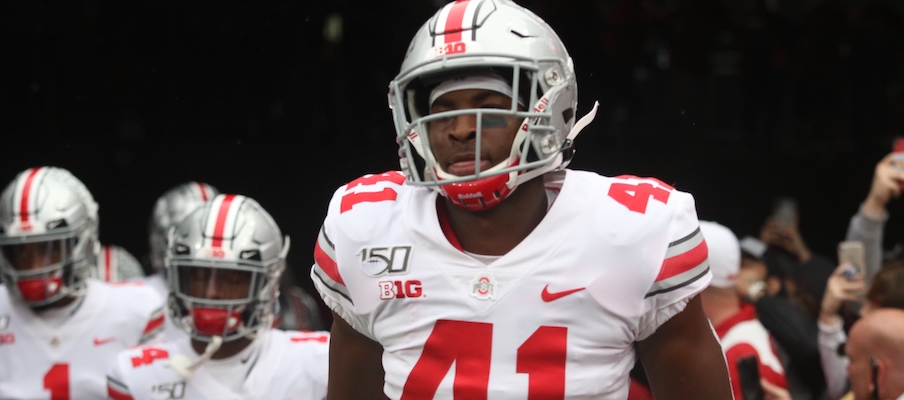 Ohio State's depth at safety took a hit when Isaiah Pryor decided to enter the transfer portal after the first four games of the season, leaving Fuller and Proctor as the only safeties on the roster who have seen regular playing time. True freshman Bryson Shaw played six snaps against Miami (Ohio), Marcus Hooker is another candidate to play deep safety and White could probably move back to safety if needed, but Fuller and Proctor appear to be the only players still on the roster who the Buckeyes want to play significant snaps at that position this year.
The top of the depth chart appears to be in great shape, though, as Fuller is one of the team's most trustworthy and consistent performers while Proctor would likely already be starting for most other defenses in college football.
Special Teams
We can't take an in-depth midseason look at the Buckeyes without taking a look at how they've stacked up on special teams, which continues to be as much of a priority as ever at Ohio State and has played a significant part in the Buckeyes' 6-0 start.
Drue Chrisman has continued to be one of the nation's best punters, though he hasn't been called upon to punt much – so far this season, he's averaging a career-best 46.8 yards per punt but has punted only 17 times. The Buckeyes' punt gunners, led by Chris Olave, have continued to be as effective as ever, holding opponents to just four punt returns for four yards so far this season.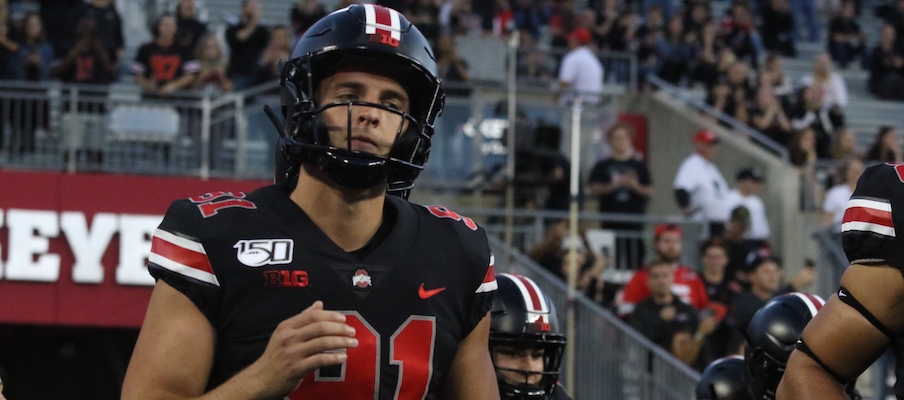 Blake Haubeil has made five of seven field goal attempts so far this season, with two makes of longer than 40 yards but also two misses inside 40 yards.
New special teams coordinator Matt Barnes has put an increased emphasis on attempting to block kicks and punts this year, and that emphasis has already paid off, as Chase Young blocked a field goal against Cincinnati, Olave blocked a punt against Indiana and Sevyn Banks blocked a punt against Miami (Ohio). Young also came close to blocking field goals twice against Michigan State, and the Buckeyes' efforts to try to make more game-changing plays in that phase of the game has been evident.
As Day said this week, Ohio State's kickoff and punt return units have "just been OK," as the Buckeyes still haven't returned a kickoff for a touchdown since 2010 or a punt for a touchdown since 2014. Garrett Wilson flashed his potential to add a spark in the return game with a 52-yard punt return against Miami, but the Buckeyes haven't turned to him to be the primary punt returner yet; Demario McCall also had a 35-yard punt return in the season opener against Florida Atlantic, but the Buckeyes haven't had a kickoff return of longer than 26 yards all year.
Overall, Ohio State's special teams have been a strength this season – especially the punt team and the kick-blocking units – but whether the Buckeyes can get more out of their return game and how much they can rely on Haubeil remain questions going into the second half of the regular season.