Even though he was a top-100 prospect in the recruiting class of 2019, there wasn't a lot of hype surrounding Jameson Williams in the months leading up to his first season at Ohio State.
Among Ohio State's two new freshman wide receivers, most of that hype went to five-star recruit Garrett Wilson. With K.J. Hill, Austin Mack, Binjimen Victor and Chris Olave returning from last year's rotation, plus other returning wideouts like Jaelen Gill, Jaylen Harris and C.J. Saunders, there wasn't much talk about Williams pushing for a spot in the rotation this year. And with a quartet of top-75-ranked wide receivers set to arrive at Ohio State next year in Julian Fleming, Jaxon Smith-Njigba, Gee Scott Jr. and Mookie Cooper, there wasn't even an abundance of talk about what Williams might do for the Buckeyes in the future.
With one play in Ohio State's 76-5 win over Miami (Ohio) on Saturday, however, Williams showed why he shouldn't be overlooked.
After catching a pass from Gunnar Hoak on a slant route about 12 yards past the line of scrimmage, Williams turned downfield and put his elite speed on display, running away from a cavalcade of Miami defenders to score a 61-yard touchdown, the longest offensive play from scrimmage by any Ohio State player through the first four games of the season.
Speed?@OhioStateFB's Jameson Williams has plenty of it. pic.twitter.com/an6KpZmJeo

— Ohio State on BTN (@OhioStateOnBTN) September 21, 2019
By making that play on just the second catch of his Ohio State career, Williams fulfilled a prophecy that he had expressed to his fellow Buckeye wide receivers.
"He always says to us in the room, he's like, 'If I can catch a ball, I'm gonna take it to the house every time,'" Austin Mack said Tuesday. "And we'll laugh, like all you guys are laughing, but he really did."
To people inside the Ohio State football program and who follow Ohio State football recruiting closely, Williams' speed was no secret. That's a big reason why Ohio State wide receivers coach Brian Hartline recruited Williams to become a Buckeye.
What Ohio State head coach Ryan Day said they didn't know about Williams until after he arrived in Columbus and started practicing with the team this summer, however, was how tough he is.
"This is a guy who has practiced really, really hard," Day said. "There's a couple clips of film where he's just throwing his body around. And that was really impressive to all of us. His work ethic's really good."
Hartline said Williams has been "working his tail off." The Buckeyes have not only been impressed with Williams' effort to become a better wide receiver, but also to make an impact on special teams, where he has already seen playing time on both the kickoff and punt coverage units as well as the kickoff and punt return units.
"Jameson Williams has been playing really hard where we've been able to get him on the field," said special teams coordinator Matt Barnes.
So far, all of Williams' playing time at wide receiver has come in the second half of blowout wins, so he hasn't quite earned his way into the regular rotation yet. Hill, Victor, Olave, Mack and Wilson have played the bulk of the first-team snaps at wide receiver, and with players like Gill and Harris also on the fringe of the rotation, there's only so many snaps to go around.
That said, he already has more receiving yards on just two catches than the rest of Ohio State's wide receivers outside of the top five have combined, and his top-notch speed – which has led to some early comparisons to Ted Ginn Jr. – adds an explosive element to Ohio State's passing offense, even if only for a few snaps per game. Williams has already played in four games this season and is not in line to redshirt, which should incentivize the Buckeyes to find ways to get him on the field.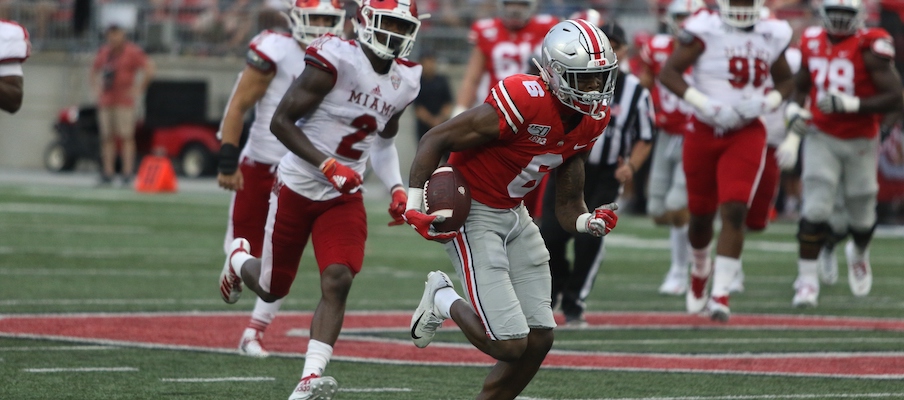 Hartline said Williams is in a similar spot now to where Olave was last season as a true freshman, when he saw occasional playing time on offense but more regular playing time on special teams for the first eight games of the season, then earned a spot in the Buckeyes' wide receiver rotation for the final six games after Mack went down with a season-ending injury.
"In the end, you get what you earn," Hartline said. "He's earning more opportunities. I think the guys that are also 'in front of him' are doing a great job as well.
"I think that it's a fine line," Hartline added. "And I remember thinking back to other experiences that you always want to be in the situation where I'm ready to play, but maybe I have a couple guys that hey, have done a good job or are doing a good job, and where do I fit in? You don't really want to be the guy that if I get my chance, I'm not ready. I think we have a lot of guys in our room that are ready to play some football, and they're doing a really good job and they have to keep progressing."
"This is a guy who has practiced really, really hard."– Ryan Day on Jameson Williams
Regardless of how much he plays for the rest of the season, one thing has become clear: Even with all the talented wide receivers the Buckeyes have lined up to come in next year and beyond, Williams is a player to watch.
"I think he's got a really bright future ahead of him," Day said.