Ryan Day has never really had a problem hyping up Zach Harrison as the next great defensive end to play for Ohio State. And, truth be told, Harrison hasn't done much to reduce expectations either.
On Dec. 19, the day Harrison inked his National Letter of Intent to play for the Buckeyes, Day said he viewed the signee as having the potential of the "Bosas of the world." Day doesn't use hyperbole lightly. Invoking the name of Nick and Joey Bosa meant that he viewed Harrison as possibly a future top-five NFL draft pick. The first time Harrison spoke to the local media as a Buckeye in January, he said he wants people to view him as "one of the greatest to come through Ohio State" by the time his career ends.
The recruiting rankings, which listed the Olentangy Orange product as the No. 12 overall prospect in his class and the top-ranked Ohioan, backed up their words.
Despite those words and evaluations, there was a feeling that the former five-star prospect would need some time to develop in college before making an impact. His raw athleticism as a 6-foot-6, 255-pound edge rusher was evident, but the "toolbox" of technique and polish that Larry Johnson teaches might not be there right away.
So far, he has bucked any idea that he might need extra time before he's ready to play.
"You see him. He strong, big, fast. I knew it's just going to be a matter of time until he finds out what he is."– Chase Young on Zach Harrison
Chase Young played 113 snaps in his first six games as a freshman in 2017, and Tyreke Smith played 107 snaps in that span in 2018. Harrison has already played 125 snaps, the second-most among all defensive ends. Given that he graded out a champion for the first time this weekend, there's not much reason to believe his playing time will decrease in the second half of the regular season.
"He's coming on fast," Young said after the win against Michigan State on Saturday.
Harrison has eight tackles, including three tackles for loss and 1 1/2 sacks. Most of the time, Harrison has made his impact as a defensive end, a position at which Smith, Jonathon Cooper and Tyler Friday have each missed games due to injuries, opening up opportunities for him and others.
However, he played a couple snaps at nose tackle against the Spartans on Saturday as part of a third-down pass-rushing package. The Buckeyes had Young and Smith on the edge, Harrison in the middle and Baron Browning and Malik Harrison rushing the quarterback off the edge. On at least one play, Harrison dropped back in coverage, appearing to spy on quarterback Brian Lewerke should he decide to scramble.
"What that allows us to do is to get speed on the field in positions where we want it," Greg Mattison said on Tuesday. "In other words, you've got a guy like Zach that is very, very fast, can drop, can do a lot of things."
If Ohio State is playing a true freshman on third down in a position that isn't natural for him, that tells everybody what the coaches think of that player.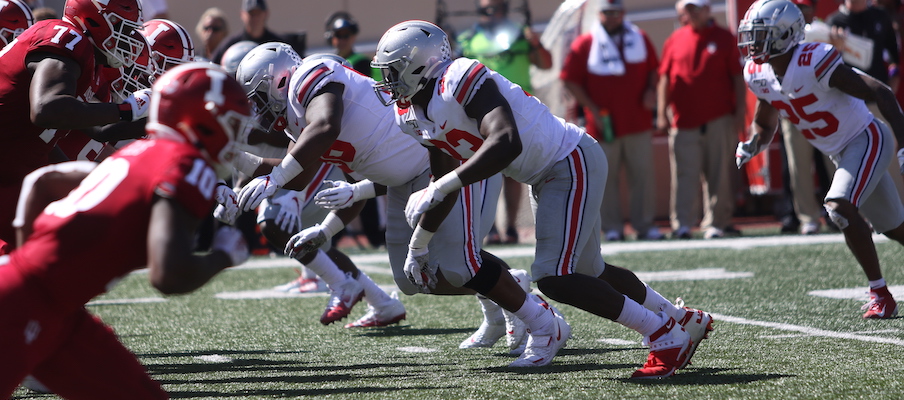 Mattison called Harrison a "typical Buckeye." Somebody who works as hard as he can every single day with "great" character and talent. But typical might not be the most apt word to use to describe Harrison, which Mattison understands.
There's a clear reason why Mattison pursued Harrison so ardently when he coached Michigan and why he's not surprised by the freshman's production: he knows Harrison is different.
"You've got a young man that's got great height, great range," Mattison said. "He's as fast as some running backs at places. He's got great character. He works extremely hard. He's tough. The technique that coach Johnson's working with him just gets him better and better. He's just what you thought he would be."
If Young calls a fellow defensive end a "freak," a word he used to describe Harrison on Saturday, that's a pretty clear indication of the physical gifts the first-year edge rusher has.
Young was once in his situation.
Just two years ago, he entered Ohio State as a much-hyped defensive end who was ranked even higher as a recruit out of Dematha Catholic in Maryland. As a first-year edge rusher, he already had an NFL-esque physique. Like Harrison, who can learn from Young, Cooper, Smith and Friday, Young had a cadre of veterans to follow, including Nick Bosa, Sam Hubbard, Tyquan Lewis and Jalyn Holmes.
"Y'all seen him today," Young said on Saturday. "I'm going to stay with Zach, and he's going to keep working."
Eventually, the goal for Ohio State is to turn him into somebody as productive as Young, who is on track to become just the second player in program history to record multiple double-digit sack seasons. Few players have the physical tools of Harrison, so the next couple years will be focused on turning him into the total package as an edge rusher.
"You see him. He's strong, big, fast," Young said. "I knew it's just going to be a matter of time until he finds out what he is."
What he is, it appears, is the latest game-changing defensive end to come through Ohio State and play for Larry Johnson. And he's just getting started.