Ohio State's recruiting class of 2017 was ranked as the second-best class in the country, behind only Alabama, with an average 247Sports composite player rating of 94.59 that ranks as the best in school history.
Those recruiting efforts are paying off in a big way this year.
In the pivotal third season for that recruiting class – the final season before some of that class' biggest stars will have NFL decisions to make – more than half of Ohio State's 21 signees in 2017 are playing significant roles for the team this year, including not only some of the Buckeyes' best players, but some of the best players in all of college football.
That certainly starts with the Buckeyes' highest-ranked signee in that class: Chase Young, who has lived up to the hype and then some. Ranked as the No. 7 overall prospect in the 2017 class per 247Sports' composite rankings, Young has been one of college football's most dominant defensive players through the first half of his junior season. He ranks among the nation's leaders with 8.5 sacks – just 5.5 shy of Vernon Gholston's single-season Ohio State record.
Jeff Okudah, who was ranked just one spot behind Young as the No. 8 overall prospect in the 2017 class, is also performing up to the hype. After showing flashes of greatness in 2018, particularly in the season-ending Rose Bowl, Okudah has emerged as a lockdown cornerback this season, his first season as a full-time starter. He's been dominant in coverage, shown the ability to make big plays with three interceptions and has also been excellent coming up and making tackles in run support.
Going into this weekend's games, Pro Football Focus ranked Young as the No. 1 defensive end in college football and Okudah as the fifth-best cornerback in the nation.
In @PFF grade, the Ohio State defense has the:

- #5 DI (Jashon Cornell)
- #1 EDGE (Chase Young)
- #4 Safety (Jordan Fuller)
- #5 CB (Jeffrey Okudah)

Overall, this defense is the highest graded in all of CFB. In other words, dont sleep on this team come playoff time. pic.twitter.com/TqsP542Tp5

— Anthony Treash (@PFF_Anthony) October 10, 2019
Ohio State's 2017 class included four five-star defensive prospects who were all ranked among the top 17 prospects nationally, and all of them have played a big part in Ohio State's dominant defensive play so far this season.
Baron Browning, the No. 11 overall prospect in the 2017 class, has finally started to play up to his five-star potential this year after two underwhelming seasons to start his Ohio State career. With newfound confidence under new linebackers coach Al Washington, Browning currently ranks third on the Buckeyes in tackles (23), tackles for loss (five) and sacks (2.5) – even though he is coming off the bench and splitting snaps at middle linebacker with Tuf Borland – while showing the explosiveness of the ball that made him a top prospect.
Shaun Wade, the No. 17 overall prospect in the 2017 class, has also emerged as a big-time playmaker for the Ohio State defense this season. Playing as a full-time starter at slot cornerback, Wade has been effective in coverage while also proving to be a dangerous weapon coming downhill as a blitzer and to defend runs and screen passes. He's demonstrated the versatility to line up all over the field and has recorded 14 total tackles with three tackles for loss, two sacks and five pass breakups.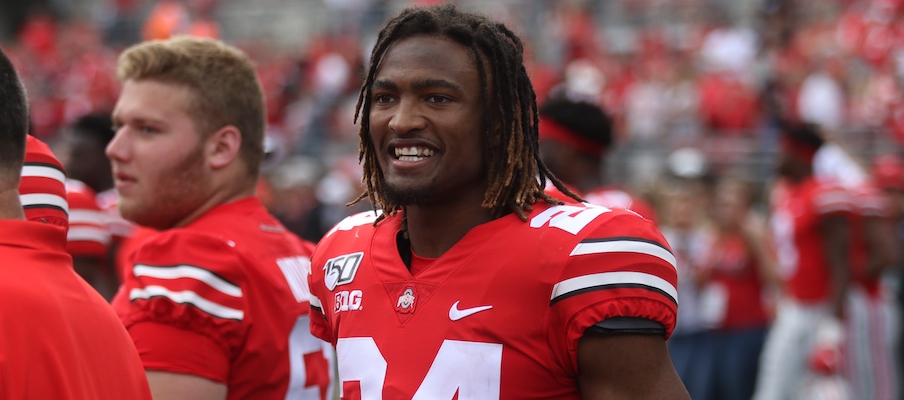 On the offensive side of the ball, the star of Ohio State's class of 2017 from game one has been J.K. Dobbins, who is in his third year as the Buckeyes' starting running back and has been one of the most productive running backs in college football so far this season, gaining 826 yards and six touchdowns on 116 carries. The No. 46 overall prospect in the class of 2017 has proven his worth since he ran for 181 yards against Indiana as a true freshman; his production dipped in his sophomore season, but he's on track for his best season yet as a junior.
Up front, members of the class of 2017 also now make up the core of Ohio State's offensive line. Thayer Munford, who was actually one of the lowest-ranked recruits in the class (No. 285 overall), is in his second year as the Buckeyes' starting left tackle and has done a great job protecting Justin Fields' blind side this season. No. 24 overall recruit Wyatt Davis and No. 53 overall recruit Josh Myers, meanwhile, are first-year starters at right guard and center, respectively; both of them have done an excellent job providing protection inside while opening up holes for what has been one of the nation's most productive rushing offenses.
Like Munford, Pete Werner was also one of the lowest-ranked members of Ohio State's class of 2017, but the No. 277 overall prospect is also a second-year starter for the Buckeyes – and like Browning, playing at a much higher level this year under Ohio State's new defensive coaches – at the strongside linebacker position.
Other regular contributors from the 2017 class this season have included No. 68 overall prospect Haskell Garrett, who has rotated in regularly at the 3-technique defensive tackle position, and Blake Haubeil, who was ranked as the fourth-best kicker in the 2017 class.
One third-year Buckeye who has surprisingly played a decreased role this year is Brendon White, as he has effectively become Werner's backup in his new "bullet" position, but his play as a starting safety down the stretch of last season – which he concluded by earning Rose Bowl defensive player of the game honors – demonstrated that he has the potential to be an impact player if his role in Ohio State's new defensive scheme increases at any point this season.
While most of the top-ranked recruits in Ohio State's class of 2017 are now starring for the Buckeyes, a few of them opted to leave the program early. No. 41 overall recruit Trevon Grimes transferred to Florida after one season, No. 56 overall recruit Tate Martell transferred to Miami after two and No. 63 overall Isaiah Pryor entered the transfer portal after four games this season.
Kendall Sheffield, who began his Ohio State career as a redshirt sophomore after coming in from the junior college ranks, entered the NFL draft after last season but was a regular in the cornerback rotation for his two years as a Buckeye.
Five lower-ranked members of the 2017 class – Jaylen Harris (No. 177 overall), Marcus Williamson (No. 182 overall), Amir Riep (No. 186 overall), Jerron Cage (No. 235 overall) and Ellijah Gardiner (No. 796 overall) – are backups who have not yet seen substantial playing time for the Buckeyes.
No recruiting class is perfect, though. The fact that a majority of the Buckeyes' 2017 signees are playing and playing well this season is a big reason why Ohio State is 6-0 and one of the best teams in college football this year.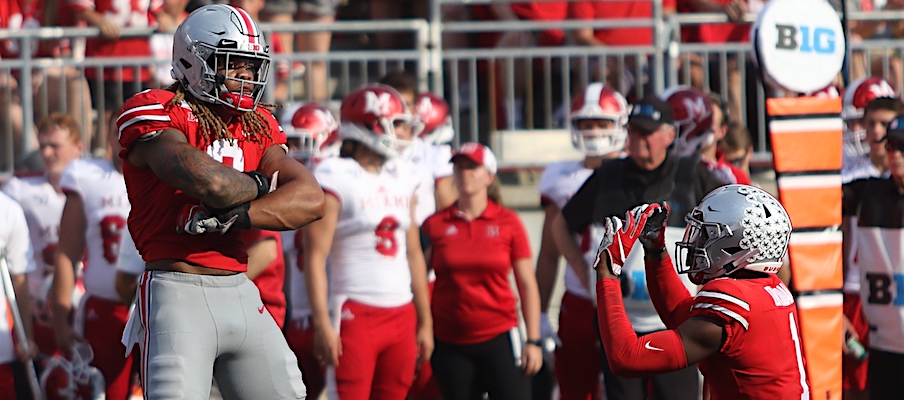 The members of that class always envisioned that this would be the year that they'd be collectively making a big impact for the Buckeyes and trying to lead the way to a championship run.
"So when we all came in, we all talked about that like freshman year, some of us probably won't play. All right, you understand that. But when we got to this moment, we always told each other that we're gonna play, we're gonna make a difference. And that was our goal, and we're here now, so we're making that difference," Wade said in a recent interview.
One recruiting class cannot make up a championship team by itself, and Ohio State's success this year has certainly been built on much more than just its class of 2017.
The Buckeyes still have some fifth-year seniors from their class of 2015 who are playing key roles including wide receiver K.J. Hill, cornerback Damon Arnette, offensive tackles Branden Bowen and Joshua Alabi, defensive tackles Jashon Cornell, Davon Hamilton and Robert Landers and long snapper Liam McCullough. Key contributors from the class of 2016 include defensive end Jonathon Cooper, wide receivers Austin Mack and Binjimen Victor, safety Jordan Fuller, tight end Luke Farrell, linebackers Borland and Malik Harrison and punter Drue Chrisman.
Second-year contributors from the class of 2018, which actually had a slightly higher overall ranking than the class of 2017 with 26 total signees, include wide receiver Chris Olave, running back Master Teague and defensive end Tyreke Smith. The Buckeyes added quarterback Justin Fields and left guard Jonah Jackson from the transfer market to fill holes that arose on their roster from Dwayne Haskins and Michael Jordan entering the NFL draft early.
No group of players is making a bigger collective impact on Ohio State this season than the third-year players, though, and that's an enormous reason why the Buckeyes have been so successful so far this year.
Excluding those who chose to transfer elsewhere, the top prospects from the 2017 class have all started to play up to their potential this season – if they weren't already – and that's exactly what Ohio State needed to have a chance to be an elite team this year.
Young, Okudah and Dobbins are among the players who are widely expected to declare for the NFL draft after this season, and others like Wade and Munford could also have reason to at least consider making the jump after this year.
For now, though, they're focused on trying to lead this year's Buckeyes to as many wins as they possibly can – and they've played a huge role in positioning Ohio State as a top contender at the midway point of the season.