The question needed to be asked.
"Does the bullet exist?"
When co-defensive coordinator Greg Mattison heard those words while standing behind a podium for his post-game interview after Ohio State routed Miami (Ohio), his eyes widened and his lips pursed, almost in disbelief.
He began his six-sentence answer by saying, "Oh, no, the bullet exists," and ended it by saying, "It definitely exists." Definitive, right?
If only it were that simple.
The offseason brought about an abundance of questions, especially about the renovation of a defense that allowed more than 400 yards and 25 points per game during the 2018 season. Even though former four-star and five-star prospects littered the field, the Buckeyes trotted out a sieve of a defense. 
Thus, as a first-year head coach, Ryan Day brought in a pair of new co-defensive coordinators – Jeff Hafley and Mattison – along with two other first-year defensive assistant coaches to team up with defensive line coach Larry Johnson. Together, they worked to reinvent a sputtering defense, and their alterations included the creation of a new position: the "bullet."
Billed as a hybrid linebacker-safety position, the bullet had a juicy name and seemed to be on the frontlines of defensive innovation. Brendon White, who came as close to saving a defense in 2018 as a strong safety can, was selected to fill the spot. With his strong finish to the season, which included winning the Rose Bowl defensive MVP, White had the pedigree and recent production to go along with his athletic 6-foot-2, 215-pound frame.
But in the first five games, White's role hasn't been nearly as large as most people – possibly including Ohio State's coaches – envisioned. Instead, Pete Werner has taken many of the snaps that once seemed destined for White, who has essentially played strongside linebacker the vast majority of his snaps to open his junior season.
Take a look at their breakdown of snaps in the first five games:
Florida Atlantic: Werner (60), White (19)
Cincinnati: Werner (35), White (15)
Indiana: Werner (41), White (27)
Miami (Ohio): Werner (32), White (16)
Nebraska: Werner (28), White (18)
To understand the bullet, it's important to realize that Werner and White have effectively played the same position: strongside linebacker. Mattison said Ohio State calls it a "regular defense" when White isn't in the game and a "bullet defense" with White on the field, but there hasn't been much of a difference between them. Werner and White line up in the same spots, execute the same blitzes and appear to be reading the same keys during plays.
"He's tremendously intelligent. He plays so aggressively and he's so unselfish."– Greg Mattison on Pete Werner
Mattison acknowledged as much after the blowout of the RedHawks.
"They do the same things in a lot of ways because one thing is Pete is a very, very good athlete," Mattison said. "Therefore, he can kind of overlap, be able to do the same things. And Brendon White is improving, so he can overlap and do those things. To answer your question, they're getting closer to being the same thing."
Following the first two games of the season, Mattison was asked whether White's snaps would increase as the season progressed, and he seemed optimistic about that happening.
"It's gonna be depending on who you're playing against," Mattison said on Sept. 10. "In other words, is this team a team that has two tight ends in the game a lot? Is this the type of team that you need a 245-pound linebacker as compared to a 215-pound athlete?"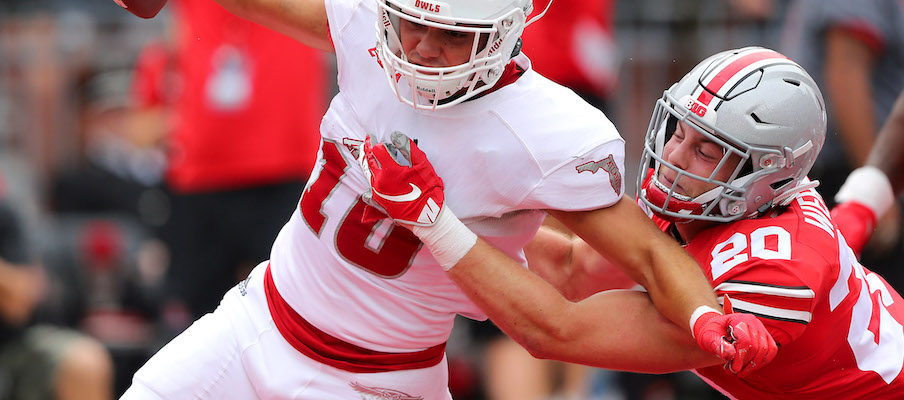 The first true test of whether the defensive coaching staff would abide by that philosophy came on Saturday when facing an athletic Nebraska offense with playmakers that included Wan'Dale Robinson and JD Spielman. It appeared to be the optimal matchup to rely more on a bullet than a linebacker.
But the Buckeyes deployed Werner for the majority of meaningful snaps against the Cornhuskers. Those personnel decisions only made what was becoming increasingly clear even more evident: White's role as the bullet will be limited this season.
It's not really an indictment of White's play but rather a realization of how much the coaches trust in Werner. By the second game of the season, Hafley and Mattison had him rotating to become the sole deep safety on a blitz that they have dialed up more than a couple times already this season.
"He's way more athletic than anybody gives him credit for," Hafley said after Ohio State beat Cincinnati on Sept. 7. "So that gives us a little bit of a weapon that he can move around and do things that you or people don't think that he can do."
The coaching staff absolutely adores Werner, a second-year starter who drew plenty of criticism in 2018. 
Before the season, linebackers coach Al Washington compared his willingness to attack and complete tasks to the Terminator, called him a "warrior" and said he has a "crazy skillset." Mattison, before he had ever coached Werner in a game, referred to him as "very, very athletic and very, very fast."
Their praise preceded results. Five games into 2019, Werner has 18 tackles, including four tackles for loss, and he has arguably developed into Ohio State's most reliable linebacker due to his versatility, athleticism and increased size. 
"Pete Werner, he's tremendously intelligent," Mattison said after Ohio State's win against Nebraska. "He plays so aggressively and he's so unselfish."
White's relative lack of snaps correlate directly with Werner's level of play and the belief he has garnered from the coaches. The coaches likely intended to more frequently mix between 4-3 and 4-2-5 alignments, but Werner has rendered that unnecessary. As White becomes more familiar with playing at the second level of the defense, his opportunities could increase as the season progresses, but that's far from a guarantee.
In future seasons, the bullet will likely become a staple of the defense's ability to mix up its personnel packages. As Day mentioned recently, Ohio State has altered its recruiting strategy to fit the new defensive scheme, including the bullet. But with Werner around, the Buckeyes haven't needed to turn to White as much as expected.
So, to ask the last question worth pondering: why not just refer to the bullet as a strongside linebacker?
"Because we love calling it the bullet," Mattison said.
Fair enough.