Conversations throughout the country about who'll be the best wide receiver in college football this fall usually center around LSU's Ja'Marr Chase, Oklahoma State's Tylan Wallace and Purdue's Rondale Moore. Alabama's DeVonta Smith and Jaylen Waddle often get thrown into the mix, and so too do Clemson's Justyn Ross and Minnesota's Rashod Bateman.
Not too often does Chris Olave's name appear in those discussions. 
If the rising Ohio State junior wideout and Brian Hartline have their way, that'll change before the 2020 season ends. Those who work within the walls of the Woody Hayes Athletic Center already consider him as such.
Olave's lasting impression to a national audience – of him kneeling in the end zone processing the miscommunication between him and Justin Fields that led to a Fiesta Bowl-clinching interception – doesn't accurately characterize him as a player. Both he and Fields so rarely made mistakes, and they developed a visceral on-field connection that increased as the season progressed. It just happened to break down at the worst time imaginable. 
But until games begin to be played again, that play is what many of those around the country who don't tune in to every single Ohio State game remember about Olave. And, to be fair, it's also what Olave has spent plenty of time thinking about.
Ryan Day, a couple of weeks after the crushing defeat, said Olave couldn't eat solid food for the three or four days following the game because "he was crushed."
"It hit him a different way," Brian Hartline said during a teleconference a couple of weeks ago. "I think that it has a chance to have a ripple effect in his career and just recalibrate – not make it any better; he already works really hard. But just to enhance what he thought he was and then be that much better. I don't know if it's coming off the Fiesta Bowl or if it's just the next step in his progression. I don't want to put everything into that. 
"I think he's very motivated on wanting to be the best player in the country and goes at it from that perspective."
Hartline didn't just create that goal out of nowhere. It's been talked about dating back to the aftermath of the loss to Clemson.
In the locker room, an emotional, dejected Olave said Fields came up to him to tell him he's one of the best wide receivers in the country and to keep his head up. Olave also mentioned that his goal is to become the nation's best wideout next season.
"Chris is the ultimate competitor," Day said earlier this year. "I love Chris Olave."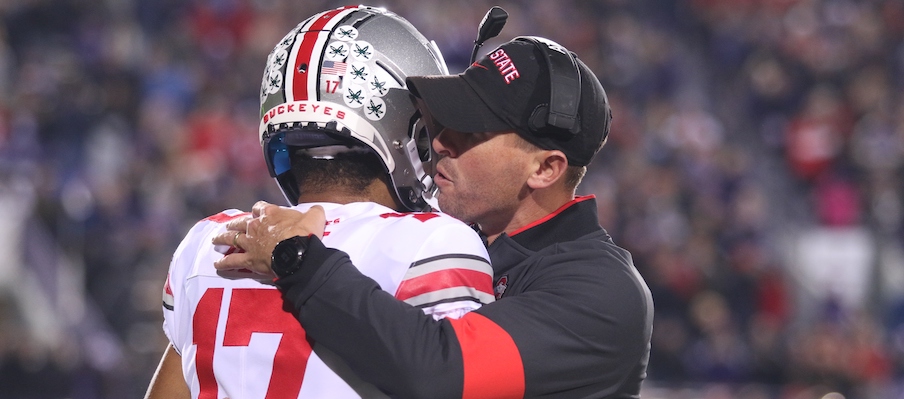 Olave's far, far removed from being the late-rising three-star receiver who Day noticed while recruiting Jack Tuttle, a one-time four-star quarterback who signed with Utah then transferred to Indiana a year and a half ago.
After breaking out late during his freshman season with two touchdowns and a blocked punt against Michigan, he ascended up the ranks to become Ohio State's No. 1 wide receiver at some point during his sophomore year. By the end of 2019, he had recorded 49 receptions for a team-high 849 yards and 12 touchdowns. Along the way he did just about everything, catching five total touchdowns against Clemson, Michigan, Wisconsin and Penn State while also blocking an Indiana punt and averaging 17.3 yards per reception as Fields' go-to downfield target.
Because of the breakout sophomore campaign, he already has a couple of reputable outlets – namely, Bleacher Report and The Athletic – already projecting him as a late first-round selection in the 2021 NFL Draft.
"Nobody cares more than Chris and I know he's going to come back even more hungry," Day said in January. "And to your point, I think to your point he's going to be a leader in that room."
Olave won't be the team's oldest wide receiver – fourth-years Jaylen Harris and Ellijah Gardiner hold that distinction – but he'll be the most veteran wideout when it comes to playing time. He was tied with Binjimen Victor for second on the team behind K.J. Hill with 507 snaps in 2020. 
Since Hill, Victor and Austin Mack are all gone to the NFL, he and Garrett Wilson will have to set the tone for the rest of their teammates. The Buckeyes have a host of talented yet inexperienced young wideouts, but especially since they missed the majority of spring camp, they'll enter 2020 needing upperclassmen to follow.
In Olave, they have that guy.
"Chris is a coach's dream," Hartline said. "At the end of the day, I'm not sure if anybody cares as much as him about himself, his brothers, his teammates, his peers. He's a great guy to coach. Very blessed by it."