"He actually coached against me when I played, then coached my brother at UMass, then we coached together at Boston College, now get an opportunity to coach against each other in a huge rivalry game, which makes it hard."

While many readers of this site may feel otherwise, it's largely accepted that Don Brown is one of the finest defensive minds in all of college football. During his four seasons in Ann Arbor, the Wolverines have routinely produced one of the nation's top defenses, finishing in the top 10 each year. 
During his first season working for Jim Harbaugh, Brown held Ohio State to just 330 yards of total offense at home before losing in overtime. A year later, that total rose slightly to just 350 yards allowed. But in the past two meetings between the Buckeyes and Wolverines, Brown has been flummoxed by his rivals' offenses, surrendering an average of 572 yards and 59 points to the scarlet and gray.
Of course, the connection between Brown and the leader of that offense, Ryan Day, is a close one going back many years. While quarterbacking the University of New Hampshire Wildcats, Day faced off against Brown's defenses at UMass (1998-1999) and Northeastern (2000-2001), going just 1-3 as a player.
The budding rivalry continued as Day moved into the coaching ranks, with Brown coming out on top in another matchup between Northeastern and New Hampshire in 2002, where Day was then a graduate assistant at his alma mater. Two years later, Day was in a similar role at Boston College while Brown had moved back to UMass as the head coach, and Day finally got another win.
By 2007, Day was BC's wide receivers coach and scored another win over Brown's Minutemen, though UMass was still an FCS school at the time. Day's winning streak continued when Brown left UMass for the defensive coordinator role at Maryland in 2009, though Brown and the Terrapins got one back in 2010. 
In 2012, Day spent a year working for Steve Addazio at Temple, where the Owls faced off against the Connecticut Huskies, where Brown had moved to a year prior. The Owls scored a close, 17-14 win in overtime, but the two New England natives would finally be united on the same squad the next year when Addazio hired each to be his coordinators at Boston College in 2013.
All in all, Day and Brown were tied with four wins apiece against one another before they become co-workers. In the two years the duo spent coaching together in Chestnut Hill, Day gained an intimate understanding of Brown's playbook, which remains largely the same today. 
"I'll say this: nobody gives more looks than Don Brown when it comes to different looks," Day noted before The Game last November. "He takes a lot of pride in that. I know that. Over the years his different teams, they'll play more zone than man, they'll play more man than zone. What he does a great job of is he puts his guys in positions to be successful."
While many remember Chris Olave and Parris Campbell leaving defenders in the dust during the 2018 rendition of The Game, Day noted that not all of it came against man-coverage.
Brown employs a number of zone schemes, most notably a Cover 2-Trap variant he referred to as 'Eagle' while at BC. As seen from last year's tilt in Ann Arbor, the deep 1/2 safety to the boundary is able to easily fill against the Buck Sweep called by Day, stopping the outside run for little gain.
Despite often calling this Cover 2-Trap and a three-deep match concept known as Raider, Brown's bread-and-butter is known as 'City' coverage, which looks like a simple Cover 1 man-scheme but does much more. "I don't know where I'd be without City Coverage," Brown told coaches as the Lone Star clinic last year.
Starting from a 2-high look, City allows the safeties and inside linebackers to swap responsibilities based on alignment and post-snap pass routes. While the corners are locked onto the outside receivers and the SAM mans up with an in-line tight end, the slot's coverage is based on his alignment while the linebackers read the back's release.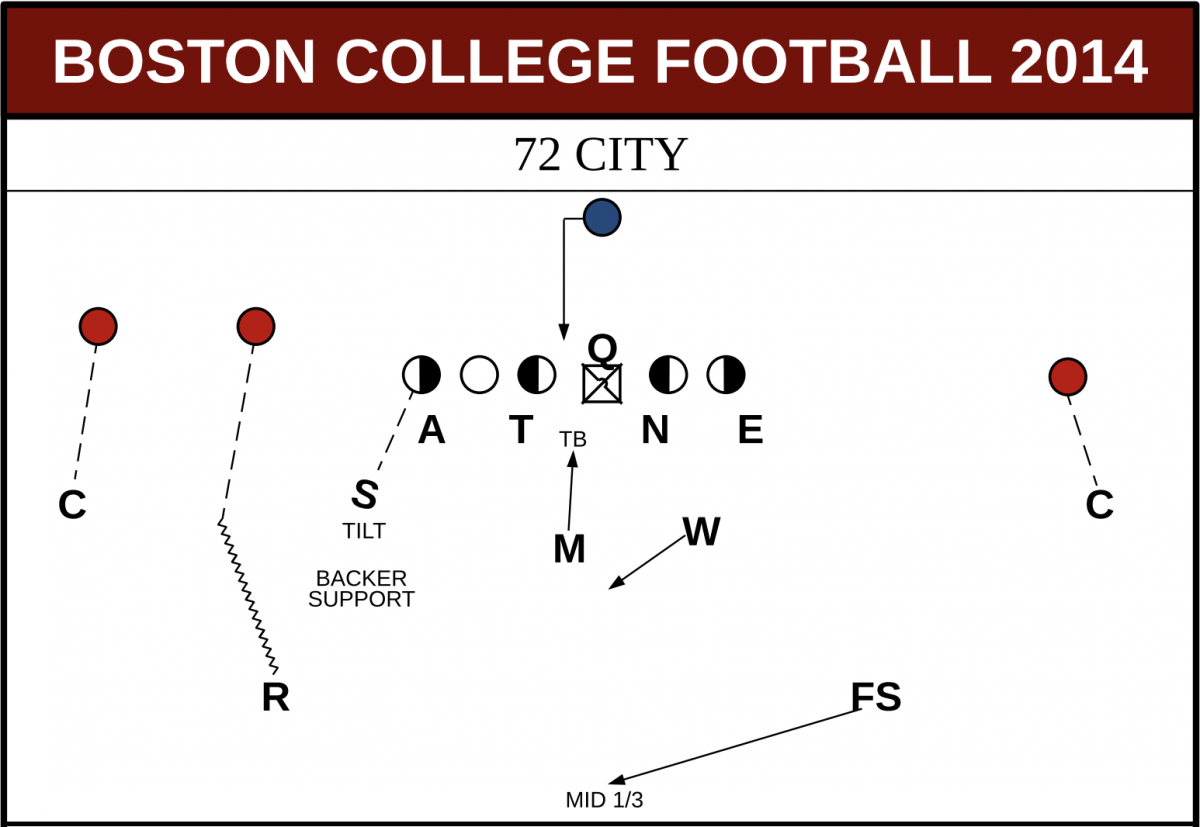 C: Outside man #1 with post help 
C: Outside man #1 with post help
R: Rotate to slot M/M. Middle 1/3 if slot is away from you
F: Rotate to slot M/M. Middle 1/3 if slot is away from you
S: Man-to-man on TE
M: TB releases to your side: man-to-man. TB releases away: 'Low Hole' zone
W: TB releases to your side: man-to-man. TB releases away: 'Low Hole' zone
With these reads in place, every defender except the corners has eyes in the backfield, making it a very effective call against the run. But it also leaves the coverage players on an island.
On the very next snap following the stuffed Buck Sweep, Day called it again, though from a different formation. After a quick, initial look at the defense's alignment, Day recognized Brown's defense was in City coverage.
Instead of having a post-snap read, as was the case on the previous play, quarterback Justin Fields had a pre-snap decision and saw the matchup he wanted. With the defenders at staggered depth, the Buckeye receivers executed a perfect Smoke concept, with the two interior players clearing space for the outside receiver to run a Now route and turn upfield quickly with the ball.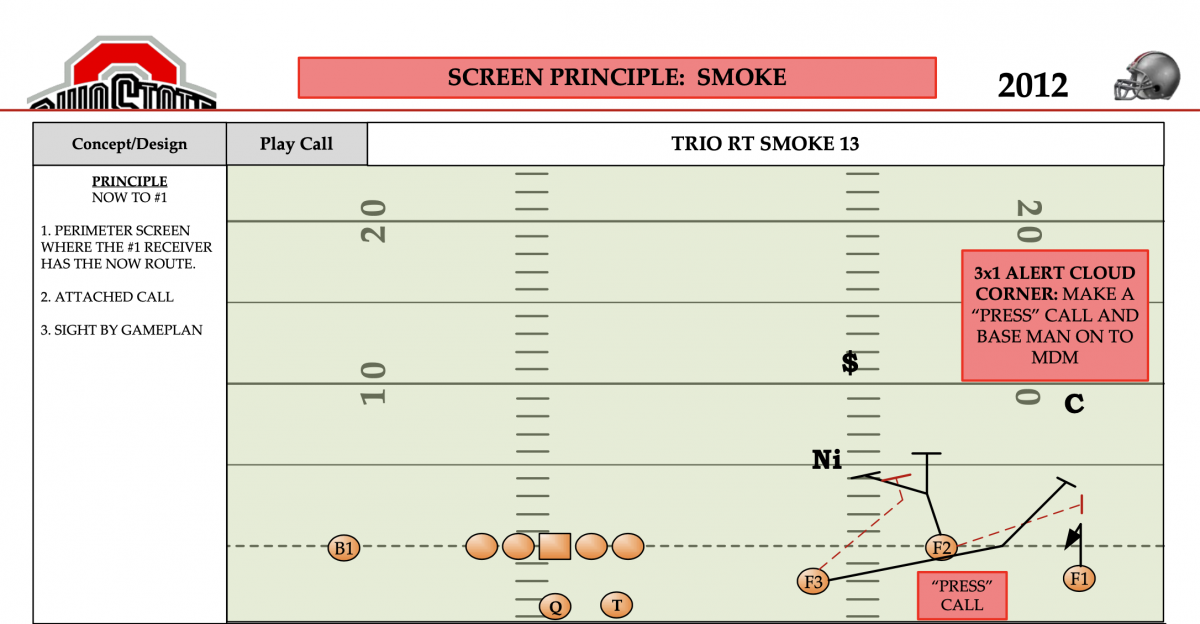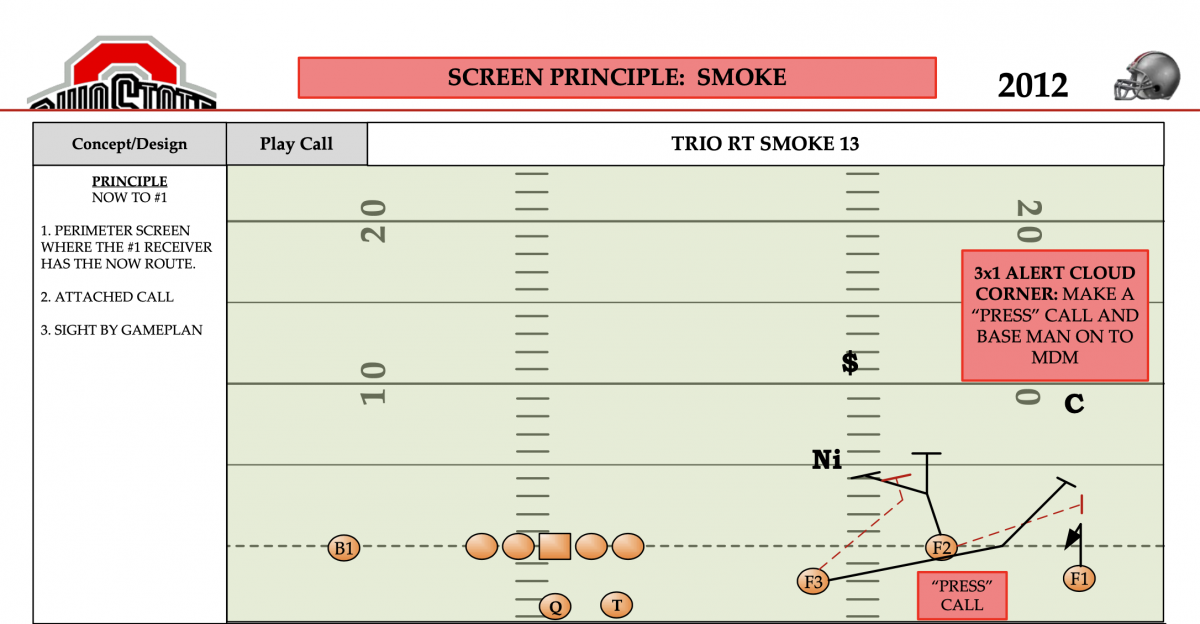 After using the screen concept to carve out a sizable gain and moving the chains, Day would put the play in his back pocket for later in the game. It wouldn't be until two quarters later when Fields returned to the field after suffering a knee injury in which Day unfurled the counter to the Smoke screen, with the two inside receivers releasing downfield after feigning their blocks.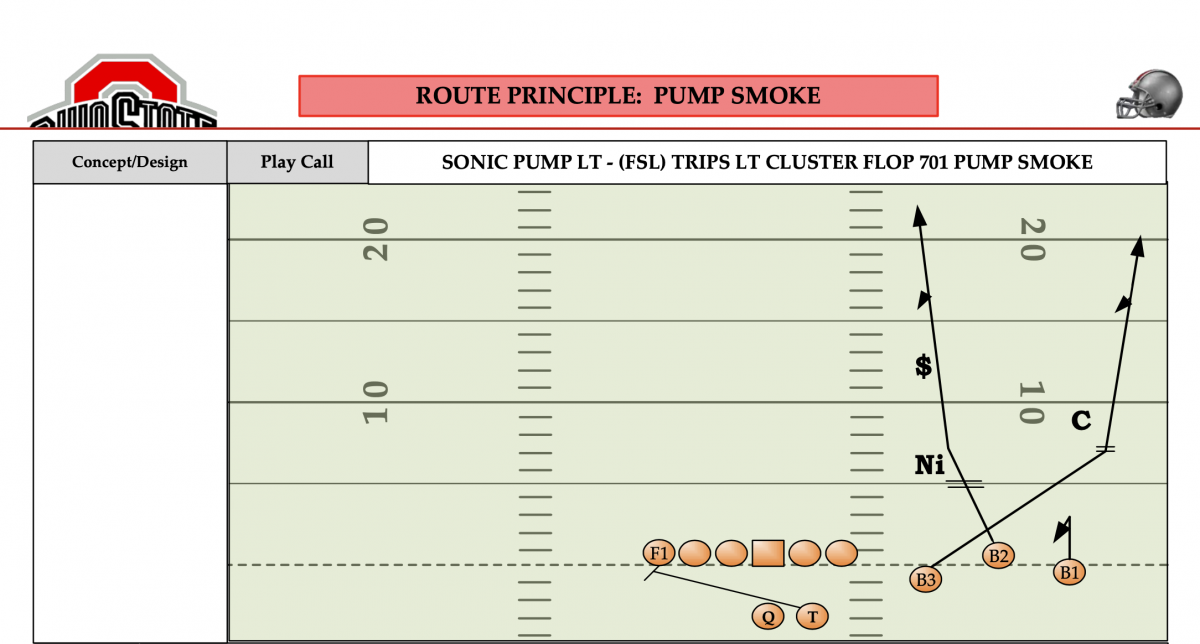 While the initial screen attacked the man-coverage provided by City, this pump-and-go concept attacked the deep safeties in zone coverage. While the safety to the field recognized the deep route down the boundary from K.J. Hill, the boundary safety was late in seeing Garrett Wilson release down the seam, giving Fields a wide-open target downfield.
Though the deep ball from a hobbled QB certainly felt like the nail in the coffin, Day wasn't finished. In the fourth quarter, already up by three scores, he went back to the "Pump-Smoke" concept again, this time against Brown's City coverage. However, thanks to all the commotion at the line of scrimmage, two defenders followed Hill as he released, leaving no one on the original screen target, Austin Mack.
One major reason Day was able to manipulate Brown's coverages was the manner in which his offense varied its tempo. When there was a mismatch in the offense's favor, Day would turn up the pace, racing to the line and calling a play before Brown could either substitute or audible. 
Most of the time, though, the Buckeyes would race to the line in one look, only to pause and look toward the sideline where Day would relay new instructions. Though Brown would often counter Day's reaction with one of his own, it's evident that Day and his staff were not only capable of quickly diagnosing Brown's plans but had the correct counter ready at a moment's notice.
Nothing epitomized the cat-and-mouse game between the two play-callers than a quick snap in the second half in which the Buckeyes appeared to pause and look to the sideline before rushing to the line and uncorking a deep ball as the defense sat back on its heels.
If Olave had not dropped the perfectly thrown pass, this play might've lived in infamy amidst the storied history of the rivalry. But even though it wasn't executed properly, it showed how Day is always looking for a leg up against a coach with whom he's extremely familiar.
"Nothing but respect obviously for his background and what he's done defensively over the years," Day said of Brown before administering the second beatdown in as many years. "One of the best guys in the business."