It's easy to get carried away.
Talent, beginning with returning Heisman Trophy finalist Justin Fields taking snaps from second-team All-Big Ten honoree Josh Myers, litters Ohio State's passing attack. 
One of his top two returning wide receivers, Chris Olave, caught 12 passes last season. The other, Garrett Wilson, was a five-star recruit and the second-rated wideout in his class. Four top-100 overall prospects joined the program in January to add an influx of gifted pass-catchers. A collection of other four-star and five-star receivers are back to round out the room, too. The team's two best tight ends – Luke Farrell and Jeremy Ruckert – both return, and they'll play alongside what has a chance to be the nation's best offensive line.
Since Ohio State no longer has J.K. Dobbins in its backfield, there also might be increased opportunity. Last year, Dobbins set the program's single-season record for rushing yards. This fall, a Trey Sermon-led running back-by-committee approach might be in store. It's been theorized that what Fields does through the air might be even more important in 2020 than in 2019.
Undoubtedly, with a wealth of talent and Fields and Ryan Day at the helm, the Buckeyes should have a fearsome passing game. But given the relative lack of experience from the wideouts, it's fair to wonder who will turn into a starter, become Fields' third option and stand out from the pack. 
Among the returners, it's Olave, Wilson, a sizable gap, then everybody else.
Olave, who should be an All-American candidate in the fall before bolting for the NFL, had 49 catches, leading the team with 859 receiving yards and 12 touchdowns. Wilson added 30 catches for 432 yards and five touchdowns. They're two of the most talented wideouts to come through Columbus in recent years, and both are widely expected to be Fields' two favorite targets in 2020.
Though Ruckert caught 14 passes and Farrell snagged seven balls last year, no other returning wideout had more than six receptions a year ago. Not Jameson Williams, Jaelen Gill, Demario McCall or Jaylen Harris. Nobody.
So, who, if anybody, will make a leap and become both a starter and Fields' third-favorite target? 
To some extent, it's a fruitless exercise. Ohio State's offense isn't necessarily built for Fields to have a go-to wideout, let alone a clear top three – even though it'll have three regular starters. Rather, both Day and Brian Hartline prefer to double that number of starters since they've heavily rotated two players at Z receiver, X receiver and H-back in most years they've been coaching the Buckeyes.
"We're going to rank our top six wide receivers and figure out who are the top six," Day said in January. "And whoever those top six are, they're going to get on the field. And what you don't want to do is just pigeonhole a guy – you only play this position and have three really good players at one position and only one is on the field. We'll look at that here as we move into the spring."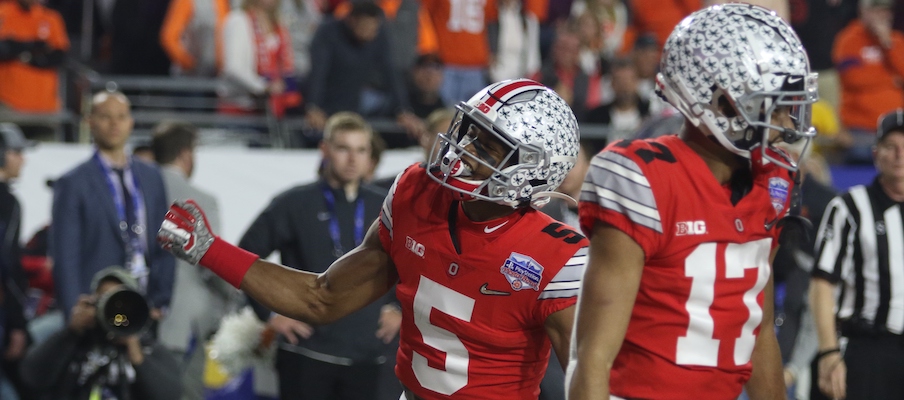 Though Day and Hartline will undoubtedly try to make a six-receiver rotation happen, whichever wideout starts alongside Wilson and Olave will have more opportunities and, in all likelihood, play the third-most snaps among those at his position. Last year, Binjimen Victor was the beneficiary, finishing tied for second among wide receivers with 507 snaps and third with 35 catches for 573 yards and six touchdowns.
Starting still matters, and Jameson Williams and Jaylen Harris might have the inside tracks as Hartline looks to replace K.J. Hill, Austin Mack and Victor.
A speedster, Williams legitimately might be the fastest player on a team loaded with athletes. He only got a chance to show off the burners once as a freshman, racing for a 61-yard touchdown against Miami (Ohio), but he only needed to do it once to get the imagination of onlookers racing. At 6-foot-2 and 188 pounds, he's also got plenty of size to go along with his 4.4-second speed. Williams, a rising sophomore, only had six catches for 112 yards and a touchdown last season. In becoming a starter, he'd be making a massive jump.
So, too, would anybody else in that role, though, including Harris.
In what feels like a blink of an eye, Harris is now a senior. The Cleveland Heights graduate has five career receptions and only caught one pass last year. Yet as a veteran, he opened the spring taking first-team reps, and because of the turnover at his position, he could realistically go from a one-catch junior season to starting in his last year in the program. At 6-foot-5 and 215 pounds, his frame
Beyond Williams and Harris, a cadre of others – including Julian Fleming, Jaelen Gill, C.J. Saunders, Demario McCall and Jaxon Smith-Njigba – round out the other starting options. All of them, though, have significant question marks surrounding what they'll be able to offer in 2020 and whether they're in line to possibly have such a significant role in the offense yet.
Fleming and Smith-Njigba were five-star prospects, but they're also freshmen who have never played a snap and only got to participate in three practices during the spring. Gill had a prime opportunity at slot receiver last season and couldn't secure the spot, making it hard to know whether or not he's ready for the big stage. Saunders hasn't even gotten his approval for a sixth year yet, and he missed the entirety of the 2019 season with an injury. McCall, even as a fifth-year senior, doesn't have a set position.
Across wide receiver, Ohio State has overwhelming talent. Hartline has done a remarkable job filling the room with players who should become top-flight wideouts.
Many of them, though, are inexperienced and none got a full spring, so it's hard to project who'll become the third starter.