Throughout the course of the offseason, Eleven Warriors is taking an in-depth look at the state of every position group at Ohio State.
Larry Johnson hasn't ever had a shortage of talent at defensive end, and that's not about to change this fall. 
Outside of Jonathon Cooper, the Buckeyes bring back all of their edge rushers, including a trio of fourth-year veterans – Tyreke Smith, Tyler Friday and Javontae Jean-Baptiste – who've been rotational players and junior Zach Harrison. And they're joined by incoming freshmen Jack Sawyer and J.T. Tuimoloau who just so happen to be the two highest-rated recruits to ever pick Ohio State.
Not too shabby.
What should be expected of the Buckeyes' defensive ends in 2021 and beyond? Let's dig in.
The Personnel
Tyreke Smith: A fourth-year from Cleveland. Smith is expected to be a full-time starter this fall in what should be his last go-round before moving on to the NFL. So far, his career in Columbus has been defined by potential rather than production, since he has recorded five sacks in three seasons. He gets off the ball quicker than anybody else at his position and at 6-foot-3 and 260 pounds physically looks like an NFL player. It'll be important, both for himself and for his team, to increase his sack total this season.
Javontae Jean-Baptiste: A fourth-year from Spring Valley, New York. Jean-Baptiste has been a part of Johnson's defensive rotation the past couple of seasons, though much like Smith, he's been an unfinished product. He put on weight and looks like a borderline superhero but he's still working on the finer details of the position. He'll be in the mix once more this fall.
Tyler Friday: A fourth-year from Ramsey, New Jersey. Friday played more snaps than Harrison and just a few fewer snaps than Smith last season before an undisclosed injury caused him to miss three games, sidelining him for an important stretch. So, don't discount how much he'll be relied upon in 2021. He has more inside-outside positional flexibility than the other vets. But with three sacks in three years, he'll need to take some steps to hold off the talented freshmen from eating into his snap count.
Zach Harrison: A third-year from Lewis Center. Harrison has all-world athleticism and showed it in spurts as a sophomore. His goal this fall will be to take a leap and become the vaunted edge rusher he's always had the potential to turn into. He was a five-star prospect ranked as the No. 12 overall recruit in his class but has only 5.5 sacks through two seasons. There were positive signs in the spring which he'll try to translate when the season comes around.
Cormontae Hamilton: A third-year from Memphis, Tennessee. Hamilton's now more than a year removed from transitioning from tight end to the defensive line. Thus far, he's been a non-factor, having played 16 defensive snaps last season. With four vets ahead of him on the depth chart and two studs coming in as freshmen, he's getting squeezed on the depth chart. If he's ever to make an impact in Columbus, he needs to show progress this season.
Darrion Henry-Young: A second-year from Cincinnati. Henry-Young spent almost the entire 2020 season on the bench, getting into the requisite shape and learning behind a slew of upperclassmen. He's unlikely to be a significant contributor in 2021 but could be in line for a bigger role in 2022, which is what makes this fall important. 
Jack Sawyer: A first-year from Pickerington. Sawyer originally committed to Ohio State two and a half years ago. He's the No. 4 overall prospect in 2021, and he showed why with his four sacks in the spring game. As a prototypical defensive end who's physically ready for this level and has been working with Johnson for years, he's ready to make a significant impact in Year 1.
J.T. Tuimoloau: A first-year from Sammamish, Washington. Tuimoloau, the most recent addition to the team, is the No. 3 overall recruit in the 2021 cycle. His well-publicized commitment finally happened on Sunday with him picking Ohio State over Oregon, Washington and USC. He's expected to be on campus shortly, then he'll try to integrate into workouts and carve out an immediate role.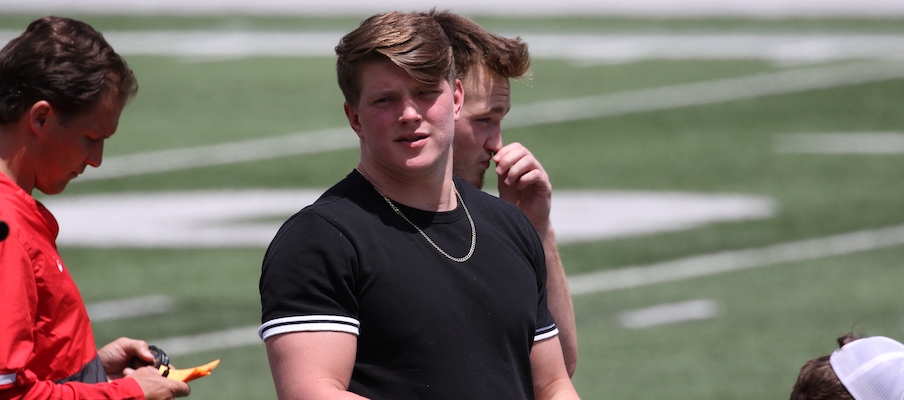 Outlook In 2021
It's easy to get hyperbolic when you talk about Ohio State football, but even understanding that, it's hard for a position group to have a higher ceiling than these defensive ends.
Now, will they touch the ceiling? That's a different question entirely.
Harrison hasn't come close to what Mickey Marotti once called a "12-foot basement ceiling." Smith and Friday have both dealt with injuries throughout their time in Columbus and haven't broken out yet. Jean-Baptiste has all the physical tools but hasn't produced at a high level so far. As freshmen, Sawyer and Tuimoloau haven't even put on pads in a game for this team.
State of the Position
At some point, one would imagine the numbers game comes into effect. Given the amount of pure talent at defensive end, at least some of these guys will take leaps this fall, right? That's a reasonable expectation.
Exactly how productive the pass rush largely depends on how many of those leaps happen, just how much better the upperclassmen look and how ready the freshmen are for major roles off the bat. 
Perhaps the two most important defensive ends are Harrison and Smith, the duo which is presumed to start. 
Harrison seemed to be on the Chase Young-Bosa brothers track up until last season when he wasn't as dominant as expected. Talent-wise, he has the potential to become a menace and graded out well last season by Pro Football Focus. But he wasn't somebody opponents had to game plan specifically to shut down or someone who regularly required extra resources to block. This year, it's important to Ohio State – and to him as a budding NFL draft prospect – to turn into that type of guy. Smith, as well, has shown flashes of greatness. Johnson said this spring that he has "got a chance to be a really special defensive end." He needs to both stay healthy and get more consistent this season as a pass rusher to take the next step.
Outside of those two, Sawyer and Tuimoloau are the most interesting options at defensive end, even if both are freshmen.
Sawyer was nothing short of unstoppable in the spring game, and afterward Ryan Day essentially said the Buckeyes see that every day in practice. There's a legitimate chance that despite being a true freshman, he's the best defensive end this year. Expectations for Tuimoloau should be lower, at least for Year 1, since he's coming into the program much later. But somebody as gifted athletically as him should find a way to get onto the field in some capacity.
Friday and Jean-Baptiste will again be in the rotation. With Sawyer and Tuimoloau coming, they'll have to take some steps forward to avoid the first-years eating into their snaps.
Henry-Young and Hamilton have uphill battles to get onto the field in 2021.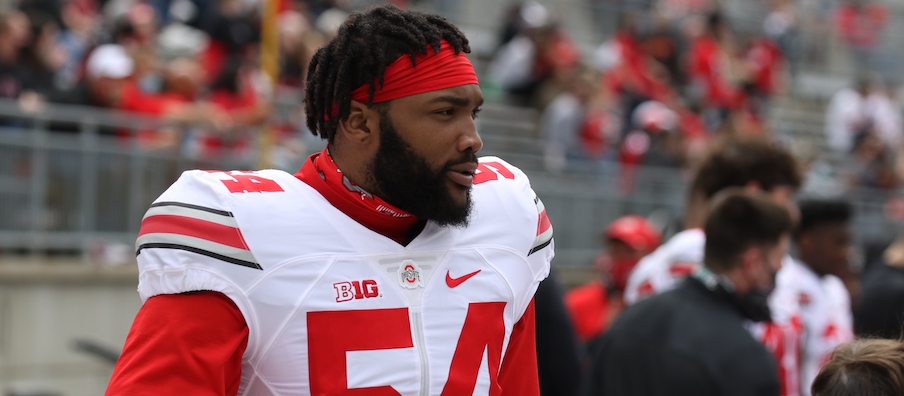 Long-Term Outlook
Projected Depth Chart In 2021
DE: Zach Harrison, Jack Sawyer
DE: Tyreke Smith, Tyler Friday
Projected Depth Chart In 2022
DE: Jack Sawyer, Javontae Jean-Baptiste
DE: J.T. Tuimoloau, Tyler Friday
Projected Depth Chart In 2023
DE: Jack Sawyer, 2022 signee
DE: J.T. Tuimoloau, Darrion Henry-Young
Things at defensive end going forward are pretty, pretty good for the Buckeyes.
This fall, Ohio State is legitimately three deep with Harrison, Smith, Sawyer, Friday, Jean-Baptiste and Tuimoloau. Those are four upperclassmen and two freshman studs. 
Looking further ahead, there are several things to pay attention to.
Do Friday and Jean-Baptiste stay for 2022? If both leave ahead of their possible fifth seasons in college, the Buckeyes would have an exceptionally young unit in 2022. It'll be helpful for this team if even one of them chooses to remain at Ohio State beyond this season. 
What will Henry-Young and/or Hamilton turn into? The Buckeyes don't have a ton of underclassmen at the position. One or both of these guys will need to be rotational players as soon as 2022.
What will the 2022 recruiting class of defensive ends look like? This is a major question that Johnson, given his history, will probably find a way to answer in a more than acceptable manner. The Buckeyes could lose as many as four ends after this season and need to restock the position in the 2022 recruiting cycle in a big way. Enai White, Omari Abor and Kenyatta Jackson are possible options.
All of those are interesting things to monitor. 
But as long as the Buckeyes know they have Sawyer and Tuimoloau on the roster, they can breathe easy. They'll be in Columbus for three years and have the potential to reach heights as a duo of defensive ends that few others have.