Throughout the course of the offseason, Eleven Warriors is taking an in-depth look at the state of every position group at Ohio State.
The cornerbacks in Columbus has long claimed the title "Best In America." Many years, it's been an accurate description. Not last year.
Ohio State's defensive backfield, including the cornerbacks, got torn apart in 2020. The focus there, ever since Mac Jones, DeVonta Smith and Steve Sarkisian did to the Buckeyes whatever they wanted, has been to fix what went wrong on the back end of the defense. 
At cornerback, for defensive coordinator Kerry Coombs and secondary coach Matt Barnes, that begins with Sevyn Banks, Cameron Brown and company. 
What will a Banks and Brown-led cornerback room look like in 2021? How does it set up in future years? That's what we're here to discuss.
The Personnel
Demario McCall: A sixth-year from North Ridgeville. Yes, he's apparently going to play cornerback this fall – though there's plenty of time for that to change. McCall, after a half-decade at running back and wide receiver for Ohio State, moved to the defensive side of the ball in the spring. He has no prior experience at cornerback, so there's a massive uphill battle ahead to see the field at all.
Marcus Williamson: A fifth-year from Westerville. Williamson stuck it out at Ohio State despite once thinking of quitting, and he was rewarded with a year of starting last season. To remain a starter, though, he'll have to hold off some of the younger players who've been making pushes this offseason. Williamson said the plan for him is to be more of a slot corner than a second safety this season. He's undersized at 5-foot-10, making that an ideal role for him.
Sevyn Banks: A four-year from Orlando, Florida. Banks was touted by Greg Schiano early in his Ohio State career as possibly the next great corner to come out of the program. He was a backup for two years then started across from Shaun Wade last season, enduring an up-and-down season. Still, he showed enough to find himself in the first round of many early 2022 NFL mock drafts. If Ohio State is to have an improved defensive backfield this year, getting him to that level would be a big deal.
Cameron Brown: A fourth-year from St. Louis, Missouri. Brown began last season as the nickelback in Ohio State's defense but seemed on track for securing an even larger role. However, he suffered a torn Achilles that prematurely ended his season and has left him to spend much of this year rehabbing. Provided he begins the season healthy, he's a popular pick to be a starter on the outside across from Banks. He's perhaps the fastest cornerback on the team.
Lathan Ransom: A second-year from Tucson, Arizona. Ransom began his Buckeye career as a safety and could still end up there, but he played slot cornerback last year and impressed in the postseason. He's a candidate to push Williamson for the job he laid claim to a year ago. Ransom had coaches and teammates buzzing about him in the spring, making him a possible breakout player.
Ryan Watts: A second-year from Little Elm, Texas. Watts, at 6-foot-3 and 203 pounds, is the biggest cornerback on Ohio State's roster. He has used his size and physicality to make a push up the depth chart and, as preseason camp nears, has a legitimate chance to win a starting job, especially if Brown needs more time to come back from his injury. The Buckeyes could soon start benefiting on the field from their flip of Watts from Oklahoma.
Lejond Cavazos: A second-year from San Antonio, Texas. Cavazos, one of the better pure athletes on the team, has had to improve the finer points of his cornerback technique and will have a chance to show what he's learned this fall. He dealt with an undisclosed injury last season and didn't see the field at all as a true freshman. He'll try to show that it wasn't a setback this fall as he tries to figure out how to become a rotational piece at cornerback.
Cameron Martinez: A second-year from Muskegon, Michigan. Martinez turned some heads this spring with Barnes listing him in April as one of the most improved players of the offseason. He played quarterback in high school, meaning he wasn't expected to be an immediate-impact defensive back. But if he's already showing signs of notable progress, there's no reason to discount his chances of playing meaningful snaps in 2021. He's most likely a slot corner, though, which means he has Williamson and Ransom to deal with.
Jordan Hancock: A first-year from Suwanee, Georgia. Hancock was one of the Buckeyes' biggest recruiting wins of the 2021 cycle considering they flipped him from Clemson. That almost never happens. And it couldn't have come at a more important position. Hancock was the No. 72 overall recruit and fifth-best corner in the 2021 cycle.
Jakailin Johnson: A first-year from St. Louis, Missouri. Johnson is the latest high-end athlete from the Gateway to the West to end up in Columbus. Together with Hancock, he gives the Buckeyes a pair of top-100 prospects at cornerback, replenishing the position in an important recruiting cycle. He was ranked the 49th-best overall recruit and No. 3 cornerback in the 2021 class.
Denzel Burke: A first-year from Scottsdale, Arizona. Burke walked onto campus for the first time in January a month after signing his National Letter of Intent, having pledged his service to Ohio State without any visits. He's played several positions and was once thought to be a wide receiver but will end up at cornerback in college. He was the No. 195 overall recruit in his class.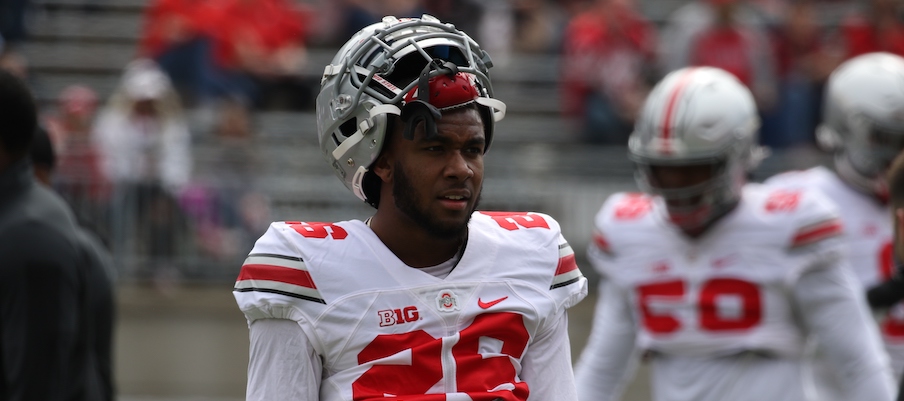 Outlook in 2021
There's only one certainty, so it's worth starting out there.
Banks will be the top cornerback on Ohio State's roster, taking over for Wade who's off to the NFL. There's no debate about the role he'll play on this defense. He's arguably the most important player on this side of the ball, given both his responsibility as the No. 1 corner and the question marks surrounding him in the secondary. If Banks doesn't rise to the occasion, the Buckeyes could be in for a world of hurt. But if he does? If he's the guy who actualizes the first-round draft pick projections? That would be, obviously, huge. It's a massive part of reclaiming BIA status.
State of the Position
Other than Banks, many of the questions center around personnel decisions. 
For one, will Brown be fully healthy and ready to go when it all kicks off? And if so, is it best for him to be a full-time starter or would it be optimal for the Buckeyes to roll with a three-man rotation on the outside? Brown's an X-factor in this secondary. He's not a guy who's had a lot of people talking about him this offseason, but he's in his fourth year in the program and is in line for his first-ever starting role. Ohio State would love to be able to count on him for consistently strong play across from Banks.
If either Brown isn't fully back from his Achilles injury or the Buckeyes don't want to make him an every-down cornerback right off the bat, they could choose to have somebody else rotate with him on the outside. That's nothing new for Coombs, who implemented a rotation on an annual basis during his first stop in Columbus. Watts would be the most likely candidate for rotational duty, with Cavazos being another option. They're largely unproven thus far in their careers, but Ohio State has to be willing to take risks to get the best guys on the field in the secondary.
There's a legitimate path for the three freshmen – Hancock, Johnson and Burke – to get some playing time. Hancock and Johnson are both former top-100 recruits and Burke had some strong impressions this spring. All three freshman outside cornerbacks, though, need to have strong preseason camps to make that a reality. Hancock and Johnson didn't get on campus until this summer, giving them a short runway until the season kicks off.
At slot cornerback, there are three names to know: Ransom, Williamson and Martinez.
Williamson's the incumbent, having started in the slot in 2020. But he'll need to show out in preseason camp to hang onto the job because the pair of second-years are making pushes. Ransom, who came in as a safety, played slot cornerback/cover safety in the postseason to rave reviews from the coaching staff. He remained at the spot this spring and might be somebody who's simply too good to keep off of the field. 
The Ransom-Williamson battle is a classic competition between an experienced veteran versus an up-and-coming young potential star. Martinez is in the mix as well, though he's generally regarded as the least likely of the three to play major snaps at inside cornerback in 2021.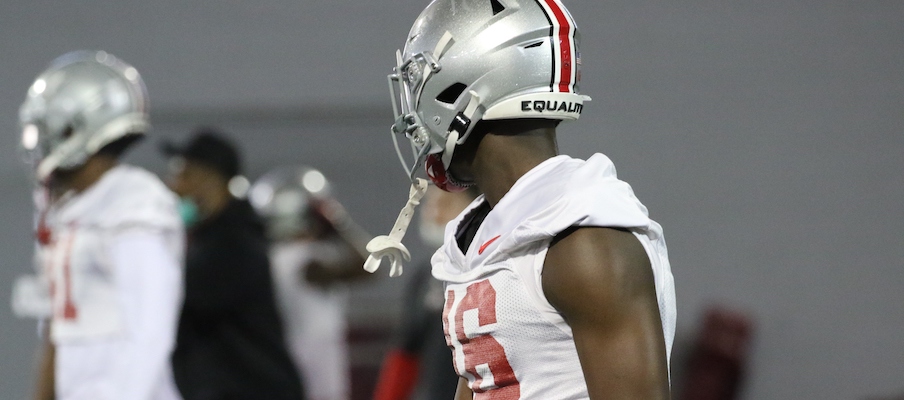 Long-Term Outlook
Projected Depth Chart in 2021
CB: Sevyn Banks, Ryan Watts
CB: Cameron Brown, Lejond Cavazos
Slot CB: Lathan Ransom, Marcus Williamson
Projected Depth Chart in 2022
CB: Cameron Brown, Lejond Cavazos
CB: Ryan Watts, Jakailin Johnson
Slot CB: Lathan Ransom, Cameron Martinez
Projected Depth Chart in 2023
CB: Ryan Watts, Jordan Hancock
CB: Jakailin Johnson, Lejond Cavazos
Slot CB: Cameron Martinez, Terrance Brooks
In 2021, Ohio State will have to get by with some uncertain depth. Yes, there are a good number of options at its disposal, but many players are both young and unproven. 
By 2022, and especially by 2023, this room should be in an entirely different – and better – place. Coombs and Barnes, through their 2020, 2021 and 2022 recruiting classes, have the cornerback position trending in a positive direction. 
In fact, by 2023, it's basically impossible to project what the depth chart will look like given the talent that'll make up the unit. By then, the room could return Watts, Cavazos, Hancock, Johnson, Martinez, Burke, Jaheim Singletary, Ryan Turner, Terrance Brooks and Jyaire Brown and welcome another slew of incoming freshmen. It feels wrong, for example, not to have a second-year Singletary on the two-deep projection in 2023, but would he be ahead of a fourth-year Cavazos or a third-year Hancock or a third-year Johnson? Hard to know right now  
In short order, the Buckeyes could – and should, based on the way they're recruiting – be loaded at corner.
Therefore, it'll be pertinent for guys like Watts and Cavazos to make an impact in 2021. Otherwise, they'll risk getting passed up by younger players who aren't lacking for talent whatsoever. Even the freshmen – Johnson, Hancock and Burke – will want to make a name for themselves early. That feeling like you need to compete all the time? That's a sign of a healthy position group, and it should be felt in the not-too-distant future.
Most of the Buckeyes' questions and concerns are about the present situation, not the future. The way Coombs recruits, that shouldn't surprise anyone.