Throughout the course of the offseason, Eleven Warriors is taking an in-depth look at the state of every position group at Ohio State.
There's turnover, and then there's whatever you call what's happening at linebacker right now.
Ohio State is in the position of needing to replace all three of last season's starters (Baron Browning, Pete Werner, Tuf Borland) and its top backup (Justin Hilliard). The outgoing seniors all bounced for the NFL, leaving Al Washington with an entirely new crop of players to turn to.
So, what does the 2021 linebacker situation look like, and how will this group play in future years? That's what we're diving into today.
The Personnel
Teradja Mitchell: A fourth-year from Virginia Beach, Virginia. Mitchell came into the Ohio State program as a near-five-star prospect but has had to wait his turn. Now a senior, he's the likely starter at Will, which he has played the past couple seasons. Mitchell is known as a "thumper" who should be able to make an impact defending the run. Provided he wins the starting job, the next question for him to answer is whether he can be a three-down 'backer.
Dallas Gant: A fourth-year from Toledo. Gant walked into the year as the projected starting middle linebacker but a foot injury that sidelined him for spring camp made that a bit less of a certainty. He's still in an enviable position, having played more snaps than all of the returners outside of Mitchell, but he'll want to have a strong preseason camp. Thus far, Gant has served entirely in a backup capacity at Ohio State.
K'Vaughan Pope: A fourth-year from Dinwiddie, Virginia. Pope is facing an important preseason where he'll have to show that he deserves a spot in Washington's rotation and, more importantly, that he's worth playing over the bullets. If the Buckeyes truly do go with their bullets on a regular basis, that would take away snaps from the strongside linebacker, which is Pope's position. After playing just 17 defensive snaps last year, this is a big prove-it season for the senior.
Palaie Gaoteote: A fourth-year from Las Vegas, Nevada. Gaoteote isn't officially on the team yet but all signs point to him joining the Buckeyes. He was recently pictured in a photo sent on social media channels by the team and is in the student directory. It seems to be just a matter of time. Provided he makes the transfer from USC official, he wouldn't immediately become a starter but would be at the forefront of the competition. He'd likely slot in at the two inside linebacker spots – Mike or Will – as a starter or rotational backup. He recorded 105 tackles, including 7.5 tackles for loss and two sacks, in his three years with the Trojans. He has two years of eligibility remaining.
Tommy Eichenberg: A third-year from Cleveland. Eichenberg redshirted as a freshman then played six defensive snaps as a redshirt freshman. He's still early in his development, but Washington said earlier this year that he believes he'll eventually turn into an "elite" player. If that happens, it'll come at Mike or Will. Once more, he's facing an uphill battle to crack the rotation this fall.
Steele Chambers: A third-year from Roswell, Georgia. Officially, Chambers is still a running back. Neither he nor the coaching staff has said he's destined for linebacker. But he was photographed with Washington's position group recently and was working with them during a high school camp in June. He appears to be in the process of making the switch to linebacker, which makes sense considering he played it in high school and now exits a crowded tailback depth chart. Clemson was among the schools to offer him a scholarship to play defense.
Cody Simon: A second-year from Jersey City, New Jersey. Simon played sparingly as a true freshman after arriving at a top-100 recruit. Now a sophomore, he's trying to propel himself up the depth chart at inside linebacker. Physically, he's as impressive as anybody in the room. But as a second-year at a position at which Washington has relied heavily on veterans, he has to be impressive in the preseason.
Mitchell Melton: A second-year from Silver Spring, Maryland. Melton didn't see the field outside of special teams in Year 1, and he'll likely have to wait until 2022 to make his defensive debut. He's dealing with what Ryan Day deemed a "long-term injury" in the spring that threatens to keep him out the entirety of the upcoming season. Getting back to full health is the main priority for Melton.
Reid Carrico: A first-year from Ironton. Carrico is the only inside linebacker brought in in the 2021 recruiting class. He was ranked 86th overall and will try to make inroads at the position before 2022 commits CJ Hicks and Gabe Powers come into the program a year from now.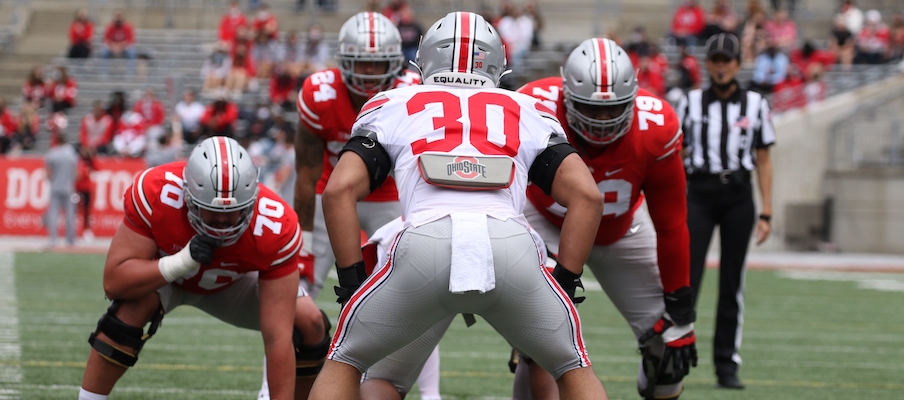 Outlook In 2021
When it comes to Ohio State's linebackers, good luck predicting both who will play and how they will play.
No position will enter preseason camp next month with more mysteriousness surrounding it than this one.
All three starters and the top backup from last year's team are gone. The returners at the position combined to play a little more than 200 total defensive snaps last season. It's likely that the coaches will lean heavier than before on the bullet, thus impacting how often the strongside linebackers see the field. The guy believed to be the most likely starter (Mitchell) hasn't started a game before. The other projected starter (Gant) is coming off an injury that knocked him out of spring practices. The potentially impactful transfer (Gaoteote) isn't yet part of the team. Simon and Eichenberg played a grand total of 20 combined defensive snaps last year. Chambers has never played linebacker in college. Melton's likely out for the season. Carrico is a true freshman.
State of the Position
Get all of that? 
And then, with all of that uncertainty accounted for, how are you supposed to project with any degree of certainty just how well these linebackers will perform in 2021? It's a borderline impossible question to answer at this point, and it's what puts Washington in the spotlight. The third-year linebacker coach is facing his toughest task yet in putting together this year's rotation.
Mitchell and Gant, as of now, are the two projected starters by most on the outside of the Woody Hayes Athletic Center. They've waited their turns, are the two most experienced returning linebackers and spent time with the first-team defense earlier this year. They're not locks, however, with Gaoteote coming in and Simon and Eichenberg pushing for snaps. Especially with Gant's injury, there's room for others to wedge their way into the rotation.
If Ohio State does, in fact, utilize a Sam, then that's where Pope will come into play. How often the Buckeyes will actually use three traditional linebackers is a major question, of course.
Chambers and Carrico will likely spend most of their time developing on special teams in 2021.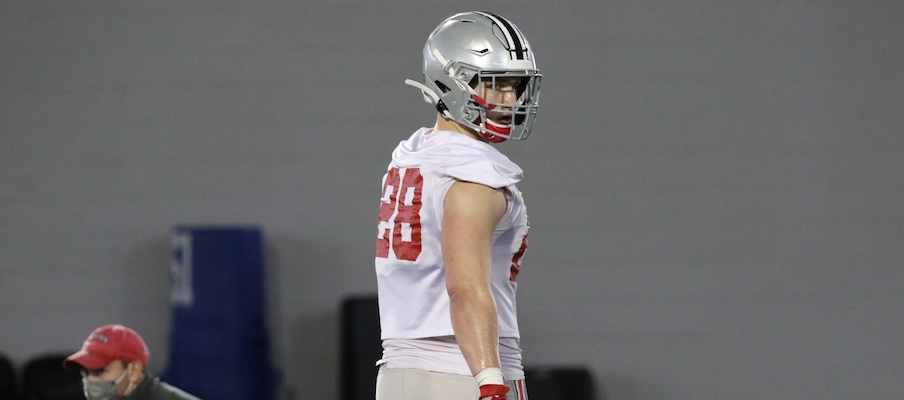 Long-Term Outlook
Projected Depth Chart In 2021
Weakside: Teradja Mitchell, Cody Simon
Middle: Dallas Gant, Palaie Gaoteote
Strongside (if used): K'Vaughan Pope, Craig Young
Projected Depth Chart In 2022
Weakside: Teradja Mitchell, Cody Simon
Middle: Dallas Gant, Palaie Gaoteote
Strongside (if used): K'Vaughan Pope, Craig Young
Projected Depth Chart In 2023
Weakside: C.J. Hicks, Mitchell Melton
Middle: Cody Simon, Tommy Eichenberg
Strongside (if used): Craig Young, Kourt Williams
A big part of what makes projecting the long-term future of the linebacker position so difficult is the uncertainty of what Ohio State's defense will look like. The way the coaches have both talked and recruited, the Buckeyes appear ready to dive head-first into some sort of a 4-2-5 type of defense with the bullet seeing the field more often than the strongside linebacker.
Whether that plan actually materializes this fall or not will play a big part in determining the future of linebacker.
But at least at Mike and Will, it's less complicated. Whatever the rotation there looks like in 2021 will also be the foundation of what it looks like in 2022. None of the Buckeyes' linebackers will run out of eligibility after the upcoming season, meaning they could all be back for another year together if they choose. 
Mitchell and Gant could be in line to potentially turn into two-year starters, if they live up to expectations and stay for fifth years. Gaoteote and Simon will be in the mix, too, and will push to start as soon as this fall.
The real intrigue down the line will come when Hicks and Powers join Carrico on campus and the trio of Ohioans try to break through. Simon, Eichenberg and Melton will have to try to hold them off in 2022 and 2023. Of course, Chambers is a total unknown, as well. This will, in all likelihood, be a transition year before he has a chance to play more snaps in 2022.
One thing to note: Looking ahead, it's unclear who would even play strongside linebacker. Most of the underclassmen and recruits Washington has brought in and is bringing in fit best at Mike and Will. The Buckeyes seem to be setting themselves up to be relying heavily on the bullet in future years, which would leave just two full-time starting linebacker spots on this defense.