Throughout the course of the offseason, Eleven Warriors is taking an in-depth look at the state of every position group at Ohio State.
Kerry Coombs has seen this movie before.
Ohio State recruits high-level cornerbacks who then develop before finally getting a shot to shine, showcasing their top-end talent before getting selected by an NFL team among the first 32 draft picks months later. Bradley Roby, Eli Apple, Marshon Lattimore, Gareon Conley and Denzel Ward walked the path that Jeff Okudah and Damon Arnette went down the past year. Shaun Wade's up next.
"Those are like my sons," Coombs said. "It's an extension of us. So it just keeps getting bigger and bigger."
He also knows what has to happen at Ohio State when stars leave for the professional ranks.
"I'm proud of them. I'm excited for them," Coombs said. "And, to be honest with you, I'm excited for the next group. I'm excited that you just get to keep doing it. I think that's probably part of the beauty of it is you get to keep doing it over and over again. You get to watch. You get to be really proud of them."
Today, we're taking a deeper look at the state of Ohio State's cornerbacks with Coombs back at the helm.
The Personnel
Marcus Williamson (SR): A true senior, Williamson enters when is expected to play, by far, the biggest role of his four-year career. Beset by injuries and passed on the depth chart by younger cornerbacks, his career hasn't always gone according to plan. But the 5-foot-10, 186-pounder has a chance to become the starting slot cornerback in 2020 as the team's sole senior at the position
Shaun Wade (RS-JR): The star in the room, Wade is the only returner starter at cornerback. It's a foregone conclusion that he'll be in the NFL at this point next year, making this a final pitch for general managers and coaches to take him early in April of 2021. Wade, a third-team All-Big Ten selection last year as a nickelback, will shift to play on the outside this fall.
Sevyn Banks (JR): Physically, the 6-foot-1, 200-pound Banks looks the part. With Okudah and Arnette gone to the NFL, it's time for him to play the part. The Floridian had a major uptick in playing time in 2019, which should be followed by a similar increase in 2020. He'll ascend into what should be a starting role – or, at the very least, a rotational spot.
Cameron Brown (JR): Outside of the trio of starters – Okudah, Arnette and Wade – no cornerback on the team played as many snaps last year as Brown. The speedster from St. Louis was on the field for 254 snaps in 2019 and now has a chance to win a starting job. He began his career as a wide receiver before transitioning to cornerback and impressing Jeff Hafley last year, leading to a steep rise up the depth chart.
Tyreke Johnson (RS-SO): Along with Wade, Johnson's one of two former five-star cornerbacks on the roster. And unlike the fellow Jacksonville native, he's still searching for a breakthrough. Johnson played sparingly as a true freshman, taking a redshirt, then was on the field for 57 snaps in 2019. This season, he's a dark horse candidate to earn significant snaps.
Ryan Watts (FR): One of three incoming freshmen at cornerback, Watts originally committed to Oklahoma before eventually flipping to Ohio State. A big-bodied cornerback, Watts doesn't have quite the speed as some other at his position. But standing 6-foot-3, he's two inches taller than every other cornerback on the roster. Watts was the No. 202 overall prospect in the class.
Lejond Cavazos (FR): Built entirely differently than Watts, Cavazos is a speed-first cornerback whose natural gifts give him a lot for Coombs to work with. The 6-foot, 195-pounder is a bit rawer of a cornerback, however. Fortunately for him, he'll have Coombs working with him. Cavazos, a Texan who played at Florida's IMG Academy, was the No. 352 overall recruit in his class.
Cameron Martinez (FR): Expected to begin his Ohio State career as a rare two-way player, Martinez will get the majority of his first looks on defense at cornerbacks. The Michigan native played quarterback, along with a slew of other positions in high schools, so he might need some time to figure out where he slots into the Buckeyes' plans. He was the No. 323 overall recruit in the 2020 cycle.
Ohio State also has four cornerbacks committed in future classes.
Jakailin Johnson (2021): The jewel of Ohio State's defensive back haul in the 2021 cycle, Johnson is the lone top-100 cornerback committed. Viewed as the No. 43 overall recruit and fourth-best cornerback, he's nearing five-star status. Johnson, a St. Louis native, is a true cornerback, unlike a couple of others in the secondary.
Andre Turrentine (2021): Both Turrentine and Jantzen Dunn are swing defensive backs who could end up at either cornerback or safety. Right now, it appears most likely that Turrentine ends up as a cornerback – possibly in the slot – and Dunn lines up at safety, but that could change. Turrentine, a Tennessee native, is the No. 139 overall recruit in the 2021 cycle.
Denzel Burke (2021): The most recent addition to Ohio State's 2021 class, Burke pulled the trigger and joined the Buckeyes about a month and a half ago, picking them over Oregon, USC, Texas, LSU and others. The Arizona native is ranked No. 178 overall in the class.
Jyaire Brown (2022): One of only three early commits in Ohio State's 2022 class, Brown will be another in a long line of Cincinnati natives to play for Coombs. Ranked No. 122 overall and 16th among cornerbacks, he committed to the Buckeyes while living in Louisiana. He has moved back to Ohio and will attend Lakota West for his final two years of high school.
Outlook in 2020
No Okudah or Arnette on the roster gives Wade a chance to move outside from nickelback. There, he should be an All-American cornerback candidate and someone who'll be high in every preseason 2021 NFL mock draft.
Ohio State? It needs him to play at his peak. He'll be the stud on a defense that just lost a pair of first-round cornerbacks, along with a few others in front of him – namely Chase Young, DaVon Hamilton and Malik Harrison. 
State of the Position
The question of whether Wade moves inside to play the slot, which he manned the entirety of the 2019 season, is unanswered at this point. However, it's an important part of Coombs' defense to figure out.
Williamson is a top candidate. He's a senior who hasn't played much but was once a four-star recruit from Westerville who Coombs landed. Is now the time he takes the leap from reserve to starter? It's possible, and the Buckeyes certainly want it to happen.
Brown and Banks will factor significantly into the plans at cornerback, too. They're potentially the next-in-line stars at cornerback, even though neither of them were top-100 recruits like Wade and Okudah.
Brown's a speedster who thinks he's the fastest defensive back in college football. Banks was deemed the next great Ohio State cornerback by Greg Schiano 18 months ago.
"When I recruited (Banks), I thought he was exactly the prototype of what we look for in a corner," Coombs said. "I thought he was an explosive player. Long, fast, with really good ball skills. It's weird when you get away from a guy for two years and you come back and they're bigger and stronger and faster."
Both Brown and Banks played more than 150 snaps last year, and they're set to play starter-level snaps this fall. It's not clear if they'll both play on the outside – they could rotate with one another on the side opposite of Wade – or if one will move to nickelback. But both should be major factors into Coombs' plans.
How well the third-year duo plays will determine much of what happens this fall at cornerback.
Williamson often goes overlooked, but he's in the mix, too. As the only sub-6-foot cornerback on the roster, he's a different build than the others at the position. That might make him a possible answer in slot.
On the outside, Johnson will be an option for Coombs, but he is currently behind Wade, Brown and Banks.
"I think (Johnson) fits more outside than inside," Coombs said. "I think that he had a really good start. His winter was really productive. He is a very smart player, and I am looking forward to him competing his butt off in the fall."
It's not impossible that some of the freshman cornerbacks make moves this fall. They aren't however, in the plans to play meaningful snaps. There are too many veterans ahead of him on the depth chart.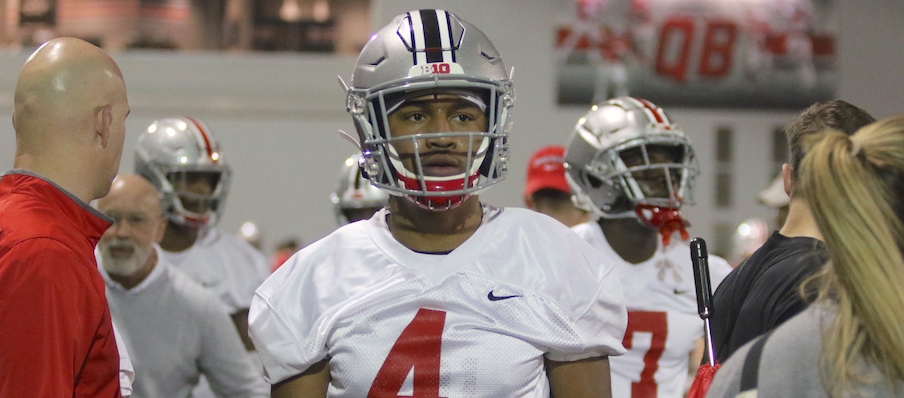 Strengths of the Position
Wade legitimately might be the best cornerback in the nation, and as Ohio State saw at multiple points during the 2010s, that matters a lot. It's especially important for Coombs, who has to figure out how to replace the other three starters from last year's team.
The presence of Wade also will prove beneficial should the Buckeyes get back to the College Football Playoff, where he'd likely face the most talented quarterbacks and wide receivers yet. And after what happened in the Fiesta Bowl, it's hard to imagine anyone more motivated for redemption.
Elsewhere, Ohio State has more experience than many would expect from a group tasked with covering for the loss of two first-rounders. Williamson is a senior. Brown played more than 250 snaps and Banks was on the field for 170 snaps in 2019. No, none of them have been full-time starters, but they aren't completely green either.
The versatility of the incoming freshmen will give Coombs plenty to work with in the coming years, too.
And speaking of Coombs... The return of the Human Can of Red Bull means Ohio State once again has arguably the best cornerback developer in the nation. He recruited five-stars and developed first-round picks in his first stint with the Buckeyes, and there's little doubt he'll do the same this go-round.
Weaknesses of the Position
Yes, these cornerbacks in the room are talented. Don't get that wrong. But you have to expect a downgrade from a group that might have featured three (!) first-round picks last year in Okudah, Arnette and Wade, who'll likely join them as an early selection in the spring. 
Also, the Buckeyes won't have a particularly deep crop of cornerbacks in 2020. Wade is a stud, and Brown and Banks played a bunch last fall. But Williamson and Johnson are the only other returners on the roster.
Recruiting-wise, it's simply been difficult for Ohio State to pick up year-to-year momentum. The Buckeyes haven't had the same position coach for more than one season since 2017.
They've managed to grap a slew of four-stars, but they don't have the no-doubt-about-it five-star prospects that Coombs was pulling in when he jumped for the NFL a few years ago. Can he get back to that point? Is that an unrealistic bar? Yes and yes. He deserves that level of expectation because he's shown he can reach it.
Long-Term Outlook
Projected 2020 Depth Chart
Cornerback: Shaun Wade, Tyreke Johnson
Cornerback: Sevyn Banks, Cameron Brown
Nickelback: Marcus Williamson, Cameron Martinez
Projected 2021 Depth Chart
Cornerback: Sevyn Banks, Tyreke Johnson
Cornerback: Cameron Brown, Lejond Cavazos
Nickelback: Cameron Martinez, Andre Turrentine
Projected 2022 Depth Chart
Cornerback: Tyreke Johnson, Jakailin Johnson
Cornerback: Lejond Cavazos, Ryan Watts
Nickelback: Cameron Martinez, Andre Turrentine
Ohio State getting one more year of Wade and two more years of Banks and Brown lock them into heavy playing time the next two years. Outside of the trio, however, Coombs will have his share of options.
In 2020, Williamson will have a chance to wedge his way into the slot cornerback spot, making it his home for the fall. Johnson will almost assuredly have a spot on the two-deep depth chart, too.
If either Banks or Brown blows up with a breakout 2020 season and leaves early for the NFL, the Buckeyes would be in a bit of a tricky situation since they'll also have to replace Wade. But as long as they're back, they'll likely man the two outside cornerbacks spots in 2021, with Johnson possibly rotating with them. Who'd play in the slot? That's a tough question to answer. Since Martinez has been mentioned as a potential impact nickelback in the past, we're projecting him as the starter. But he's far from a lock.
In 2022, Ohio State won't have Wade, Brown or Banks on the roster for the first time, which could make Johnson the No. 1 outside cornerback. The other spots will be filled with whoever impresses over the next two years. Martinez, Johnson, Turrentine, Watts and Cavazos will all be among the options.