Throughout the course of the offseason, Eleven Warriors is taking an in-depth look at the state of every position group at Ohio State.
In a sense, Ohio State's defensive tackles were a bit like its tight ends last season. Productive, deep and probably a touch underrated.
Going three players deep at both nose tackle and 3-technique, defensive line coach Larry Johnson had his pick of options. But with DaVon Hamilton, Robert Landers and Jashon Cornell now graduated, it's time for the Buckeyes to turn the page to their next wave of defensive tackles. 
Let's take a deeper look at the position group.
The Personnel
Antwuan Jackson Jr. (RS-SR): The twists and turns of Jackson's career are about to come to an end. He picked Auburn over the Buckeyes out of high school, transferred to Blinn College after the season, became the nation's top junior-college prospect, then transferred to Ohio State. Now a fifth-year senior, he's expected to be part of Johnson's regular rotation.
Haskell Garrett (SR): Out of Las Vegas' Bishop Gorman High School, Garrett headed to Columbus while overshadowed by his classmate, Tate Martell. Yet four years later, Garrett's the one who might start for Ohio State as a senior this fall. He played 218 snaps in 2019, rotating as Cornell's top backup while picking up 10 tackles, including 2.5 tackles for loss.
Jerron Cage (RS-JR): One of the half-dozen Cincinnati natives on the roster, Cage is still searching for his big break. While it could come this fall, he'll have to vie with a few other more established veterans to get the increase in playing time he seeks. Cage played 88 snaps last fall, generating four tackles.
Tommy Togiai (JR): Widely regarded as the strongest player on the team, Togiai is in line for a major increase in playing time. The nose tackle from Idaho spent the past two years backing up Hamilton and Landers, and he'll now take over as the starter. The 6-foot-2, 300-pound interior lineman is largely known for his brute power, but he's quicker and more agile than one might imagine.
Taron Vincent (RS-SO): A popular breakout pick a year ago, Vincent was sidelined for the duration of his sophomore year due to a torn labrum suffered ahead of the season. When spring camp began, he was participating in a limited capacity, meaning he should be ready to go when preseason camp comes around. Vincent will be in the mix at 3-technique, and he could start. He's a former five-star prospect who was ranked as the top defensive tackles in the 2018 recruiting cycle.
Jaden McKenzie (RS-FR): Following a quiet recruitment that led him to pick Ohio State late in the process, McKenzie had an equally quiet freshman season. He played only 11 snaps, redshirting after joining the team out of North Carolina. Because the position isn't particularly deep, he could be in line for a rotation spot as soon as the 2021 season. But the one-time three-star recruit will likely serve as a third-string backup again this year.
Ohio State also has one defensive tackle committed in future classes.
Michael Hall (2021): The Buckeyes targeted Hall early, and their interest in him has paid off as he has shot up in the rankings over the past year. The 6-foot-3, 290-pounder from Streetsboro is ranked No. 57 overall and fifth among defensive tackles. He's the second-best player from the state of Ohio in the 2021 class. Hall is viewed as a future 3-technique with the Buckeyes.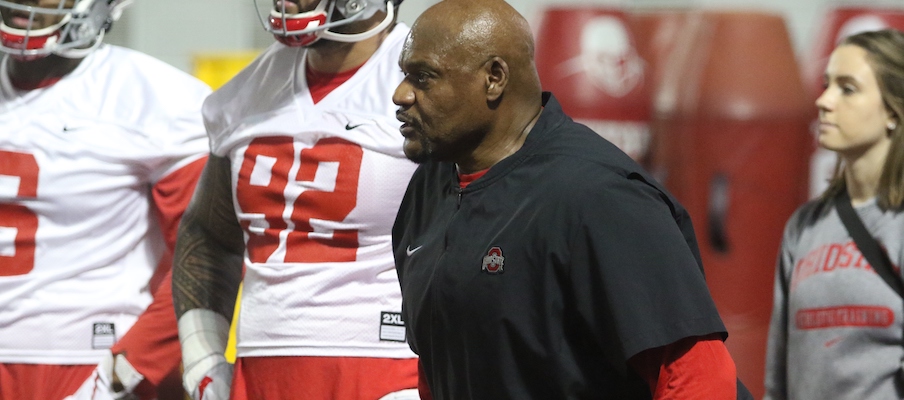 Outlook in 2020
Overall, this is a fascinating group of defensive tackles.
Last year, they were solid. Seemingly always, you knew exactly what to expect from them, and they'd consistently produce results. They didn't overwhelm opponents, but their steadiness aided the Buckeyes as the put forth a defense that ranked fourth in points allowed per game and first in yards allowed per play.
State of the Position
This upcoming season's group of interior linemen both have a lower floor and a higher ceiling.
"I think the inside guys are the biggest key," Johnson said in April. "The Haskell Garretts, Tommy Togiai, Taron Vincent, Jerron Cage, Antwuan Jackson. Those are the guys on the inside who have to really step up. As we were going through the three days in practice, I thought those guys were on the right track to be able to contribute in the fall."
Togiai, who played more snaps last season than any other returning defensive tackle, is the gem of the group. Ohio State likely won't have enough nose tackles to rotate more than two during meaningful moments of games, but Togiai could make up for the lessened depth. Once the No. 55 overall recruit in the 2018 cycle, he has plenty of potential that he might begin to reach now that he doesn't have two fifth-year seniors ahead of him on the depth chart.
Jackson should back Togiai up. Thus far, he's had a fine career, but Johnson will absolutely need more from him as a redshirt senior in 2020. The way Johnson utilizes his linemen, backups aren't truly backups. Rather, they rotate with starters and play important snaps. Jackson will be expected to fill that type of role.
At 3-technique, good luck guessing what happens.
Garrett's the safe option. The 6-foot-2, 299-pound senior was graded as the top returning defensive tackle in the Big Ten. However, he's not a proven playmaker at the position.
Vincent might turn into a star, but we haven't seen much out of him yet. He played fewer than 100 snaps as a true freshman, and he didn't see the field as a sophomore due to his surgery. First and foremost, Vincent has to prove he can stay healthy. But in by far his largest role yet as a Buckeye, he has a chance to turn become a disruptor from the position.
Both Cage and McKenzie could be in the mix, too. However, their contributions might come in limited opportunities.
Strengths of the Position
If we're talking strength, we have to begin with Togiai – literally. It was easy for him to get overshadowed a bit while playing behind Hamilton and Landers. They each were on the field for between 250 and 352 defensive snaps in 2019. This fall, the spotlight will be on Togiai.
The ceiling among the defensive tackles, even beyond just Togiai, is undeniably high, too. Togiai, Vincent and Garrett were once each top-100 overall recruits, and Jackson was the No. 1 junior college prospect.
Additionally, Ohio State can go two or three linemen deep at both nose tackle and 3-technique this fall. It'll have the depth that Johnson desires in 2020.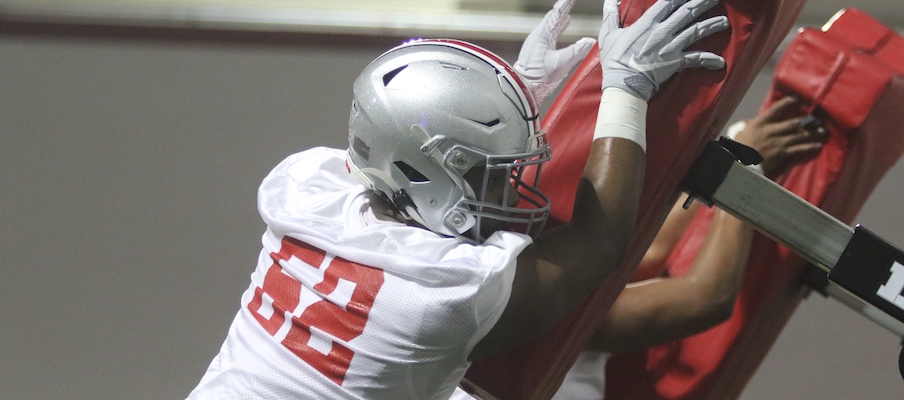 Weaknesses of the Position
Unlike at this point last year, it's fair to feel unsure of just how impactful Ohio State's defensive tackles will be this fall. The could be good. They might be really good. Do we know they will, though? The Buckeyes are banking on Vincent coming off an injury, Jackson and Garrett playing their best football ever and Togiai continuing his ascension in a bigger role than ever before. Naturally, there's a degree of uncertainty.
Beyond this season, while it hasn't gotten a lot of attention, there are also some legitimate long-term depth concerns here that would become further exacerbated if anyone leaves early for the NFL.
Ohio State only has two underclassman defensive tackles – Vincent and McKenzie – which isn't exactly optimal. Undoubtedly, it'll have to eventually kick one or two defensive ends in to defensive tackle, with Darrion Henry-Young, Jacolbe Cowan, Ty Hamilton and Cormontae Hamilton among the primary candidates.
Also...who's the future starting nose tackle? Togiai is a junior, and with a breakout season conceivably happening this fall, it's not impossible that he would go pro next year. Johnson's a tremendous recruiter, and he surely has some sort of a plan, but it probably would have made sense to snap up a true nose tackle in the 2020 recruiting class.
Now, there's a lot of pressure to land an impact nose tackle recruit in the 2021 cycle. To get specific, there'll be pressure on Johnson to close on four-star Tywone Malone.
Long-Term Outlook
Projected 2020 Depth Chart
Nose Tackle: Tommy Togiai, Antwuan Jackson Jr.
Defensive Tackle: Haskell Garrett, Taron Vincent
Projected 2021 Depth Chart
Nose Tackle: Tommy Togiai, Tywone Malone
Defensive Tackle: Taron Vincent, Jerron Cage
Projected 2022 Depth Chart
Nose Tackle: Tywone Malone, a yet-to-be-named 2022 recruit
Defensive Tackle: Taron Vincent, Jaden McKenzie
This fall's depth chart isn't quite set. Specifically, it's unclear who'll start at 3-technique, with Garrett and Vincent as the top two options. However, there's quite a bit more uncertainty when considering the future depth charts – especially at nose tackle.
As soon as next season, there's an unanswered question about who'll serve as Togiai's backup. Then, whoever wins that job could start the following season. Who will that be? It's a complete unknown. Maybe McKenzie shifts to nose tackle, Hamilton becomes a 1-technique or the Buckeyes land Malone and he earns early playing time. One way or another, that's the most important long-term question for Ohio State to answer.
Regardless, the Buckeyes will rely heavily on Togiai and Vincent for the next couple of years as they rebuild their depth.