Throughout the course of the offseason, Eleven Warriors is taking an in-depth look at the state of every position group at Ohio State.
Not too long ago, concerns about Ohio State's offensive line depth and Greg Studrawa's ability to recruit the highest level of players up front persisted. Nobody's asking those questions right now.
Rather, the Buckeyes are set up to have what could be one of the country's best offensive lines this season and what should be a strong unit for years to come. They bring back three starters, will likely have two first-year starters who were once five-star recruits and will have eight linemen with freshman eligibility. 
Let's take a deeper look at Ohio State's offensive line.
The Personnel
Gavin Cupp (RS-SR): The 6-foot-4, 308-pound guard is entering his final year in the program, aiming to win a starting job for the first time. But both due to the talent of a couple of underclassmen and a foot injury that held him out of winter workouts and the beginning of spring practice, Cupp is viewed as an underdog. The native of Leipsic could use a strong preseason camp.
Thayer Munford (SR): In the same high school class as Wyatt Davis and Josh Myers, Munford won a starting job before either of them. He became the starting left tackle in 2018 and still holds the spot. Munford has played more career snaps (1,922) than anybody else on the team. He has also battled back and ankle injuries, though. More than anything, he needs to get – and remain – healthy.
Wyatt Davis (RS-JR): A first-team All-American last season, Davis easily could have left Columbus in favor of the NFL draft. Instead, he's back for what most anticipate will be his final season as a Buckeye. Expect to see Davis on just about every preseason All-American list. He could repeat on the first-team.
Josh Myers (RS-JR): After serving as a backup for two years, Myers stepped in as the starting center in 2019, becoming a second-team All-Big Ten honoree. It's not out of the question that he'll put himself in Rimington Trophy consideration by the year's end. The Miamisburg native thrives as a run blocker, especially at the second level. To take the next step, he'll look to shore up his pass protection.
Nicholas Petit-Frere (RS-SO): As Studrawa recently said, it should be Petit-Frere's "time to shine." The third-year offensive tackle has served as a backup the past two years while putting on weight, playing 240 snaps last season, the most among all non-starting linemen. Now, with the starting right tackle job open, it's go time. Petit-Frere, once ranked the top offensive line recruit in the 2018 cycle, is the favorite to fill the spot.
Matthew Jones (RS-SO): Sometimes overlooked, Jones is only two years removed from joining Ohio State as the nation's best center recruit. The 6-foot-4, 310-pound Brooklyn native has backed up the interior linemen the past two seasons. Studrawa said Jones impressed in the three practices this spring, making him a candidate to start at left guard. He's an underdog to Harry Miller, however.
Max Wray (RS-SO): A 6-foot-7, 308-pound offensive tackle, Wray looks the part of an impactful lineman. That hasn't helped him get onto the field, though. The one-time top-150 overall recruit did not play a single offensive snap in either 2018 or 2019. Again, Wray's contributions will likely come on special teams in 2020.
Harry Miller (SO): A five-star recruit and valedictorian out of Georgia's Buford High School, Miller has the distinction as one of only three returning offensive linemen who didn't redshirt as freshmen. Miller played the most snaps among backup interior linemen in 2020 (181). He now finds himself as the heavy favorite to start at left guard.
Dawand Jones (SO): The 6-foot-8, 359-pound offensive tackle perhaps better known as Big Thanos surprisingly didn't redshirt as a freshman despite not being ranked among the 1,000 best prospects in the 2019 recruiting cycle. Jones played 90 offensive snaps in his first season. He's competing for the open right tackle spot, but he's an underdog.
Enokk Vimahi (RS-FR): Originally, Vimahi planned to attend Ohio State for his freshman season before taking a two-year mission trip for his church, keeping him away from the team until 2022. Instead, he won't go on a mission until his career in Columbus comes to an end. Vimahi will likely serve as a backup in 2020 before competing for starting spots in future seasons.
Ryan Jacoby (RS-FR): A Mentor native, Jacoby didn't get onto the field as a true freshman at all. Rather, he spent the entirety of the year developing in practice and the weight room, preparing for future seasons. Jacoby likely won't play much this year either, though, he'll probably get his first offensive snaps. He's a guard at Ohio State.
Paris Johnson Jr. (FR): The crown jewel of Ohio State's 2020 recruiting class. Johnson, who's 6-foot-6 and 305 pounds, was the No. 9 overall recruit and top-rated offensive lineman in the cycle. He's drawn unfair comparisons to all-time great offensive tackles, including Orlando Pace. As a freshman, Johnson will compete with Petit-Frere and Jones to start at right tackle.
Trey Leroux (FR): At 6-foot-7 and 305 pounds, Leroux plays at a nearly unmatched size. However, he's a raw offensive lineman who was the lowest-rated signee in Ohio State's 2020 recruiting class as the No. 1,136 overall prospect. Most view him as a long-term offensive tackle in college, but he opened spring camp lining up at guard.
Luke Wypler (FR): Ohio State's continued loading up of top interior lineman prospects over the past couple of years included Wypler, who was the No. 107 overall prospect and second-ranked center in the 2020 cycle. The New Jersey native was committed for 18 months before signing with the Buckeyes. He's a potential future starting center.
Grant Toutant (FR): At one point, Toutant planned to leave his home state of Michigan in order to play football at Penn State. However, largely because of Ohio State's automotive engineering program, he flipped commitments. Toutant, a future offensive tackle, was the No. 461 overall recruit in the 2020 cycle.
Josh Fryar (FR): Though Fryar is listed as an offensive guard by major recruiting services, he's a versatile lineman capable of playing multiple positions. The Indiana native with a dad who played for the Hoosiers committed to Ohio State over his hometown team. Fryar was the No. 508 overall recruit in his class.
Jakob James (FR): One of the many Cincinnati natives to join the Buckeyes in the 2020 class, James hails from Elder High School. A bit undersized at the moment, he'll have plenty of time to develop. He's the No. 849 overall recruit and 55th-best offensive guard in the 2020 cycle.
Ohio State also has three offensive linemen committed in future classes.
Donovan Jackson (2021): In recent years, Ohio State has recruited offensive linemen at an exceptional clip. Jackson's a prime example. The Buckeyes landed a commitment from the Texan – who has family in Cincinnati and whose father is from the Cleveland area – in January. Since then, he has gained his fifth star while turning into the No. 18 overall prospect and top-ranked guard in American.
Ben Christman (2021): The future collegiate offensive tackle committed to Ohio State over a year ago and has been key to its recruiting efforts ever since. The Revere High School rising senior is the No. 104 overall prospect and 15th-rated offensive tackle in his class.
Tegra Tshabola (2022): As the second player to commit to Ohio State in the 2022 cycle, Tshabola is one of the building blocks of the class. Currently, the Lakota West rising junior is the No. 69 overall prospect and sixth-ranked offensive tackle in his class.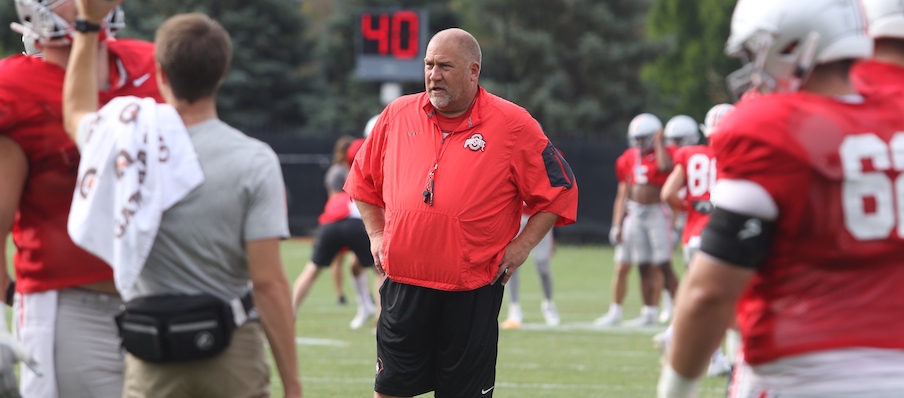 Outlook in 2020
With Munford, Myers and Davis returning, Ohio State has three returning starters locked in at left tackle, center and right guard. A multi-year starter, an All-Big Ten honoree and an All-American. Not too shabby.
On the interior of the line, both Davis and Myers will be cornerstones. They're potential captains, potential All-Americans and potentially entering their final year at Ohio State before becoming high-round NFL draft picks.
State of the Position
It feels as though Davis, in particular, is walking into his last season as a Buckeye. Once rated the top offensive guard recruit in America, he's aiming to show this season that he's now the top offensive guard playing college football in America.
"The best thing about Wyatt – the thing that he did the best and why everybody's talking about him – is because he's physical," Studrawa said. "He tries to destroy people. He doesn't try to just position block or just get the job done. He wants to try to destroy you physically every single play that he's in there."
Myers, too, has an inclination to bury defenders into the ground. He and Davis should make up a punishing duo.
Lining up beside them, Miller appears to be the heavy favorite to start at left guard after backing up Myers at center last season. Truly, he's a fairly safe option despite the fact that he'd be a first-year starter. He was once a five-star prospect who garnered widespread praise throughout his freshman season.
If it's not Miller to win the job, then Studrawa will turn to either Jones or Cupp at left guard. Either way, the depth inside will be a positive for the Buckeyes.
At left tackle, Munford should be a quality bookend to the line – though he has notable nagging injury concerns. When he's healthy, he's one of the best tackles in the Big Ten. When banged up, however, he has struggled at times. Regardless, he'll be the starter for the third year in a row.
The biggest question on the offensive line, by far, is at right tackle. Right now, it's viewed as a three-man competition between Petit-Frere, Jones and Johnson.
"The first three days of spring practice were unbelievable to see those guys go out there and compete," Studrawa said. "That's what it's gonna take. It's gonna take someone who wants to go out there and grab that position by the you-know-what and say that they want it."
As a third-year offensive tackle once rated as the best lineman in his recruiting cycle, Petit-Frere is viewed as currently having the inside track. However, he won't be handed the job. Johnson and Jones offer stiff competition.
Typically, freshmen don't compete for starting jobs on the offensive line. But Johnson isn't a normal first-year tackle, and he has long expressed a desire to start as a freshman. When spring camp opened, it was he and Petit-Frere trading first-team reps at right tackle. 
Jones is also an option, though it seems that he's the third-most likely candidate to start at right tackle. When spring practices kicked off, he was backing up Munford at left tackle. 
With all three fighting for the open spot, Ohio State should have quality depth at offensive tackle, but it'll be important for somebody to step up and lay claim to the starting right tackle job.
"Nick's played a little bit more, he's been in some games, so he's got a little more experience, but what I saw out of Dawand and Paris, two young guys, in three days was pretty impressive," Studrawa said. "I couldn't believe how far Dawand has come and how advanced and mature Paris is for a freshman. So it's going to take those guys right now, who's gonna buy in? Who's gonna do what it takes? Who's gonna go grab that spot and say that they want it? Because I believe all three of them are capable, so it's gonna be fun to see them work."
Strengths of the Position
Basically everything. Ohio State's offensive line is in a great spot both in the short-term and long-term.
Davis and Myers have All-American hopes, and they could turn into first-round or second-round picks within the year. A healthy Munford is also an All-Big Ten caliber left tackle.
The two new starters? More than likely, they'll be former five-star prospects who were once ranked as the No. 1 or No. 2 players at their position. Because of that, the natural talent among the five starting linemen is likely unmatched in the country.
Going forward, there's a lot for the Buckeyes to like, too.
They have plenty of underclassmen who won't be expected to play meaningful snaps this season, allowing them to develop at a slower pace. Vimahi, Wray, Jacoby, James, Leroux, Toutant and Fyrar are among those who could benefit.
Ohio State's also thriving in its offensive line recruiting. Jackson, Christman and Tshabola are all ranked within the top-110 overall prospect in their respective classes.
Weaknesses of the Position
It's as hard as ever before to find many weaknesses on the offensive line.
Munford's health, though, stands out since that's not something the Buckeyes have much control over. He has been banged up both of the past two years, sitting out a game each season. While Ohio State should have quality depth at offensive tackle, it's not always comforting to have 
On the other side of the line, it's worth noting that while Petit-Frere and Johnson were once five-star prospects and Jones is a physical marvel, the Buckeyes don't have a particularly safe option at the position.
Also, putting together an offensive line with two first-year starters who only got to participate in three spring practices is fairly difficult. Yes, it's a problem many programs are going through. But that doesn't mean it should be discounted at Ohio State.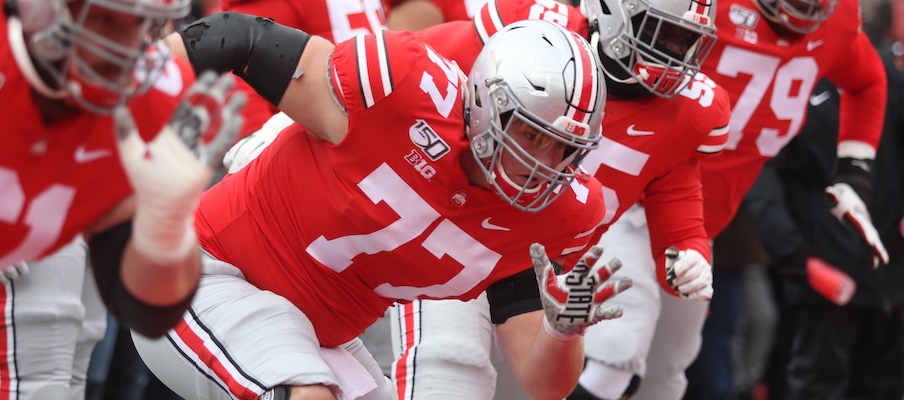 Long-Term Outlook
Projected 2020 Depth Chart
Left tackle: Thayer Munford, Dawand Jones
Left guard: Harry Miller, Gavin Cupp
Center: Josh Myers, Matthew Jones
Right guard: Wyatt Davis, Enokk Vimahi
Right tackle: Nicholas Petit-Frere, Paris Johnson
Projected 2021 Depth Chart
Left tackle: Paris Johnson, Dawand Jones
Left guard: Matthew Jones, Ryan Jacoby
Center: Harry Miller, Luke Wypler
Right guard: Enokk Vimahi, Donovan Jackson
Right tackle: Nicholas Petit-Frere, Max Wray
Projected 2022 Depth Chart
Left tackle: Paris Johnson, Grant Toutant
Left guard: Matthew Jones, Ryan Jacoby
Center: Harry Miller, Luke Wypler
Right guard: Enokk Vimahi, Donovan Jackson
Right tackle: Dawand Jones, Max Wray
This season, Ohio State has to replace two starters. And a year from now, it might be looking to replace three.
Munford only has one more year of eligibility, and both Davis and Myers will have decisions to make about whether or not to enter the 2021 NFL Draft. Whatever happens, because the Buckeyes have recruited well in recent years, there shouldn't be much reason for concern. Jones and Vimahi are both waiting in the wings, with Jacoby, Wypler and others also developing.
At tackle, Johnson and Jones will clearly follow Munford and Petit-Frere as the next two starters. Provided Petit-Frere wins the right tackle job in 2020, they'll be waiting their turns.